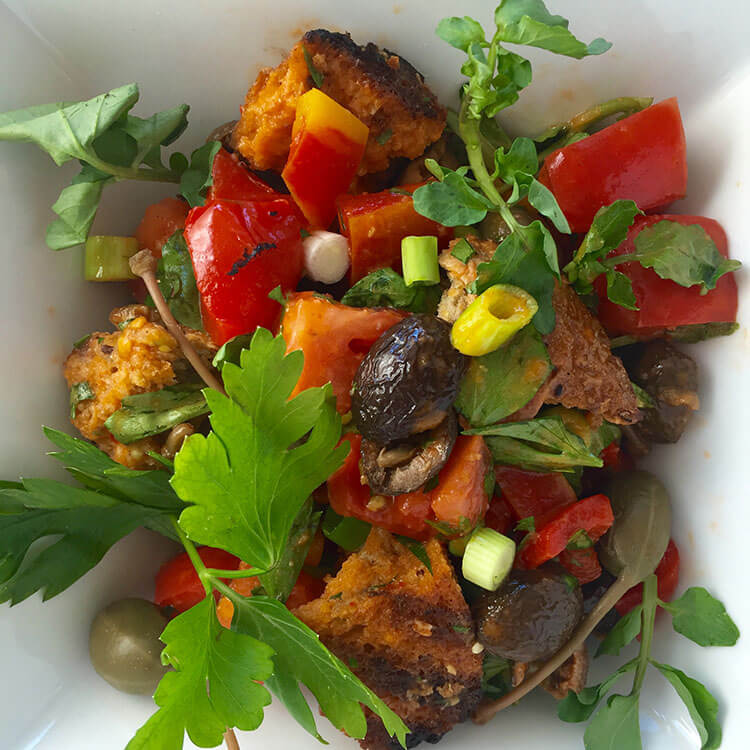 This time of year when the tomatoes are hanging ripe and juicy, heavy on the vine I am often reminded of two lively ladies from London whom I met styling Panzanella Bread Salad at the Today Show for their River Café Cookbook.  Rose Gray and Ruth Rogers set up shop in the Hammersmith section of London along Thames Wharf in the late 80s. It was a stylish and very popular place (still is) and a launching pad for the new generation of star chefs, Jamie Oliver and April Bloomfield, among them.  But despite its iconic status and reputation for exclusivity, the restaurant is most famous for serving the kind of familiar food you might eat in an Italian home.  Simple, rustic and full of flavor.  But don't be fooled by the seeming simplicity.  It takes a lot of work to look that simple.  The recipes in that first book were extremely demanding and there is some chance that I resented all those details, if ever so slightly.  I had to squeeze and sieve tomatoes by hand to get cups and cups of tomato juice.  I had to make A LOT of dishes and each seemed to have endless lists of both ingredients and steps.  But I did get what they were doing. They had an immense respect for ingredients and exerted what some called a "moral pressure" to be precise.  I like to think I am a bit more of realist than they, and I always point the way toward short cuts when possible.  But then again, the Queen hasn't awarded me with the Most Excellent Order of the British Empire.  Yet.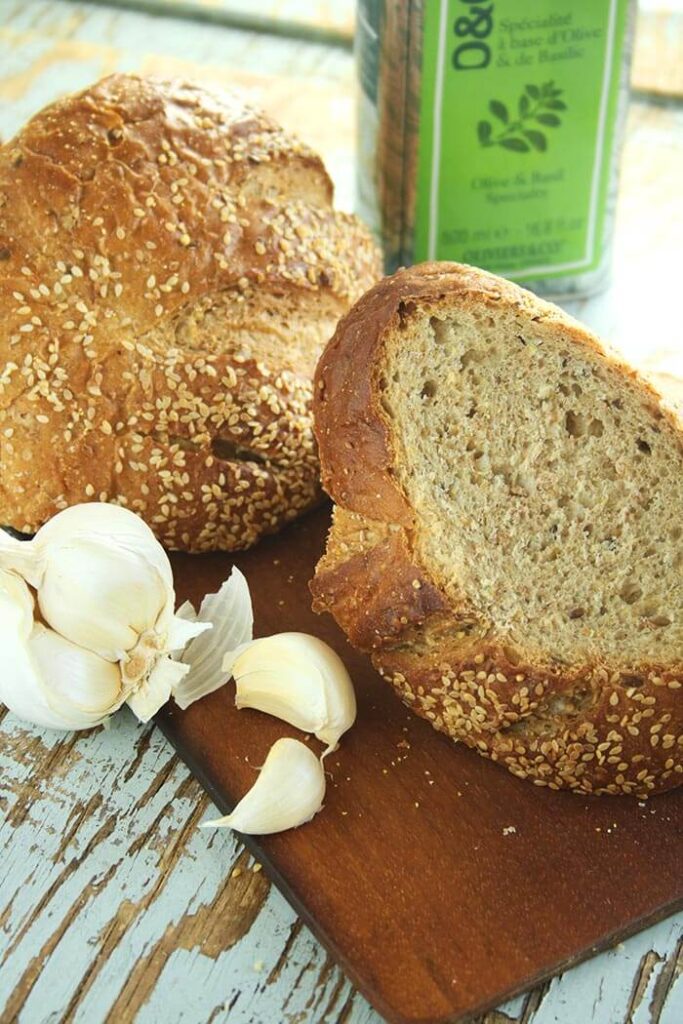 Panzanella – a Tuscan bread salad which incorporates day-old bread – is best when tomatoes are at their peak.  N.O.W. Authentic bread salads do not toast bread, but rather rely on stale bread.  The traditional panzanella is made with a bread that stales quickly on its own, having been made without salt, a tradition that dates back to the days when salt was heavily taxed and therefore used only for essentials like curing meat and preserving milk (cheese).  Bread made without salt will dry out quickly – hence the abundance of Tuscan recipes using stale bread, many of which Ruth and Rose served at River Café: bread soups like ribollita, pappa al Pomodoro or acquacotta.  These recipes use this very stale bread, soak it in liquid, and then crumble it into the dish.   In our modern American lifestyle, we're less likely to have stale bread laying around, so I stale it up here by rubbing with garlic, brushing with olive oil and putting the slices on the grill (or under the broiler), then hand tearing and leaving the cubes out to stale a bit more.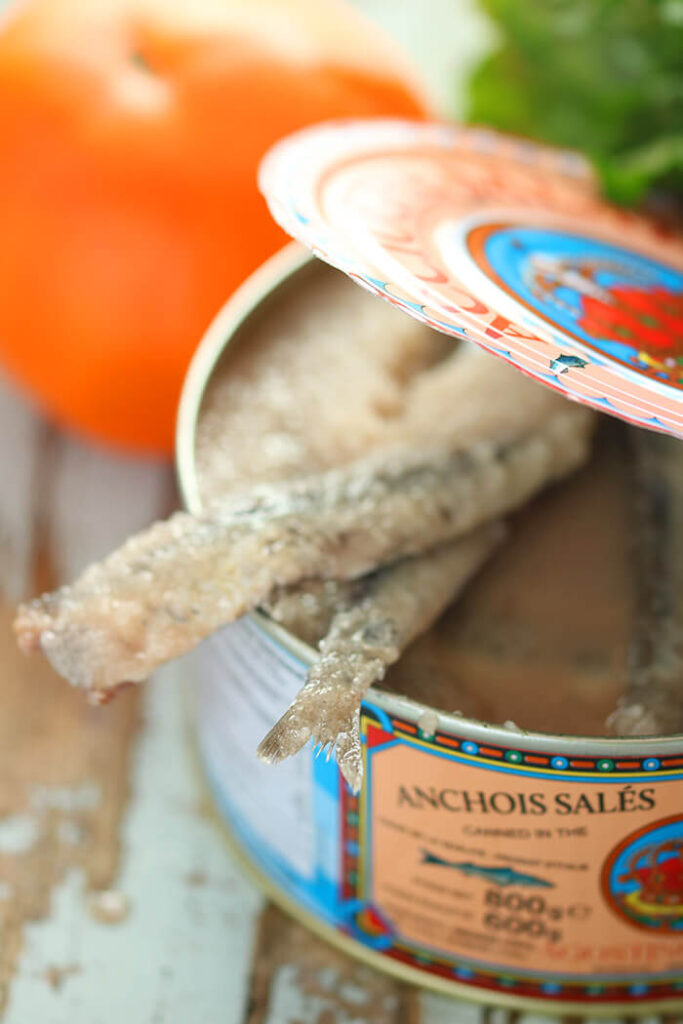 Another precise ingredient Ruth and Rose call for in this recipe is salt-packed anchovies. I know you are already moving toward delete and curling your lip. Stop it. Right now!  I promise there are other options, but let me make a brief case for the lowly anchovy, starting by pointing out that I think I know why you are not a fan. In the US, we are exposed to tiny tins of little hairy fish often slapped atop pizzas. Why? Exactly! Why? They are hairy, oily and full of little bones.  On the other end of the slimy fish spectrum (trademark pending) are salt-packed anchovies, bearing little resemblance.  They are big enough to pry open with a thumbnail and easily lift out the bones.  And the salt has wicked away the nasty fishy oils that we don't so much like.  The rich and unctuous saltiness amplifies other flavors and provides an umami (the fifth taste after sweet, salty, sour, bitter) that is impossible to recreate with salt alone.  #depthofflavor  You won't have a clue there are fish in this, but you will wonder how tomato juice got this damn tasty.   If you don't want to take the trouble sourcing them (Trouble? Really? Salt-Packed Anchovies
are in my shop and available at amazon prime!), go ahead and use the hairy fellas in the little tin.  Just cover them in kosher salt and set aside for 20 minutes.  That is the easiest DIY way to pull out the fish oils.  Just be sure to rinse well and pat dry.  These little ones are okay to throw in the blender whole, as their bones will pulverize.  If you go the distance – yeah, you! – don't worry about all the leftovers.  Just transfer the remaining salt-packed anchovies from the metal tin into a glass container with air-tight lid, and cover with sea salt and a few drops of water to dissolve the salt. They will keep for a very long time, refrigerated and covered.
Rustic Tuscan Panzanella Bread Salad
Full disclaimer: you would be hard-pressed to find a salad in Tuscany that looks like this.  I have taken the liberty to super-size it American-style:  Bigger, less delicate, chunks and a combo of ingredients (in addition to the ubiquitous bread, peppers, and tomatoes) that add both pops of flavors and texture contrasts. Caper berries and oil-cured olives are mine, all mine.
The panzanella bread salad below will use a bit more than half of this dressing.  But if you are putting the time into sourcing the ingredients, you will be sorry if you don't have leftovers.  I stopped short of giving you the ratios needed to fill a tub, but you may want to bathe in it.  It's that good.  I have short cut the hand squeezing of tomatoes, so use that time to try to find oil-cured olives. Of course you can use pitted water-packed canned black olives….if that's your cup of tea.  But some day give the oil-cured olives a whirl. They are what olives should taste and feel like.  And when you are pitting them by hand, don't cuss at me – think of Rose and Ruth, putting a little "moral pressure" on you.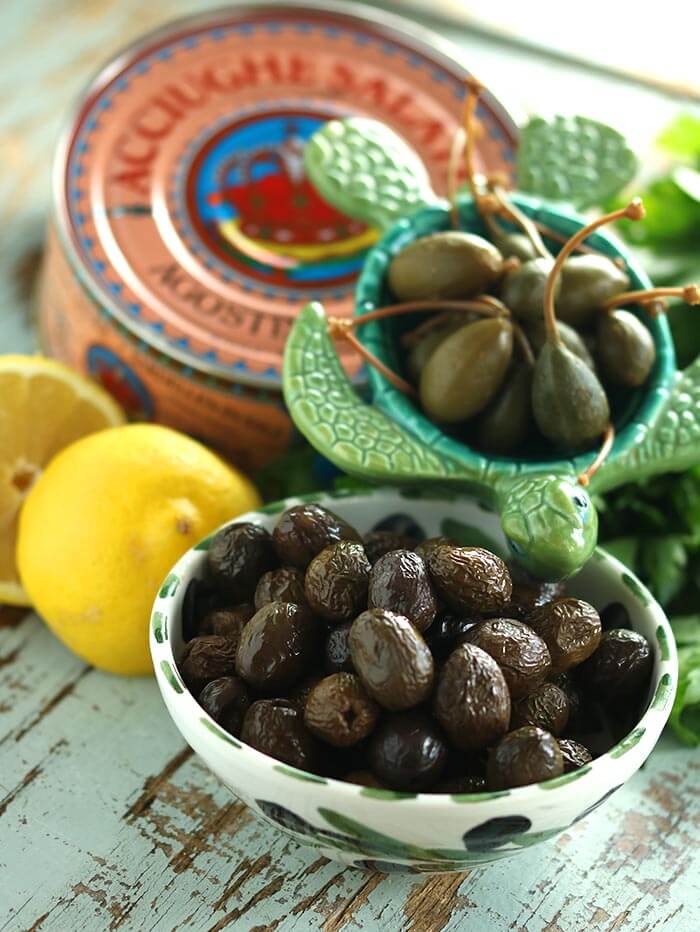 Spicy Tomato Vinaigrette:
1 1/2 cups tomato juice (or two 5.5 ounce cans)
¼ cup red wine vinegar
2 Tablespoons lemon juice
6 cloves of garlic, peeled
6 Salt-Packed Anchovies, soaked for 5 minutes, rinsed, bones pulled out, and patted dry (see notes above and below about anchovy options)
1/2 teaspoon red pepper flakes
1 cup EVOO
Combine all the ingredients, except olive oil, in a blender and puree until the garlic and anchovies are incorporated.  With the motor running, pour the olive oil in a thin stream, until all is incorporated and the dressing is emulsified.  Listen for the motor to change sounds as you finish with the oil and saturation is reached with the emulsification.  It should go from a noisy high-pitched whine to a smooth whir.
Keep in the refrigerator in an airtight container until needed.
Makes 2 2/3 cups vinaigrette.

Panzanella – Best Ever Bread Salad
1 pound loaf 1-2 day-old chewy good-quality bread (I used sourdough with seeds), cut in 1 ½" wide slices (about 5 slices)
Garlic and oil to brush the bread
1 ½ cups Spicy Tomato Vinaigrette
3 large ripe tomatoes (combo of red and yellow), cut into large chunks
One 12-ounce jar of roasted red peppers, drained and diced
1 yellow bell pepper, seeded and diced
1 bunch of watercress, stems removed and torn into bite-sized pieces
1 bunch scallions (about 5 or 6), sliced
½ cup pitted oil-cured black olives (or whatever olive you prefer)
One 4-ounce jar of Caper Berries in Brine (or capers), drained
¼ cup coarsely chopped parsley
Rub the bread slices on both sides with a smashed garlic clove and brush with olive oil.  Grill over a hot grill or toast both sides under the broiler or in toaster.  Let cool, and then tear into large bite-sized pieces.  You should have about 8 cups of bread chunks.  Spread out on a sheet pan and let "stale up" a bit more.  You can prep to this stage several days ahead.  Once they are dried out, store in a zip bag.
Two hours before serving, toss the stale bread cubes with ¾ cup Spicy Tomato Vinaigrette. Set aside.
When ready to serve, add the remaining ingredients and toss with additional vinaigrette, as needed.  This is where I normally say taste seasonings and adjust, but this is so full of flavor I can't imagine what you could do to improve it.  Damn, that's tasty!
Closing arguments for the Case of the Anchovy:  If you really really really can't see your way past their bad reputation, use salt to taste, and maybe even a splash of soy in your vinaigrette. Soy Sauce in all its fermented glory might give you a hint of the umami you'll be missing. Just know that Rose is rolling in her grave and there isn't a snowball's chance in hell that Ruth will ever confirm your dinner reservation.  Choice is yours.
Serves 8-10 and makes fabulous leftovers.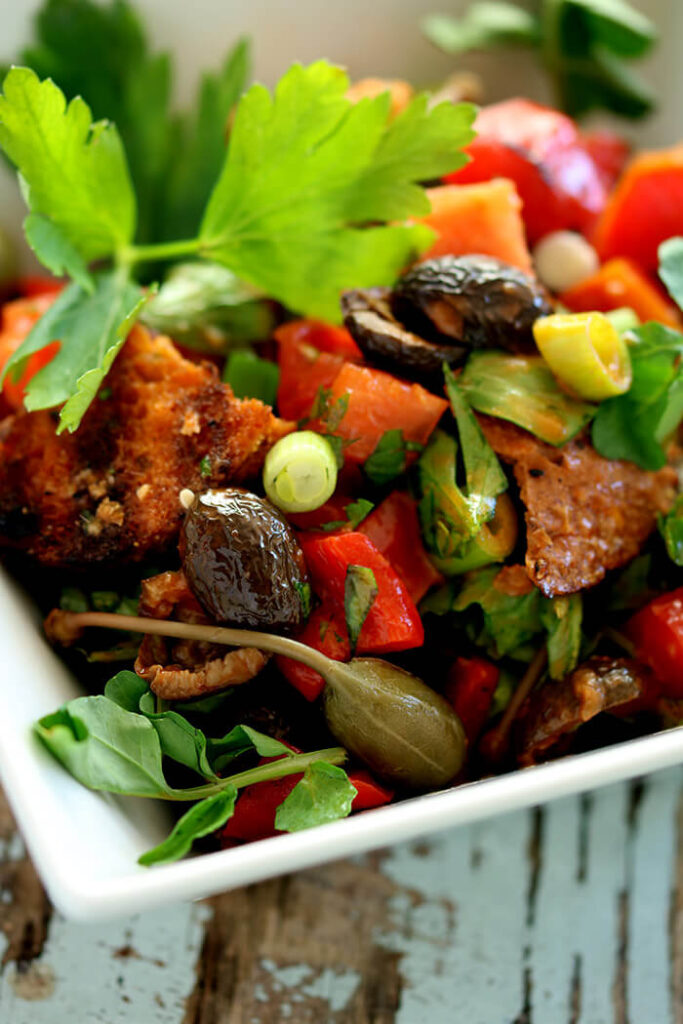 This post contains affiliate links.  For more of my must-have faves, check out my shop.
© Copyright: KatyKeck.com 2016. All rights reserved.
Hey, we want to hear from you!
Don't forget to Comment, Share & Subscribe to our blog.
Save