It's no secret that Cobb Salad is a personal fave. But how to turn up the flavors, yet keep the bacon, egg, and cheese goodness? Enter Sriracha Grilled Shrimp and Buttermilk Chipotle Dressing. Say hello to your new best friend – the Southwestern Grilled Shrimp Cobb Salad. Perfection!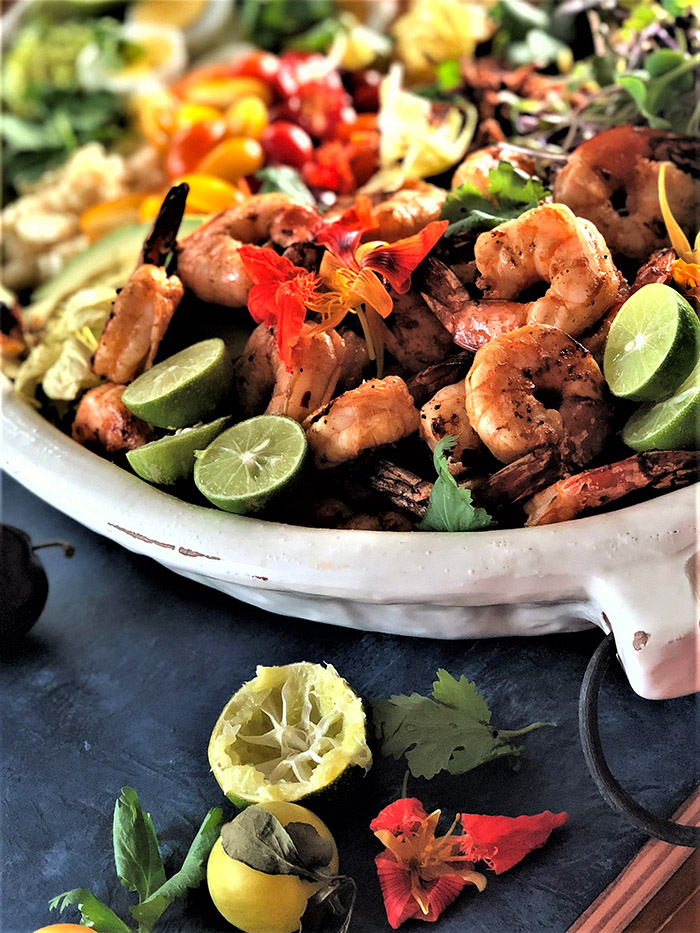 If you only need to know one thing about me, know this. I am mad for late summer farmers' markets. I will probably go to five this week. Okay, I agree…..a little obsessive. But, I have a favorite farmer (plus The Cheese Lady) for every ingredient in this salad. I'm not saying you have to do the same – or that you can't just go to the supermarket for all this – but I AM SAYING you have to make this NOW. Southwestern Grilled Shrimp Cobb Salad is all about the season at hand! Fresh sweet corn. Heirloom tomatoes. Sprouts. Flowers. Herbs. Oh my!
The Classic Cobb Salad
Instead of debating where this salad came from and why it is so called (almost certainly a 20s- or 30s-era salad from Hollywood's Brown Derby, owned by Robert Cobb), what do you say we just dive in? The classic has greens – often iceberg or romaine, chicken, tomatoes, avocado, hard boiled egg, Roquefort and bacon. In other words, what could be bad? You may find it already tossed, as well as deconstructed with tidy little rows of ingredients. While it barely needs a dressing, the rich cheese and bacon beg for a quiet whisper of shallot vinaigrette.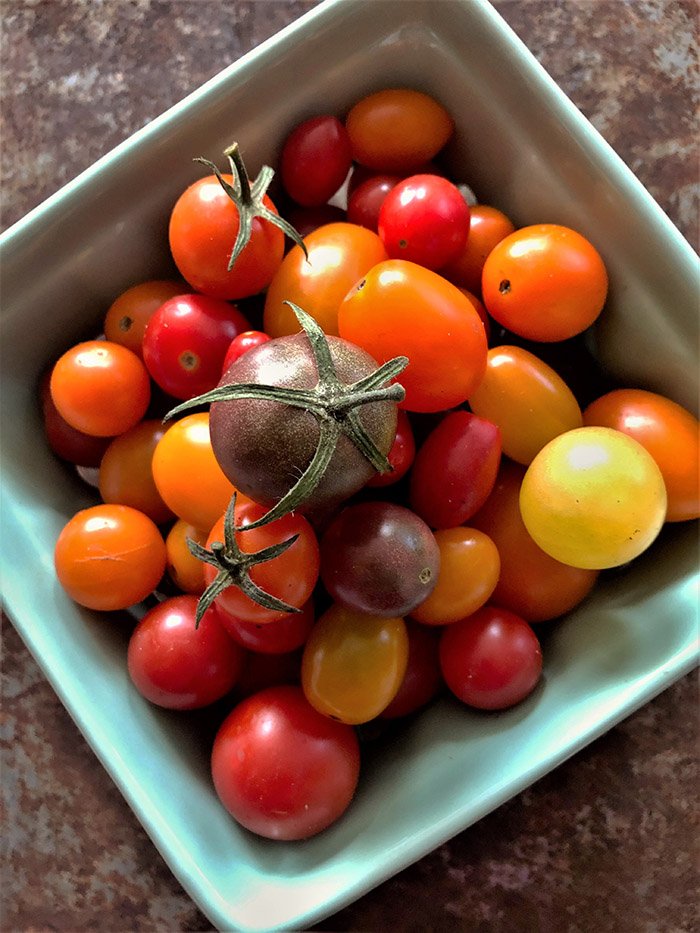 The Shrimp Cobb Salad
I'm not gonna lie. I am a bit conflicted here. I have a passion for spins and tweaks and making the old new again. But the Classic Cobb is pretty much as good as it gets. I was having a party and wanted a make-ahead all-in-one salad-entree and I thought this would fit the bill….a real crowd-pleaser. But I decided as long as I keep all the favorite components, I could give it a global palate spin. Enter shrimp, corn, and chipotle. Some of the ingredients were direct swaps – chicken for shrimp, roasted for marinated and grilled, Roquefort for Hatch Gouda, and shallot vinaigrette for Buttermilk Chipotle Dressing. Others were too good to mess with – bacon, eggs, tomatoes, and avocado. Then there were a few things I decided to slide in because I could.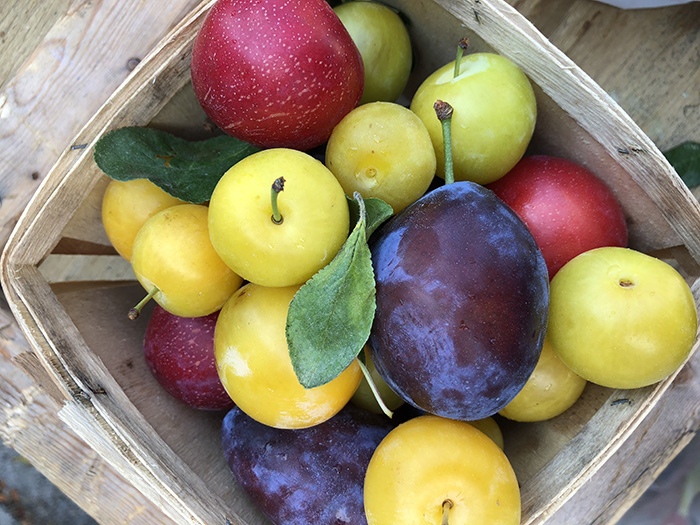 Look at these stunningly gorgeous plums. What a perfect sweet and juicy foil to all that buttermilk tang and chipotle smoke! Michigan produces a wide range of both Japanese and European varieties. Those yellow/green beauties are Shiros; the golden/orange-ish rounds are Bubblegum; the small red orbs are Methley; and the violet-blue ovals are Vibrants. I also added some corn which brought some more lovely sweetness, but bonus……….a nice crunch and texture contrast, as well.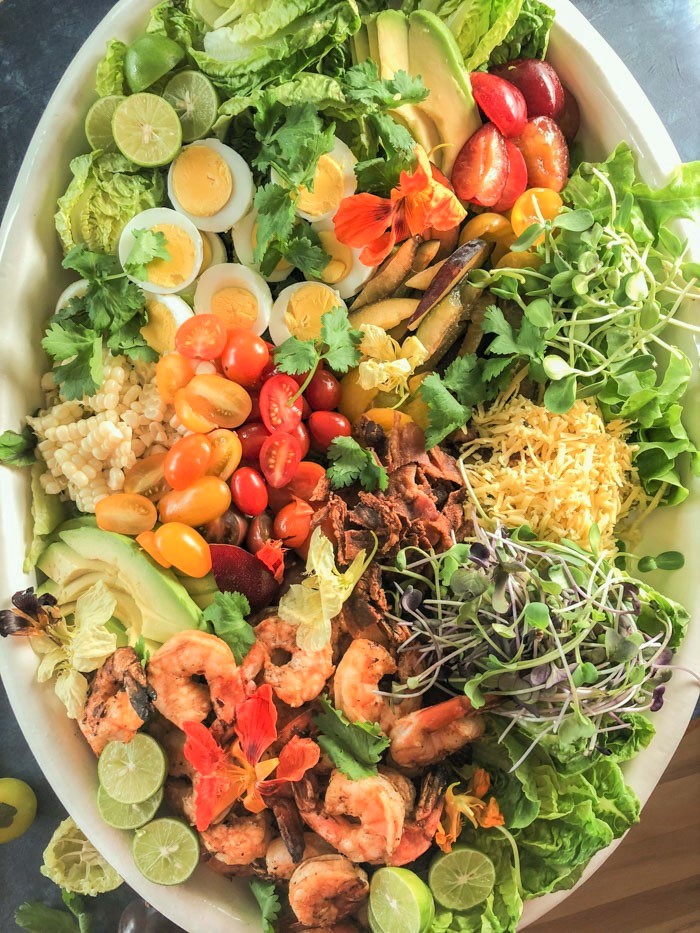 I think deconstructed salads are among the few places where more is more. Most often in food, less is more. But if you are going to let people decide what to add to their plate, why not give them a variety to chose from?
Marinating the Shrimp
Shrimp is an-oh-so simple thing to throw on the grill, and of course is good grilled and chilled, making this the perfect make-ahead entree. The marinade is dead easy – lime juice, olive oil, Sriracha, Tabasco and some spices. If you haven't tried the Chipotle Tabasco, give it a whirl. It adds a nice smokiness to the marinade. I never like to marinate any seafood or fish for too long, because the acid will start to "cook" it. If you prep the marinade first, and add the shrimp while prepping the rest of the salad and getting the grill ready, you will time it just right. Then only a few minutes on the fire for each side, and you and your shrimp will be ready to chill.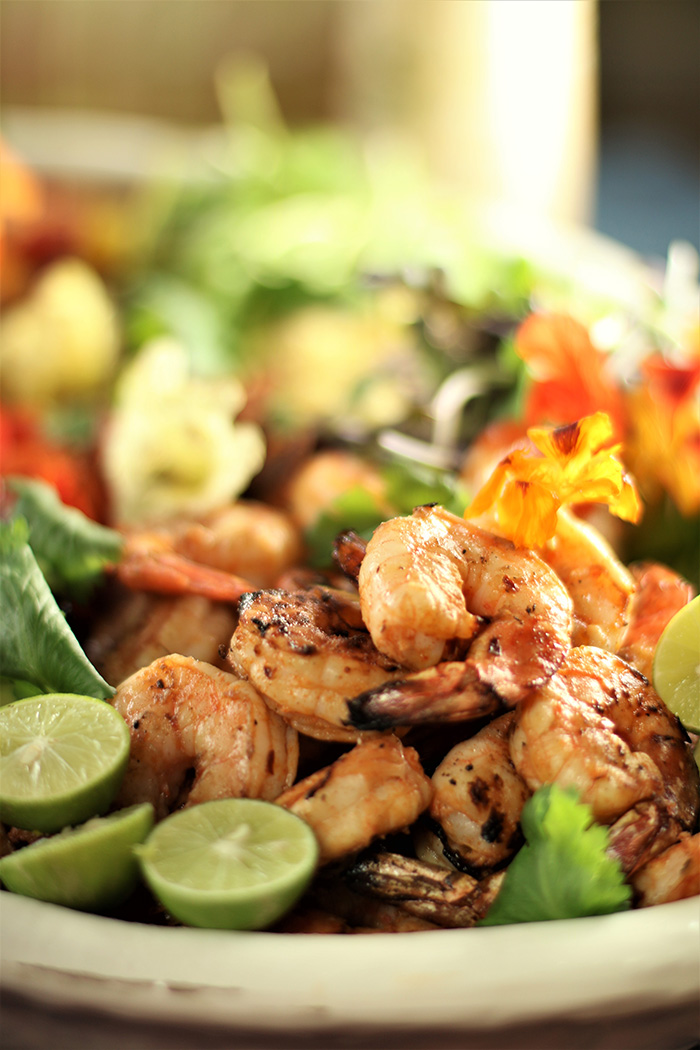 Composing the Salad
The directions for the marinade and creamy dressing are sufficiently detailed, but I am leaving the quantities for the fixin's – or even whether or not to add them at all – up to you. How big is your platter? How many are you serving? How much do you love/hate sprouts?
Just keep in mind colors and textures as you go to arrange your platter. It's a bounty of beautiful ingredients so this should be the fun part once your chopping is done. If you need to prep things further ahead than when you want to compose it, just bag each ingredient separately and arrange closer to serving time. Your guests will be dazzled! Enjoy!!
Print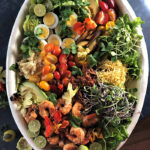 Cobb Salad with a Spin: Southwestern Grilled Shrimp Cobb Salad
---
Author:

Total Time:

1 hour 30 minutes
Description
This Southwestern Grilled Shrimp Cobb Salad is a kicked up spin on an old classic. A few simple ingredient swaps, along with a zesty marinade for the shrimp and a creamy Buttermilk Chipotle Dressing, and this one-platter-is-a-meal comes together quickly. What a great way to celebrate with the bounty of late summer!
---
Marinade (makes enough for two pounds of shrimp):
1/4 cup

olive oil

2 Tablespoons

fresh lime juice

1 Tablespoon

Sriracha

1 teaspoon

Chipotle Tabasco

1 teaspoon

ground cumin

1/2 teaspoon

salt

1/4 teaspoon

red pepper flakes
Buttermilk Chipotle Dressing (makes 2 1/2 cups):
1 cup

Greek non-fat plain yogurt

3/4 cup

buttermilk

1/4 cup

fresh lime juice

1/4 cup

extra virgin olive oil
chipotles in adobo – one big and one small, more or less to taste

1

clove garlic

2 teaspoons

ground cumin

1 teaspoon

salt

1/2 cup

tightly packed cilantro leaves
Salad fixin's (mains):
shrimp, raw, deveined, peeled and tail on
Little Gems, baby Romaine lettuce, trimmed and halved
heirloom cherry and grape tomatoes, halved
eggs, hard-boiled, peeled, and halved
bacon, crispy and crumbled
avocado, peeled and chopped
Southwestern cheese, grated (I found Hatch Chili Gouda)
corn, shucked, boiled, and cut from the cob
plums (or other stone fruit), pitted and sliced
Salad fixin's (garnishes):
cilantro leaves
limes, cut in wedges or halved, if small
edible flowers, like Nasturtium
fresh sprouts, like radish, watercress and sunflower
crunchy topper (see note)
---
Instructions
Prepare the marinade: Combine all ingredients in a mixing bowl. Add shrimp and toss to coat. Cover and refrigerate, up to one hour, while you prepare the other ingredients.
Prepare the Buttermilk Chipotle Dressing: Place all ingredients except the cilantro in the bowl of a food processor. Pulse to chop, then process until creamy. Add the cilantro and pulse several times to chop roughly. Transfer to a glass jar with a lid and refrigerate until you are ready to serve.
Grill the shrimp: Drain any excess marinade from the shrimp and grill over high heat for 2 – 3 minutes per side. Transfer to a plate and reserve until cooled.
Assemble the salad: Once the shrimp is cool enough to not wilt your salad, compose the salad using all the main ingredients, with an eye toward color and textures. Arrange the garnishes on top. If you are serving later, reserve the bacon and crispy topping until serving time. Cover and refrigerate.
To serve: Add the bacon and crispy topping and serve with the Buttermilk Chipotle Dressing.
Notes
Crunchy toppers: there are a lot of different crunchy toppers available in the crouton section these days. I used the fried jalapeno slices, but you will also find the basic fried onion rings, as well as red peppers, tortillas and more. Chef's choice.
Marinade is enough for two pounds of shrimp and Buttermilk Chipotle Dressing makes 2 1/2 cups.
Prep Time:

1 hour

Cook Time:

30 minutes

Category:

Salad

Method:

Grill

Cuisine:

American
Keywords: Cobb Salad, Shrimp, Chipotle Dressing
An Update:
I want to take a moment to send a heartfelt note of gratitude for all those that supported me spiritually, morally and physically in my Ration Challenge journey earlier this summer. Your generous financial support of this campaign put us at the very top of the fundraising leaderboard among the 40,000 challengers from around the world. Together we raised enough to feed 35 refugees for an entire year. Globally, that number is 16,829! Way to go!! With deep gratitude. xoxo, kk

© Copyright: KatyKeck.com 2019. All rights reserved.
Hey, we want to hear from you!
Don't forget to Comment, Share & Subscribe to our blog.