You know a movement has had its awareness sufficiently raised when a blithe reference slips into a throw-away line on a sitcom. After two posts on food waste last week, imagine my squeals when I heard this from a waiter at a hip millennial launch party on a newish sitcom: "The bruschetta has been made with rescued tomatoes and date of expiration burrata". I'm squealing. Really. Yipeeeeeeee!
Unfortunately summer bruschetta is the last thing on my cooking mind today. A girl can dream. But as I moped through the grocery looking for anything to lift the gloom of winter's darkest days, I was thrilled to see fresh turmeric. I didn't even know you could get this in a mainstream grocery – in the Midwest. It used to be relegated to special trips to Asian markets in big cities. Or more likely it could only be sourced dried and ground. Honestly, I was never a fan of turmeric when I only knew its dried self. I thought it tasted – well, yellow. It didn't really register much on my palate. But while doing guest chef stints on culinary cruises in the Caribbean, I would gather up ever fresh market item that was a bit unique and had a story and introduce our passengers to these new world treats. I even spent one week being followed by the Food Network, and we hit the Grenada spice market hard.

Turmeric was just one of the many spices I found bears little resemblance to its dry spice counterpart. Mace was another. It makes sense that I love turmeric because it's related to ginger – and I'm well documented as a "fiend for ginger". Both are rhizomes, along with galangal, lotus, bamboo, and many more. They spread laterally (called creeping rootstalk) and send shoots up. Many have culinary uses.
Like ginger, turmeric when fresh has a pungent and aromatic taste that can be quite peppery (HOT!), especially when used in excess. It is a key player in many South Asian (Thai, Indian, Vietnamese, and Cambodian) dishes – both for flavor and color; you'll find it in American food as a colorant that can range from subtle to supreme. Vanilla products like yogurt and pudding turn creamy, not stark white, and mustard turns bright yellow.
But turmeric's real claim to fame is its medicinal properties. Like ginger, turmeric has powerful anti-nausea (turmeric tea, just boil it up), anti-inflammatory, anti-microbial, and anti-fungal properties. If only this miracle worker could clean the bath!! (Nobody wants a yellow tub, I know, I know). It's even being studied for treatment of IBS, Alzheimer's, depression and cancer. Rock stah!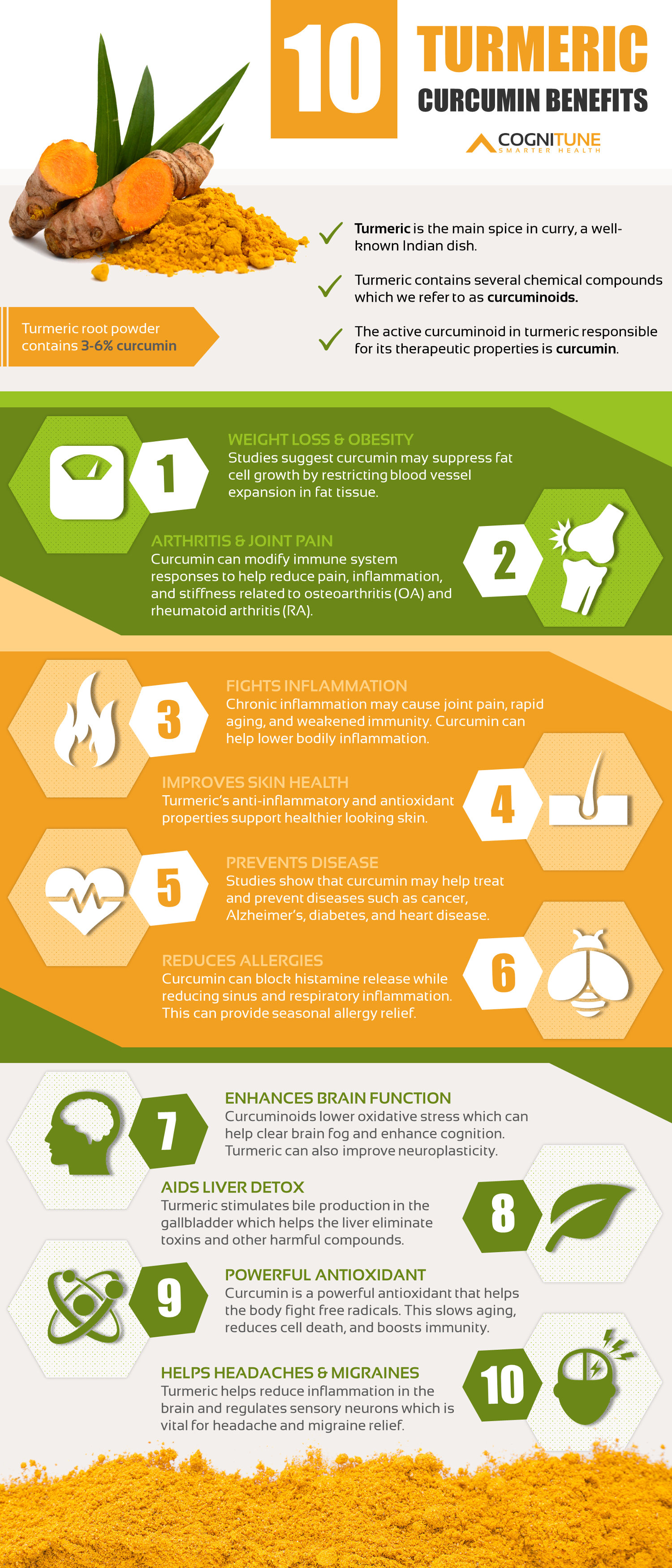 So I grabbed a handful and headed home, determined to make a spicy vegan curry. It doesn't have to be vegan or even vegetarian, but that is what I had on my mind. Tucking in for the night with a Buddha Bowl of Spicy Goodness.
Start by making a Yellow Curry Paste – this will make four times what you need and freezes well. You can add a lot of different ingredients or leave out some of these, but this is what I had on hand and so what I used. Roasting the aromatics and toasting the spices, while a bit more time-consuming, will elevate the taste and develop a real depth of flavor that you simply can't get by just pureeing all the ingredients. It's worth the commitment.

Print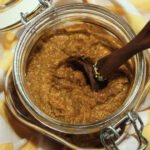 Chock-full o' Turmeric Yellow Curry Paste
---
Author:

Total Time:

1 hour 10 minutes

Yield:

about

2 cups

1

x
Description
Many curry recipes are simple purees, but this one roasts the aromatics and toasts the spices. While a bit more time-consuming, this extra step develops depth of flavor that you simply can't get with dump and whirl. It's worth the commitment. And bonus – it freezes well!
---
3

shallots

5

pieces of turmeric

3

heads of garlic

1 Tablespoon

of olive oil (plus more to drizzle on aromatics)
Spice Blend:

2 Tablespoons

ground coriander

2 Tablespoons

ground cumin

1 Tablespoon

red pepper flakes

1 teaspoon

ground cardamom

1 teaspoon

cayenne

1/2 teaspoon

cinnamon

1/2 teaspoon

paprika

1/4 teaspoon

clove

1/4 teaspoon

allspice

3 Tablespoons

lemongrass paste (a tube usually found with herbs in produce section)

1 1/2 teaspoons

sea salt
---
Instructions
Preheat oven to 400oF.
Wrap the aromatics, each in their own foil pouch, and place on a sheet pan to roast. (20 minutes for the turmeric; 1 hour for the shallots and garlic)
Shallots – peeled, placed in a foil pouch and drizzled with olive oil
Turmeric – well scrubbed, placed in a foil pouch and drizzled with olive oil
Garlic – loose outer "paper" removed, tops of each head trimmed, placed in a foil pouch and drizzled with olive oil
In a small sauté pan, heat one Tablespoon olive oil and add all the spices. Sauté, stirring, for about two minutes until the spices start to release their aroma. Transfer to the work bowl of a food processor.
Once the aromatics are cool enough to handle, transfer the shallots and turmeric to the bowl of a food processor. Squeeze the roasted garlic cloves into the processor, picking by hand any that linger behind. Discard the garlic "paper".
Add the lemongrass paste and sea salt. Puree until desired consistency.
Transfer to airtight container and refrigerate or freeze.
Notes
This will last longer than if it were made with raw herbs or aromatics, and it also freezes well.
Prep Time:

10 minutes

Cook Time:

1 hour

Category:

Sauce

Method:

Blender/Processor

Cuisine:

Indian
Keywords: turmeric, curry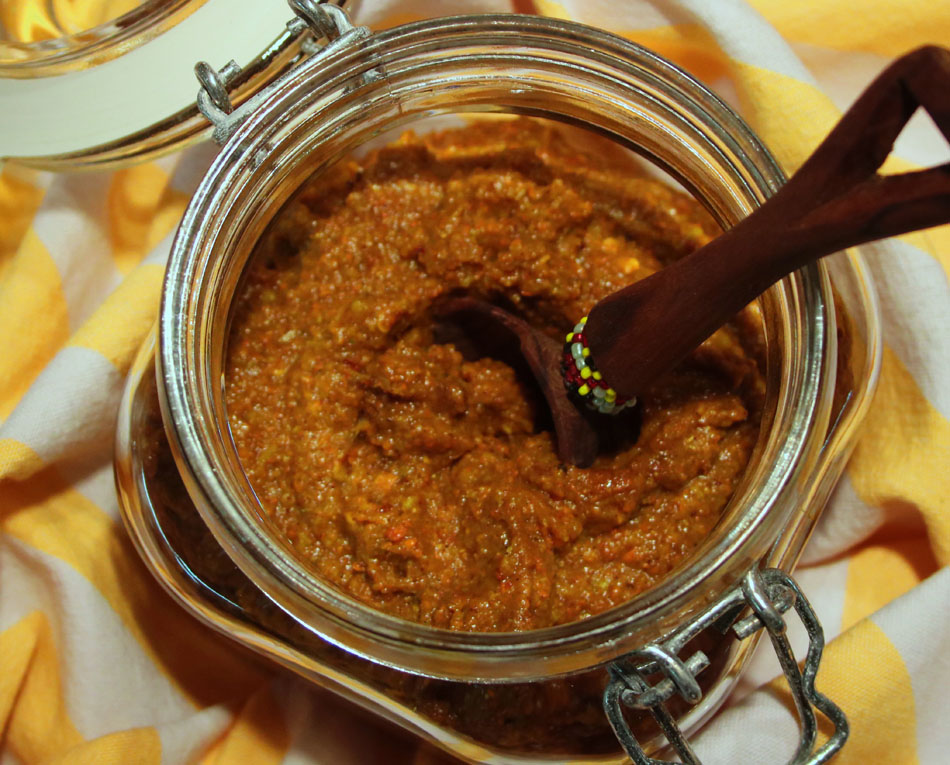 Now that you have that tasty curry, how about whipping up a Coconut Curry Buddha Bowl, filled with hearty and soul-warming sweet potatoes and earthy greens and topped with pumpkin seeds. It's vegan and you can feel great about that for so many reasons.
Coconut Turmeric Curry with Winter Vegetable Buddha Bowl
1 Tablespoon olive oil
2-3 inch piece of ginger, trimmed, grated
2 pounds sweet potatoes, peeled and cubed
3 Tablespoons yellow chock-full o' turmeric yellow curry paste
14-ounce can coconut cream
1 cup (chicken or) vegetable stock
5 ounce bitter salad greens blend (kale, chard, spinach)
Garnish:
2 chopped scallions
2 Tablespoons pumpkin seeds
2 Tablespoons chopped cilantro
Lime wedges
Serving suggestion – rice or brown rice* (See note below)
Start the rice.
In a wok or deep skillet, heat the olive oil and sauté the ginger for 2-3 minutes until soft.
Add the sweet potatoes, curry paste, coconut cream and stock. Bring to a simmer and cook uncovered, stirring periodically, for about 30 minutes or until potatoes are tender and sauce is thickened.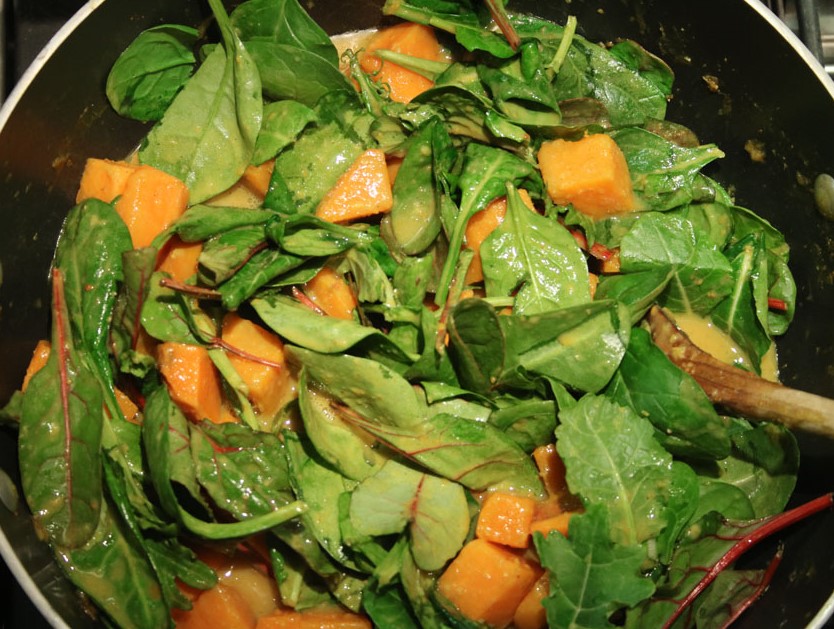 Add the greens and stir until wilted.
Divide rice among bowls and top with sweet potato curry. Garnish with scallions, pumpkin seeds, and cilantro. Serve with lime wedges.
Serves 4.
*Brown rice note: I really prefer brown rice but you've likely heard the bad news about arsenic. Because it is a whole grain, it has more potential for danger than white rice which has been stripped of its outer hull (and for that matter its nutritional value). Truth be told, I really don't eat it very often – once a month or less – so I'm not that worried but I do take a couple precautions. Brown basmati from California, India and Pakistan are the best choices – about 1/3 less risk than other brown rices according to Consumer Reports. The other thing I do is rinse it several times, and then cook it like pasta in a 6:1 water ratio (instead of the normal 2:1) and drain the excess water. That will help wash away the evil-doers lurking in your lovely whole grain. My Grandmother always said "you've gotta eat a peck of dirt before you die". I'm guessing she wasn't talking about arsenic, but she did make it pass 90. Just sayin.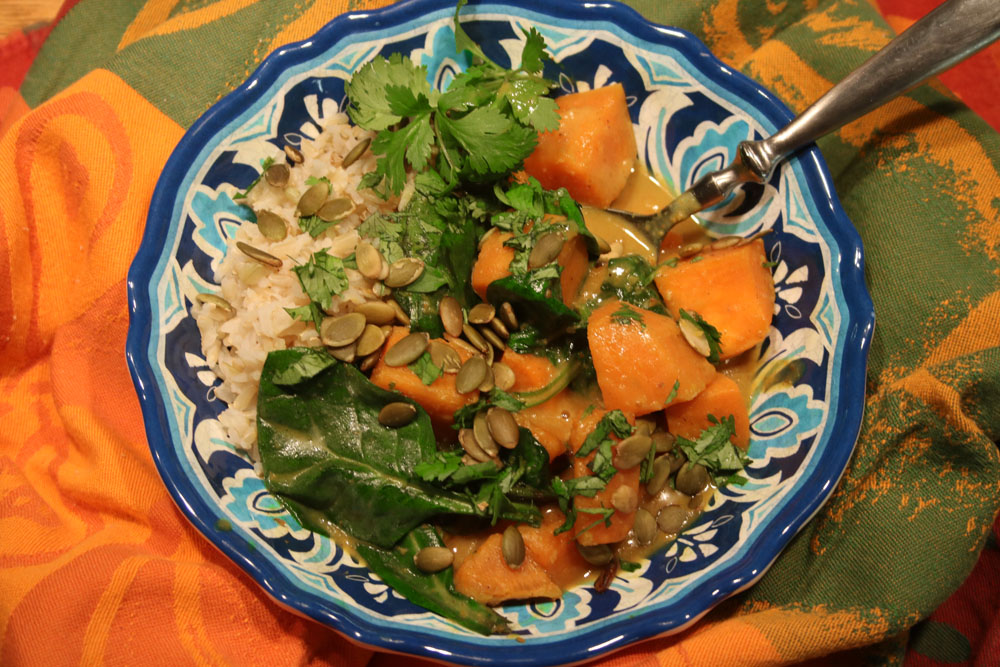 © Copyright: KatyKeck.com 2016. All rights reserved.
Hey, we want to hear from you!
Don't forget to Comment below, Share & Subscribe to our blog.