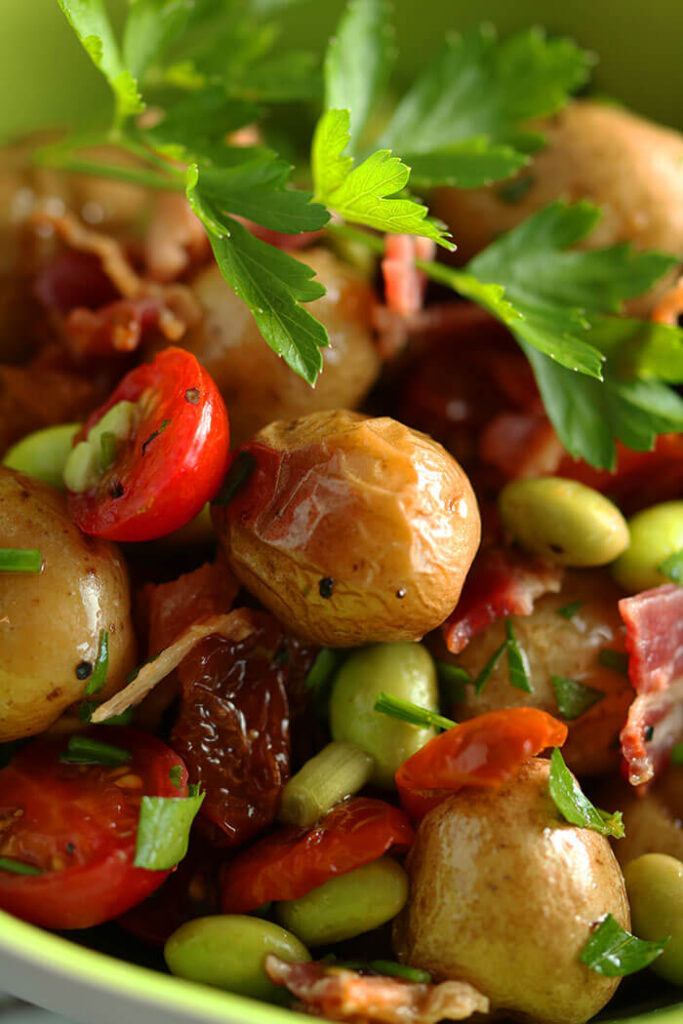 Having a German grandmother exposed me to vinegar-style potato salad from an early age. Don't get me wrong, we had our share of mayo-based summer spuds too, but I developed a taste for the briny acidity and mustard of German-style potato salads at a very early age. What I didn't see at that time however, growing up in Southern Indiana, was roasted potato salad…only boiled taters in our tater salads. It was only after I developed some culinary chops that I realized the beauty of roasted potatoes…well, TBH, roasted everything. Not only does roasting develop a bit of sweetness from caramelizing the natural carbohydrates, but it saves you from ditching all those wonderful nutrients that are lost when draining the water.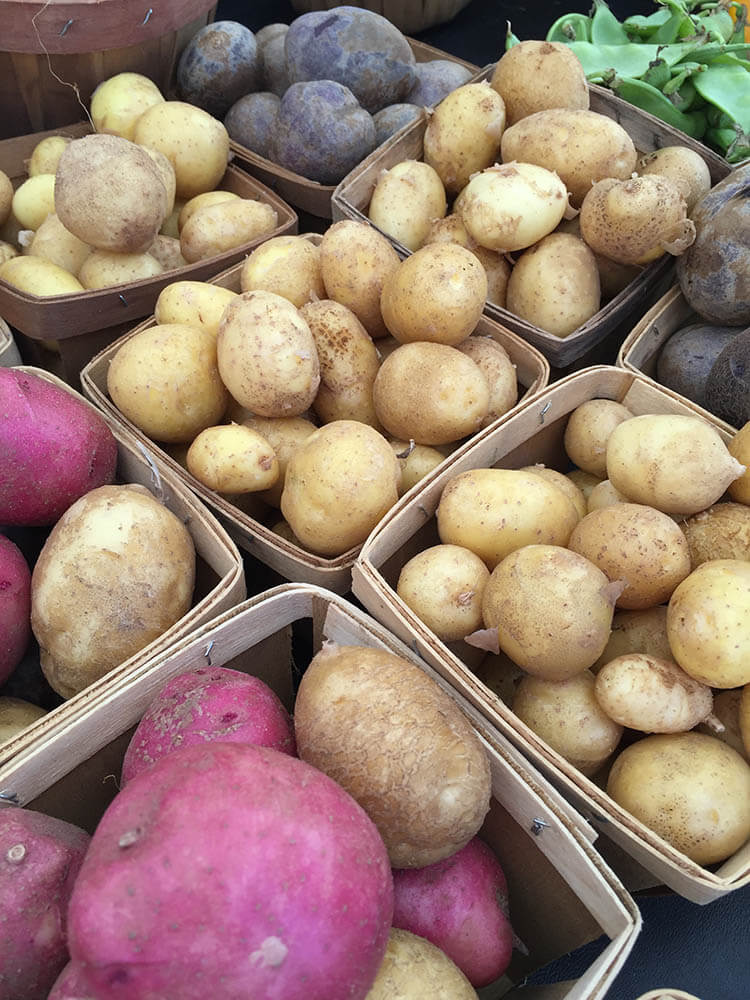 I am able to find tiny marble-sized potatoes both at the farmers market and in the grocery store. There are several brands at the supermarket, including The Little Potato Company. They offer an assortment of cherry-sized fresh creamer potatoes…Baby Boomer, Blushing Belle, Little Charmers, Chilean Splash, among them. If you can't find a small potato in your market, I recommend roasting new potatoes whole and cutting to size once they have cooled. Not only does it better hold the nutrients, but it also helps keep them a bit creamier which is a good thing in salads. If you were making an oven-roasted side dish, you might want the added golden surfaces from a pre-cut potato. It's a matter of personal taste, so go with what you know. A whole larger potato will definitely increase cooking time, so keep that in mind.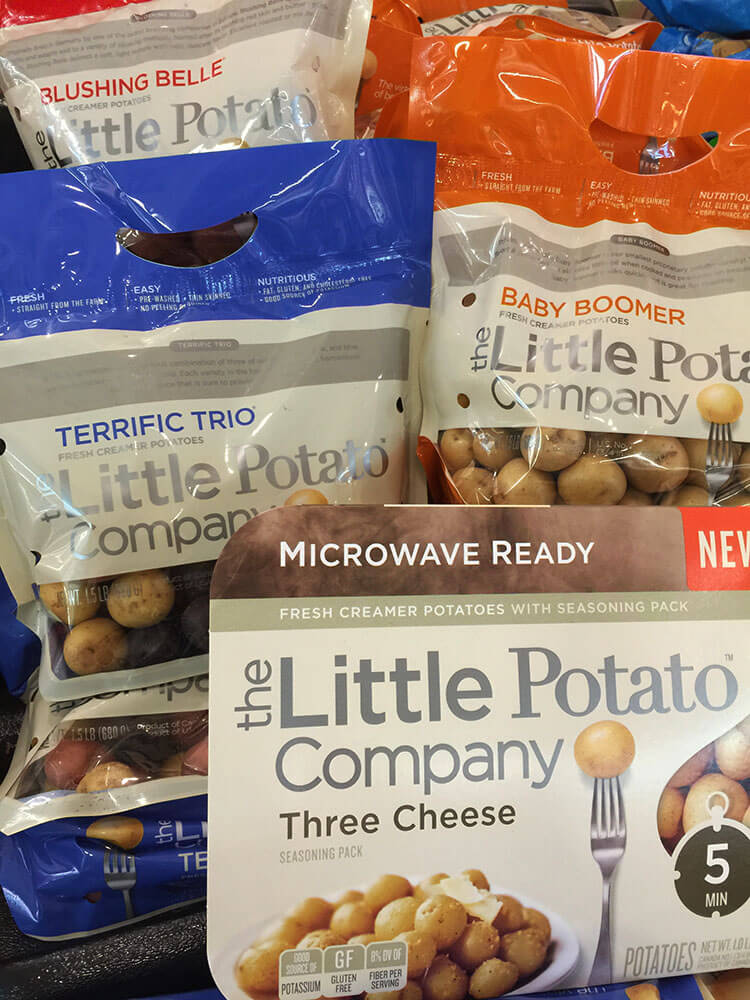 Now is the perfect time to think about preserving the late summer bounty of tomatoes, so I am counting on you to look back to the post You'll Thank Me in the Winter Oven-Dried Tomatoes. If you don't have any on hand and aren't ready to work on your winter supply, either substitute with sun-dried tomatoes (so inferior!!) or just use fresh tomatoes for the whole recipe, either the heirloom cherries called for in the recipe or chopped Romas or Beefs, enough to make up the one cup tomato total (1/2 cup dried + 1/2 cup fresh). Don't forget to adjust seasonings, especially salt, if you are only using fresh. The oven-dried tomatoes will bring salt from the prep, so I have cut back on the salt in the recipe in anticipation.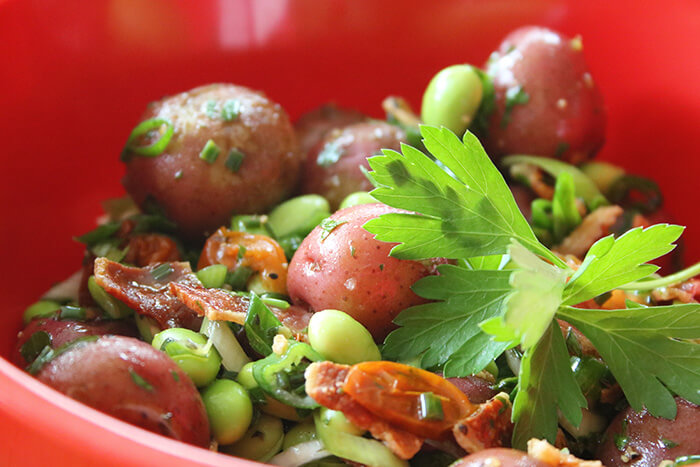 If you are so lucky as to have leftover roasted potato salad, try adding it to a breakfast quesadilla along with scrambled eggs, shredded cheese, and a little avocado, all sandwiched between flour tortillas. And be sure to keep my number handy because I'm gonna wanna show up for that!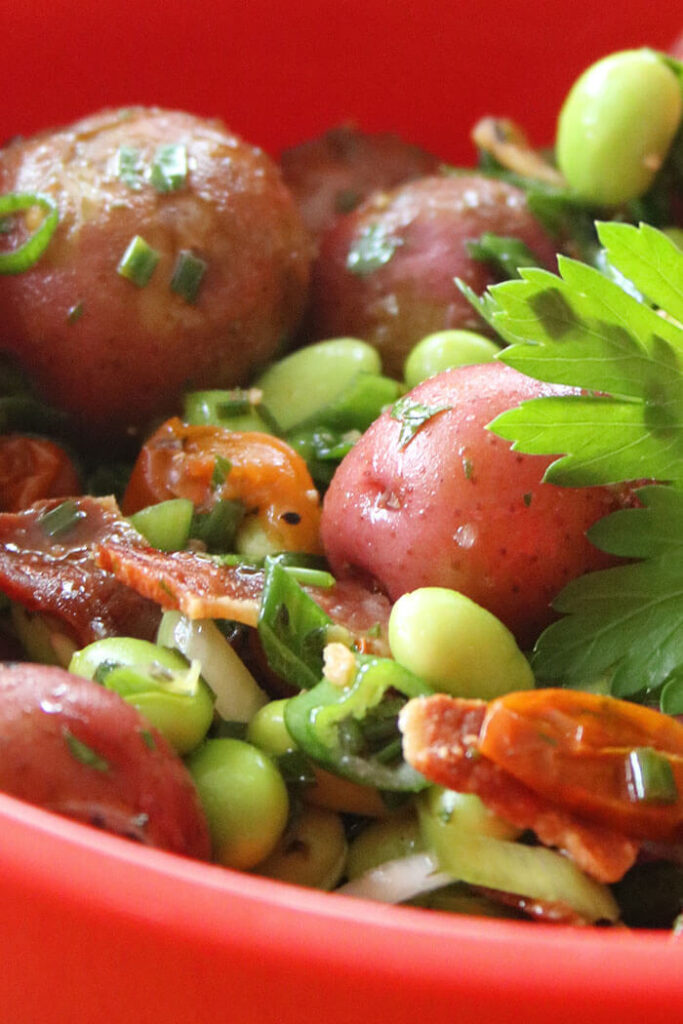 Print
Harvest Grains Salad with Oven-Dried Tomatoes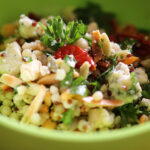 A new twist on pasta or grain salad, this dish uses a Trader Joe's pre-packaged combo and includes Israeli couscous, tri-color orzo, split baby garbanzos and red quinoa. While you can, oven dry some end-of-summer tomatoes and stash them in your freezer. They will add a nice flavor boost to salads like this, as well as pastas, soups, stews and anything else you might make this winter when the tomatoes in the store then will taste like cardboard.
Author: Katy Keck
Prep Time: 15 minutes
Cook Time: 15 minutes
Total Time: 30 minutes
Yield: 4 - 6
Category: Sides
Method: Stovetop
Ingredients
Vinaigrette:
2 Tablespoons extra virgin olive oil
2 Tablespoons lemon juice
1 teaspoon Dijon mustard
½ teaspoon salt
¼ teaspoon pepper
¼ teaspoon red pepper flakes
Salad:
Instructions
Make the Vinaigrette:
Whisk together the ingredients and refrigerate until needed.

Make the Salad:
Cook grains or pasta according to package directions. Rinse with cold water to stop the cooking.

Transfer to a mixing bowl and add tomatoes, cheese, parsley, and scallions. Stir to combine.

Toss with the dressing and refrigerate until serving time. Before serving, taste and adjust the seasonings, adding more lemon juice if needed and adding the almonds.
Notes
I used Trader Joe's Harvest Grains blend, but you can make this with pasta, or your own combination of couscous, both regular and/or Israeli, orzo, quinoa or other favorites.
This salad is perfect for extra add-ins. I'm keeping it pretty simple here, but feel tree to add other vegs, bacon, different cheeses or whatever your little heart desires.
Makes 1 quart.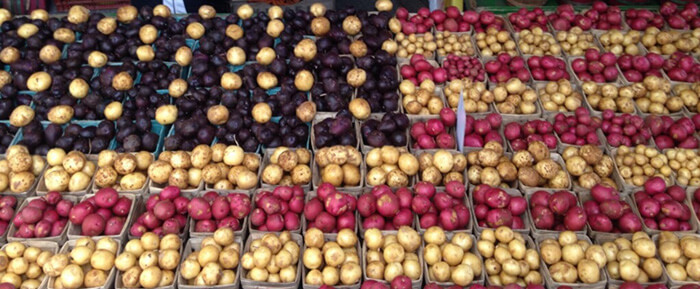 © Copyright: KatyKeck.com 2017. All rights reserved.
Hey, we want to hear from you!
Don't forget to Comment, Share & Subscribe to our blog.