You're driving me crackers, she said to this weather. Luckily this tasty little number is neither season- nor weather-dependent. I found my inspo for this recipe in a fancy store in California (Market Hall in Berkeley, if you must know), and I just might have eaten my weight in them. After "serving" them to guests two nights in a row, while secretly polishing them off on my own in the kitchen, I decided it was time to stop paying this fool's ransom and knock them off for myself. Armed with only a visual on the seed varietals and my longstanding loyalty to a good cheese crisp, I took it upon myself to try to replicate and I must say I nailed it first try. You're welcome!! The base recipe for these – when seed-free – reminds me of the signature dish at an early Lidia Bastianich restaurant – Frico. The frico, as a dish, is a melted cheese crisp, usually made with unpasteurized cow's milk cheese from Friuli called Montasio. At the restaurant, these cheese crisps crowned salads and were often stuffed with potatoes or mushrooms and more, served as an appetizer. How I miss this!
But, oh my, these Cali ones were chock-full of seeds, which provides more crunch and an additional level of nuttiness. Yahoo. As I was testing them, I remembered a frequent guest that I cooked for during my days as the food stylist at The Rosie O'Donnell show. Marjorie Johnson, from Minna-so-TA, dont'cha know. At 4'8", this feisty redhead, always decked out in a red dress, topped with a red apron, is pure sass. Here she is in 2016 at the Anoka County Fair, where she won 52 ribbons, including 22 blue and the sweepstakes prize for her tea ring. Yes, those are all hers…from that week!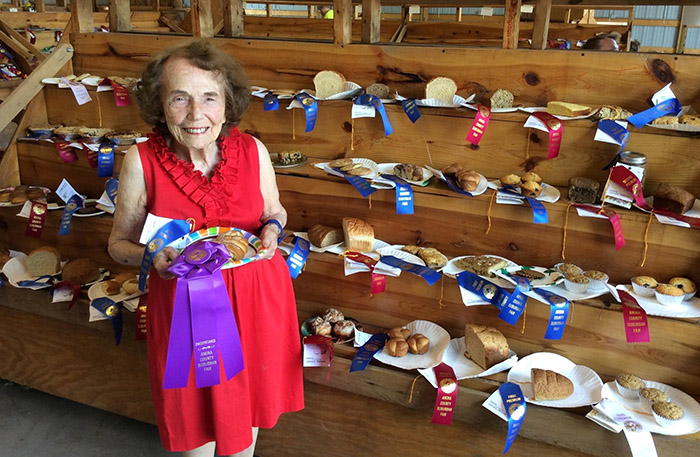 I met Marjorie before the millennium, and her goal was to have 2000 blue ribbons by the year 2000. She has well over 2500 now and has not slowed down one bit. Her secret, she told me, to beefing up her ribbon count was to enter random categories with less competition……………like crackers. And we're back. Temporarily. (I must add that is something I was long aware of – don't take the easiest path using a sweet ingredient in a dessert. Work harder and come up with something that is unexpected.) I haven't seen Marjorie in a while, but we keep in touch and I have her book. I'll never forget the segments we did with Alec Baldwin or Paul and Nell Newman after Marjorie won a load of dough from Newman's Own. It all went to her favorite charity – American Cancer Society in Minnesota – and they in turn crowned her the belle of the ball, tiara and all. I think Alec summed it up best – while on his knees to meet Marjorie eye to eye – "We need more Marjories!!"
Seeded Cheese Crisps
I debated calling this a Cheese Krackle instead of a Cheese Crisp, because the seeds make it so much more than a Crisp. Such decisions!?! Luckily the recipe is much more straightforward than that challenge. I really don't need to tell you in great detail about this recipe, because once I locked in the ratio of ingredients, it pretty much baked itself. Instead of Montasio, I chose a rosemary Asiago, an Italian cow's milk gold medal winner at the 2008 World Championship Cheese Contest, and Fontina Fontal, also Italian, and also cow's milk…from our friends at The Cheese Lady, of course. The Asiago adds a bit of tang and the Fontina is a sublime melting cheese. Keep the cheeses cold until you grate them, as they tend to be a bit softer than many cheeses we often grate. I used the big holes on a box grater.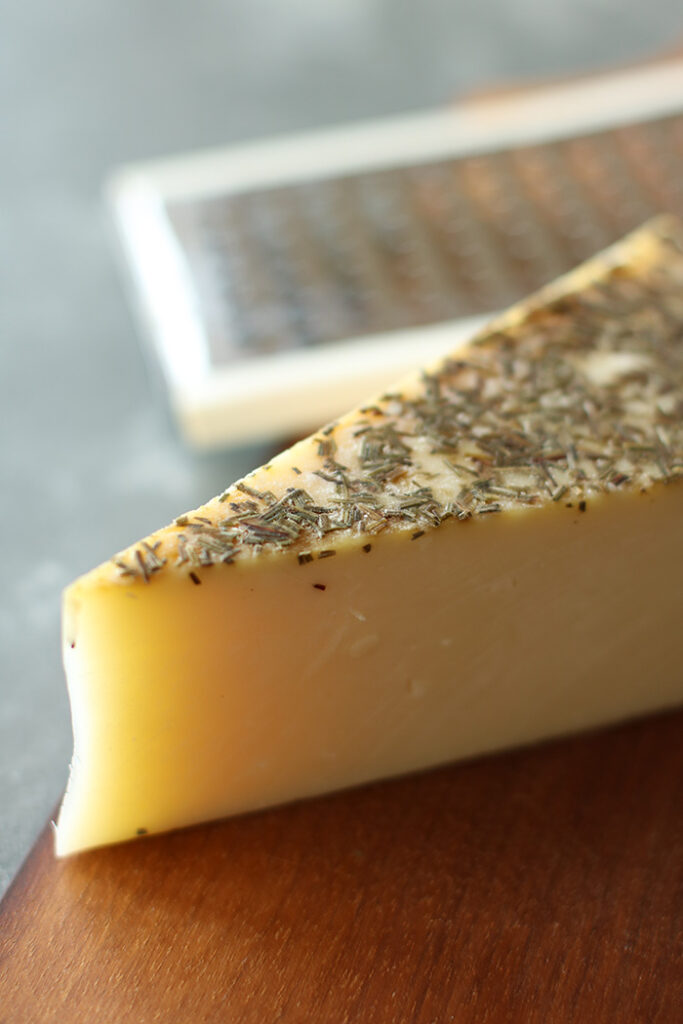 Add all the seeds to the grated cheese and mix well to combine. You may find that as you dole out the mixture onto a sheet pan that the smaller seeds will settle so be sure to keep mixing as you go.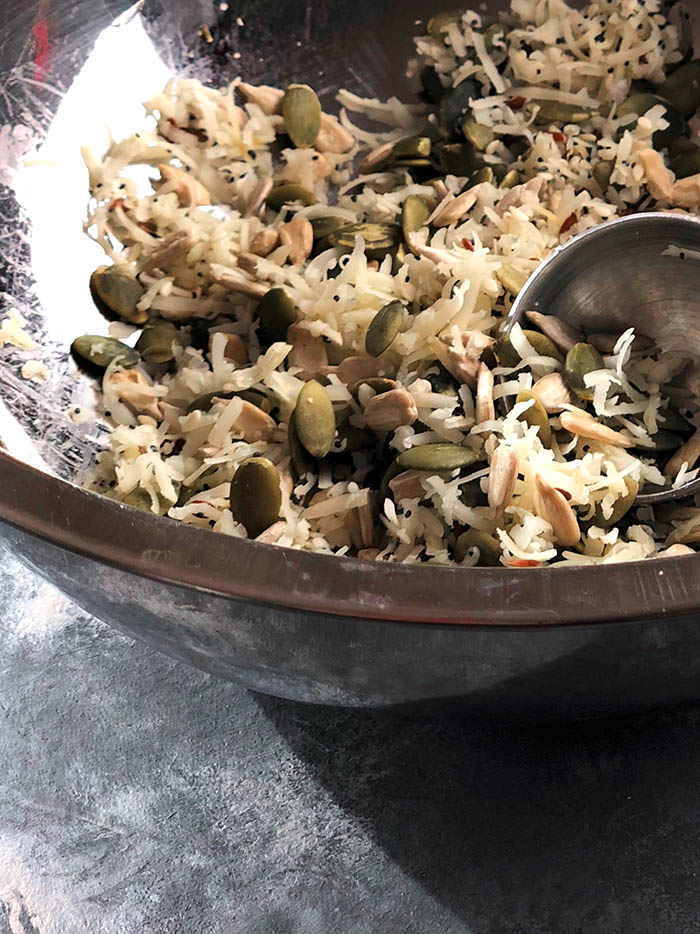 You will need two or three batches on a half-sheet pan to bake off all the mixture. If you need to re-use a pan for a later batch, let it cool to room temp first so it doesn't throw off your oven timing. I used two Tablespoons mixture per cracker and flattened them a bit with my fingertips for even cooking. You will need to leave a little space between them, but more for an easy removal than to accommodate massive spreading.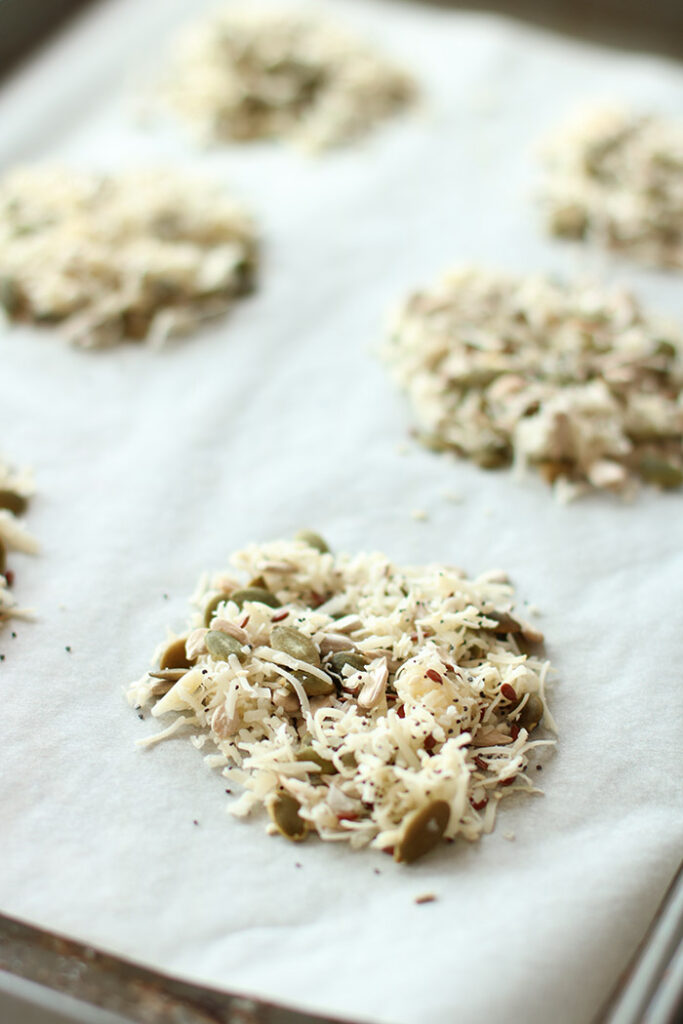 Bake at 375o for 7 – 8 minutes until the crisps are lightly golden. Remove the pans from the oven and let the cheese crisps cool slightly on the sheet pans until they firm up. Then you can transfer quickly to a wire rack using an offset spatula. I would tell you to store them in an airtight container once cooled, but let's be real – are you going to have any leftovers? Kind of doubt it!!!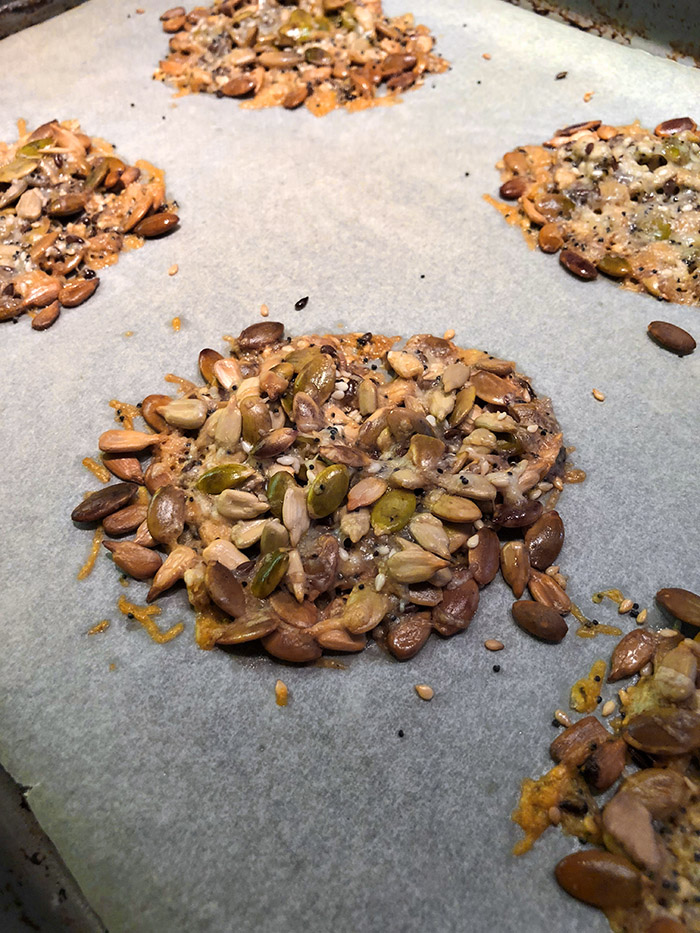 These are tasty as a garnish for soups and salads, or as an accoutrement to a cheese or meze spread. Call it a Krackle, call it a Crisp, but definitely call it delicious.
When you give this loaded cheese crisp a whirl, tag me on Instagram and as always, I LOVE to see your comments below.
Print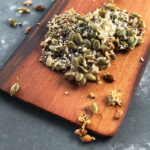 Going Crackers: Best-Ever Cheese Crisp
---
Author:

Total Time:

20 minutes

Yield:

15

pieces

1

x
Description
This seed-filled cheese crisp is great on top of a soups and salads, or as an accoutrement to a cheese or meze spread. Call it a Krackle, call it a Crisp, but definitely call it delicious. And while you are at it, double up on the recipe. You're gonna want more.
---
3 ounces

grated Asiago, or

1 1/3 cups

1 ounce

grated Fontina Fontal, or

1/3 cup

3 1/2 ounces

raw shelled pumpkin seeds, or

2/3 cup

1 ounce

raw shelled sunflower seeds, or

1/4 cup

3 Tablespoons

sesame seeds, or

1 ounce

1 Tablespoon

flax seeds, or

1/2 ounce

1 Tablespoon

poppy seeds, or

1/3 ounce

3/4 teaspoon

kosher salt
---
Instructions
Preheat oven to 375o F. Line two half-sheet pans with parchment paper.
Combine all ingredients in a small bowl. Mix well. The smaller seeds may settle so be sure to stir as you dole out the mixture.
Divide the mixture into crackers, allowing 2 Tablespoon per cracker. Flatten any mounds to a uniform thickness.
Bake for 7 – 8 minutes until lightly golden. Cool slightly on the sheet pans until they firm up, and then quickly transfer to a wire rack using an offset spatula. Store in an airtight container once cooled.
Notes
I used a rosemary Asiago but plain works well too.
Keep the cheeses cold until you grate them, using a box grater. They are a bit soft so they don't grate as well at room temperature as a harder cheese, like Parmesan.
These are delicious on top of a soup or a salad, or as an accoutrement to a cheese or meze spread, but do note they are not sturdy like a Ritz, so don't go planning to spread your Cheez Whiz atop. Who are you anyway??:)
Prep Time:

10 minutes

Cook Time:

10 minutes

Category:

cracker

Method:

oven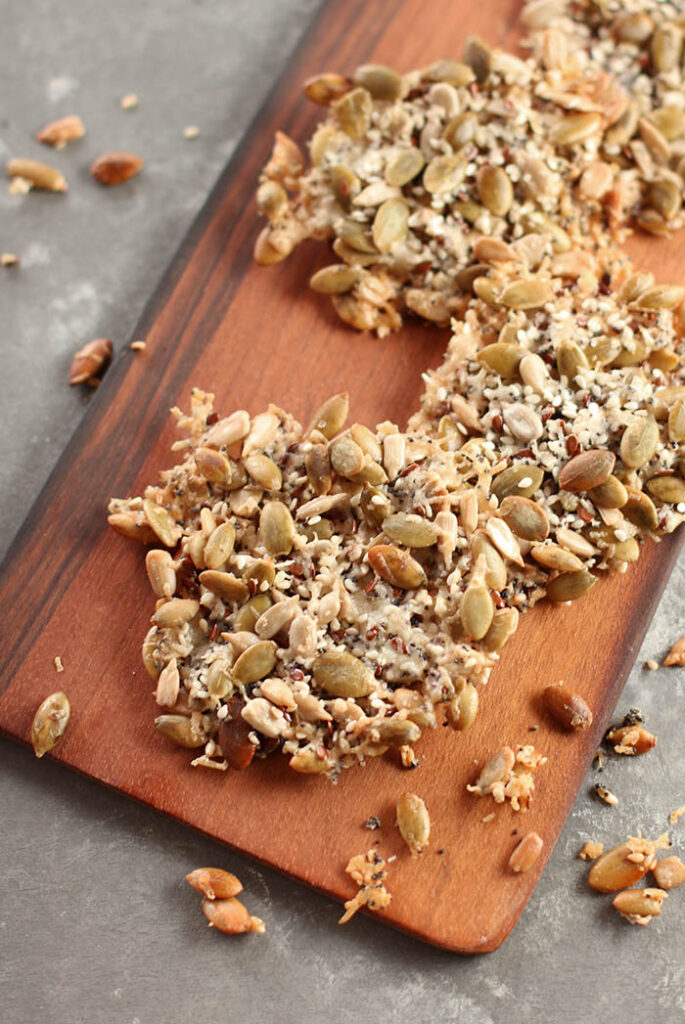 This post contains affiliate links. For more of my must-have faves, visit my shop.
© Copyright: KatyKeck.com 2018. All rights reserved.
Hey, we want to hear from you!
Don't forget to Comment, Share & Subscribe to our blog.