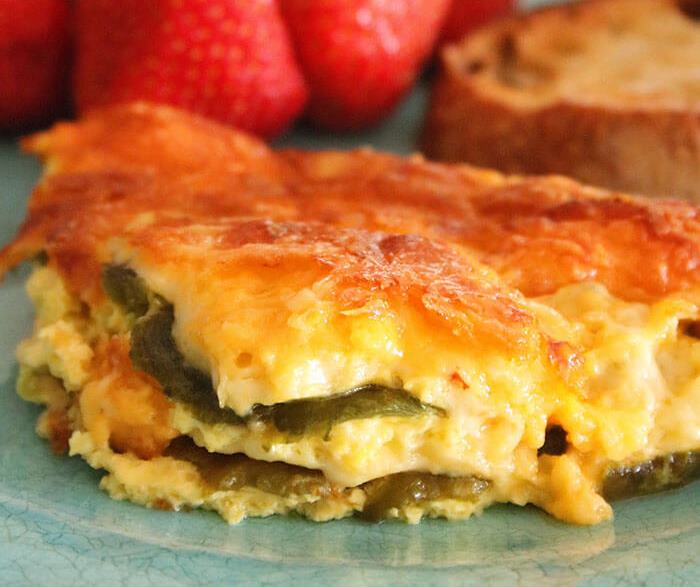 Now that you have eggstracted all the info needed to pick the best possible, freshest, and ethically, pasture-farmed eggs for your roasted poblano strata, it's time to get cooking.  But what's that you ask?  What's a strata?? Come on! You know what a strata is even if you don't call it that.  It's a poor man's soufflé, relying on bread instead of whipped egg whites.  My mom was legend when it came to the classic one – an egg/milk mixture that she poured over chunks of bread and allowed to sit overnight in the fridge.  The "chunkies" could be almost anything, but she (always a measurer) stuck to her recipe and used cubes of ham and cheddar.  She called it a fondue, and while really more quiche-like (custard-based), it was probably closer to a fondue with all that melted cheese (yes, you CAN add too much cheese) than a strata which derives from the Latin word stratus, meaning layers.  It was the ladies of the Silver Palate that popularized calling a layered brunch dish strata back in the 80s.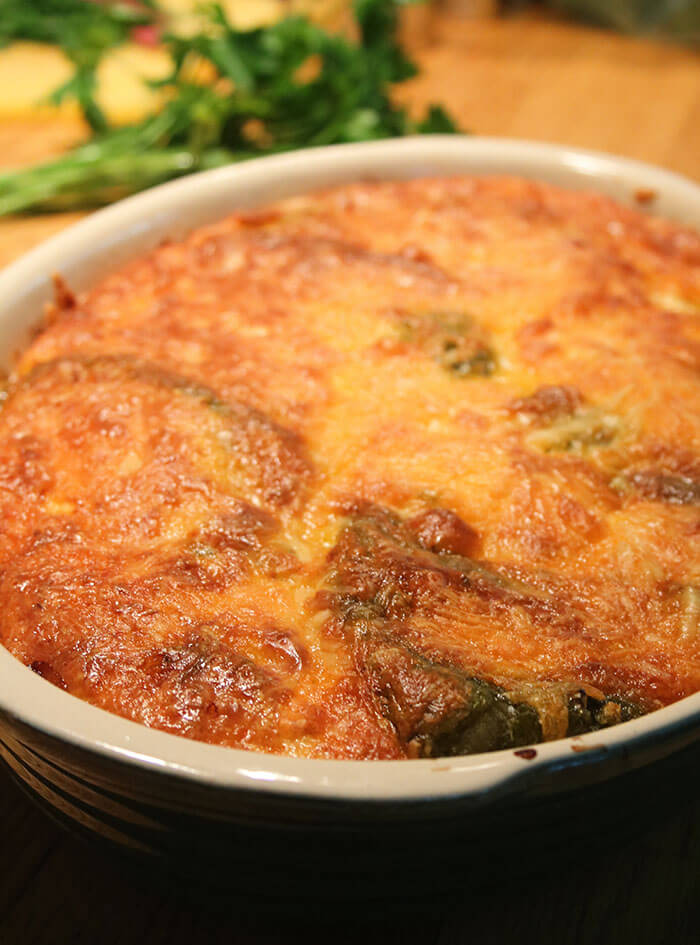 In this version, I am bringing layers back. This dish is assembled lasagna-style.  And while I roast and peel the poblano peppers, if you are lucky enough to live in a place where you can get big cans of chilis, by all means, go for it.  I first fell in love with my inspo on this dish at a cattle branding in Nebraska many many moons ago.  It was featured in the Denver Junior League cookbook Colorado Cache and seemed almost soufflé like and probably hard to make, though I was told "doll, if it was that hard, we wouldn't be making it."  There wasn't a meal with less than 60 hungry ranch hands at the table.  I brought the idea home, found no such canned chilis available, and created this brunch favorite.

Roasted Poblano Strata
8 poblano peppers (or 32 ounces canned mild chilis, drained)
5 eggs
1 ¼ cups milk (plus 1/2 cup more if you are soaking the poblanos overnight – see below)
3 Tablespoons flour
½ t salt
8 ounces habanero or pepper jack cheese slices
3 cups shredded cheddar
Prep the poblanos: Grill (or char over a gas burner) the poblanos until blackened.  Place in a plastic bag and close to sweat.  Once cool enough to handle, run under cold water and peel off the charred skin.  Trim off stems and discard seeds and ribs.  You should be able to get two or three "filets" from each poblano.  If you are prepping your peppers a night ahead (recommended), cover with about 1/2 cup of milk and store in the refrigerator, covered.  This will turn down the heat to a reasonable breakfast temp.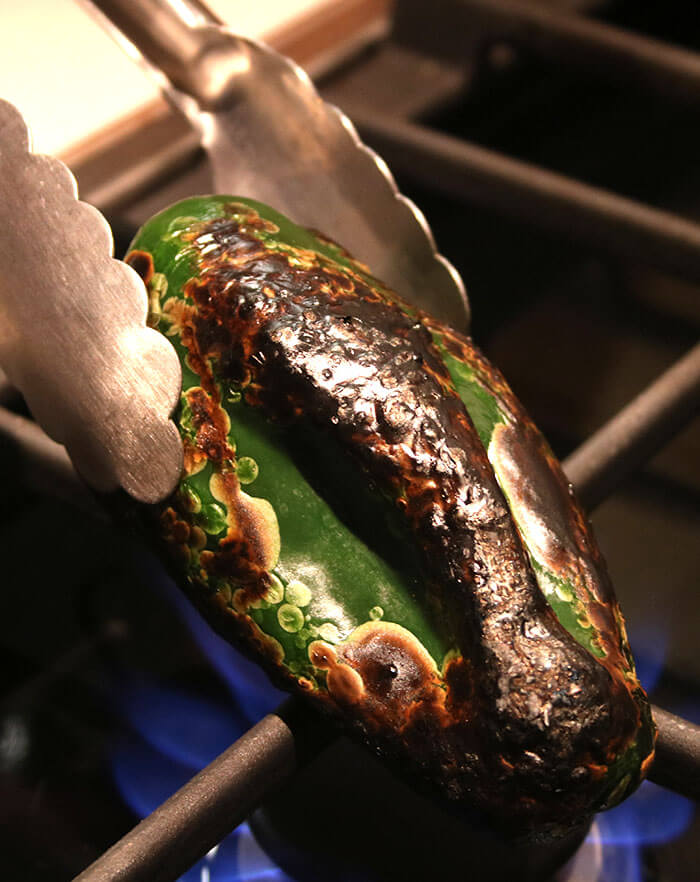 Prep the strata: Preheat the oven to 325oF degrees.
Butter a 2 or 3 quart baking dish.
Whisk together the eggs, milk, flour and salt.
Place a layer of poblanos in the baking dish and top with sliced cheese.  Repeat, creating as many layers as needed to use all the poblanos and the cheese slices, at least two layers of each.
Pour the egg mixture over the poblanos.  Sprinkle with shredded cheddar.
Bake at 325oF for 50 minutes until egg mixture is set and slightly puffed.
Allow to cool for about 10 minutes and serve warm!
Serves 8.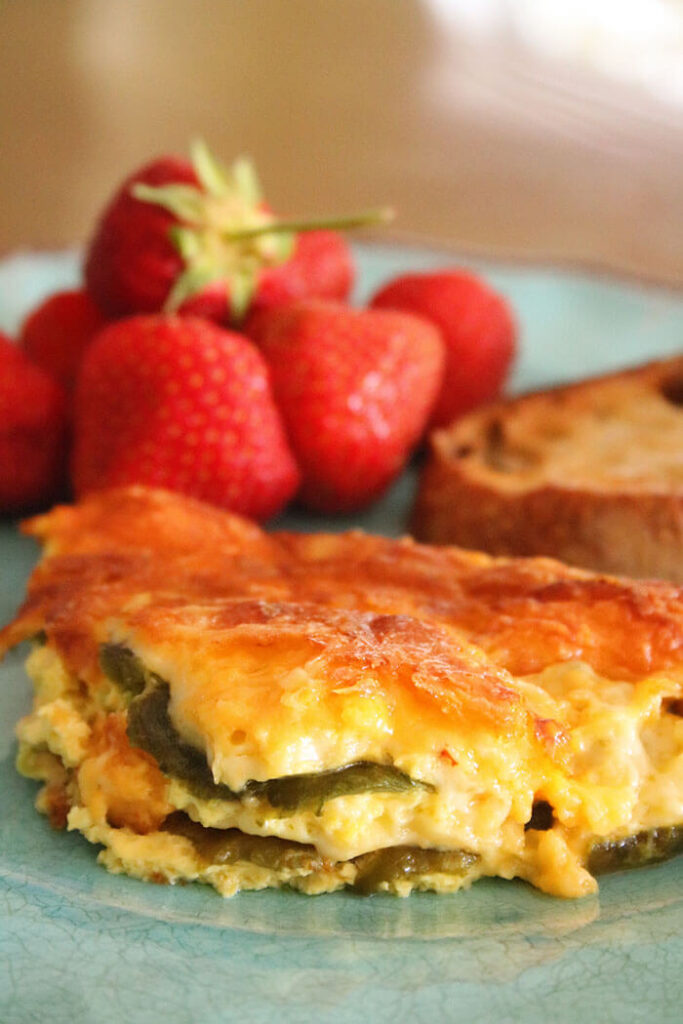 © Copyright: KatyKeck.com 2016. All rights reserved.
Hey, we want to hear from you!
Don't forget to Comment, Share & Subscribe to our blog.