Listen to the applause circle the globe as I am FINALLY posting the recipe for the Green Machine Salsa Verde. This recipe starting making the rounds with the Fajita Pot Lucky two years ago and has appeared in various iterations ever since, most recently at the All American BBQ Pot Lucky. Requested on the reg, I found when trying to share the recipe that I had continually been reinventing the ratios and ingredients. This is finally the definitive formula which I tested again just this week for another Pot Lucky, to be posted very soon.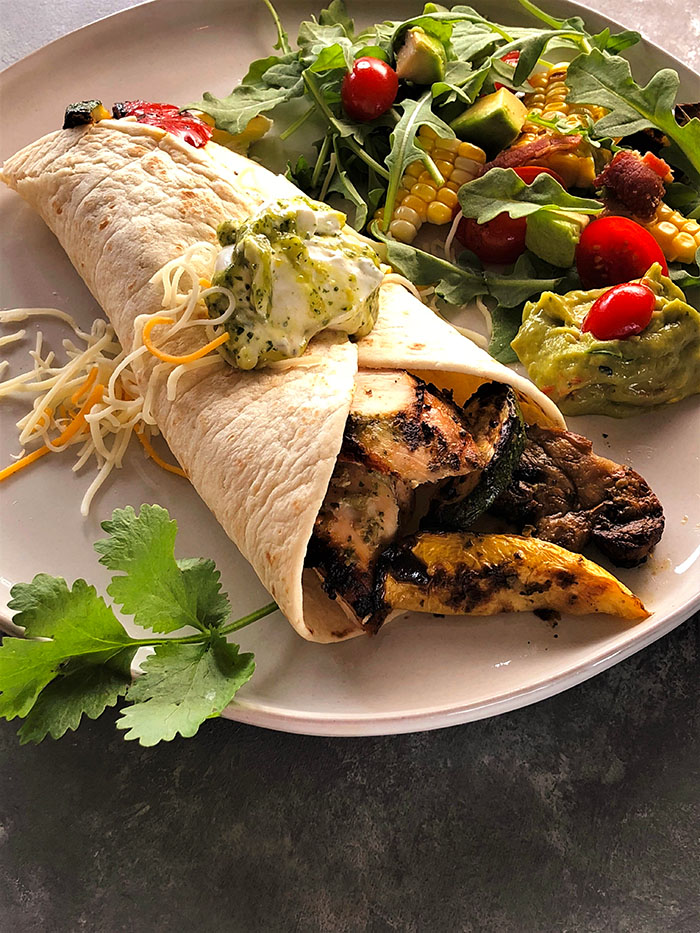 The Green Machine, while technically a Salsa Verde that can be used on its own in the traditional green sauce way, is so named because it's a workhorse. Check out the laundry list of possibilities below. I'm not suggesting you try all these things at once – that's for professionals, kids! – but this fajita above has the Salsa Verde as a marinade for both chicken and veg; it's mixed with sour cream for the grand dollop, and it's kicking up the guacamole. Try any one or two at a time, but pace it out.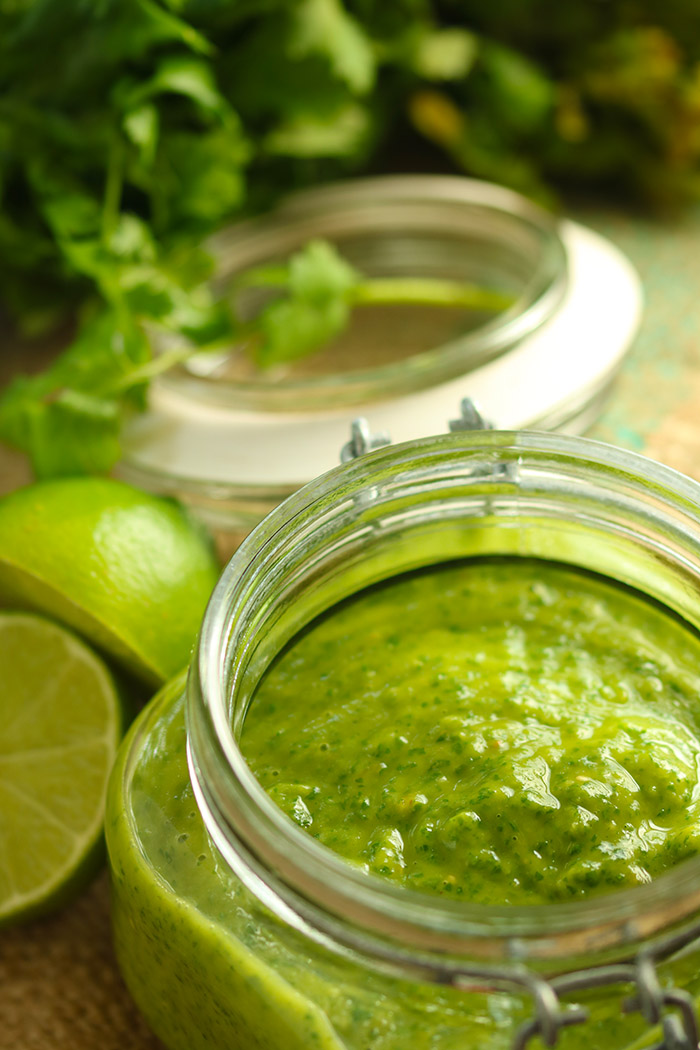 What is Salsa Verde?
Unless you are living under a rock, you have no doubt come across this delicious dazzler. Every country has its own version: Italy has pesto, but also a parsley-based verde with capers and anchovies; Mexico's includes cilantro and chilis; in various Asian countries you will find green curries; and of course, Argentina's famous chimichurri is chockablock with parsley. The name chimichurri came with the arrival of the Basques in the late 19th century and their word tximitxurri, meaning a mixture of things in no particular order. This, too, is a sort of no rules recipe!
The recipe featured here is Mexican-based. Lots of cilantro, roasted chilis, tomatillos and lime juice. I used Hatch chilis, which are just starting to come into the market right now. They are exclusive to the Hatch Valley in New Mexico, and if you are lucky enough, your local store may have a few days or a week of offering them, most likely from the good people at Melissa's Produce. Check their site to see if there are any stores near you. (They are at D&W in Grand Haven today!) The chilis, which have an earthy taste and varying degrees of heat, mature in a very short window in late August and September. My store roasts them for me, but I clean off the char and pull out the seeds and stems before zipping to freeze. It makes it infinitely easier to just pull out a few at a time all winter to throw into soups and stews, and, yes, more Salsa Verde, should I run out.
If you don't get them, feel free to roast some poblanos or even use fresh jalapenos should you be grill-averse after a summer of BBQs.
How do you thicken Salsa Verde?
Some versions of this yummy sauce may have you reducing down the mixture on the stove to thicken. Me: "Just say no!" I feel that kills all those bright and beautiful greens and turns it to a dull olive drab. I have two hacks to help with this. First I add a ripe avocado to thicken things up, and second I add a slow drizzle of olive oil with the processor running to emulsify the sauce. The avo may shorten the life a skosh, but you will go through it quickly so that's never been a problem. You can also divvy it up into smaller containers and freeze small batches of it. You might even consider an ice cube tray to create portioned cubes of the saucy wonder. I have some in my shop that make large cubes and are covered for both easy stacking and keeping the freezer burn at bay.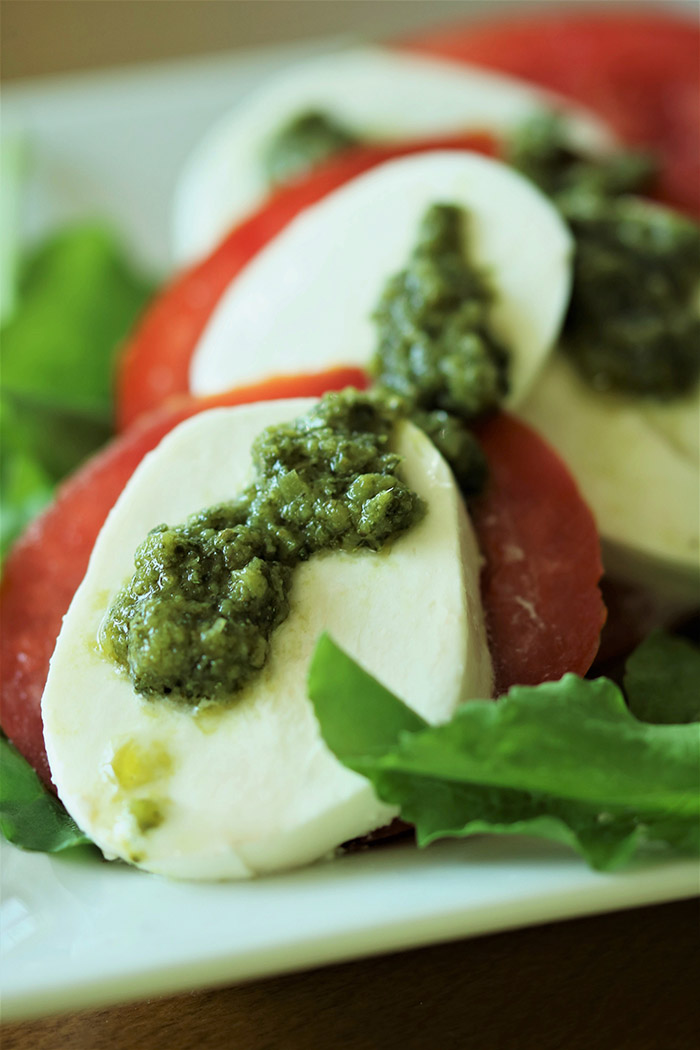 Salsa Verde Uses
Here are just a few of the many ways you can mix this green goodness into your daily life:
On the table as a condiment (photo below) – amazing with grilled meats
As a drizzle on cheeses (above on a Caprese) How about a burrata drizzle?
Mixed with sour cream for a dip or dollop (Mexican condiment tray at bottom)
Stirred into guacamole for a kick up
Mixed with yogurt as a spread (I just used it on steak sliders)
Marinade for vegetables, chicken, fish, or meats (vegetables below)
Glaze to brush on dishes just before they come off the grill
Pizza sauce
Spice up a tortilla soup …..or any other soup or stew
Eggs, hell yaas! How about that Mexican egg layered number, the chilaquiles?
Salad dressing – mix with buttermilk and make it creamy
Drizzle on a citrus salad? Grilled fish! Sauteed scallops! Steaks!
Anything tortilla based – Tacos, burritos, quesadillas, enchiladas, y mas!
Cocktails! Shake it up with some lime juice and tequila! How about adding an oyster shooter to that combo? Oh yeah!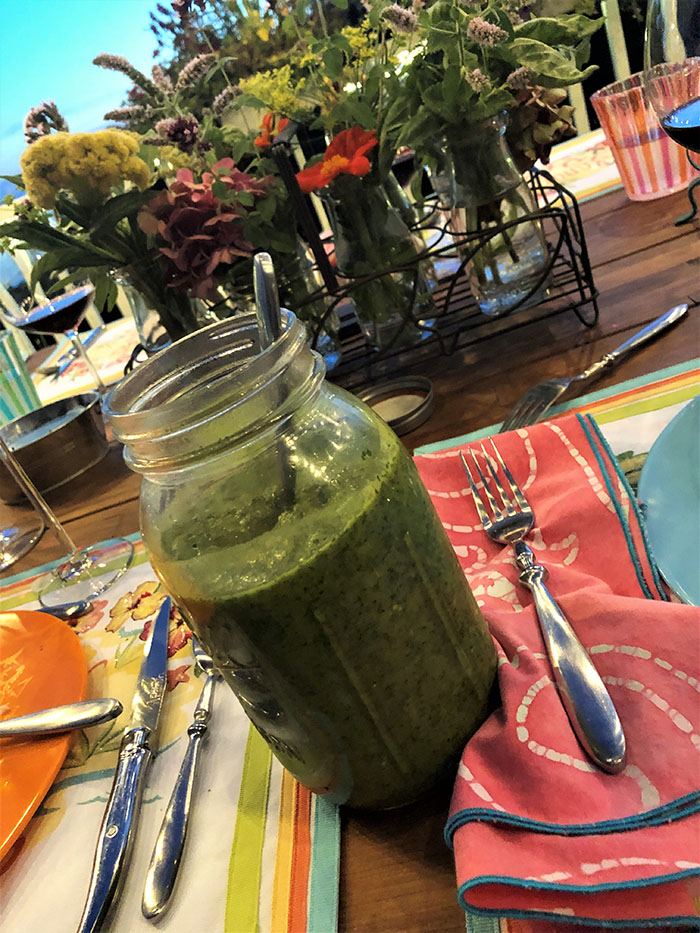 However you chose to use it, please report back. Comments and shares keep this blog going. I know you are going to love this and can't wait to hear how you put this to use. Enjoy!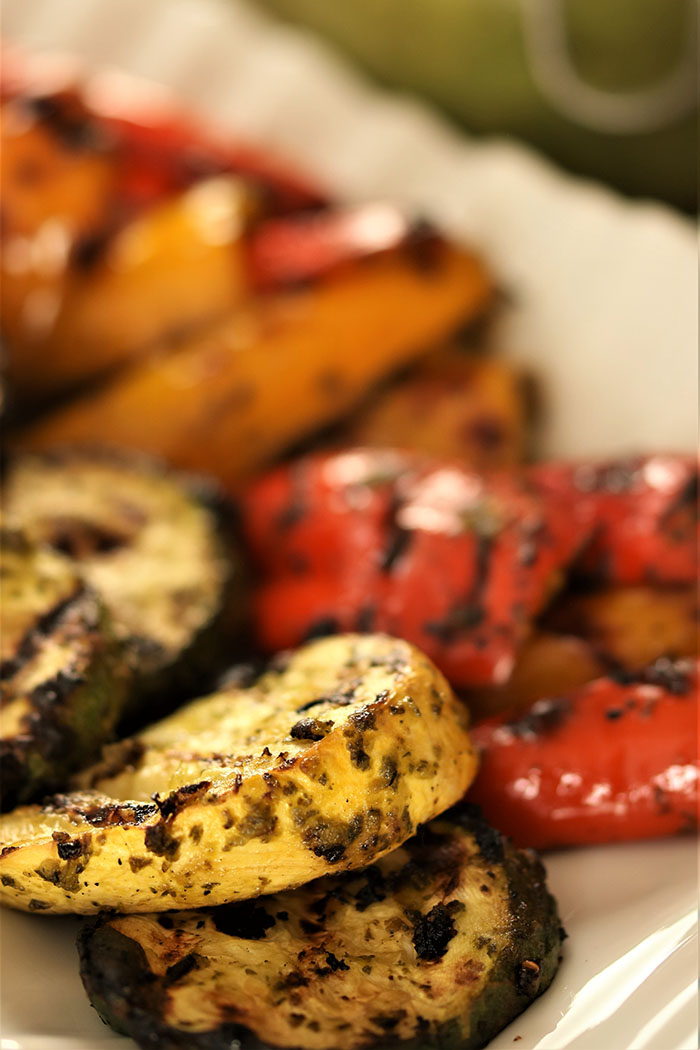 Print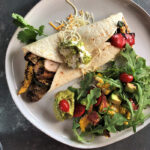 Salsa Verde – The Very Versatile Green Machine Sauce
---
Author:

Total Time:

15 minutes

Yield:

1 quart

1

x
Description
The Green Machine, while technically a Salsa Verde that can be used on its own in the traditional green sauce way, is so-named because it's a workhorse. Check out the laundry list of possible ideas from marinade, to dip, to dressing, to cocktails.
---
2

cloves garlic

2

roasted Hatch or poblanos chilis, seeds and ribs removed

3 cups

arugula, tightly packed

1

bunch of Italian parsley, bottom stems discarded

1

bunch cilantro, bottom stems discarded
juice of

4

limes (

1/2 cup

)

3

medium tomatillos, husks removed and quartered

1

avocado, scooped from the skin

1 teaspoon

salt

3/4 cup

olive oil plus 1/4 cup water
---
Instructions
With the motor running, drop the garlic in the work bowl of a food processor until minced.
Add the chilis, arugula, parsley and cilantro in batches, pulsing as you add to create enough room and to chop finely.
Add the lime juice, tomatillos, avocado and salt. Pulse all ingredients until pureed.
With the motor running, slowly add the olive oil and water. Scrape down the sides as needed.
Taste to adjust seasonings, adding salt and pepper, lime juice or olive oil to balance the flavor. Final seasoning will depend on the chilis used and the "flavorfulness" of your herbs and arugula.
Notes
If you don't have roasted Hatch chilis in your freezer (autumn is the time to buy them fresh, possibly already roasted by your local store, and stock your freezer for the coming months) nor feel like firing up the grill to roast poblanos, substitute 1-2 fresh jalapeños, ribs and seeds removed
Serve as a dressing, marinade, salsa or sauce. If needed, you can thin with additional lime juice or water. Mix with sour cream or Greek yogurt to make a sauce or dip. Add to guacamole to kick up the guac heat. If using as a marinade, use 1 1/2 Tablespoons per chicken breast or per half-pound of meat.
Prep Time:

15 minutes

Cook Time:

0 minutes

Category:

Sauce

Method:

Blender/Processor

Cuisine:

Mexican
Keywords: Salsa Verde, Green Sauce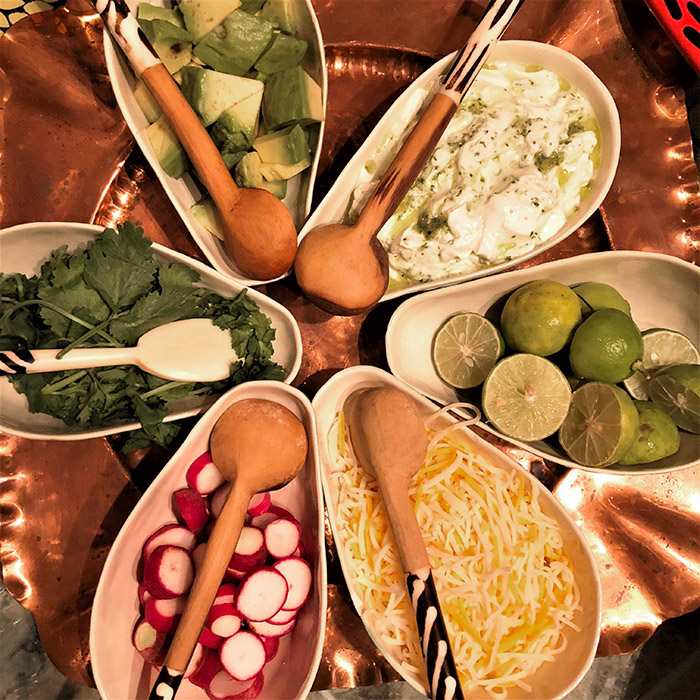 © Copyright: KatyKeck.com 2019. All rights reserved.
Hey, we want to hear from you!
Don't forget to Comment, Share & Subscribe to our blog.