It isn't summer without a Pot Lucky or two….or three. And just in time for Labor Day, here's some inspo for the All American BBQ! I rounded up the troops – you must subscribe to the blog and you MUST be game to try something new – and as usual, they did not disappoint! Let's kick it off with just three of the meats………..are you hungry yet?
Meat, meat and more meat: Hickory smoked chicken with Alabama white BBQ sauce, Asian pork popsicles, ribs with Gilligan sauce (a lot of Ginger and a little Mary Ann).
It was a perfect storm. Beautiful house, beautiful hosts, amazing food and a fun group of Pot Lucky-ers with overactive imaginations. Culinary A game. A+!!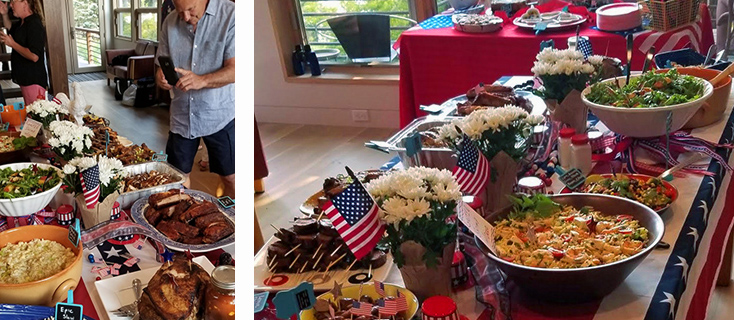 What's a Pot Lucky?
If you are new to this, a Pot Lucky is my take on what I fear might be a culinary wasteland – the dreaded pot luck. Let's put the LUCKY in Pot Luck, I say. I create a theme – All American BBQ this time – and ask guests to curate their dishes around it, avoiding the store-bought. Now, with a number of these under my belt, I'm finding more and more dishes that require an alarm set for 1 am to get the chicken out of the brine. Or one that gets started on Monday with sous vide so the ribs are smoked by Thursday. We are talking commitment here! I am not saying you can't have a super simple Pot Lucky, but no matter your preference – simplicity or extravaganza – having your guests help with the heavy lifting can result in a stunning spread.
We've done about a dozen or more Pot Luckys so far with a good list of more to come. Some of my favorites include the salad palooza, fajitas, sliders, and a nautical theme. For details on how to host your own, link here. Depending on the party (8 kinds of meatloaf or 6 flavors of soup), you can plan on leftovers for your freezer. But for other themes, like the tropical-styled Swish Kabobs aka Food on a Stick, it's more likely that the last pineapple will be licked right off the plate. The All American BBQ could have gone either way. Lots of food, lots of leftovers…..or A+ menu, A++ appetites. It was closer to the latter.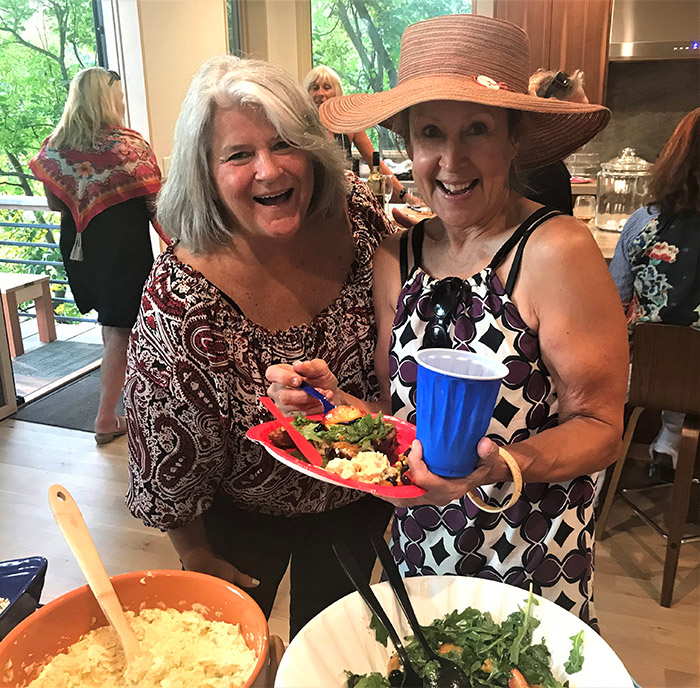 Atmosphere was easy to come by. Between the hosts' Lake Michigan views and a smattering of red, white & blue on the tables, all was set. Add some killer BBQ, and you have yourself a party.
Sassy Sides

Avocado, Corn & Black Bean Salsa, Classic Potato Salad, & Epic Slaw
As is now my tradition, I use this app to track the menu and help guests decide on a dish not already claimed. The categories for this were Meat, Meat, & Meat; Sassy Sides, All about the Sauce, and Blue Ribbon Desserts. Since there are always last minute changes, I let guests create their own signage on arrival. This time I found some little chalkboards on a stand………..and I think they will be showing up again in the future.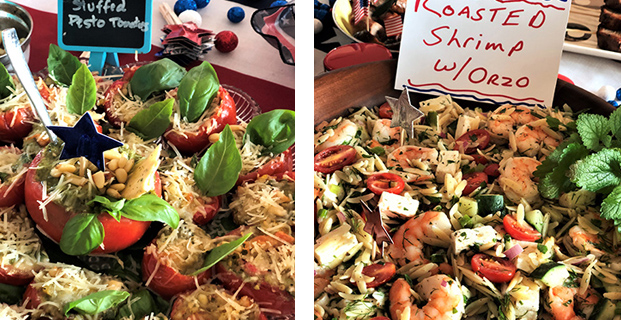 Stuffed Pesto Tomatoes and Roasted Shrimp with Orzo
Also new to this round was a Best of Show Award. Who'd a thunk a salad could win this meat extravaganza? But that's what happened! I let people decide what the category was they were voting for – presentation, use of theme, taste, all of the above – and aside from some sassy and irreverent votes (see the bottom of this post), the clear winner was the Grilled Peach, Blueberry, & Goat Cheese Salad. I think the red, white & blue ribbons tied around the bowl's pedestal helped tipped the balance. While I say it was a clear winner, truth be told, there were three tied for a very close second. They were all winners in my book.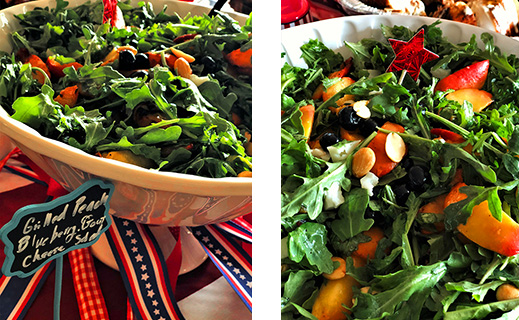 Winning! Grilled Peach, Blueberry, Arugula & Goat Cheese Salad
Meat, Meat and More Meat

Brett's Butt, Lemon Chicken, and St. Louis Ribs
A special thank you to those that brought the meat. There is no shortage of ideas here and we are always long on laughs. Brett's Butt! For real?? I loved the presentation on the lemon chicken tenders, and huge props to the four-day sous vide and smoking St. Louis (you are reading that as St. Louie, right?) ribs prep. That was some real commitment. At the top of this post, I shared a snap of the hickory smoked chicken (with 1am alarm to remove from the brine), the Asian pork popsicles, and the Gilligan sauce on the classic ribs – lots and lots of Ginger, with a dash of Mary Ann and the Professor.
All about the Sauce
I thought this feast would be all about the sauce, but things have a way of morphing. There were some really delicious offerings, says the woman who brought two. 🙂 If you had the Mango Habanero BBQ that I brought to the party, don't judge. I have completely redone it since then. In my haste to pull this together, I didn't quite get what I wanted. But that is the way it is in cooking. You learn from your mistakes, or improve your near misses. Nobody will complain about the one listed below. Just the right amount of heat and sweet. Brush that on anything – toward the end of your cooking, though, so the sugar doesn't burn. The other sauce I brought was the Green Machine Salsa Verde. It's officially my most requested recipe and it will be in a second post later this week. Stay tuned. The Alabama White BBQ Sauce came with the smoked chicken, and there was also an Asian Orange Sesame Sauce, that was marked Agent Orange by some ne'er do well.

All about the Sauce: Green Machine, Alabama White BBQ & Mango Habanero BBQ
Bringing people together to break bread like this is one of the great joys of entertaining, perhaps life. Spirits are high and friendships are forged. How amazing when you get a chance to meet someone new. In fact at this very party, I made a new friend from SF that I had long known about through NY friends, who was also a friend of a Michigan Pot Lucky charter member. Funny how that all comes full circle. Nobody is stealing our joy!

Save Room for Dessert
Even with the bountiful meat feast and all those sides, save room for dessert. And, since it's summer in Michigan, berries are the…."super stah".

Blueberry Creme Brulee, Becca's Famous Cheesecake and Peach & Blueberry Cobbler. Yum!
And the Grand Prize – a bottle of "saucy" BBQ Sauce, the coveted blue ribbon and bragging rights – goes to Gayle for that lovely salad. Who will win the title next time???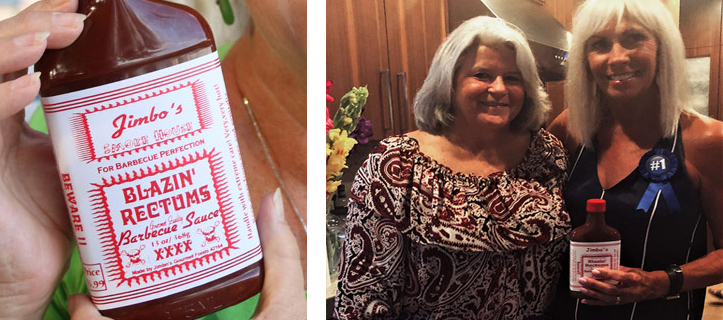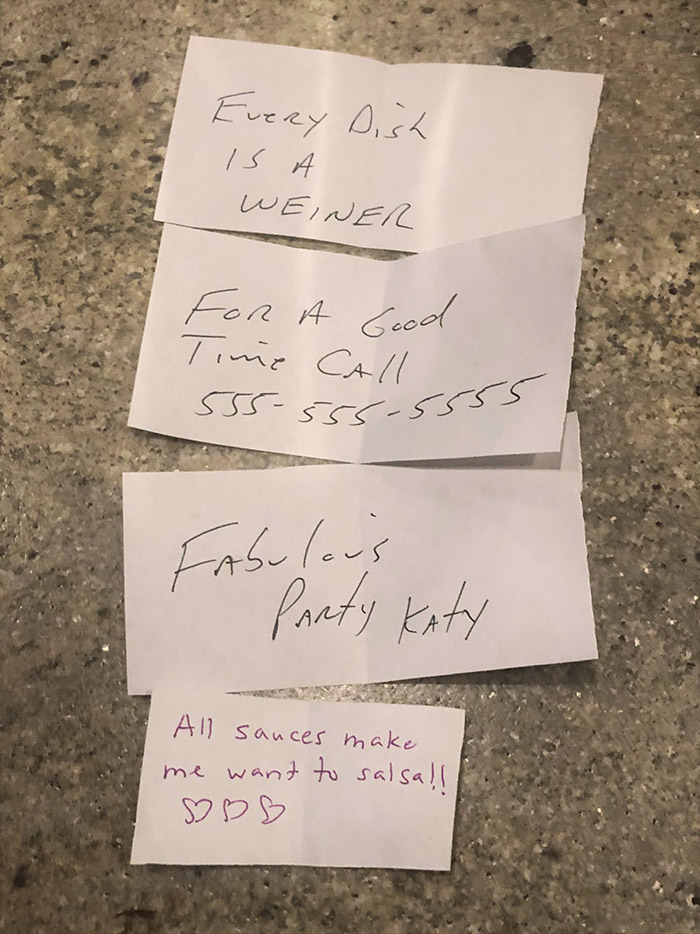 There's one (or two, judging by the handwriting) in every crowd!!!!! And we are so grateful for them!
Print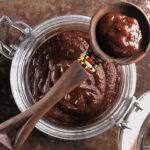 Pot Lucky: All American BBQ Edition
---
Author:

Total Time:

25 minutes

Yield:

3 cups

1

x
Description
Having an All American BBQ? Give this Mango Habanero BBQ Sauce a whirl. The char of deep molasses is a perfect counter to the sweet mango and the heat of Ancho and Habanero. Slather it on your meat, chicken, fish or veg toward the end of the grilling time so as not to burn the sugars. It's a real crowd pleaser!
---
1 cup

ketchup

8

-ounce pack chile spiced mangos (At Trader Joe's, they are called Sweetened Dried Mango with Chile Seasoning)

8 ounces

chopped frozen mango (fresh, if ripe)

1/2 cup

apple cider vinegar

1/4 cup

brown sugar

3 Tablespoons

molasses

2 Tablespoons

Worcestershire sauce

1 Tablespoon

Mango Habanero spice

2 teaspoons

Ancho chili powder

1 teaspoon

smoked paprika

1 teaspoon

dried minced garlic, or

four

cloves fresh garlic, minced

1 teaspoon

salt

1/2 cup

fresh lime juice
---
Instructions
Add all ingredients, except lime juice, to a saucepan. Bring to a boil, then reduce heat and simmer for 10 minutes, stirring.
Set aside. When cool enough, transfer to the work bowl of a food processor and puree until smooth. Add the lime juice and puree until incorporated and smooth.
Store in an airtight container, refrigerated.
Notes
I used the chili spiced mangoes from Trader Joe's, but you can use any dried mangoes. They are similar in texture to a dried apricot, not a freeze-dried or dehydrated fruit. If you can't find the chili mangoes, consider adding a bit more (to taste) Ancho powder to make up for plain dried mangoes.
The Spice Hunter makes a terrific Global Fusion Rub in Mango Habanero. Just be sure to take a deep breath and hold before opening the jar. It's wonderfully potent. Avoid sniffing!!
Prep Time:

15

Cook Time:

10

Category:

Sauce

Method:

Cooktop

Cuisine:

American
BBQ Final Planning Note
Some Pot Luckys, like the one for pizzas or burgers, get cooked at the party. This time, since it wasn't my house, I asked for the food to be ready-to-serve. Either way you need to be clear about expectations. Be sure to let your guests know that quantity is not a concern, because there are so many dishes from which to choose. I try not to focus on head count as a guideline, because I know with all that food, not all guests will try each dish, especially when you have 20+ items. I just ask that they fill their serving dish. But then again, there are those who will try every single one. Why are you looking at ME? It's my job.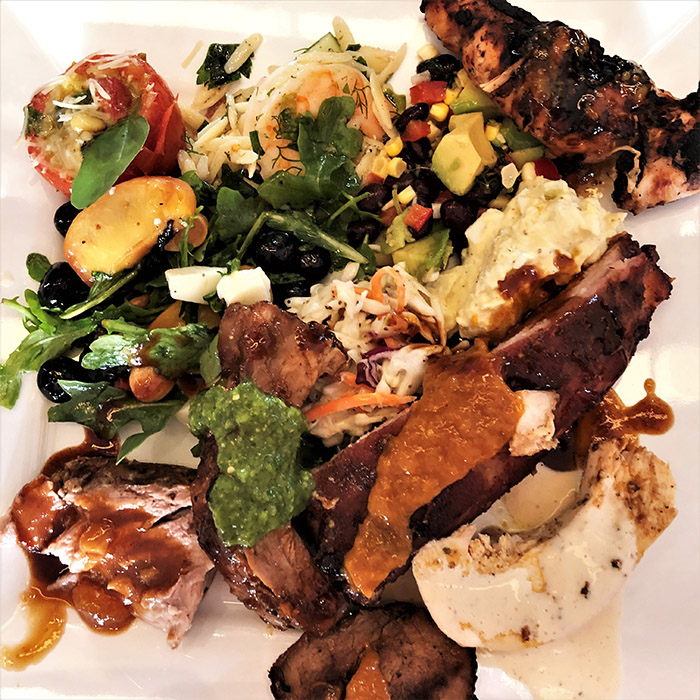 Thanks to all my Pot Lucky-ers for continuing on this journey and being intrepid voyagers. Are you game to try your hand at a Pot Lucky? Let me know how it goes. Tag me with #PotLucky & #PalatePassionPurpose. And as always, I love to get your comments below.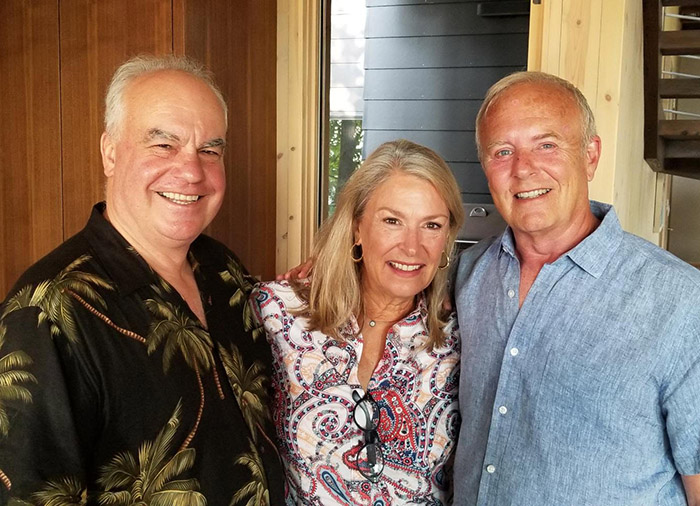 © Copyright: KatyKeck.com 2019. All rights reserved.
Hey, we want to hear from you!
Don't forget to Comment, Share & Subscribe to our blog.