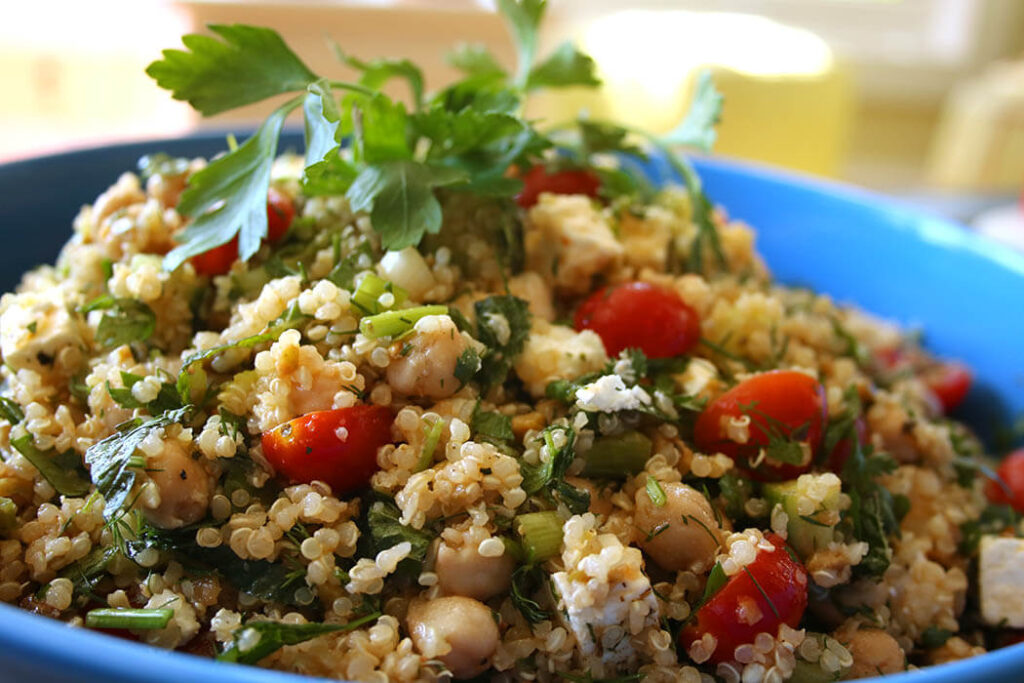 I created this salad earlier this summer – in part because it is so tasty (of course), and in part because it is a starch that is hearty and filling without being potato salad. Yawn.  Plus that whole mayo aversion thing I got going.  It made its first appearance at the Burger Pot Lucky.  And ever since, I have been getting requests for the recipe.  One of the great things about adding grains to any salad is their ability to stretch.  The ingredients normally found in a Greek salad are all primo, which is to say pricey.  The addition of quinoa gives you bang for the buck.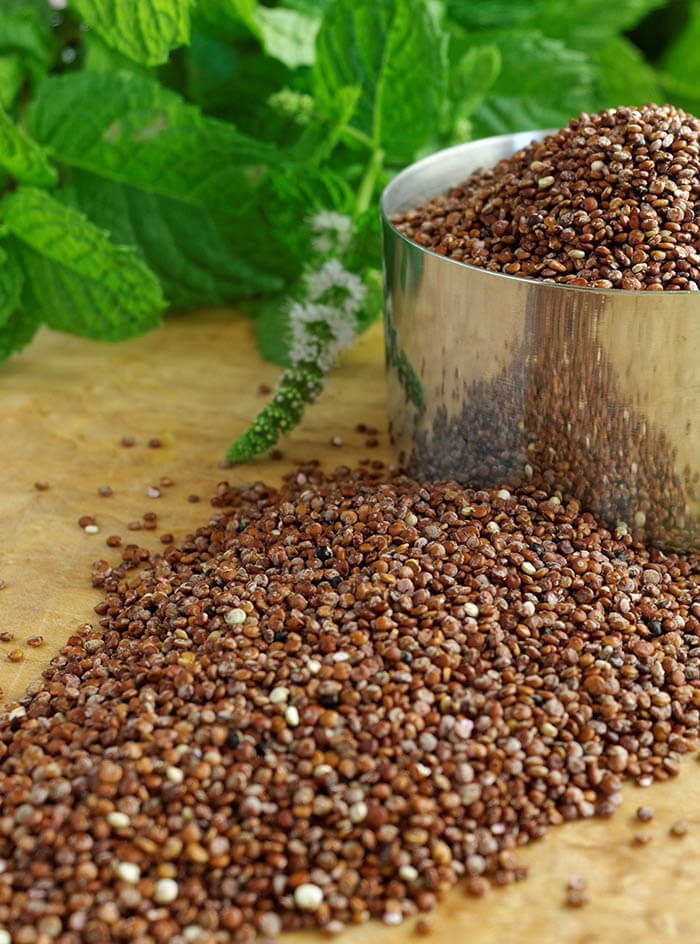 If you aren't familiar with quinoa, get to know it.  It's kind of a miracle food: it comes in several colors including black, white and red, cooks in 10-15 minutes, is high in protein, fiber, and folate, is gluten-free, and is a decent source of iron, zinc and magnesium.  First cultivated in the Andes (Peru, Bolivia, Ecuador) some 4000 years ago (with non-domesticated sightings dating back more than 7000 years), Incans considered quinoa the "mother of all grains" and held it sacred, which caused the Spanish colonists to consider it pagan and led them to forbid it.  But, quinoa is finally having its day – the United Nations General Assembly gave quinoa its own year – 2013 the International Year of Quinoa – to celebrate the Incan ability to preserve this ancient tradition and live in harmony with nature.  Hallelujah!  It was the hope of the UN that quinoa would be a major player in attaining MDGs (Millennium Development Goals) and be instrumental in maintaining SDGs (Sustainable Development Goals) by providing food security, nutrition and aiding in poverty eradication.  And while you are getting to know quinoa, get to know the UN and its work on food security.
Meanwhile back in the kitchen: I know I can only ask you to pit olives so many times in one summer (looking at you panzanella), so here I am telling you to pick up a jar of an olive relish or tapenade or bruschetta topping – grab a product that has done the heavy lifting for you – and make that the base of your dressing.  I'm all about short cuts in cooking when possible.  Trader Joe's has a green olive tapenade that I really like and it makes a super tasty green olive vinaigrette, but check your condiment section at the grocery and see what you have available.  If you can't find something olive based, then try a pepper relish or whatever kind of bruschetta or crostini topping your joint offers.
My Big Fat Greek Salad

Green Olive Vinaigrette:
1 cup green olive tapenade (I like Trader Joe's and use the whole 10-ounce jar.  But you can also use any kind of tapenade or bruschetta spread, or just use 1 cup chopped oil-cured green or black olives.  Please! No California black olives in water!!!!)
1/2 cup lemon juice
1/2 cup EVOO
1 teaspoon salt
1 teaspoon ground black pepper or favorite pepper blend (lemon pepper would be amazing)
Zest of two lemons
Whisk together all ingredients in a small bowl.
Store, refrigerated, in an airtight container.
Makes 2 cups.  (This salad will use about 1/3 of this Vinaigrette recipe.)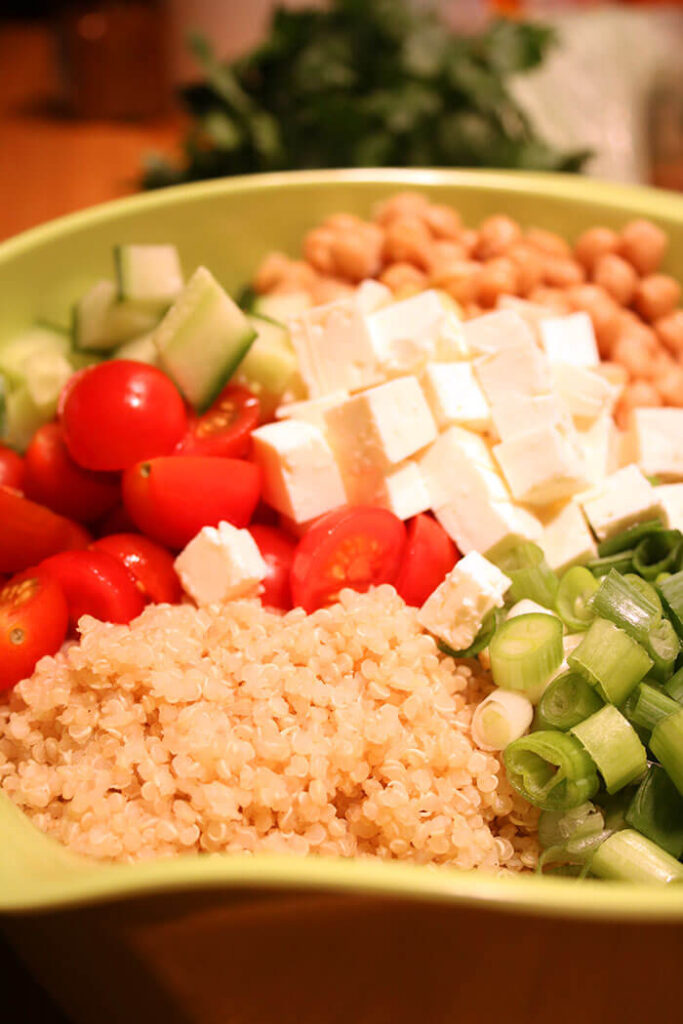 Greek Salad:
1 cup raw quinoa (red or white)
1 16-ounce can garbanzo beans, rinsed and drained
½ seedless English cucumber, cut in ½" dice
4 scallions, sliced
1 ½ cups halved cherry tomatoes
8 ounces feta, cubed
¼ cup each: chopped parsley, mint, dill and cilantro
Rinse and drain the quinoa, then add to a pot with tight-fitting lid along with 2 cups water or stock.  Bring to a boil, cover, and reduce heat to a simmer. Cook for 10-15 minutes until all liquid is absorbed.  Transfer to a mixing bowl and cool.
When cool, add garbanzos, cucumbers, scallions, tomatoes and feta.
Dress the salad with the green olive vinaigrette, using about 1/3 of it or more, as needed.   Refrigerate until ready to serve, then add chopped herbs and check seasonings. I like to finish it off with my beloved Maldon Sea Salt Flakes
. This dish can easily be made a day or so ahead, but add herbs and check seasonings and acidity at serving time.
Makes about 1 ½ quarts.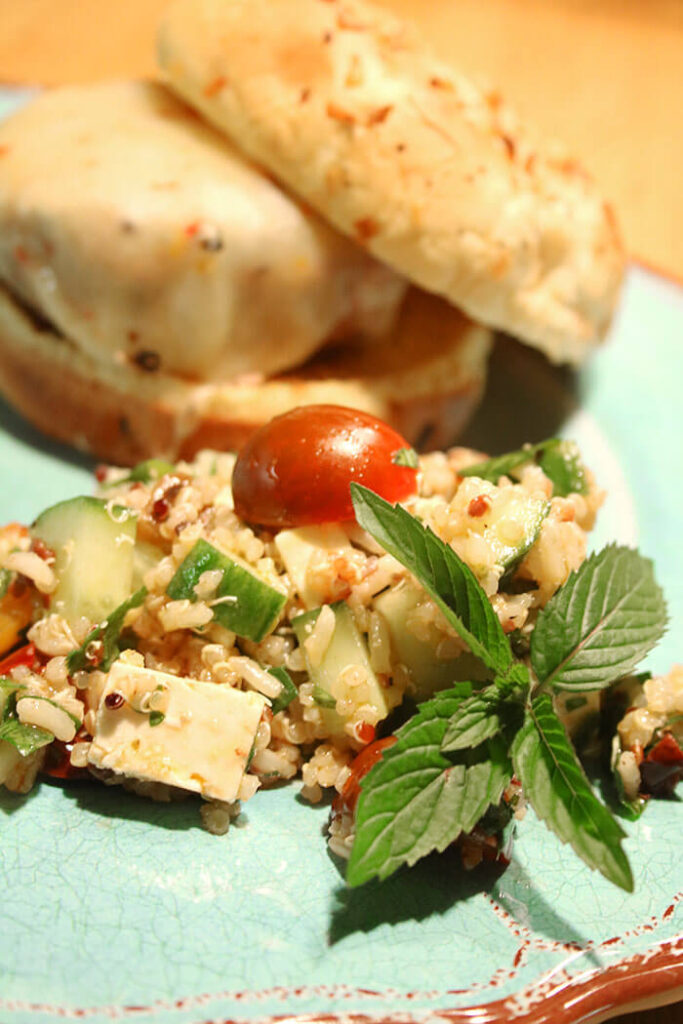 This post contains affiliate links.  For more of my must-have faves, check out my shop.
© Copyright: KatyKeck.com 2016. All rights reserved.
Hey, we want to hear from you!
Don't forget to Comment, Share & Subscribe to our blog.