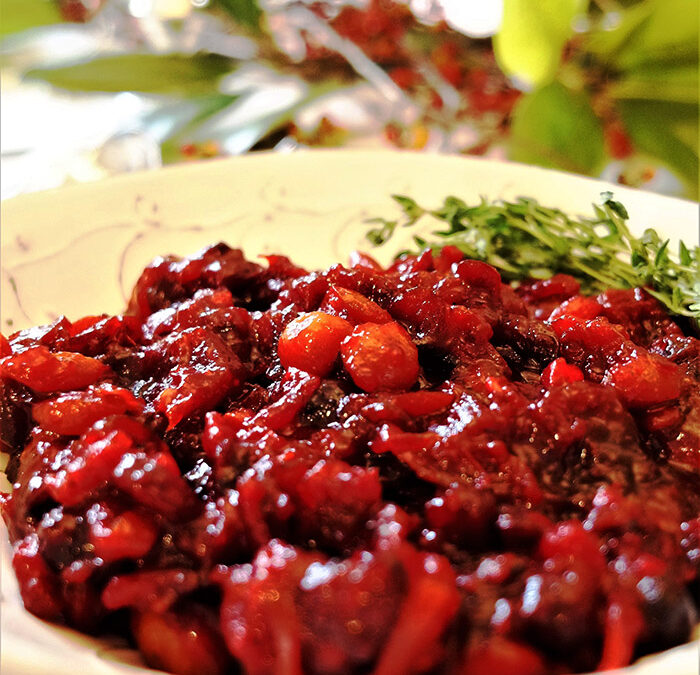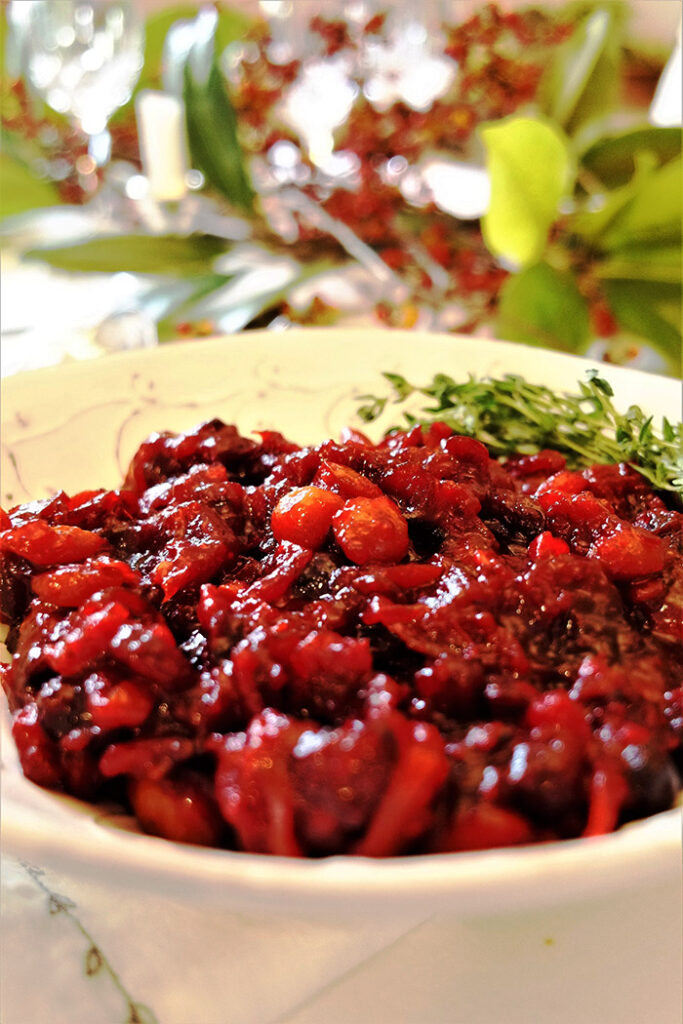 Nothing screams holidays like cranberries, citrus and spice. Mulled wine, orange pomanders (that's fancy talk for oranges poked full of cloves), and cranberry garlands. So imagine my delight when the good people from the healthy living site Mambo Sprouts shot me a box of the finest spices to review. Squealing! I like to make edible gifts for the holidays – are you with me? We really don't need one more thing to dust or store. But devour? Hells yeah! Last year I made cheese wafers and put them in a nice little cracker dish (okay, one more thing to store).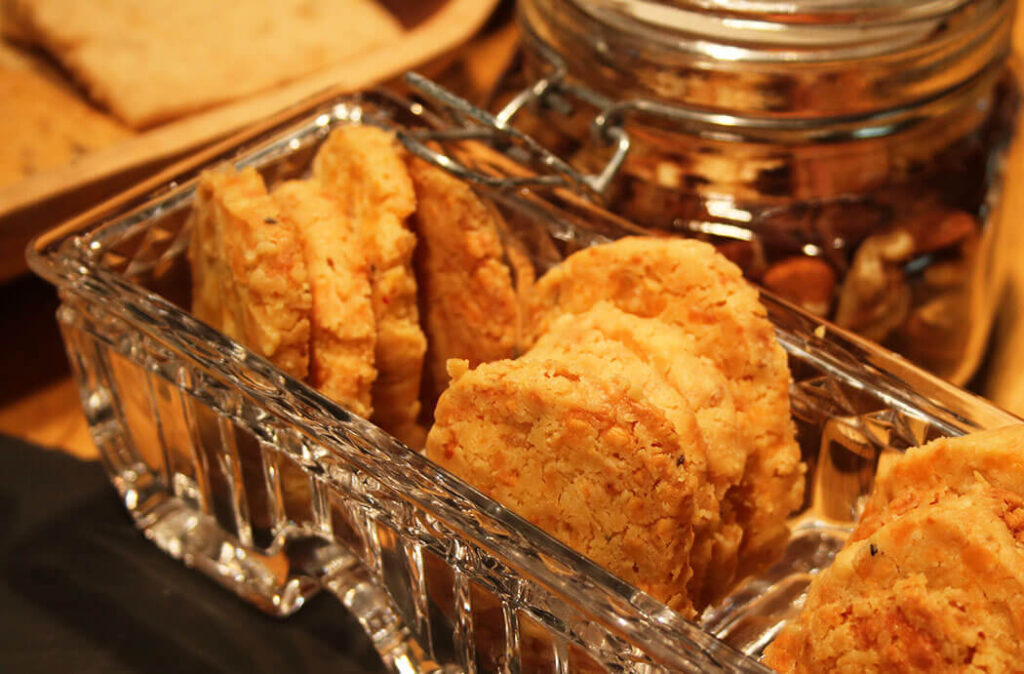 This year I have on my radar some spice blends and chutney. What's that you say? Chutney is weird? No, no. Ain't so. Yes. You are right. But only if you are referring to the more traditional, pungent (read: medicinal tasting) versions that are fortified with mustard oil and strong vinegar. This Anglo spin balances its tarts with equal measure sweets (sugar, dried cranberries and candied ginger), and the acid from kumquats (unlike strong vinegar) borders on sweet. It's practically dessert, wink wink. It can be the perfect foil to too-rich-double-crème brie or the right amount of sweetness to tangy goat cheese. One chutney can do both! Spicy (think turmeric, allspice and cinnamon), zippy (crystallized ginger), tart (kumquats and crans) and sweet (yeah, there's some sugar – but not as much, by half, of what you would normally see.)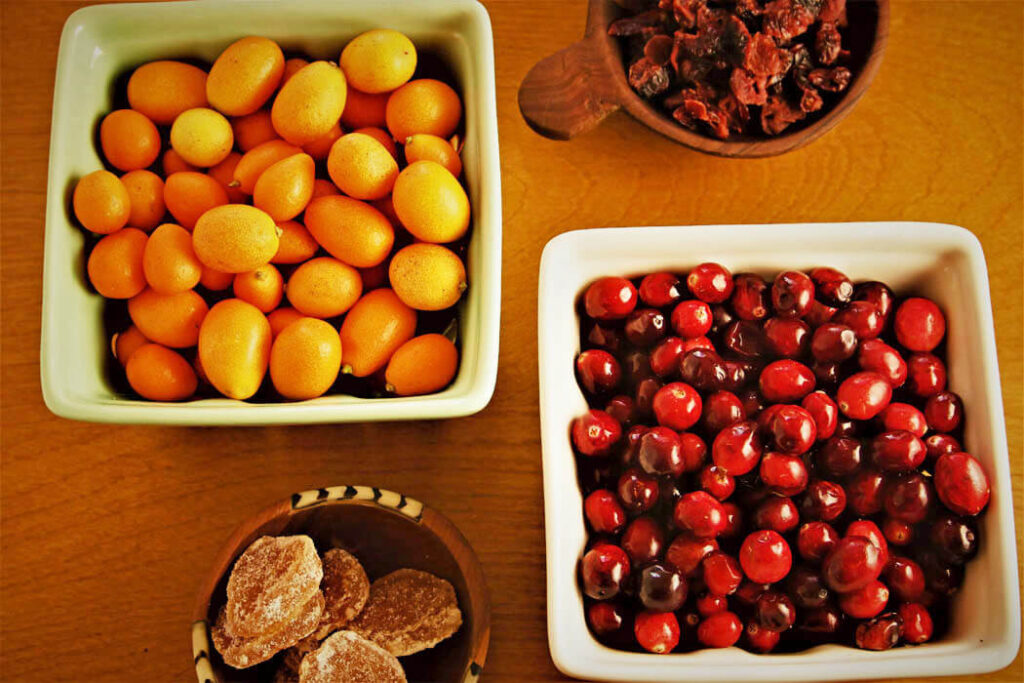 Palate. Passion. Purpose.
You already know I'm all about this, right? But I have met my match in partnering with Frontier Co-op. A purpose-driven company, Frontier's theme is Cook with Purpose. Every bottle contains products with a story and the label tells that story. Frontier, as one of the earliest to advocate organics, firmly believes that social responsibility is the foundation for great products and that sustainable agriculture and ethical sourcing yield quality. Since their 1976 Iowa founding (in a river cabin!), they have worked with growers worldwide to build a safe food supply. A large part of that is education and they have created charitable funds (three to be exact) that train farmers and co-ops on how to protect themselves and the environment. The turmeric, sourced in Sri Lanka, was produced by a co-op that benefited from a Frontier grant which enabled an organic training center for the farmers. The cinnamon is Vietnamese. Frontier provided its producers with educational supplies, beds, room & board so the children in these remote communities can be educated. Worldwide, producers are blessed by the generosity of Frontier providing so many basics, ranging from clean water to roads to medical care. Frontier is on a mission – responsibility to people and planet. And btw interesting timing…our paths crossing now. I'm a month away from joining the board of CWS, a global agency with key initiatives in sustainability, hunger, development, and advocacy, among other important work. #fullcircle  Frontier had me at Purpose!
Spicing It Up!
Armed with my box of Frontier Co-op goodies, and knowing it's the time of year when warm spices soothe the soul, I decided to dose this chutney with Vietnamese cinnamon, turmeric, and allspice. The great thing about warm spices is they can flow from sweet to savory, and in fact this chutney does a bit of both. I spent some time a few years ago in southern India and learned more about Ayurvedic cooking. (I also learned a thing or two – first hand – about Ayurvedic massage. Ever have a massage by two people with a whole lotta oil and choreographed moves? Inner-resting! But, that's for another post.)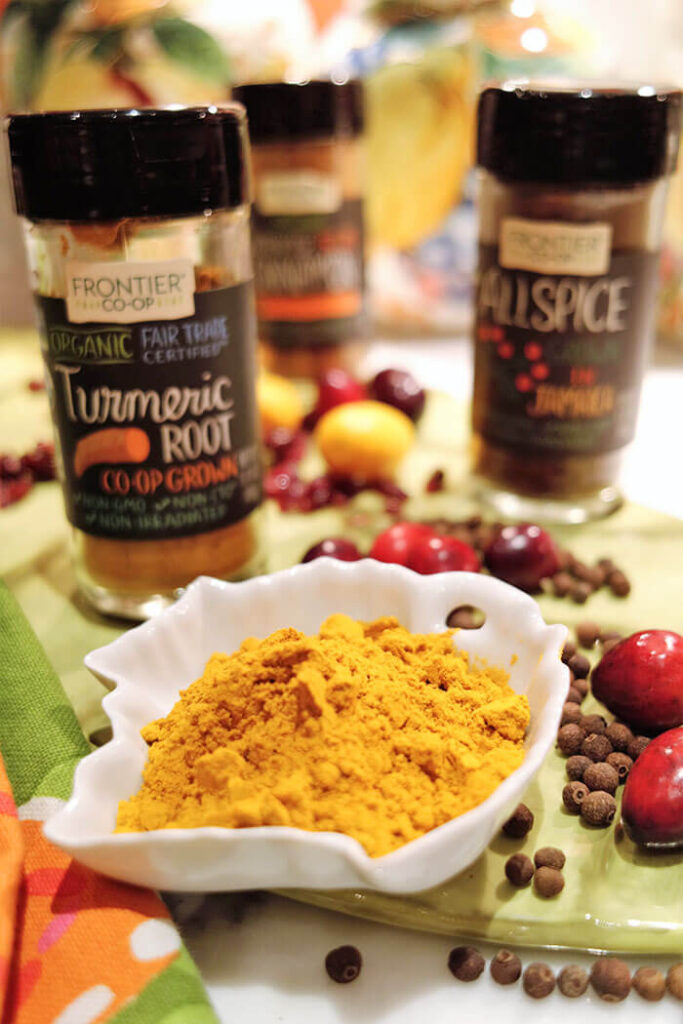 A word…or two…about the star ingredients – the spices!
Quality cinnamon is different from supermarket cinnamon (generally cassia) due to its super high oil content, a result of specific harvesting techniques. This Vietnamese (fka Saigon) cinnamon has at least a 5% oil content, which makes it more than double the regular stuff. That results in an abundance of flavor, but especially the pungent, sweet and spicy notes. It also means a little bit goes a long way. The difference in color compared with supermarket brands is remarkable.
You may remember that Buddha Bowl post with fresh turmeric from the winter. While it's lovely to source fresh ingredients, chances are that rhizome has been on the road a while. If you want real flavor, reach for a quality dried spice. Often called Indian saffron, turmeric – a member of the ginger family – not only gives curry its bright golden color, but it also adds a pepperiness that makes it a regular in Asian cuisine.
And our old friend allspice – I just used it in that yummy pumpkin chia pudding recipe.  While it seemingly combines cinnamon + clove + nutmeg and has a very big name, it's just a single spice and it hails from Jamaica. No doubt you have seen it as an essential ingredient in jerk chicken. It is in fact the unripe berry of a small evergreen. How very Christmasy!
Let's get to it!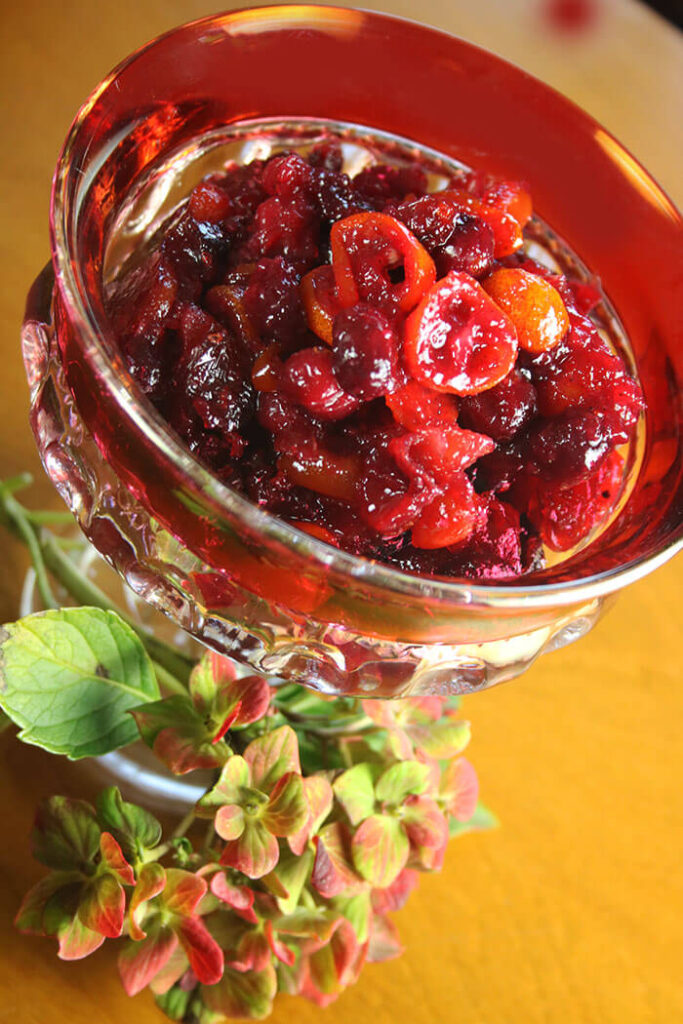 Spiced Cranberry Ginger Kumquat Chutney
In a medium non-reactive saucepan, combine the cranberries, kumquats, sugar, applesauce, and lemon juice. Cook over moderate heat, stirring constantly, until the sugar dissolves and the mixture comes to a simmer. Reduce the heat to low and cook, stirring often, until the cranberries begin to pop, about 5 minutes.
Add the dried cranberries, crystallized ginger, vanilla extract, cinnamon, allspice, turmeric, salt, and pepper. Continue simmering until the fruit is softened and the chutney is slightly thickened, about 5 minutes more.
Remove from heat and let cool completely. Refrigerate, covered, and serve at room temperature.
Makes 3 cups.
Serving Suggestions:  This is great with roast meats, slathered on a sammie, or served alongside or atop cheeses. If you warm it up,  it will thin a bit and it makes the best glaze for your Christmas ham.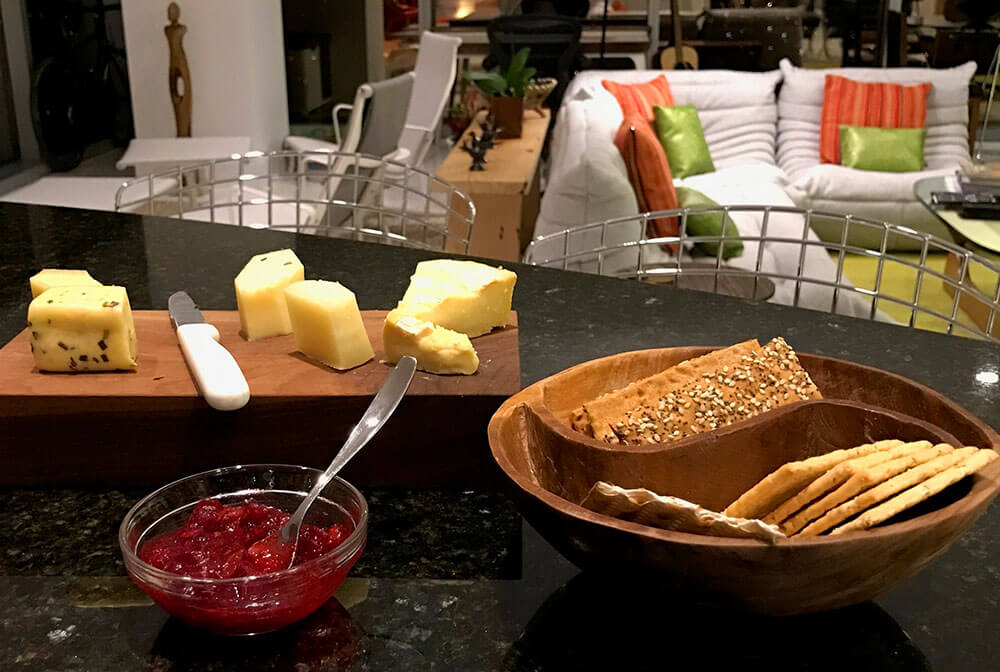 Serving and Giving Notes
The chutney can be made up to 1 week in advance, and stored, covered, in the refrigerator. It will easily last several weeks, but I'm just not going to tell you to prepare it weeks ahead.  Scraping the last bit out of the bottom of the jar 3 weeks in? Well, that's a different story. By all means!
If you are making this to give as a gift, make sure to sterilize the jars (glass only, please), and let your giftee know this has not been canned, needs to be refrigerated, and is for current consumption.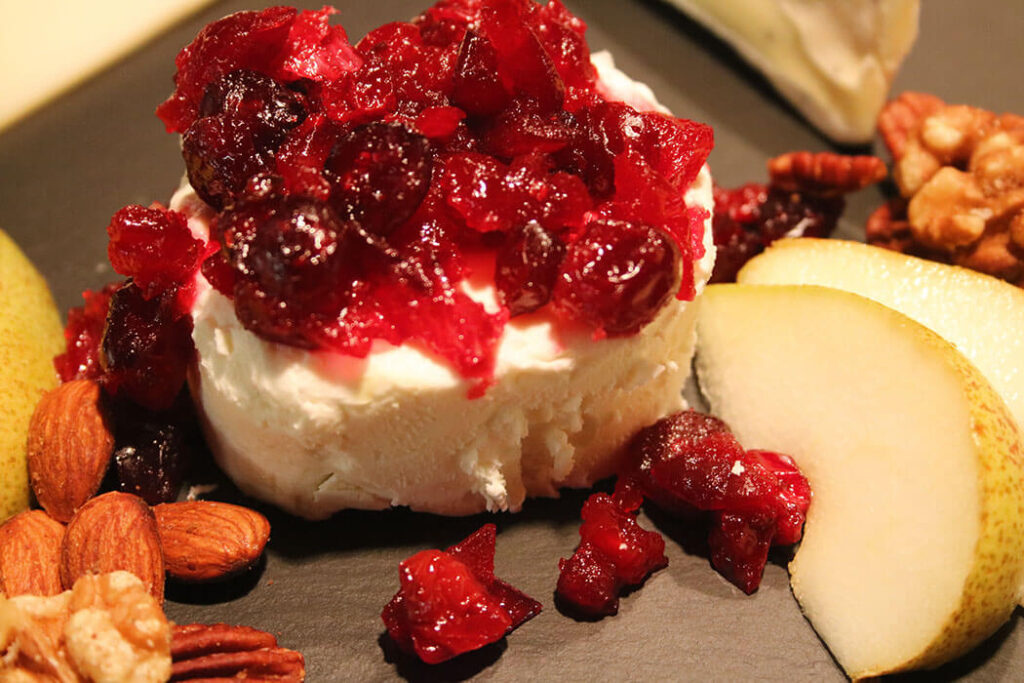 © Copyright: KatyKeck.com 2016. All rights reserved.
Hey, we want to hear from you!
Don't forget to Comment, Share & Subscribe to our blog.