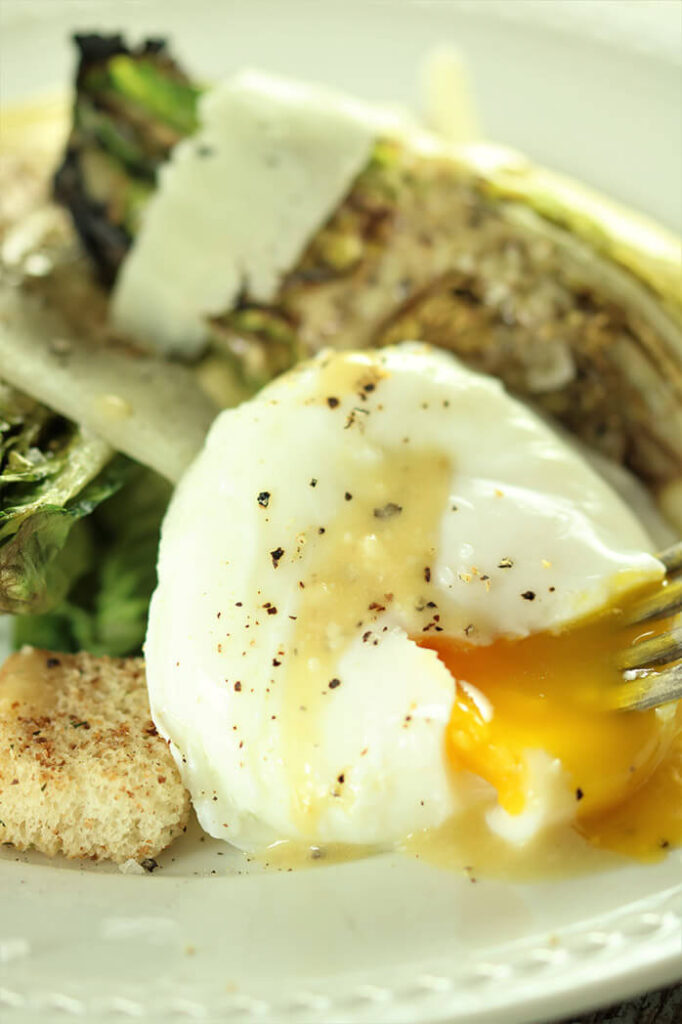 About a zillion years ago, I opened New World Grill, a great little American bistro tucked into New York City's theater district. We had what I still consider today to be an acid test Caesar salad. It was served in a pre-chilled bowl which was kinda fancy for a tiny neighborhood location (that would go on to garner some epic reviews, BTDub). With a light and fluffy dressing, it was all you would want a Caesar salad to be. The croutons were house-made and crusted with Parmesan. We also used red romaine which wasn't really a thing yet. It got so I couldn't order Caesar anywhere else because that salad was that damn good.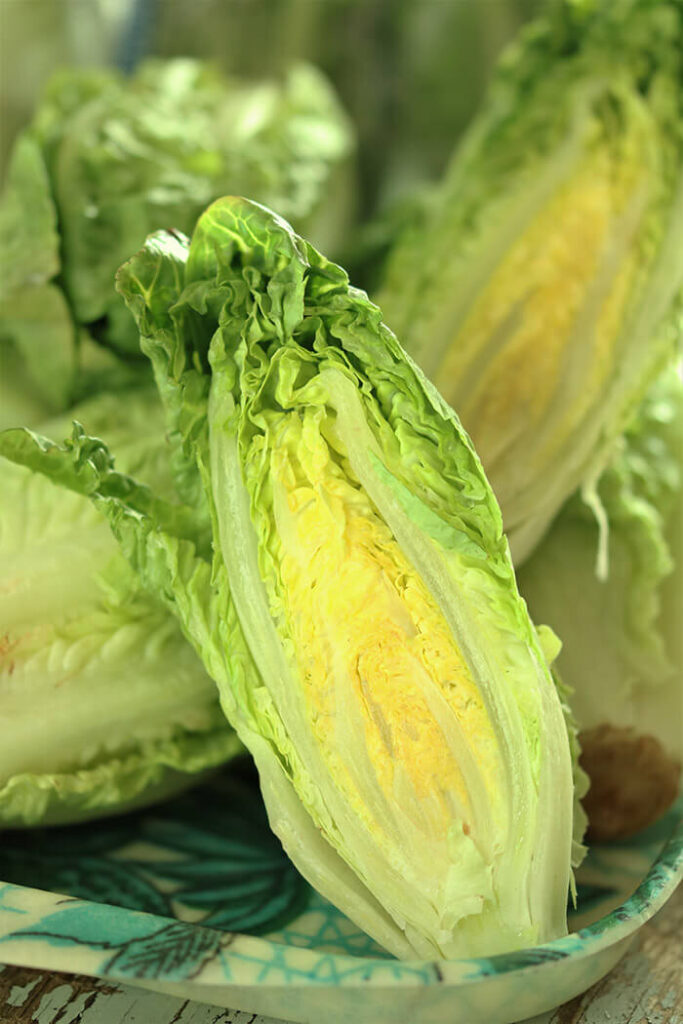 The fluffiness of the dressing came from an emulsified yolk-based aioli. Most bad Caesars suffer from heavy, oily dressing. Tableside Caesar salads are often the worst offenders. But in thinking about that today and for home use, I thought…why not take the egg out and put it on top? Poached egg toppers are kind of an obsession these days (okay, maybe it's just me that's obsessed.) And a Caesar dressing that is made egg-free can be stored a lot longer than one with a raw egg in it. Hence the "deconstructed" in the recipe title!! By pouring the oil in a thin stream into a blender or processor with the motor running, you can still emulsify the dressing, even without the egg. Just be sure to pour it slowly.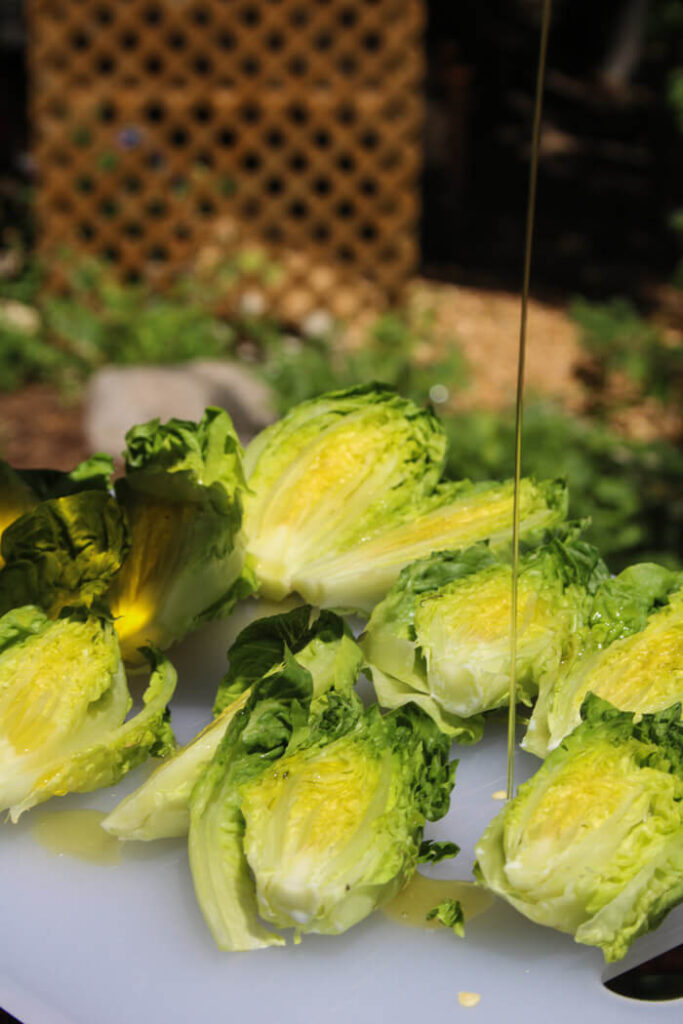 To really set this Caesar salad apart from the sad sack versions, I am putting some char on the leaves. Romaine is a sturdy lettuce and holds together well on the fire. I love the Little Gems that are sold in the supermarket in a six-pack, but hearts of romaine would also do well. Just split either size lengthwise, and brush the cut sides with a little olive oil before placing on the grill for 3 1/2 to 4 minutes, or until you see the first signs of wilt/char and some nice grill marks. In that short amount of time, the romaine will pick up some nice smoky flavor.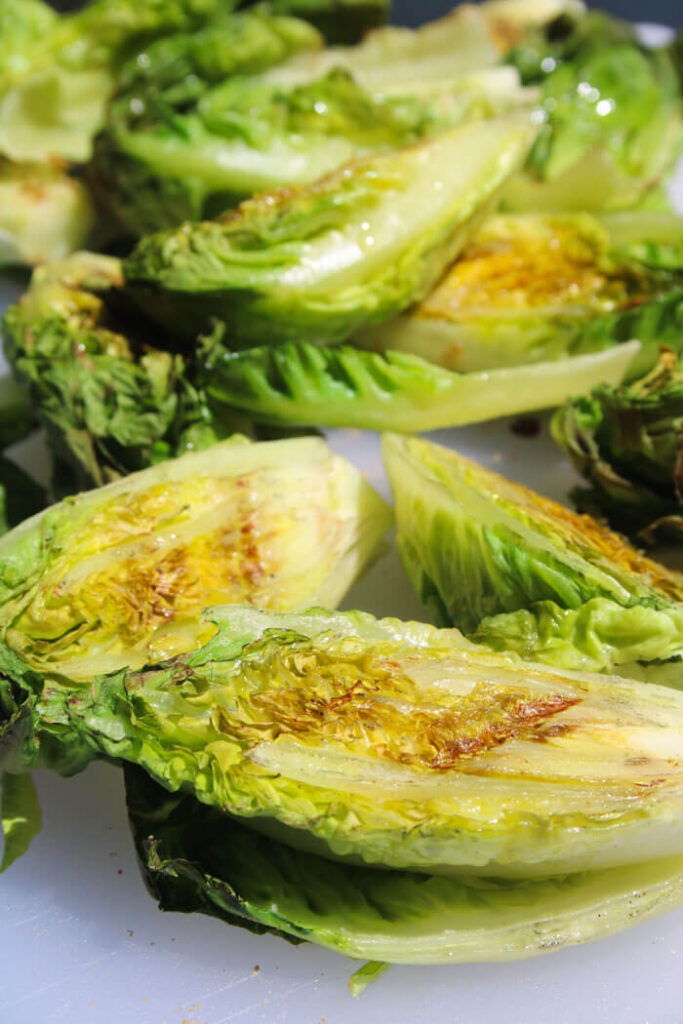 Feel free to use any good grating cheese. I used Manchego, but Parmesan or Pecorino would also work well. This is chef's choice. Once you have made the dressing, it's a no-recipe recipe. I know how much you love those. You're welcome. Store-bought croutons are fine, too. You are really welcome!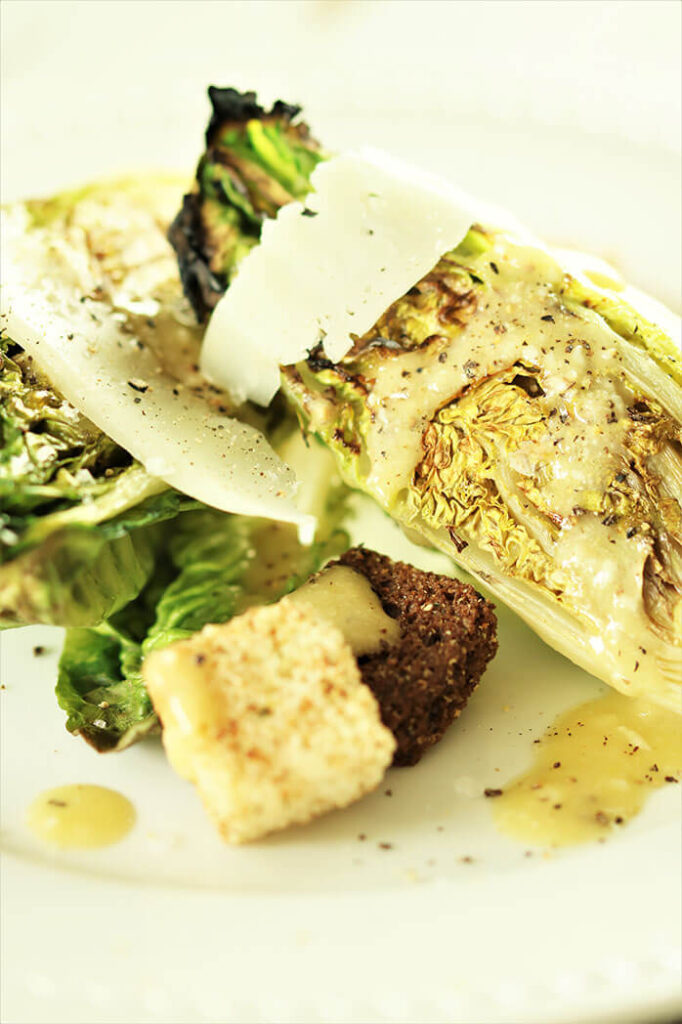 Print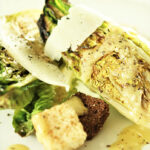 Deconstructed Grilled Caesar Salad
---
Author:

Total Time:

25 minutes

Yield:

Serves 6
Description
Sometimes it's hard to get a good Caesar salad. Look no further. Deconstructing the dressing – by putting the poached egg atop the salad – and grilling the romaine sets this salad apart.
---
Caesar Dressing:
1/4 cup

grated Parmesan

1/4 cup

fresh lemon juice

2 Tablespoons

white balsamic vinegar

2

anchovy fillets, salt-packed, rinsed and patted dry (see notes below)

1 Tablespoon

Dijon mustard

2

small garlic cloves, crushed

1/2 teaspoon

sea salt

1/4 teaspoon

freshly ground black pepper

1/2 cup

olive oil
Salad:
6

-pack of Little Gems baby romaine or

3

hearts of romaine
Olive oil to drizzle on romaine

6

eggs
Chunk of hard grating cheese like Manchego

1 cup

seasoned croutons (optional/more or less to taste)
Freshly ground black pepper
Flaky sea salt, like Maldon
---
Instructions
Make the Caesar dressing:
In a blender, add the Parmesan, lemon juice, white balsamic vinegar, anchovy fillets, Dijon, garlic, salt and pepper. Blend.
With the motor running, pour the oil in in a thin stream, until incorporated and emulsified.
Refrigerate until ready to use.
Makes 3/4 cup. You will need about half for this recipe. Store, refrigerated, in an airtight container for up to two weeks.
Make the salad:
Split the Little Gems or romaine hearts lengthwise. Drizzle with a little olive oil.
Place cut-side down on a hot grill until charred, about 3 1/2 to 4 minutes. Transfer to a chilled serving platter and refrigerate until you are ready to serve.
Poach eggs. A drop of white vinegar added to the simmering water helps keep the whites from going rogue. I love these OXO poaching cups! You put them in simmering water and drop the egg through the solid top half and the water circulates through the holes in the bottom. The silicone provides the perfect barrier to give you that extra nano-second needed to really corral the whites. It's a flawless technique.
Assemble:
Drizzle the Caesar dressing across the grilled romaine. Using a vegetable peeler, slice shards of Manchego on top and scatter croutons around. Top the salad with poached eggs.
Season with flaky salt, like Maldon, and freshly ground black pepper.
Notes
If you can't find salt-packed, use anchovies packed in oil. Rinse them well, then cover them with kosher salt. Set aside for 10 minutes. Rinse well again, and pat dry. This will wick out the fishy oils and just leave sea-flavor. You can of course omit them, but they add that unctuous umami that is hard to achieve in a salad dressing.
Prep Time:

15 minutes

Cook Time:

10 minutes

Category:

Salad

Method:

Grilling
I have somewhat recently acquired the OXO Good Grips Silicone Egg Poaching Set, and it has truly upped my game as an egg poacher. You would think that after countless brunches at the restaurant, I'd be a blindfolded, one-armed egg poacher, but I am occasionally challenged by rogue egg whites. True, a drop of white vinegar added to the simmering water always helps keep the whites in check. But with these collapsible, stackable egg cups, all you have to do is put them in enough simmering water to reach a mark on the cup, and then drop the egg through the solid top half, leaving the water to circulate through the holes in the bottom. The silicone provides the perfect barrier to give you that extra nano-second needed to really corral the whites. It's a flawless technique. And so much better for you than the aluminum inserts my Mom used in her egg poaching pan. Bonus: they are dishwasher safe.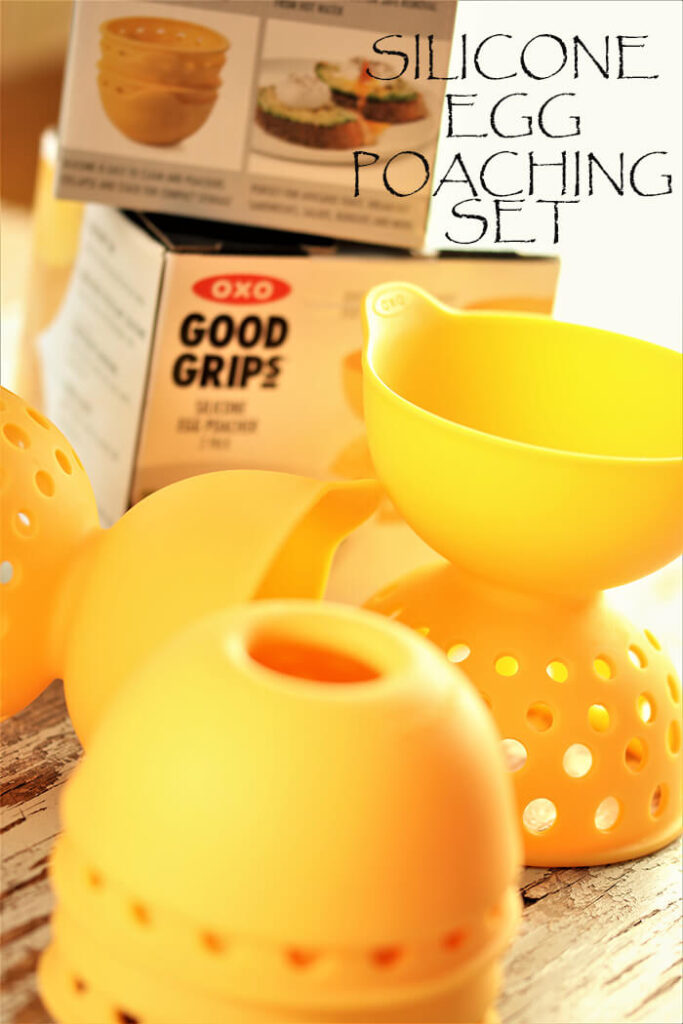 If you have not yet grilled lettuce, give this a whirl. When the first Zagat Guide came out after we opened, the only comment next to New World Grill was "some things shouldn't be grilled." I could not disagree more!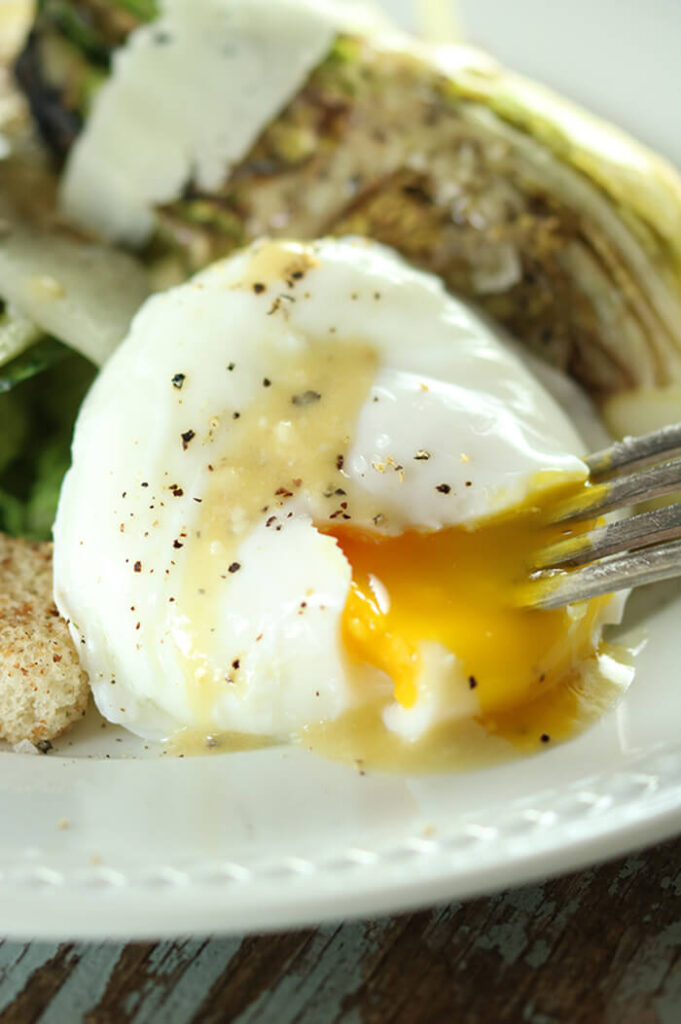 Want more yummy summer salads?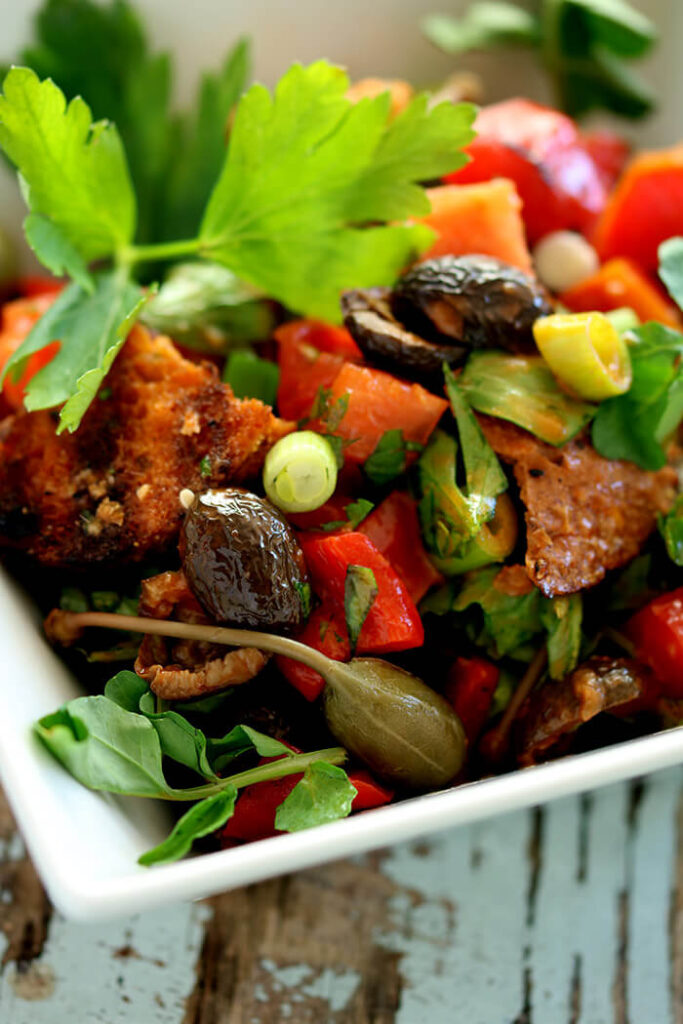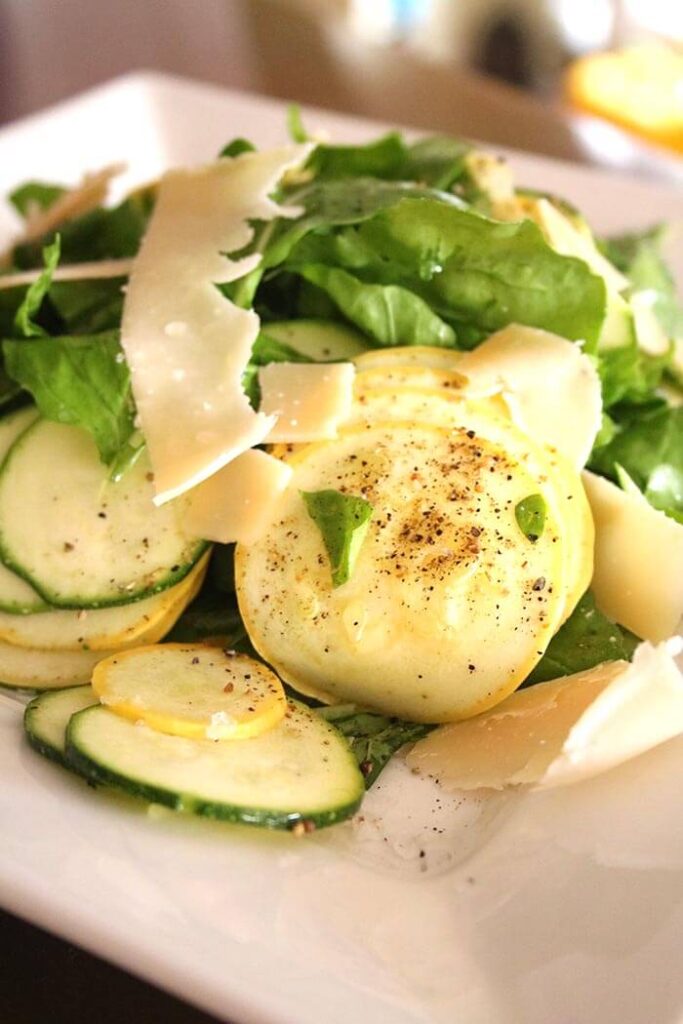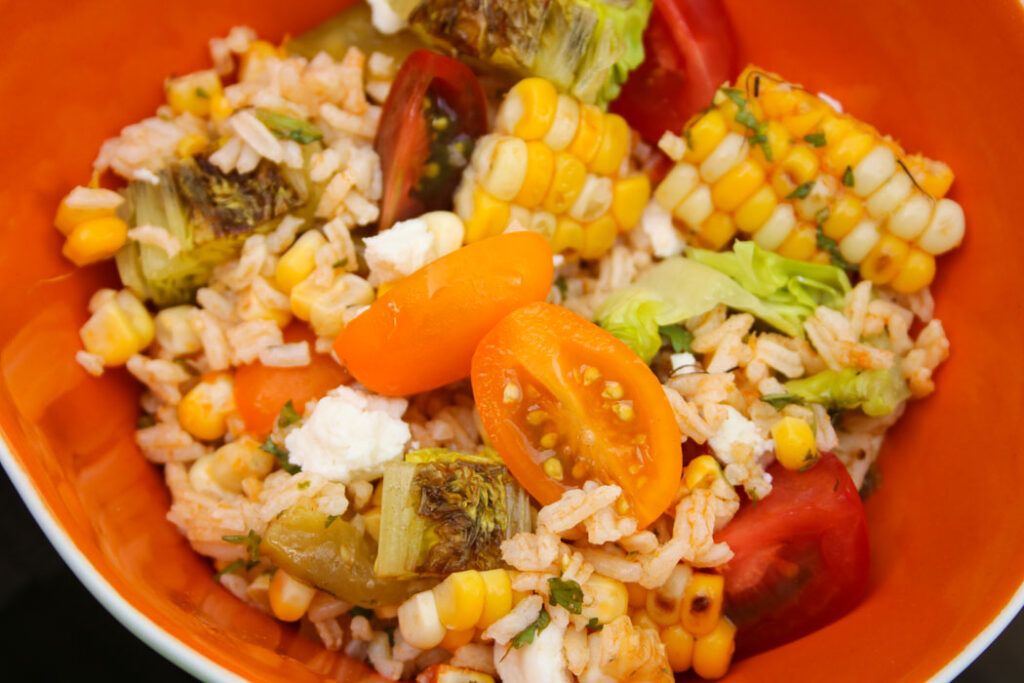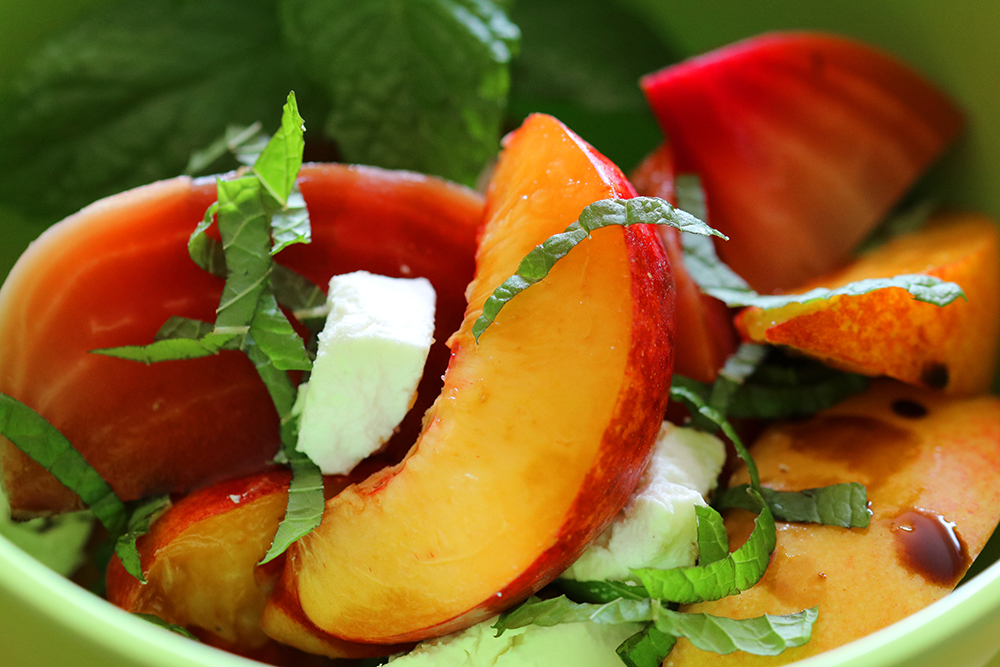 This post contains affiliate links. For more of my must-haves, visit my shop.
© Copyright: KatyKeck.com 2017. All rights reserved.
Hey, we want to hear from you!
Don't forget to Comment, Share & Subscribe to our blog.