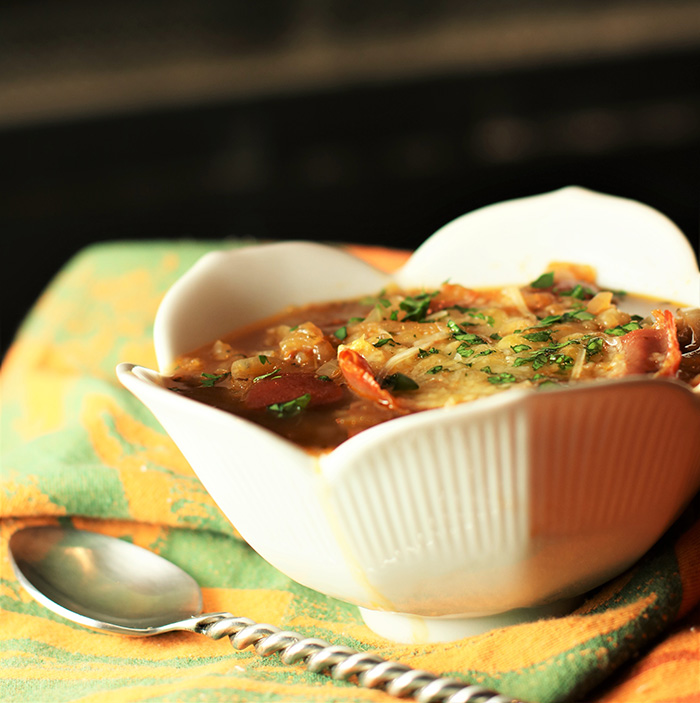 I can't let #NationalSoupMonth roll by again without setting you up for another win. With only three types of onions and a couple of cans of tomatoes, this Cipolline Onion Soup will surprise you with its stick-to-the-ribs quality. Have you thought about having a Soup Pot Lucky yet? Trust me, it's a great way to fill your freezer with soups in oh so many flavors. Traditionally, onion soups are topped with a crusty bread slice and some melty cheese. What's wrong with that? Well, uh, nothing. But can it be better? Yes, it can! How about creating a "crouton" out of prosciutto topped with Gruyere and Parmesan that has taken its turn under the broiler. Oh yeah! I'm talking crispy pork and melty cheese. Game over!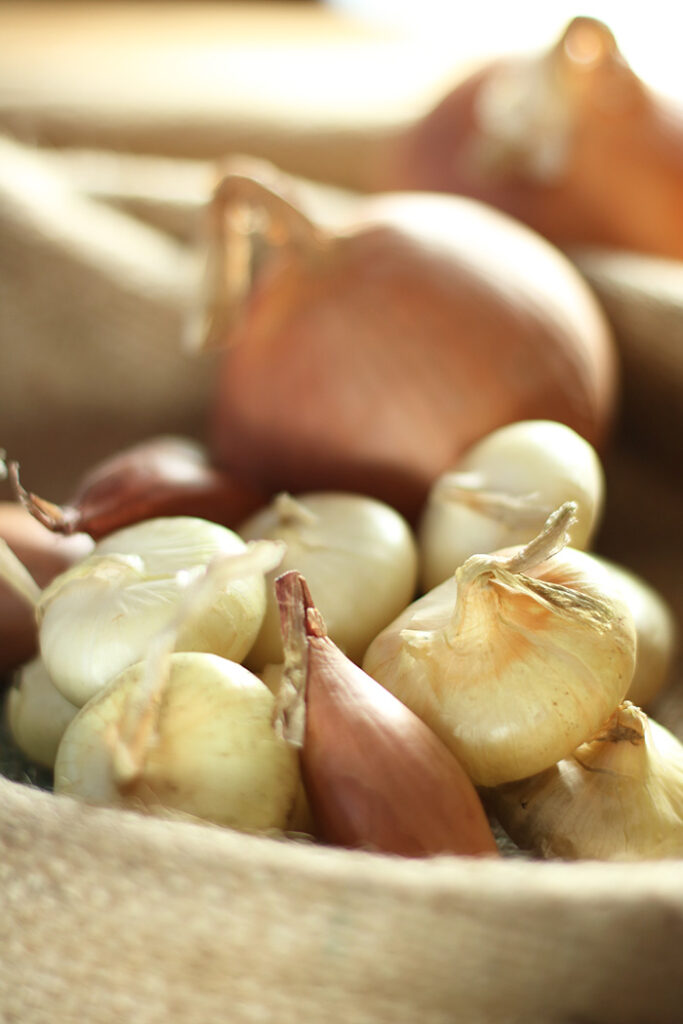 Best Onions for Onion Soup
Onion soup is most commonly made with Vidalia or Spanish onions, and there's nothing wrong with that. They both bring a certain level of sweetness which provides a nice layered flavor when offset by the wine used to deglaze the pan. But I recently spied some boxes of cipolline onions from our friends at Melissa's at my local grocery. Yaaas! I bought a mixture of cipolline, some large Spanish onions and a few shallots for this soup. When picking cipolline, like other root vegetables, choose onions that are firm and show no signs of moisture, green shoots, or dark spots. Humidity is no BFF to onions or garlic, so it's best to store them outside the fridge in a cool place to extend their life. If you are worried about peeling all those small flat cipollines – or if you ever have shied away from pearl onions just because of the peeling process – check out my notes in the first step of the recipe below.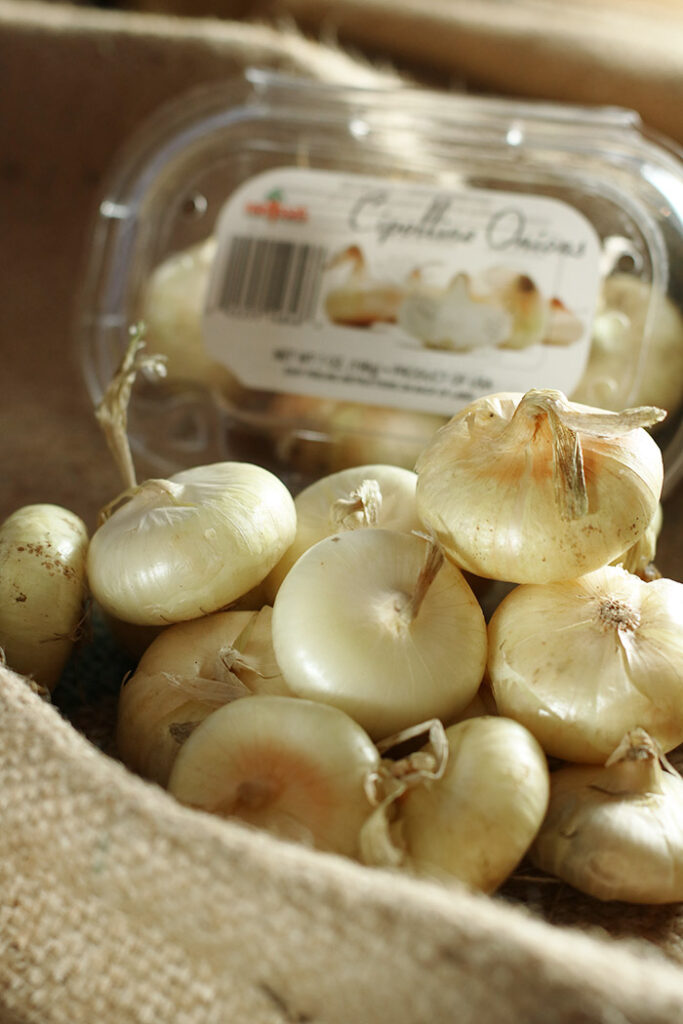 With all the sweetness from the three types of onions, I chose port wine to deglaze the pan. Adding a liquid to the pan after caramelizing the onions makes it easy to scrape up all those flavorful brown bits stuck in the pan. Don't leave that behind! We work hard for that fond. You could also use a red wine in this recipe, but port is fortified and adds a robust depth of flavor, elevating simple ingredients to something more sublime.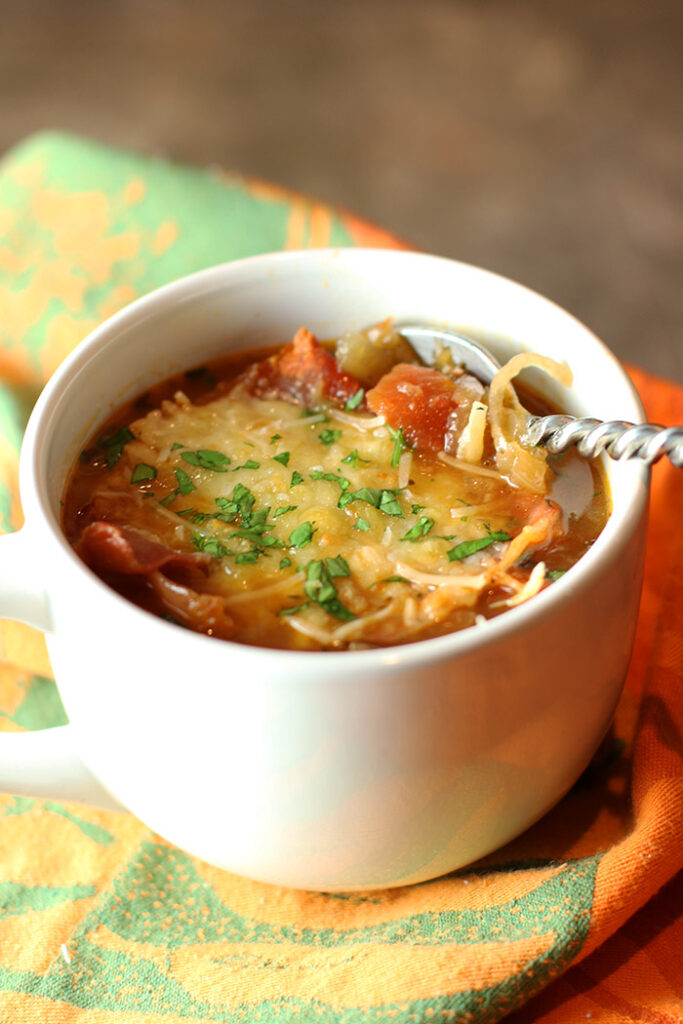 Once you brown the onions, the rest is pretty much a dump and simmer recipe. It takes some time – an hour of simmering – to reduce the liquid and develop the rich flavors, but you just need to throw a little side-eye in the pot's direction from time to time. It doesn't need your full attention.
Swap Your Top
I love the idea of replacing a soggy – although admittedly tasty – blob of bread with a crispy prosciutto crust on top of the onion soup. Just fold a piece of prosciutto to double it up, then top with grated Gruyere and Parmesan and run it under the broiler. You will NOT be sorry.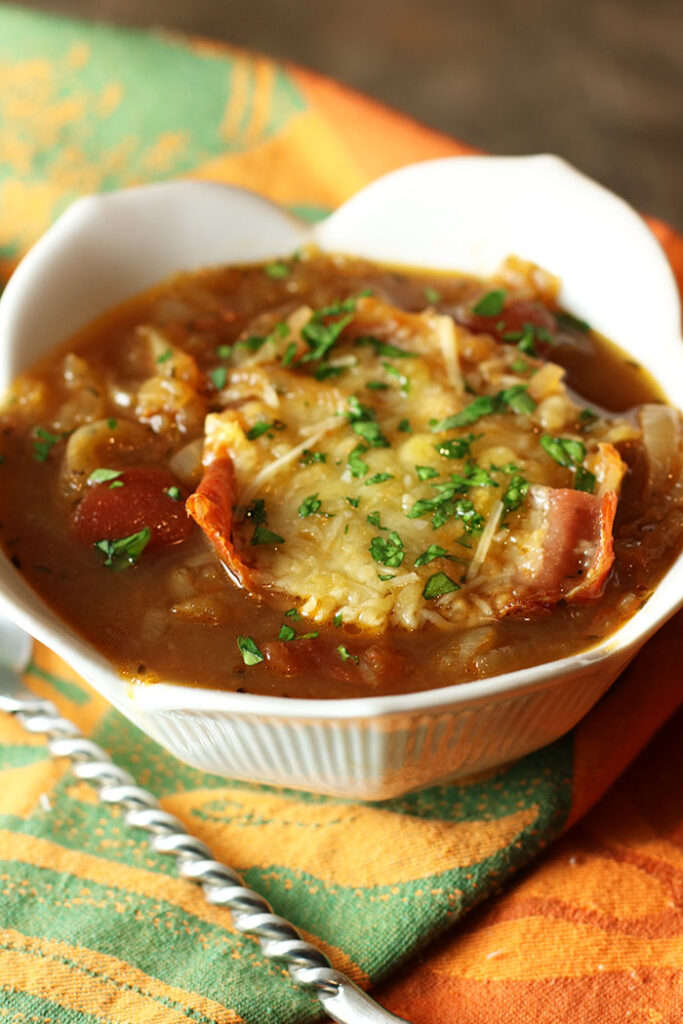 Print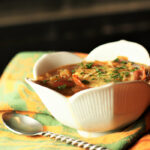 Three Onion Soup with Parmesan Prosciutto Crust
---
Author:

Total Time:

2 hours 5 minutes

Yield:

3

+ quarts, serving 6 - 8

1

x
Description
Capping off #NationalSoupMonth this year with a hearty three-onion soup, topped with a "crouton" of prosciutto and melted Gruyere and Parmesan. This will warm your soul.
---
2

pounds cipolline onions

2

pounds sweet onions

4

shallots

5 Tablespoons

butter

1 cup

port

2

14.5-ounce cans diced fire-roasted tomatoes, drained

3 quarts

beef stock

3 Tablespoons

fresh thyme leaves, or

1 Tablespoon

dried thyme leaves

1 1/2 teaspoons

ground pepper

1 teaspoon

sea salt
Garnish:
6

–

8

slices prosciutto

1/2 cup

grated Gruyere

1/2 cup

grated Parmesan
Chopped parsley
---
Instructions
Prepare the cipollines, onions, and shallots:
Trim, peel and slice thinly. To peel the cipolline onions easily, trim the root end and drop in boiling water for 2 minutes, then transfer to an ice bath to stop the cooking. Spread the cipollines out on a towel to dry. The skin should slip off quite easily at this point. To make slicing more stable, cut the cipollines in half from root to stem and lay cut side down on a cutting board. Slice cross-wise into half rings.
Divide butter between two heavy-bottom stockpots (or one stockpot and one large skillet). Likewise, divide both kinds of onions and the shallots between the pans, and sauté until deeply golden brown, about 20 – 25 minutes.
Deglaze the pans:
Divide the port between pans, and reduce until almost evaporated, scraping up brown bits. Transfer all onions to one stockpot.
Simmer:
Add tomatoes and simmer 5 minutes.
Puree 2 cups of the onion-tomato mixture with 2 cups beef stock and add puree back to stockpot. Alternatively, add 2 cups beef stock to the pot and pulse with an immersion blender a couple times to thicken the mixture, while leaving lots of texture in tact. Add remaining beef stock, thyme and salt and pepper. Bring to a boil, reduce heat and simmer for 1 hour. Taste and adjust seasonings.
Prepare garnish:
Fold each prosciutto slice in half and arrange on a foil-lined sheet pan. Sprinkle with Gruyere and about half the Parmesan. Melt the cheese until bubbly and the prosciutto starts to crisp under the broiler.
Serve:
Divide the soup between bowls and float a prosciutto on each bowl. Sprinkle lightly with remaining Parmesan and top with chopped parsley.
Notes
I divided the onions into two pans while browning to increase the cooking surface area. This will prevent sweating (instead of the intended browning) the onions which happens when you do too many at once. If you want to keep this to one pot, you could also do this in batches.
If you are not a fan of prosciutto, you can old-school it with toasted baguette slices topped with the cheeses and popped under the broiler. And if you are vegan, skip the butter in favor of olive oil, use vegetable stock, and ditch the toppings altogether. The soup has layered flavors and is yummy with or without the toppings.
Prep Time:

20 minutes

Cook Time:

1 hour 45 minutes

Category:

Soup

Method:

Stovetop
Here are some other great soups to fill your freezer. I make a big pot almost every Sunday and freeze most of it in 2-4 portion containers so that I always have a half-dozen flavors on demand. Just take it out in the morning and put it in the fridge to thaw, and you will be set for a hearty dinner when you get home.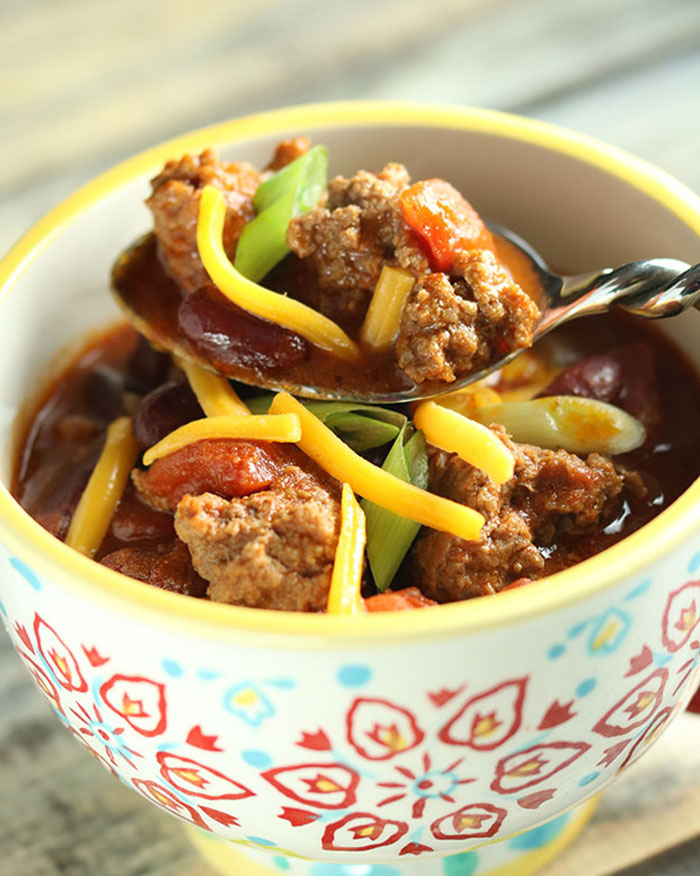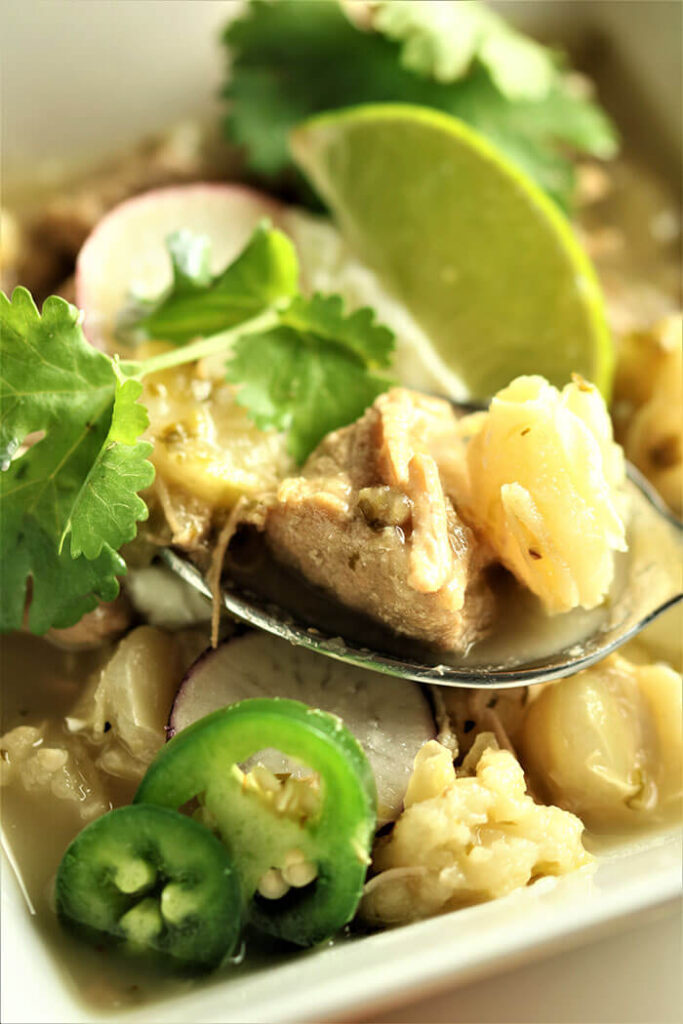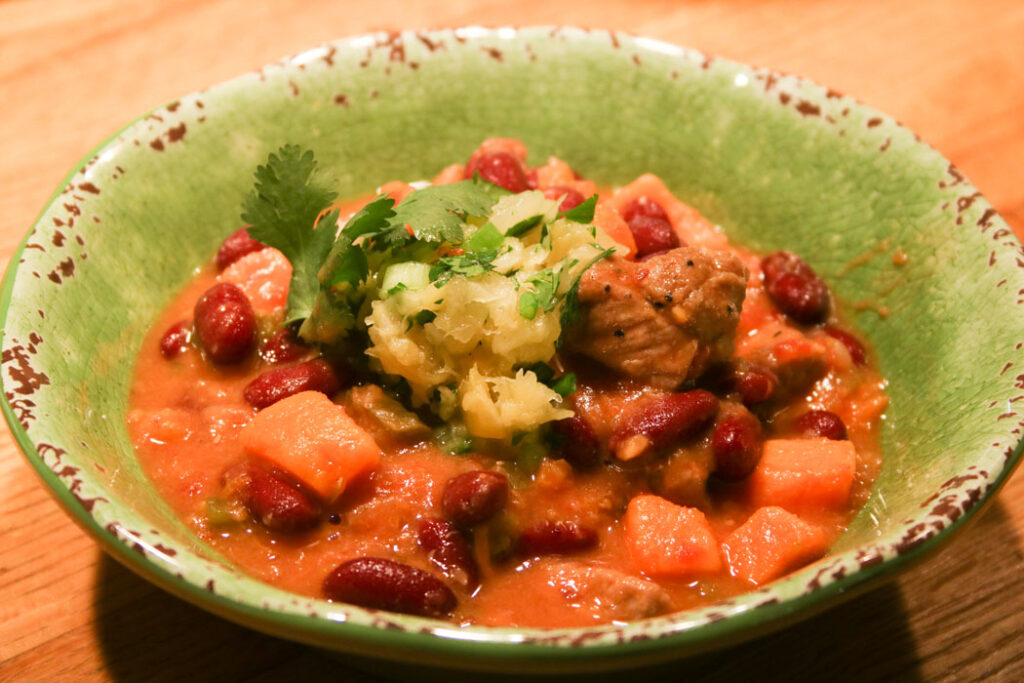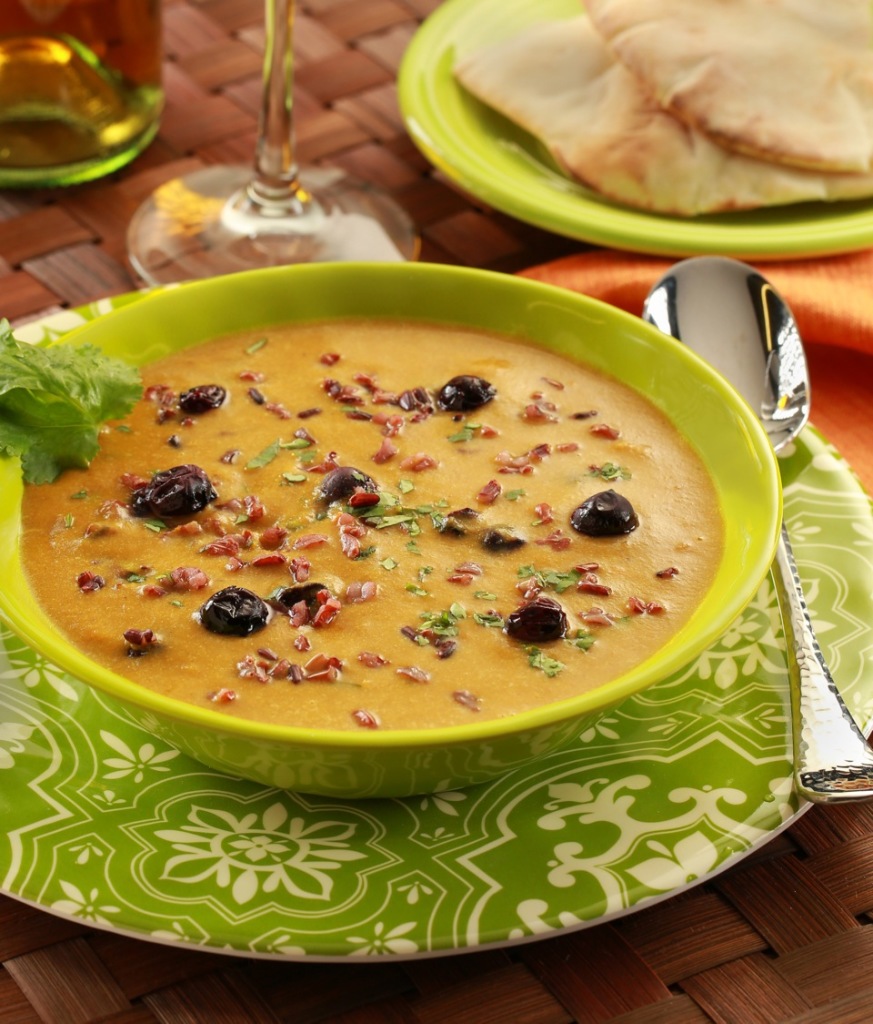 © Copyright: KatyKeck.com 2018. All rights reserved.
Hey, we want to hear from you!
Don't forget to Comment, Share & Subscribe to our blog.