It barely feels like winter has kicked in, but here we are waving goodbye to another National Soup Month. Lucky for us, Super Bowl is just a few days away so we can keep rocking the soup vibe without shame. This Posole Verde is so much more than a soup, perhaps a stew, and has all the personal choice condiments that are mandatory for serving a crowd. You could make this vegan by leaving out the pork (must you?) and swapping the stock. But the slow cooking required to pop the posole begs for pork to be front and center and turning into delicate strands, filling every bite.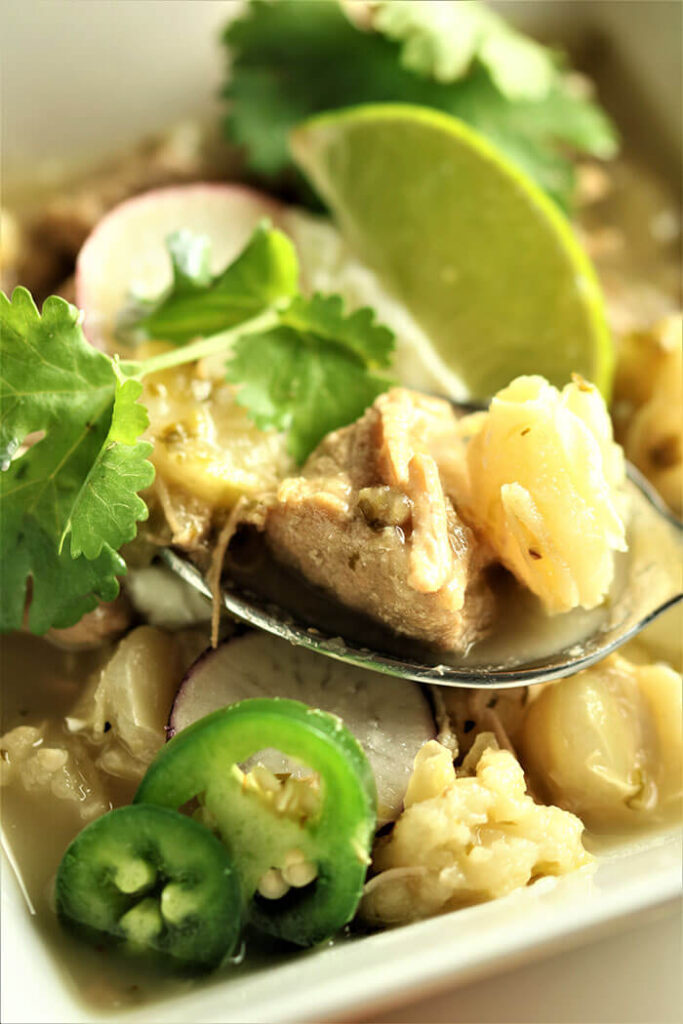 Posole or Pozole?
I'm talking POSOLE, people!! Or is it POZOLE? It's hominy or giant puffed-up corn. I first ran into posole while foodstyling a Today Show segment for Williams-Sonoma. Interesting that it was a first, because I grew up just down the street from Fuhrer Ford Mills, a hominy processing plant. As a result, our house always smelled of popped corn (kind of yummy), and there was a constant coat of silt on every surface (kind of crummy). But despite formative years in corn country, this most definitely was never ever on our table.
Pozole is the traditional Mexican spelling, though more commonly spelled posole here north of the border. Maize (maíz) was a sacred plant for the Aztecs and it was often a part of celebrations. To get from maize, to hominy or posole, the dried corn must be slaked with lime to create an alkali solution, called nixtamalization. This process loosens the hulls, makes them soft like beans, and then "pumps you up!" Remember Hans and Franz on SNL??? The lime used here is not from fresh citrus; rather, it is a food-grade calcium hydroxide. If you have ever turned cucumbers to pickles, perhaps you used "pickling lime" to crisp up the vegetables before canning. Luckily for us, by the time you find dried white corn on the shelves (in the dried bean section), this has already been done and is ready for use in soups and stews.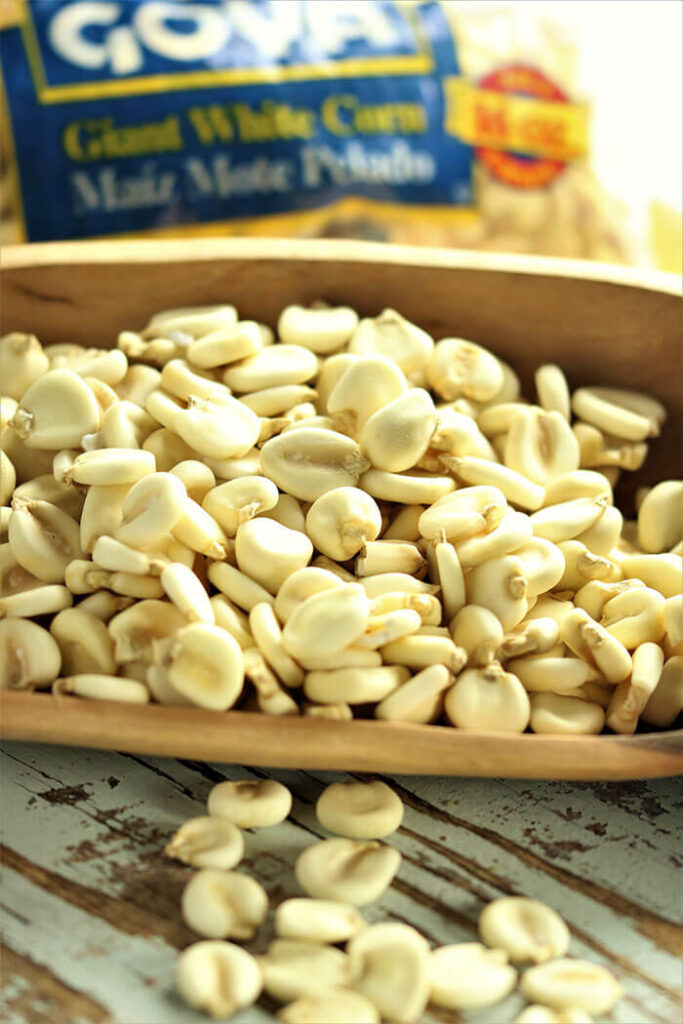 Another benefit of cooking or soaking in slaked lime and ash (an alkaline process) is that the nutritional value is bumped up (making it niacin-rich), it becomes easier to grind (resulting in masa, the main ingredient in tamales), and flavor and aroma are improved. In addition to dried posole – sometimes labeled as Giant White Corn or Maíz Mote Pelado – you might see canned hominy at your store. It's a much faster solution, but to my taste NOT nearly the no-brainer substitution as canned-for-dried beans. The texture of posole prepared from dried kernels is unlike anything else – chewy, toothy, satisfying – and is totally lost in the canning process. Canned hominy is much like the soft texture of a canned bean and tastes like disappointment. It's slightly metallic and oh so mushy. I'm so keen on dried posole texture that I have never made the substitution since I once sadly tried canned.
Posole Verde
The traditional Mexican preparations for posole are blanco, rojo or verde. The first (blanco) is unadorned and has no green or red ingredients added, and the latter two rely on chilis (rojo), such as Guajillo or Ancho, or tomatillos, lime, cilantro and jalapenos (verde), as I am sharing here. Adding the green things at the very end of your simmering keeps them from overcooking, leaving the flavor bright and a bit spicy.
Preparing the Posole
If I have the time, I like to prepare the posole the same way I would prepare dried beans. Rinse the posole under cold water, and transfer to a stockpot. Cover with 1-inch of water, bring to boil, and turn off the heat. Let the posole soak overnight. When ready to use, drain and rinse again. If you are pressed for time, you can skip this step or just shorten it to the time you prep the remaining ingredients.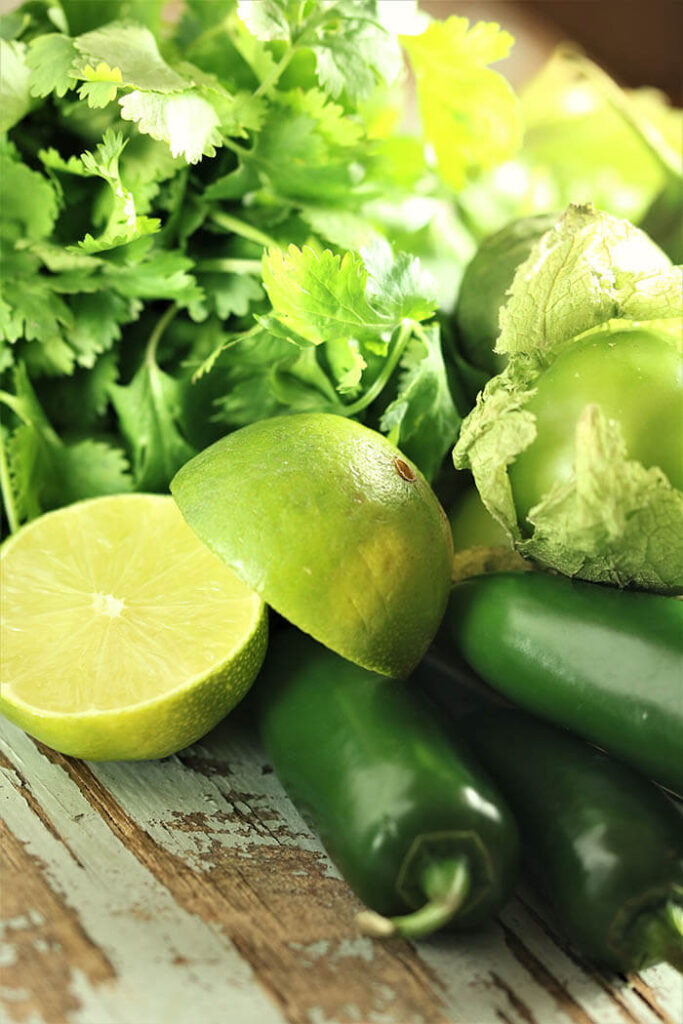 The verde recipe I share here calls for a late stage addition of a puree of lime juice, jalapenos, cilantro (stems and all) and tomatillos. It kicks up the flavor profile like 100000%. This is the kind of dish you can just plop on a back burner and walk away, passing every hour or so to check on the liquid level and adding more stock, as needed. I am not an instant pot or slow cooker "cooker", but I bet/know in my heart they would drastically reduce the time. I happen to have a few followers who are, and I'm counting on you to comment below. The big reveal comes when the posole starts to pop and look like a flower or popcorn, depending on your vision. I'll admit it – it can take from 3 to 5 hours to pop (longer if the dried corn has been around for years and if you skip the soaking step), but it's very low maintenance and for me a bit satisfying to have something cooking for the afternoon that really doesn't cry out for attention. It's like I'm cooking, and I'm not. Once it's getting close, just toss the lime juice et al. in the processor, and give it a whirl. Add this to the pot and cook a few minutes more.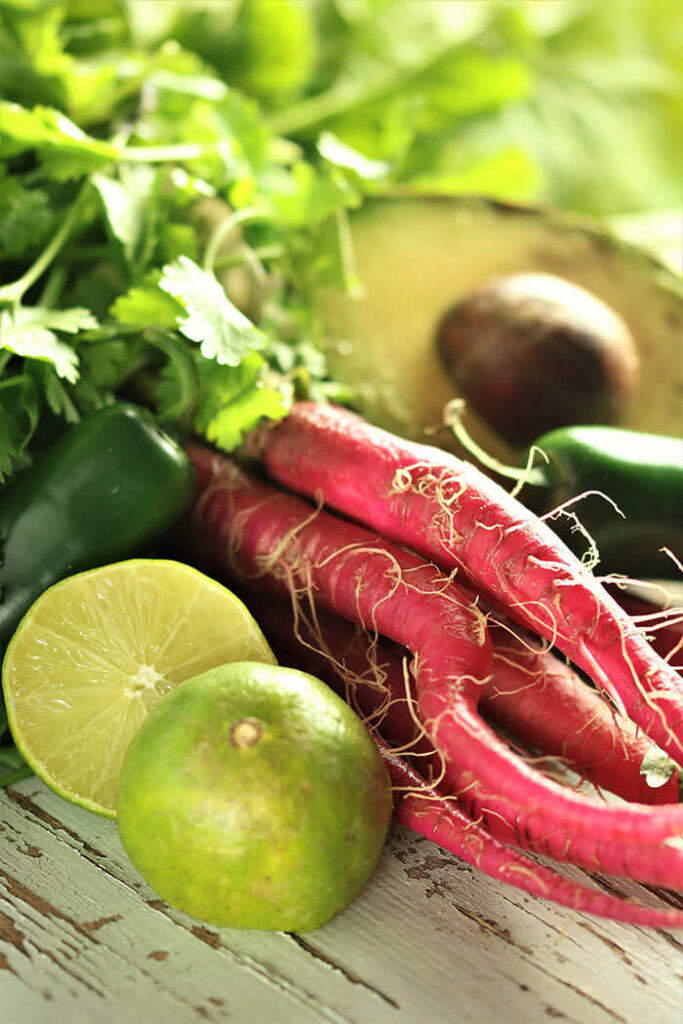 In Mexico, this dish is usually served with an array of toppings, including limes, cheese, sour cream, avocados, and radishes. Who doesn't love to dose their own dinner? All those garnishes make it the perfect football afternoon kind of centerpiece. Add a few chips or warm tortillas, maybe a big salad or some cornbread….. and a nice frosty beer. You will not be sorry!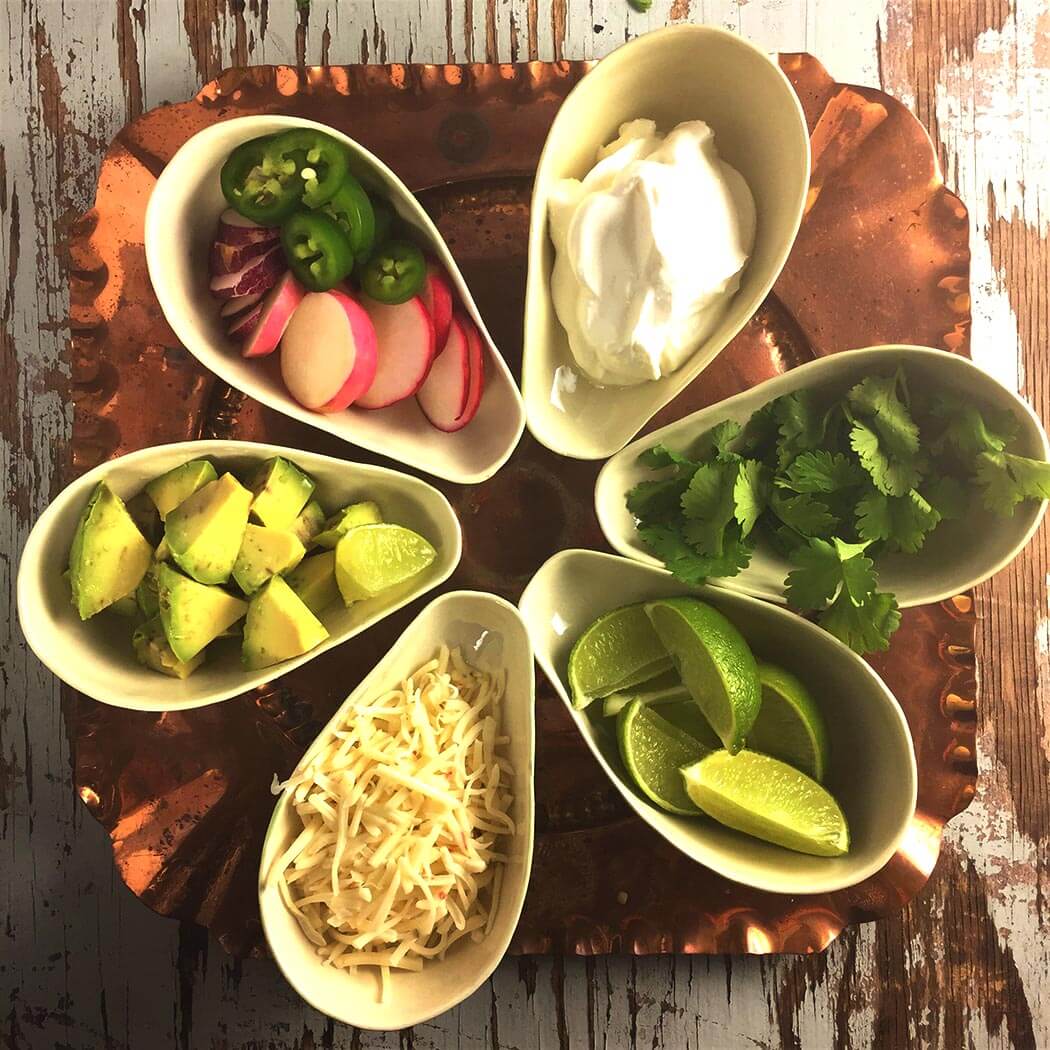 If you have a big enough pot – or want to use two – double up on the recipe. It freezes really well and then you will have a souvenir of the day you turned your kitchen into the most fragrant cantina in town. I added some notes below on how best to freeze. And while you are scrolling down, check the bottom of the post for some delicious additions to your soup repertoire.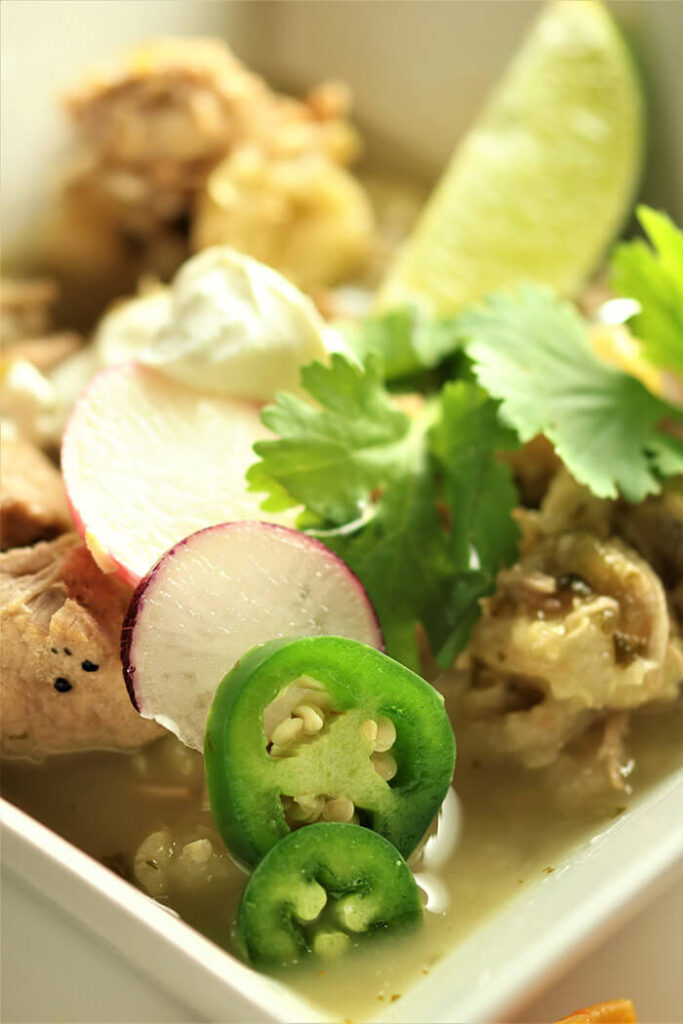 Print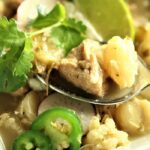 Posole Verde for the Super Bowl Win!
---
Author:

Total Time:

4 hours 30 minutes

Yield:

4 quarts

, serves 12

1

x
Description
Super Bowl is just a few days away so we can keep rocking the soup vibe without shame. This Posole Verde is so much more than a soup, perhaps a stew, and has all the personal choice condiments that are mandatory for serving a crowd. Put down a feast of toppings, a crunchy salad, and some cornbread, and sit back and watch the half-time show!
---
1

pound dried posole, soaked overnight, drained and rinsed

1 Tablespoon

olive oil

2 1/2

pounds pork loin, trimmed of fat and cut into 1″ cubes (about

3 1/4

pounds pre-trim)

1 Tablespoon

ground cumin

1 teaspoon

salt

1 teaspoon

ground black pepper

1

onion, chopped

4

cloves garlic, minced

4

–

5

quarts chicken broth

1

pound tomatillos, husked removed and rinsed (about

10

medium)

2

jalapenos, stems removed and sliced in half

1

bunch cilantro, stems and leaves (reserve a few sprigs for toppings)
Juice of

2

–

3

limes
Toppings:
Sour cream
Lime wedges
Grated Monterrey Jack
Sliced jalapeno
Avocado
Sliced radishes
Cilantro sprigs
---
Instructions
The night before, prep the posole:
Rinse the posole and transfer to a stockpot, covering with 1-inch of water. Bring to boil and turn off the heat. Let the posole soak overnight. When ready to use, drain and rinse again.
To make posole:
Heat oil over high heat in an 8-quart stockpot. Add pork, cumin, salt, and pepper. Sauté until pork is browned, about 10 minutes.
Add onion and garlic, and cook until softened and excess liquid has cooked off, about 6–8 minutes. Add soaked posole and stir to combine. Add 2 quarts of chicken broth and bring to a boil. Reduce heat to a simmer and cook for 90 minutes, stirring occasionally. Check the liquid and when getting low, add another quart of stock. I tend to add the third quart around 90 minutes and the 4th quart around 3 hours. Altogether, this will simmer a total of 3, 4 or maybe even 5 hours. It will depend in part on the age and dryness of the dried product. To be safe, give yourself enough time for a 5-hour simmer.
The pork will fall apart and shred, and you will know the posole is done when the posole kernels have popped. The kernels will puff and pop, and look a bit like a flower (if you squint and have been hitting the cerveza during the last five hours). They burst open joyfully as if they want to become popcorn! Taste them periodically for doneness. Before they "blossom", they will be quite starchy, fiber-full, and too chewy. Once sufficiently stewed, they will remain a bit chewy and toothy, but not woody.
Thirty minutes before the end:
When the kernels are starting to pop and getting close to the desired texture, toss the tomatillos, jalapenos, cilantro and lime juice into a food processor and puree. Add to stockpot and simmer for the final 30 minutes until the posole is tender. 30 minutes is plenty of time to simmer for this last step, but see note below.
Notes
Pressed for time? You can skip the soaking stage, or reduce it to the prep time for the rest of your chopping. That will likely lengthen the cooking time however.
Never add an acidic ingredient when cooking beans, or in this case, posole until the end. The acid binds with the outer structure and toughen it ups. No amount of additional cooking time will allow it to break down. Additionally, you want the fresh vibrant flavor from the green ingredients, which will dissipate if added too early in the cooking process.
If you are serving the posole later: Add the green mixture as you take the stew off the heat. The hot stew will cook sufficient "heat" out of these spicy and tart ingredients. To reheat, I also use some of that 5th quart to add to the pan. The posole will have continued to soak up broth as it sits in the refrigerator overnight, and you will need to loosen it a little with more stock.
Serve with bowls of the toppings, a crunchy salad and some cornbread!
Freezing? This stew is a fantastic freezer staple, but make sure to cool completely before transferring to freezer containers. I called for a 5th quart of stock so that you can top off the stew with liquid. Since there are a lot of chunky pieces, you want to make sure that they are all submerged in liquid before freezing.
Prep Time:

30 minutes

Cook Time:

4 hours

Category:

soup

Method:

stovetop

Cuisine:

Mexican
Keywords: posole, posole verde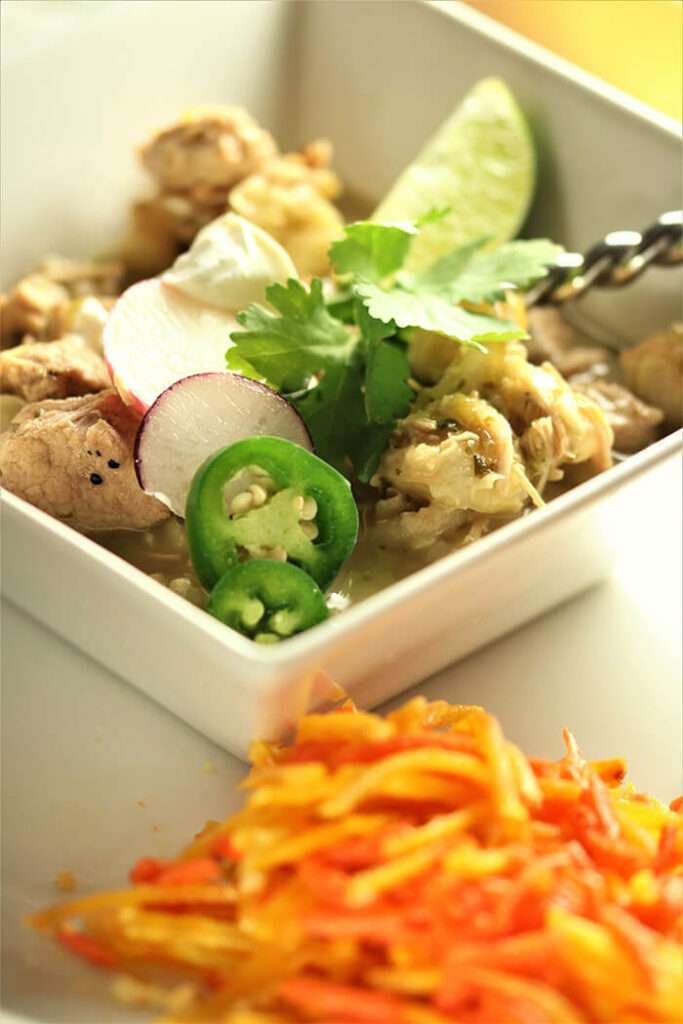 It's #NationalSoupMonth – so shout it out!
Here are some other ab-del (absolutely delicious) soups for your winter blues.
© Copyright: KatyKeck.com 2020. All rights reserved.
Hey, we want to hear from you!
Don't forget to Comment, Share & Subscribe to our blog.
Save