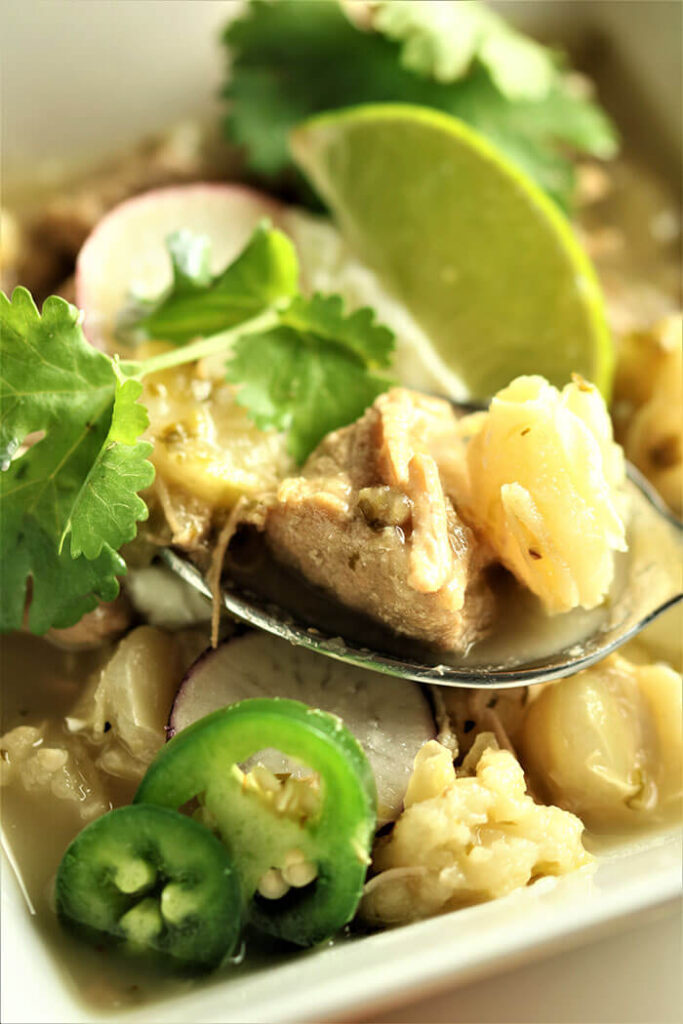 Hello, 2017!! Hello, National Soup Month! Hello, I still feel like celebrating and sitting by the fire!! Oh wait? Am I supposed to be back at it again? Dang! That holiday sure did sail by! Well, I just cooked up what is probably my all-time favorite hearty-sit-by-the-fire soup/stew* (continue the celebration if you must), and I am 100% okay with this being the dead of winter. 98%? 75% with a chance of winter beach escape? I'm talking POSOLE!! I first ran into posole while foodstyling a Today Show segment for Williams-Sonoma. Interesting that it was a first, because I grew up just down the street from Fuhrer Ford Mills, a hominy processing plant. As a result, our house always smelled of popped corn (kind of yummy), and there was a constant coat of silt on every surface (kind of crummy). But despite formative years in corn country, this most definitely was never ever on our table.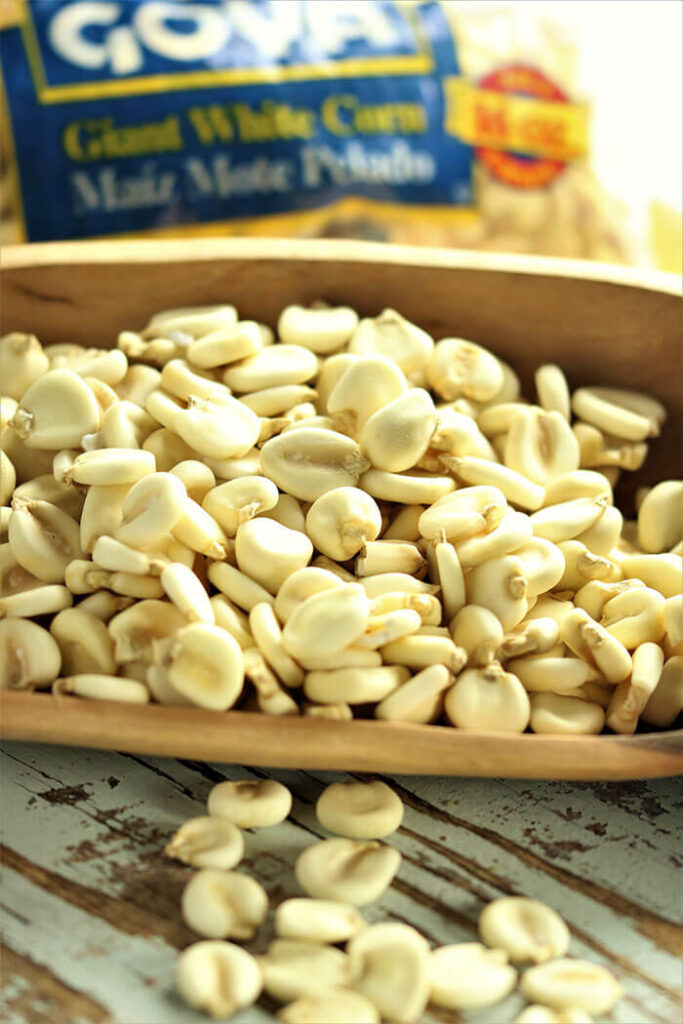 See, posole and hominy are one and the same. The dried posole I am using here, found in bigger supermarkets, online, or Hispanic stores, pretty much looks like that truck stop best-snack-ever – corn nuts. The dry kernels are processed using a technique called nixtamalization that dates back to 1500 BC and the Aztecs and Mayans. By cooking or soaking in slaked lime and ash (an alkaline process), the nutritional value is bumped up (making it niacin-rich), it becomes easier to grind (resulting in masa, the main ingredient in tamales), and flavor and aroma are improved. In addition to dried posole – sometimes labeled as Giant White Corn or Maíz Mote Pelado – you might see canned hominy at your store. It's a much faster solution, but to my taste not nearly the no-brainer substitution as canned-for-dried beans. The texture of posole prepared from dried kernels is unlike anything else – chewy, toothy, satisfying – and is totally lost in the canning process. Canned hominy is much like the soft texture of a canned bean. I'm so keen on dried posole texture that I have never made the substitution since the day I tasted the canned disappointment.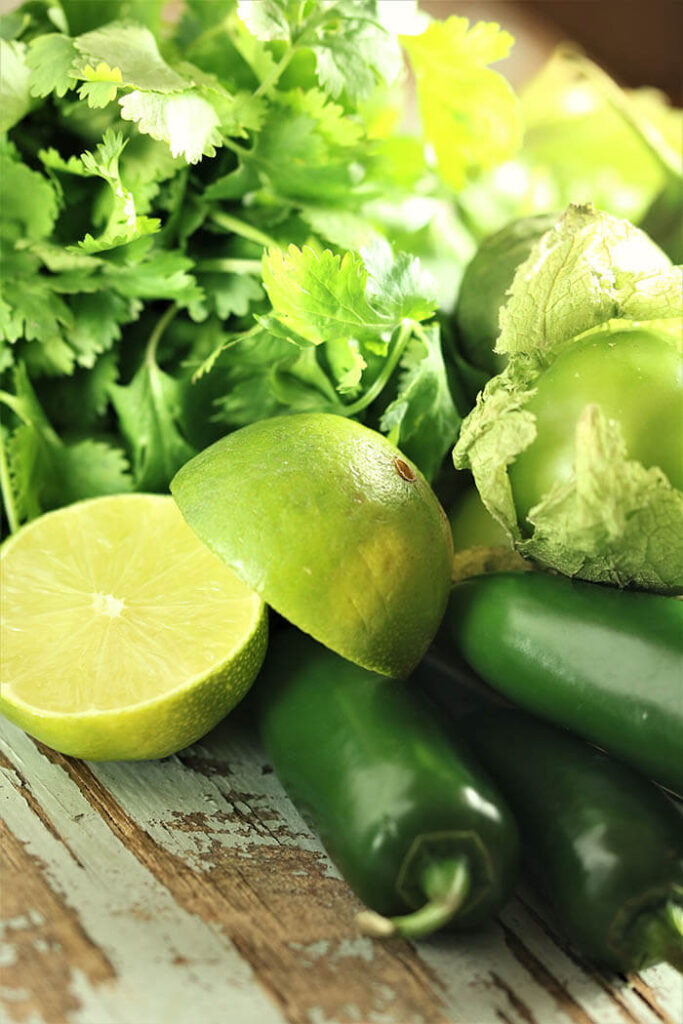 The thing I love about this dish is the late stage addition of a puree of lime juice, jalapenos, cilantro (stems and all) and tomatillos. It kicks up the flavor profile like 100000%. This is the kind of dish you can just plop on a back burner and walk away, passing every hour or so to check on the liquid level and adding more stock, as needed. I am not a pressure-cooker cooker or a crock-pot cooker, but I bet/know in my heart they would drastically reduce the time. I happen to have a few followers who are, and I'm counting on you to comment below. Looking at you, Brooke! The big reveal comes when the posole starts to pop and look like a flower or popcorn, depending on your vision. I'll admit it – it can take 3 – 5 hours to pop (longer if the dried corn has been around for years), but it's very low maintenance and for me a bit satisfying to have something cooking for the afternoon that really doesn't cry out for attention. It's like I'm cooking and I'm not. Once it's getting close, just toss the lime juice et al in the processor, and give it a whirl. Add this to the pot. and cook a few minutes more.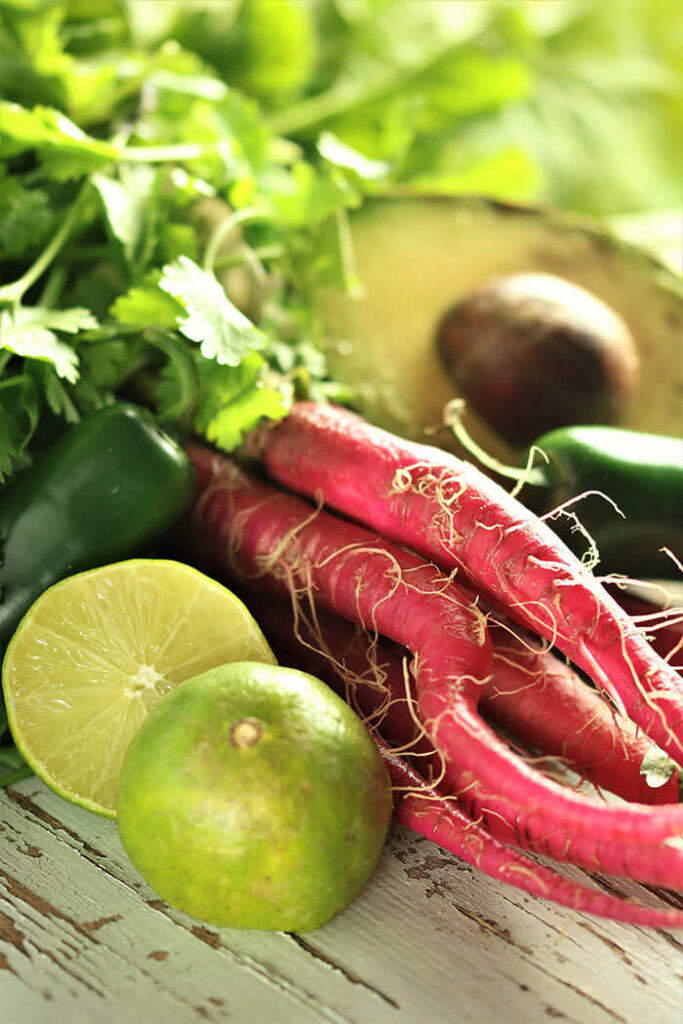 In Mexico, this dish comes in white (unadorned), green (like this) or red (dosed with red chilis, like ancho). It is usually served with an array of toppings, including limes, cheese, sour cream, avocados, and radishes. Who doesn't love to dose their own dinner? All those garnishes make it the perfect football afternoon kind of centerpiece. Add a few chips or warm tortillas, maybe a big salad or some cornbread….. and a nice frosty beer. You will not be sorry!
If you have a big enough pot – or want to use two – double up on the recipe. It freezes really well and then you will have a souvenir of the day you turned your kitchen into the most fragrant cantina in town. I added some notes below on how best to freeze.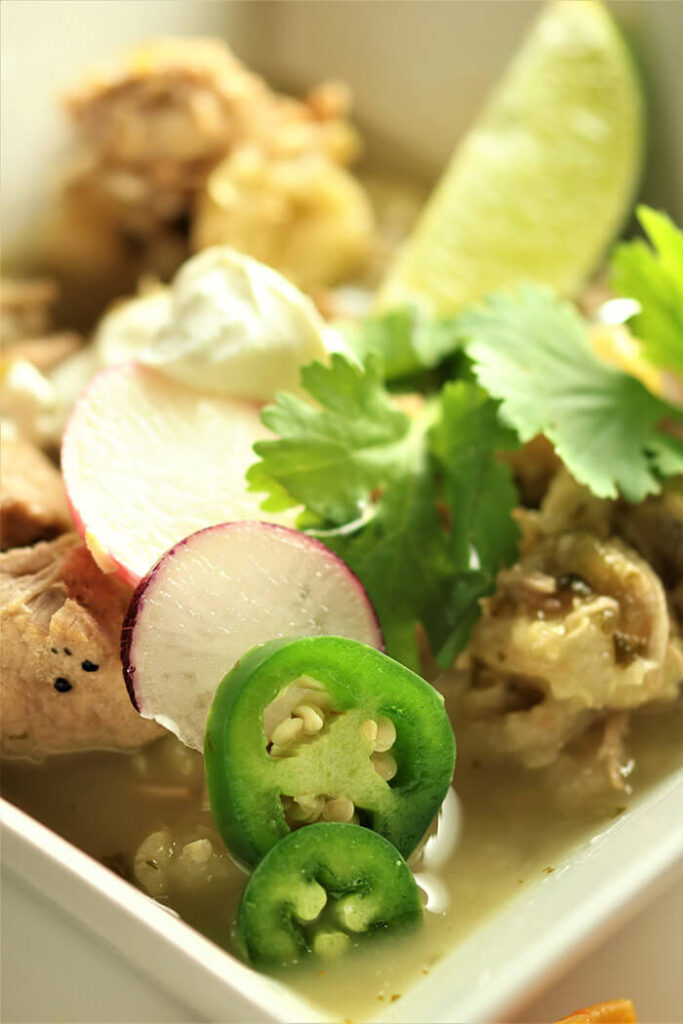 Southwestern Pork & Posole
1 pound dried posole, soaked overnight, drained and rinsed
1 Tablespoon olive oil
2 1/2 pounds pork loin, trimmed of fat and cut into 1″ cubes (about 3 1/4 pounds pre-trim)
1 Tablespoon ground cumin
1 teaspoon salt
1 teaspoon ground black pepper
1 onion, chopped
4 cloves garlic, minced
4 – 5 quarts chicken broth
1 pound tomatillos, husked removed and rinsed (about 10 medium)
2 jalapenos, stems removed and sliced in half
1 bunch cilantro, stems and leaves (reserve a few sprigs for toppings)
Juice of 2 – 3 limes
Toppings:
Sour cream
Lime wedges
Grated Monterrey Jack
Sliced jalapeno
Avocado
Sliced radishes
Cilantro sprigs
The night before – prepping the posole
Rinse posole and transfer to a pot and cover with 1-inch of water. Bring to boil and turn off heat. Let posole soak overnight. When ready to use, drain and rinse again.
To make posole
Heat oil over high heat in an 8-quart stockpot. Add pork, cumin, salt, and pepper. Sauté until pork is browned, about 10 minutes.
Add onion and garlic and cook until softened and excess liquid has cooked off, about 6 – 8 minutes. Add soaked posole and stir to combine. Add 2 quarts of chicken broth and bring to a boil. Reduce heat to a simmer and cook for 90 minutes, stirring occasionally. Check the liquid and when getting low, add another quart of stock. I tend to add the third quart around 90 minutes and the 4th quart around 3 hours. Altogether, this will simmer a total of 3, 4 or 5, maybe even 6, hours. It will depend in part on the age and dryness of the dried product. To be safe, give yourself enough time for a 5-hour simmer.
The pork will fall apart and shred, and you will know the posole is done when the posole kernels have popped. The kernels will puff and pop, and look a bit like a flower (if you squint and have been hitting the cerveza during the last five hours). They burst open joyfully as if they want to become popcorn! Taste them periodically for doneness. Before they "blossom", they will be quite starchy, fiber-full, and too chewy. Once sufficiently stewed, they will remain a bit chewy and toothy, but not woody.
Thirty minutes before the end
When the kernels are starting to pop and getting close to the desired texture, toss the tomatillos, jalapenos, cilantro and lime juice into a food processor and puree. Add to stockpot and simmer for the final 30 minutes until the posole is tender. 30 minutes is plenty of time to simmer for this last step, but you can also add this as you take the stew off the heat, especially if you are serving later. The hot stew will cook sufficient "heat" out of these spicy and tart ingredients. Since you are serving this with a wide array of toppings, guests can further dose to their own preferred level of acid and heat.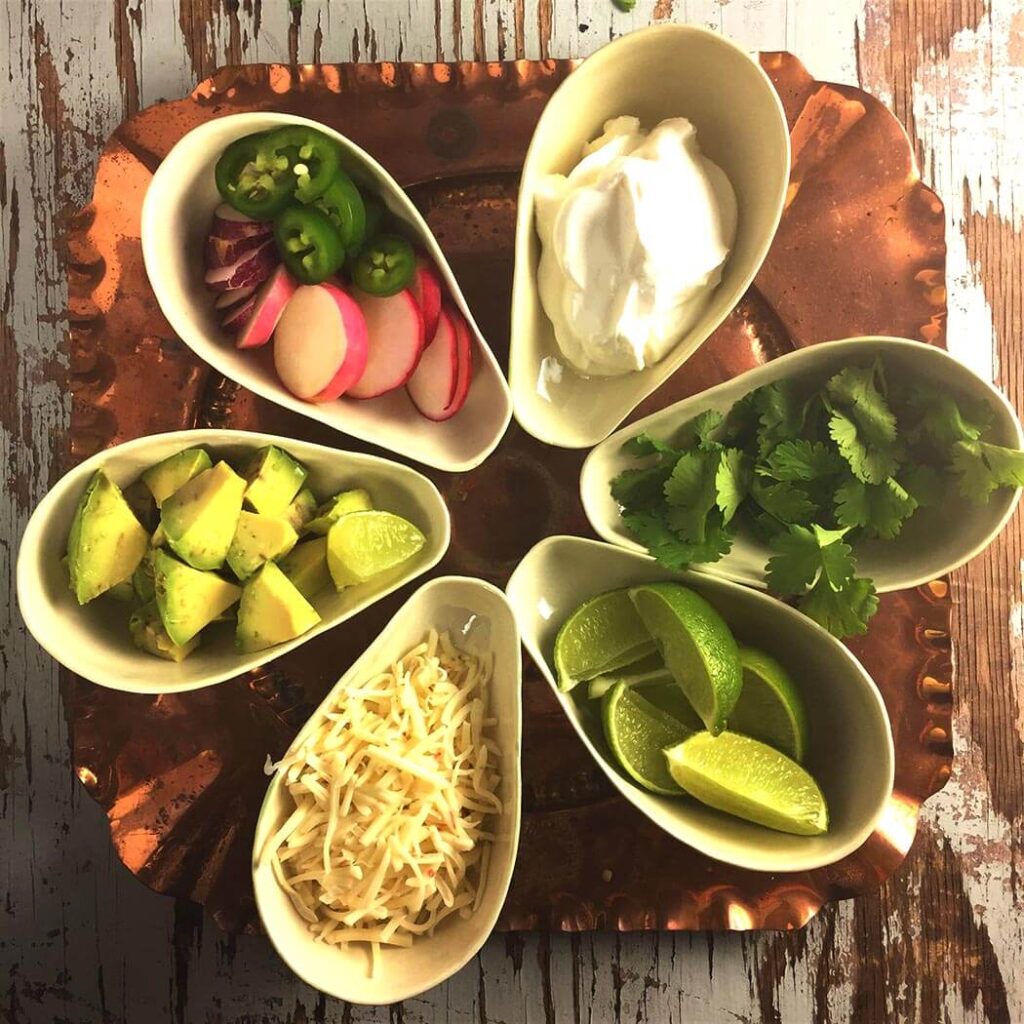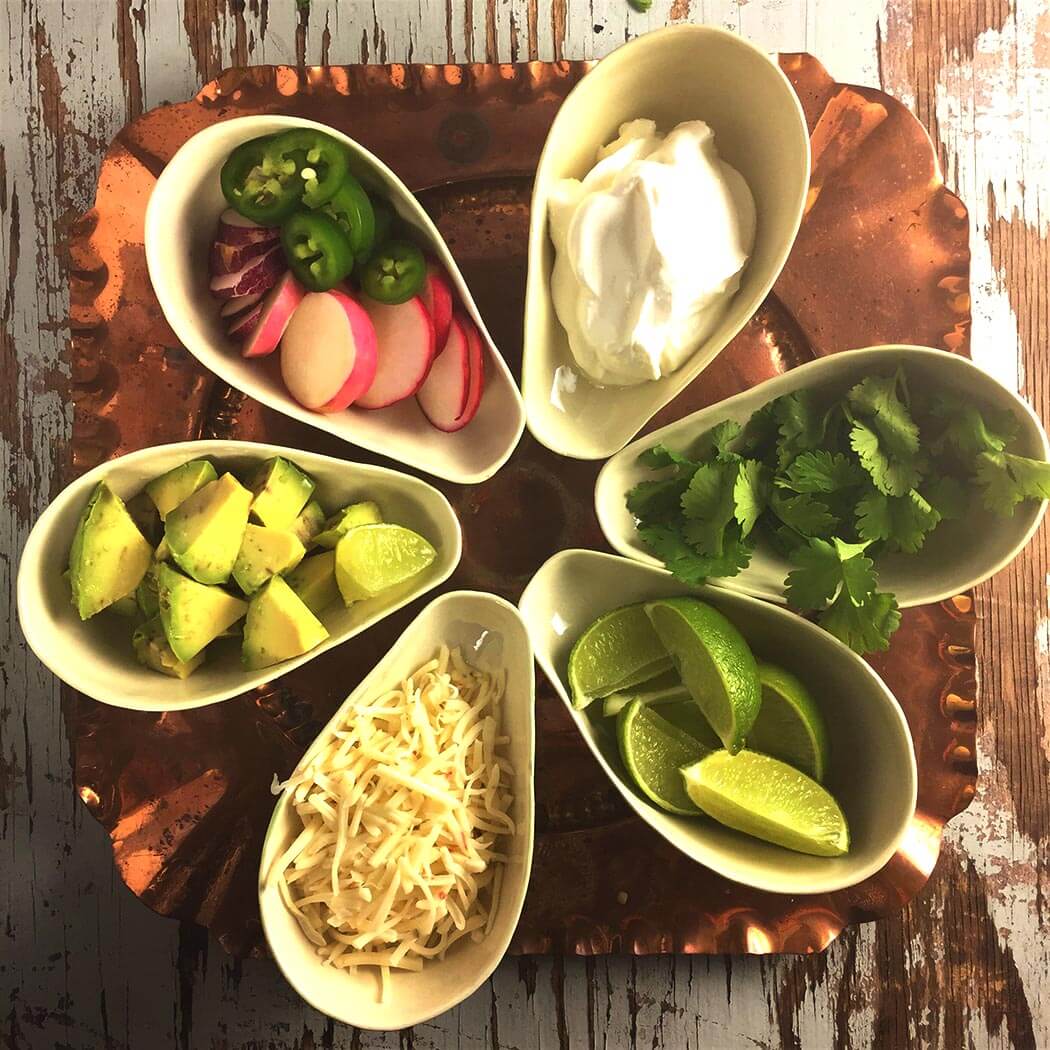 Serve with bowls of the toppings, a crunchy salad and some cornbread!
Makes 4 quarts and serves 12-16.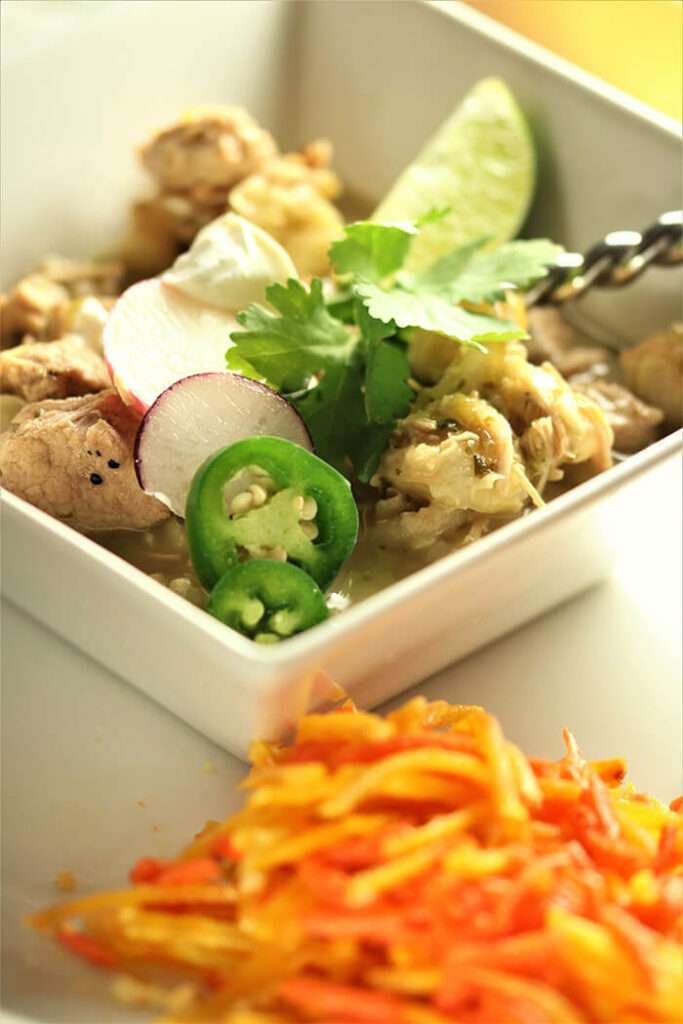 A note on freezing or eating the next day:
This stew is a fantastic freezer staple, but make sure to cool completely before transferring to freezer containers. I called for a 5th quart of stock so that you can cover the stew with liquid. Since there are a lot of chunky pieces, you want to make sure that they are all submerged in liquid before freezing.
To reheat, I also use some of that 5th quart to add to the pan. The posole will have continued to soak up broth as it sits in the refrigerator overnight, and you will need to loosen it a little with more stock.
#sodamndelicious
It's #NationalSoupMonth – so shout it out!
*I might be lying – this soup is a close tie for my personal favorite!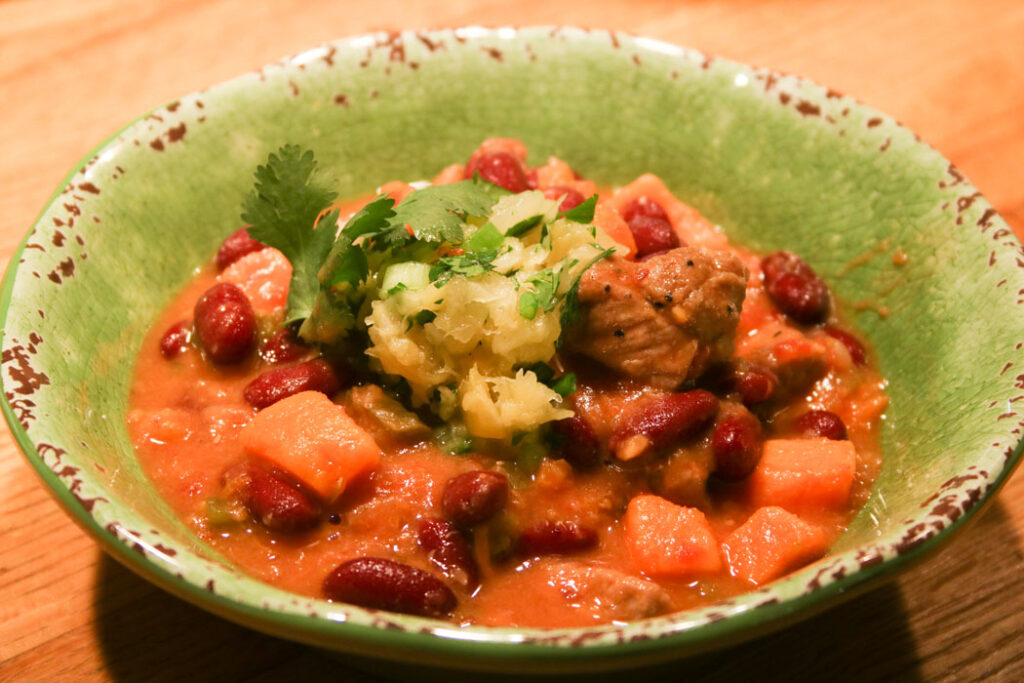 © Copyright: KatyKeck.com 2017. All rights reserved.
Hey, we want to hear from you!
Don't forget to Comment, Share & Subscribe to our blog.
Save