This hearty, healthy vegetable soup will get you through until the farmers' markets are cranking out peak of the season produce again. A dollop of pesto will brighten the flavors and get you jonesin' for sweet summer corn and tomatoes.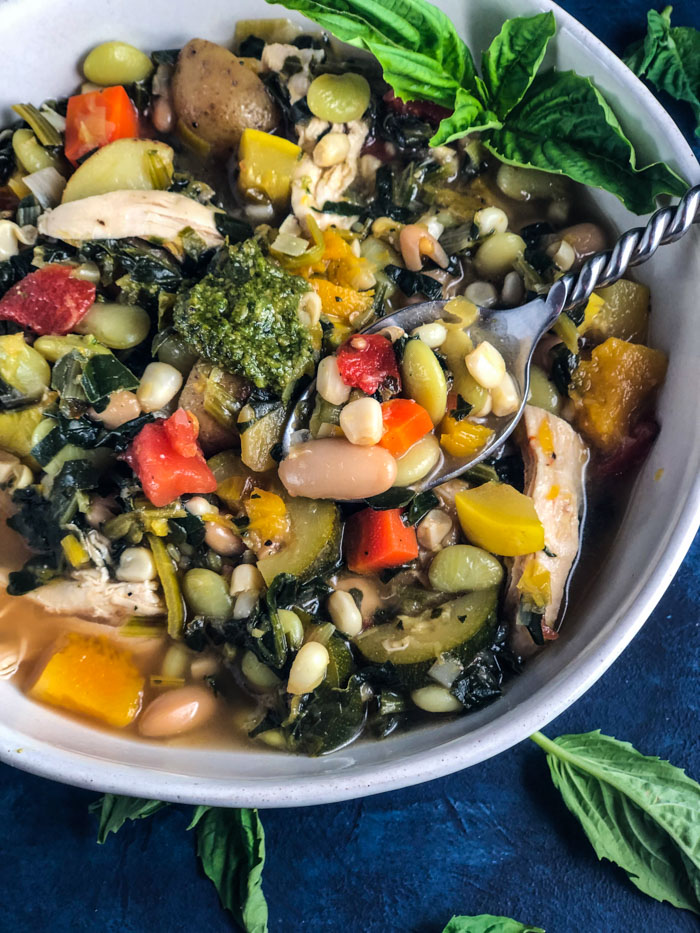 It probably seems like it's way past soup season but bear with me. It's about time that we take a second to think again about food waste and making a difference in the way we take advantage of the bounty of the season. If you have been following me for a while, you know that I am a big fan of taking any produce that you overbought and saving it in the freezer until you can use it. Ziplock it fresh, oven-dry it or sauté it and cover in broth before freezing…all to add to sauces, salads, pastas and soups through out the year. Now that we are looking down the barrel of summer, it's time to clean the freezer and put all last season's produce to good use. Healthy vegetable soup to the rescue!
Unfortunately we are still wasting 40% of the products that our hardworking farmers produce every year. Some are deemed too ugly to make it onto our supermarket shelves. Some are past their use by date. I love this campaign by the Ad Council. Best if used. Period. Look closely. $1500. That's how much a family of four spends on food that goes into the trash every year. How great would that extra cash be?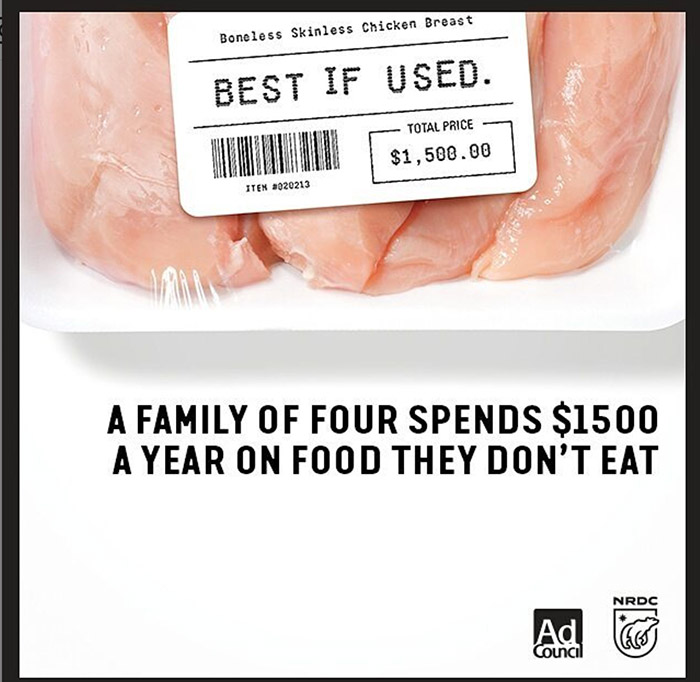 And landfills filled with rotting food result in higher greenhouse gas emissions than US beef production. All that wasted food AND it is bad for the environment? No bueno!! So think about ways to re-purpose this produce and extend its life.
How to Save Vegetables
Fresh corn: cut it off the cob and ziplock it to freeze
Tomatoes: oven-dry and once cooled, ziplock and freeze
Zucchini, peppers: sauté and cover with broth, then freeze to add to soups and stews
Leafy greens: steam and squeeze out the excess liquid, then ziplock and freeze
Peas: shell and ziplock raw and freeze
Winter squashes: peel, seed and cube, then ziplock and freeze
Here are some of the things coming your way soon, so start thinking about it now. Of course, try to buy the right amount, but don't throw out your excess. Respect the food and preserve it. Or if you are like me and know the corn will never be better, do buy extra and save it for the long, cold winter.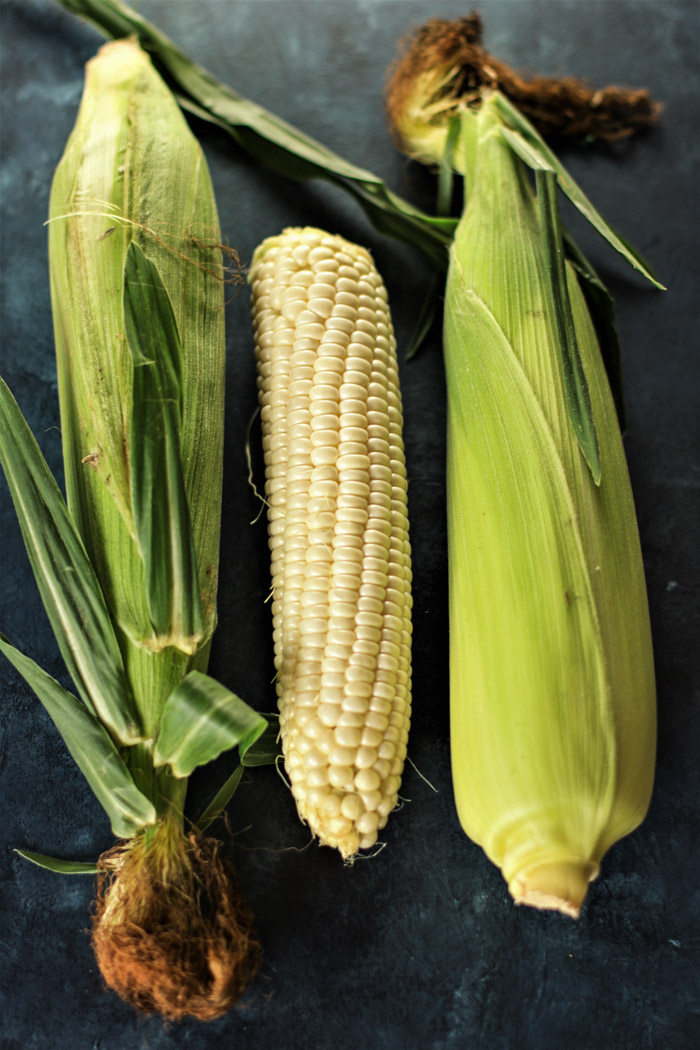 Sweet corn and sweet peas.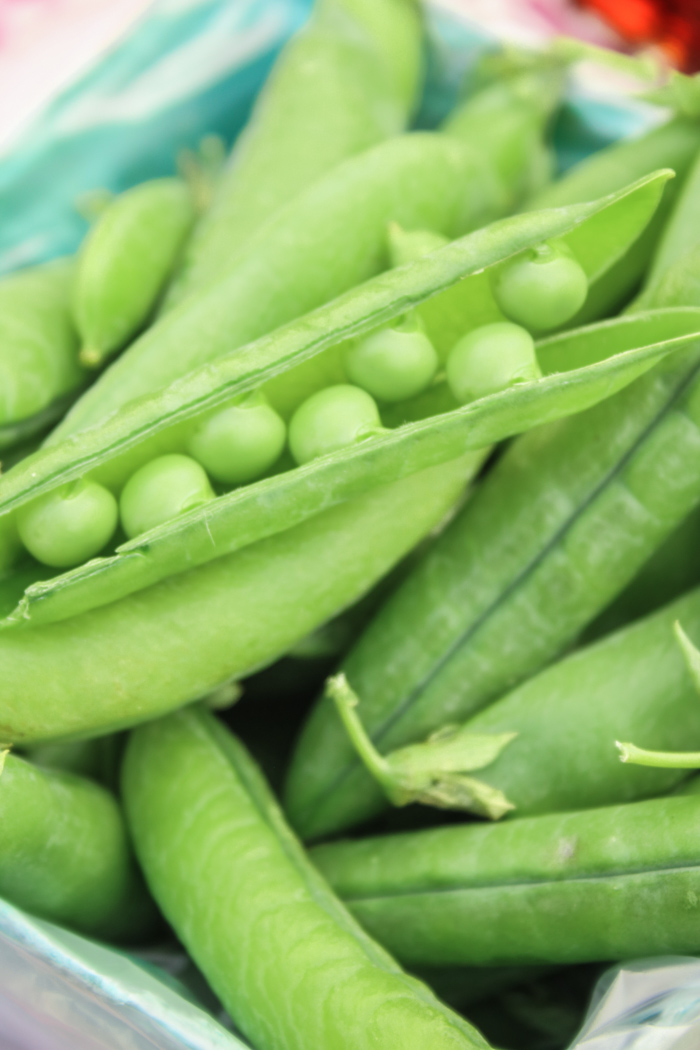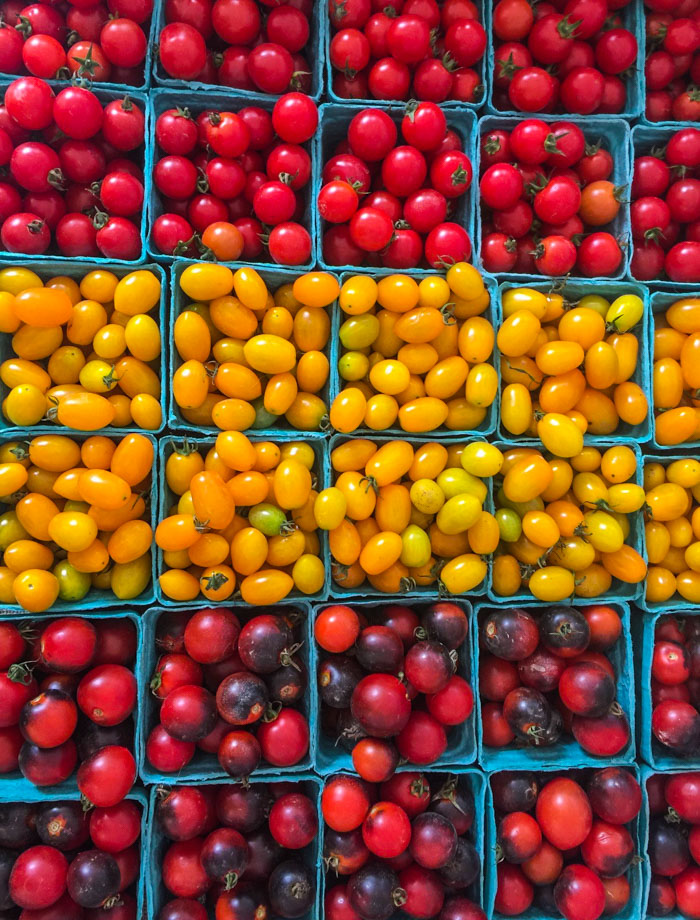 Heirloom cherry tomatoes definitely worthy of oven-drying to preserve for winter.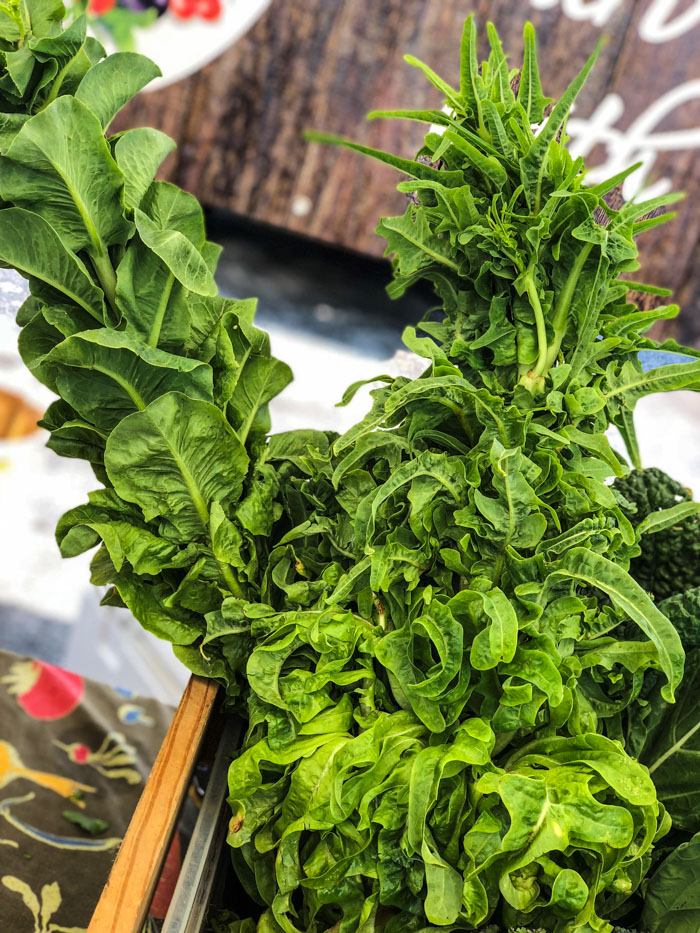 If you think this Kale is Krazy, wait until you see the farmer.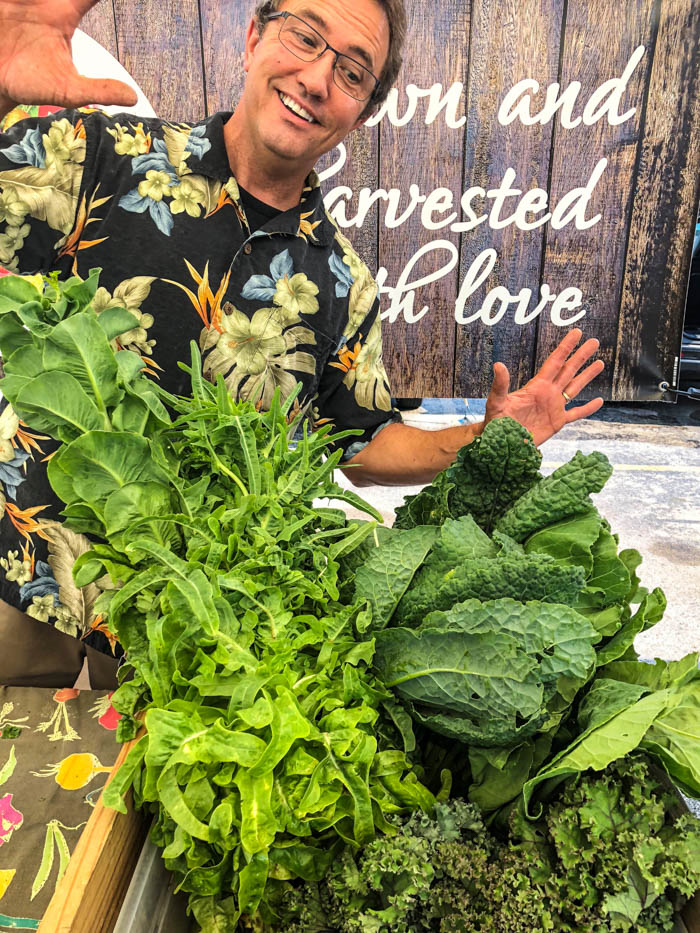 Told ya!
Best Ever Healthy Vegetable Soup
This soup takes advantage of many things I had in my freezer. I just made a big batch this weekend. I will put a few quarts away in the freezer for upcoming long days, but much I will eat this week. Saturday I start eating like a Syrian refugee as part of the Ration Challenge. More on that in the next post, but suffice it to say I am in a full-on panic about no fresh veggies for a week. Whole lotta rice and beans, with a sardine here and there.
You can customize this yummy, healthy vegetable soup to your own palate, but I found corn, butternut squash, edamame, and spinach all in the freezer. The canned cannellini and diced tomatoes I had in the pantry. And the remaining ingredients consisted of only a few fresh vegetables – leeks, zucchini, summer squash, and potatoes. In fact, this soup started as a leek and potato soup and then became a runaway vegetable extravaganza! You could even go so far as to add some chicken – either leftover roasted, poached or a rotiserrie chicken – to add a little lean protein.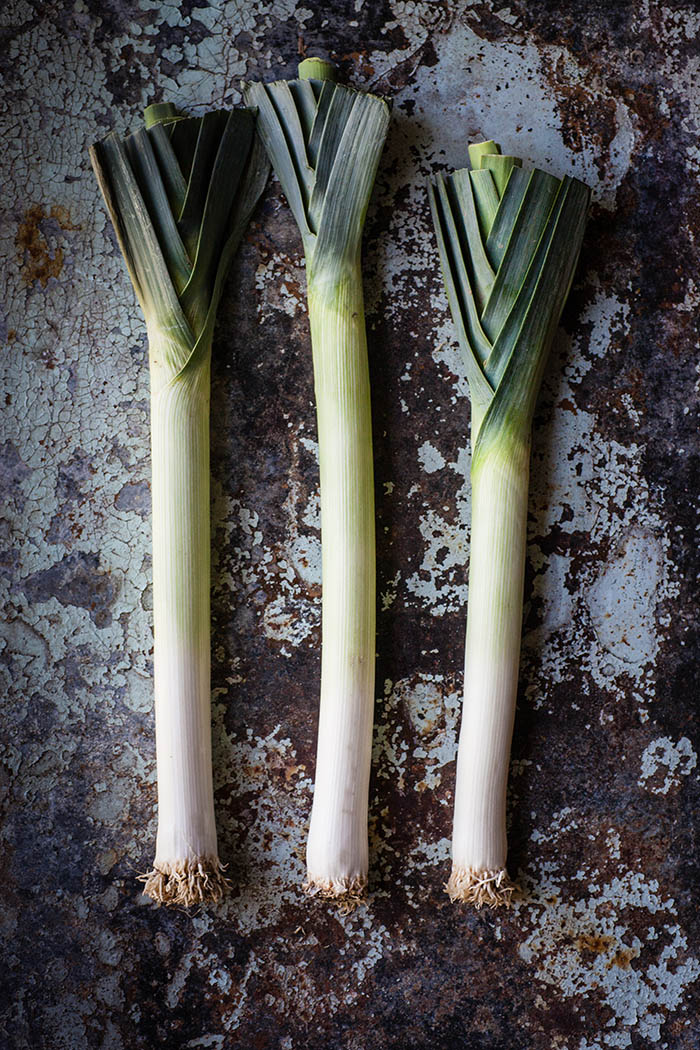 Photo credit: Heather Gill for Unsplash
How to Clean a Leek
Sidebar note on cooking with leeks: LOVE THEM!!! They always seem to be available because they scare people and they get left behind. They add all the depth of flavor of an onion, with none of the bite. And they are really easy to use. However, they retain a lot of dirt, so they need a thorough wash first. Trim off the woody dark green leaves at the top (and save them for a stock pot), but leave the hairy root end intact for now. Once the top is trimmed, slice lengthwise down toward the root (without cutting through), first in half, then in quarters, using two long cuts. Now holding onto the root end, run it under cold water, fanning it out to remove all the grit. It's a bit like a brush with long bristles. Shake, shake, shake. Once thoroughly cleaned, towel off excess water and cut crosswise in desired slices. Discard the root end when you get there. Some prefer to slice and then clean and here is a quick video on that.
I finish it off with a dollop of pesto – homemade or store-bought. That is how I finished it off on our spring vegetable soup with pistou on the very first menu at New World Grill. The vegetables were very precisely and finely minced. That's a far cry from the hearty chunky way I cook today. Gone are the tedious and tiny tidbits. Welcome, chunky and hearty veg.
What Vegetables are best?
While I am tempted to say you can't go wrong, I can actually think of a couple that I might pass on. I love all vegetables that keep their shape and color. With this being a relatively quick cooking time, that would include most. Eggplant probably deserves a pass. It can get bitter and breaks down to a seedy, gummy mess. And I would avoid certain mushrooms that will absorb too much liquid and get squeaky. Know what I mean? Like a portabello. Tiny enoki might be nice in here though. In general, I prefer mushrooms in a more dry sauté dish or when pureed. Lastly, beets are going to bleed and will overly flavor the broth. But you do you, I'll do me. Give it a whirl and see how you like it.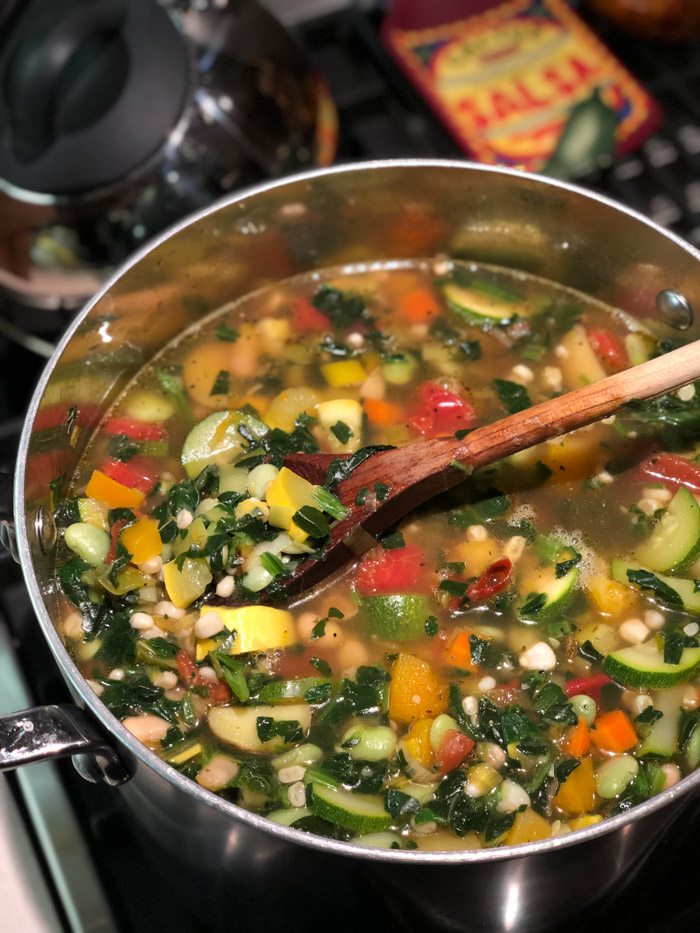 A Note on Prep Time Listed
In spite of 3 decades of foodstyling for television, where every ingredient is in its ramekin for a dump and stir demo, and despite 15 years as a chef/restaurateur, where all mise en place (prepped ingredients) are ready in the reach-in for cooking during service, I do not cook that way at home, nor should you. It takes a lot more time to get everything ready for dump and stir. I'm not saying you shouldn't pull all your ingredients together in advance. However, if an onion is going to cook until golden for 12 minutes, I don't chop the next ingredients until I get that on the burner cooking. I prep as I go. Multi-task anyone? The prep time I give in a recipe is just the minimal prep time required in order to start cooking. Once cooking commences, I start the count-up clock to track how long it takes to finish the recipe. There will be some prep during the cooking time. You may note that the ingredient list calls for the items to be already prepped (e.g., 1 cup diced zucchini). I have detailed it this way simply to space-save on a recipe printout. Don't think you need to get it all done before you start. The more you know 🙂
Print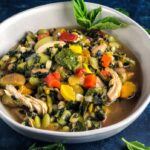 Hearty, Healthy Vegetable Soup
---
Author:

Total Time:

1 hour 5 minutes

Yield:

5 1/2 quarts

1

x
Description
This hearty, healthy vegetable soup will get you through until the farmers' markets are cranking out peak of the season produce again. A dollop of pesto will brighten the flavors and get you jonesin' for sweet summer corn and tomatoes.
---
3 Tablespoons

olive oil, divided per below

2

leeks, cleaned and sliced

3/4

pounds mini potatoes, such as Boomer Gold, cut in half or quarters depending on size

2

medium carrots, peeled and diced

1

pounded winter squash, such as butternut or acorn, peeled and diced

2

32-ounce chicken or vegetable stock

1

medium zucchini, trimmed and diced

1

medium yellow squash, trimmed and diced

1

15.5-ounce can cannelini beans, rinsed and drained

1

14.5-ounce can diced tomatoes

1

pound shelled edamame, lima beans, or peas

1

pound frozen, chopped spinach

1

pound sweet corn

1 teaspoon

pink Himalayan salt

1/2 teaspoon

freshly ground black pepper

1/2 teaspoon

red pepper flakes
Optional Garnish: Dollop with pesto
---
Instructions
In an 8-quart stock pot, heat two Tablespoons olive oil over high heat. Add the leeks and cook until wilted and starting to brown, about 5 minutes. Push to the side and add the remaining Tablespoon of olive oil. Add the potatoes and cook for 5 minutes. Stir potatoes and leeks to combine.
Add the carrots and winter squash. Stir to combine.
Add about one cup of the stock, to deglaze the pan, scraping up the brown bits. Add the zucchini and yellow squash and remaining stock. Bring to a simmer and reduce the heat. Simmer for 30 minutes. Check the doneness, especially for potatoes and squash.
Add the cannellini beans, tomatoes, edamame (or lima or peas), spinach and corn. Simmer for 10 minutes.
Season with salt, pepper and red pepper flakes. Adjust seasonings to taste.
Top with a dollop of pesto (recipes linked below).
Notes
Optional: add 1 pound cooked chopped chicken, about 2 cups. Yield will be higher, if chicken is added.
If any of the vegetables you are using are commercially frozen, check to see if they are par-cooked. If so, you may want to add them toward the end with the quick cooking ingredients like corn and spinach.
If freezing, I like to wait to add seasoning until later when I serve it. I also find I may need to add a bit more stock if it's been frozen.
Prep time in the recipe includes only the time needed to get cooking. You can continue prepping while the first step is cooking. While total time accurately reflects the total time required, the prep time is the shortest time til you fire up the stove, not the time required to prep all ingredients to their ready-to-use state.
Prep Time:

15 minutes

Cook Time:

50

Category:

Soup

Method:

Cooktop

Cuisine:

American
Keywords: healthy vegetable soup
More Favorite Soups: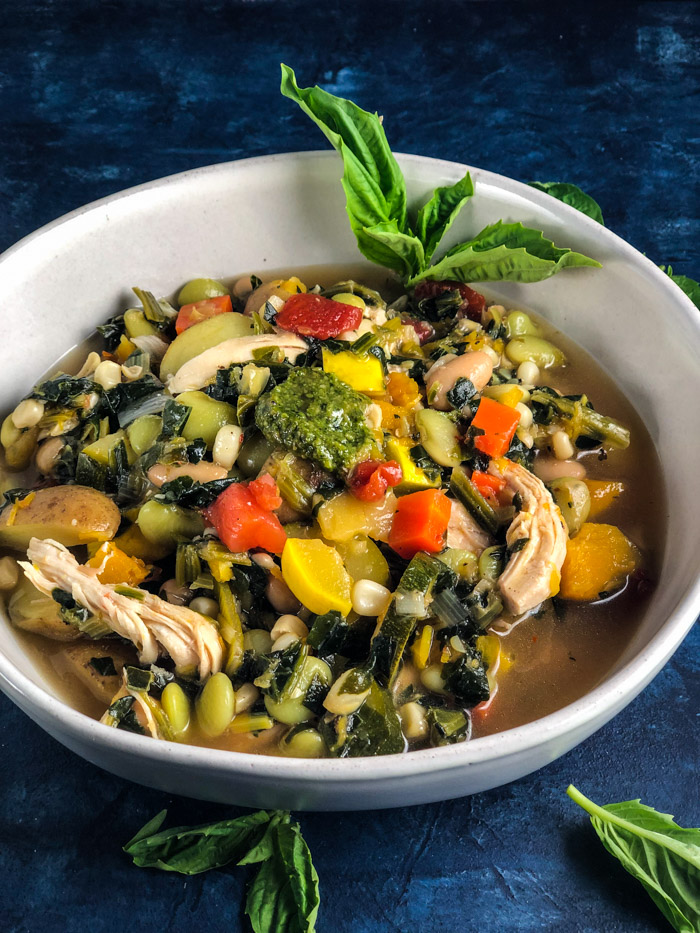 © Copyright: KatyKeck.com 2019. All rights reserved.
Hey, we want to hear from you!
Don't forget to Comment, Share & Subscribe to our blog.