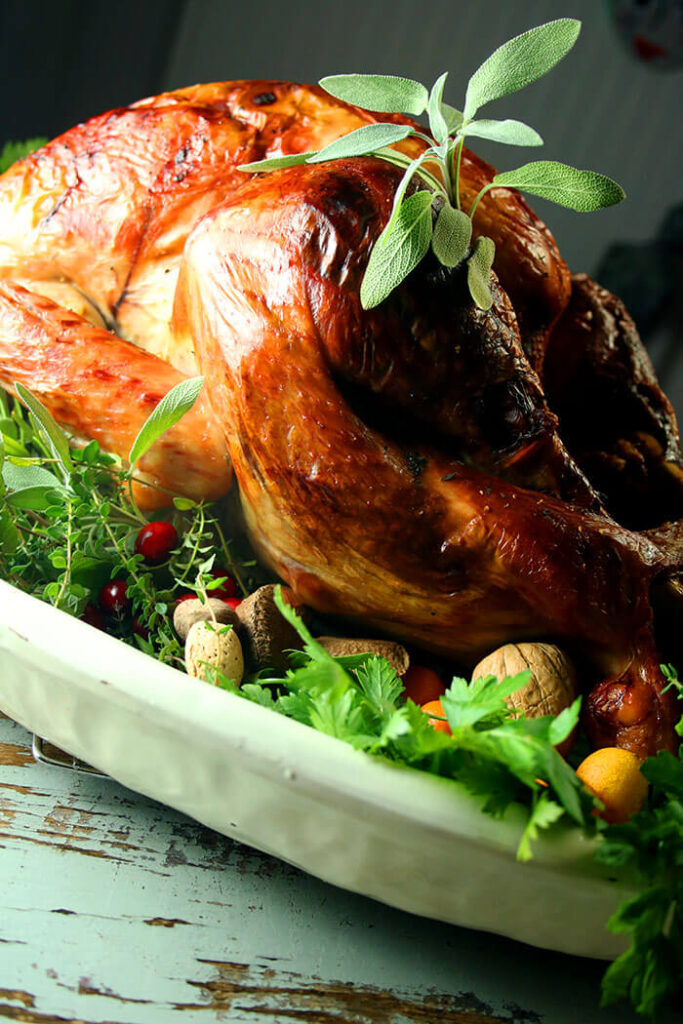 Nary has a Thanksgiving rolled by that I am not peppered with queries from dawn to dusk. I heed the call, alternating with "Gobble Gobble" and "Butterball Hotline." This year, I say bring it on. I've got nothing but time. Yup! I have already cooked my Thanksgiving feast – the roast turkey and the gravy – and served it up with a "Family Favorites Pot-lucky." Food served. Wine drunk. Dishes done. Trash at the curb. Sorry. Not sorry.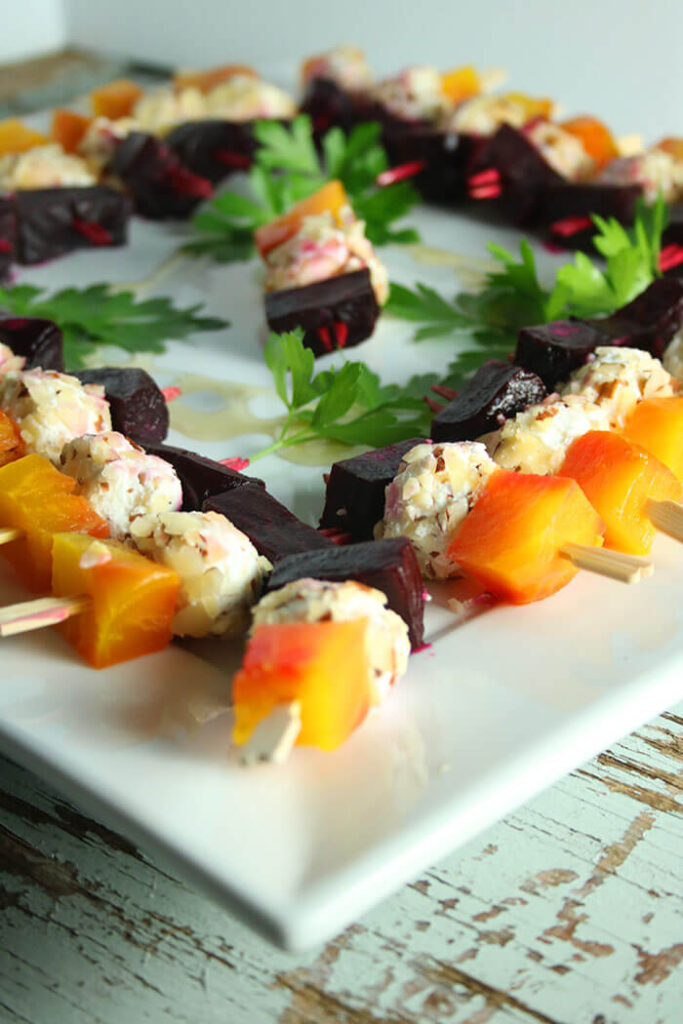 We gathered earlier this month and the pot-lucky theme was Family Treasures – the iconic culinary treats that are essential for fall family feasts. I brought Gaga's Delmonico apples and a cranberry kumquat chutney, that's a newer tradition. One couple brought a wonderful red and yellow beet with nutty goat cheese appetizer. The other dishes were both familiar and uniquely twisted – a modern green bean casserole & sweet potatoes with pecans, scalloped corn & sprouts with bacon, and mash taters & an amazing sausage stuffing. It was a tasty trip seeing how others celebrate the season.

And because it has been so warm, I was able to get most of the décor from the herb bed, grasses and colorful leaves. After one too many table settings that hogged the site line and got moved off the table about 5 minutes after we were seated, I decided to keep it low and used a collection of mismatched short silver cups, more commonly used at Derby time – julep cups! That plus a few candles and some nuts and gourds was all I needed.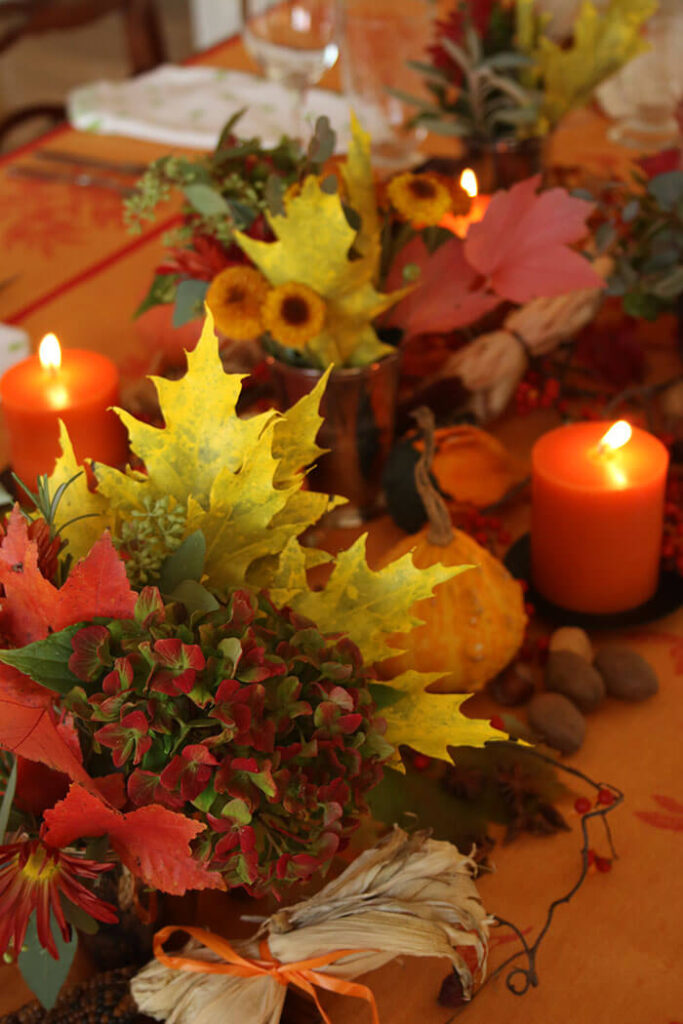 I was also in charge of the turkey and over the years I've had my share of turkey prep. Some years I have gone from perfect turkey on the Today Show Thursday to turkey leftovers on Good Morning America Friday. By noon on Thursday when others were thinking about the big dance, I had moved on to leftovers prep. One year my balcony was lined by so many wall to wall coolers filled with turkey parts that you'd have thought I was running a soup kitchen. Suffice it to say I have done every show with every possible technique and turkey part. Whole turkeys, turduckens, spatchcocked and deconstructed. Done. It. All.
The real secret to Turkey Perfection comes from good preparation, organization, great ingredients and having the right equipment. My turkey this year came from Wise Family Farm and was about 16 pounds. I hope you are so lucky as to have a fresh, locally pastured bird, but if you are only able to source a frozen turkey, you need to get busy now. The safest way to thaw a frozen turkey is in the refrigerator over several days. And don't forget that it takes 24 hours to thaw every 4 pounds of frozen bird.
If you head to my shop, you will find the tools I find most invaluable – a good Roasting Pan
, about 2-3" deep (I prefer "stick" over non-stick – that results in a nice dark brown gravy), a Roasting Rack
that raises the turkey for essential airflow, an Instant Read Thermometer
to validate estimated cooking time, a Fat Separator
to skim off fat and pour the rich stock from the bottom of the vessel, and anything written by Rick Rodgers, including The Turkey Cookbook
, Thanksgiving 101
, and The Big Book of Sides
. I can safely say everything I know about turkey and gravy I learned from Rick. He IS Mr. Turkey.
I find the recipe below to be quite foolproof. It is a classic technique for an average-sized 18-pound turkey, but the instructions can be adjusted depending on the size of your bird. There are many tweaks and twists that can bedazzle the bird, but it always helps to know the basics before you start embellishing. Learned that one from Julia herself! And one of the things I learned from Rick is to have a stock pot going all day so that you can baste before your bird gets juicy and you have everything needed to make gravy, regardless of the amount of juices your bird yields. I have included details on how to do that so you can relax and know you will be gravy-prepared.
Roast Turkey Perfection with Gimme-More Gravy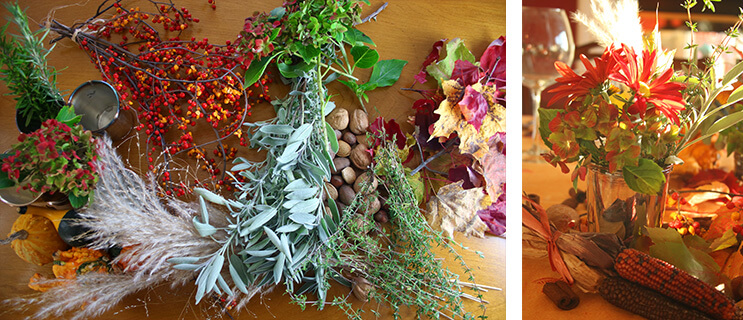 Turkey Perfection
One (18-pound) fresh turkey
Freshly ground black pepper
Kosher salt
2 carrots, coarsely chopped
2 stalks celery, coarsely chopped
1 small onion, coarsely chopped
3 quarts turkey or chicken stock (I prefer low sodium since this will reduce for hours – you can always add seasoning later)
1 Tablespoon olive oil
4 sprigs Italian parsley
2 sprigs fresh thyme
6 peppercorns
1 bay leaf
1/2 cup* plus 2 Tablespoons unsalted butter, at room temperature
1/2 cup all-purpose flour
*You may not need this if the turkey releases enough fat to yield a half-cup. Commercially produced birds tend to be fattier, but the pasture-raised bird I cooked was very lean and I needed to supplement with the butter when making the roux for the gravy.
Position oven rack in the lower part of oven and preheat to 325° F.
Remove any pieces/parts inside the turkey – the neck and giblets (which includes the gizzard, heart, and liver) – and set aside.
Rinse the turkey inside and out with cold water. Pat dry with paper towels and wipe out the cavity. Rub cavity with salt and pepper and stuff loosely with 1/3 of the carrots, celery, and onions.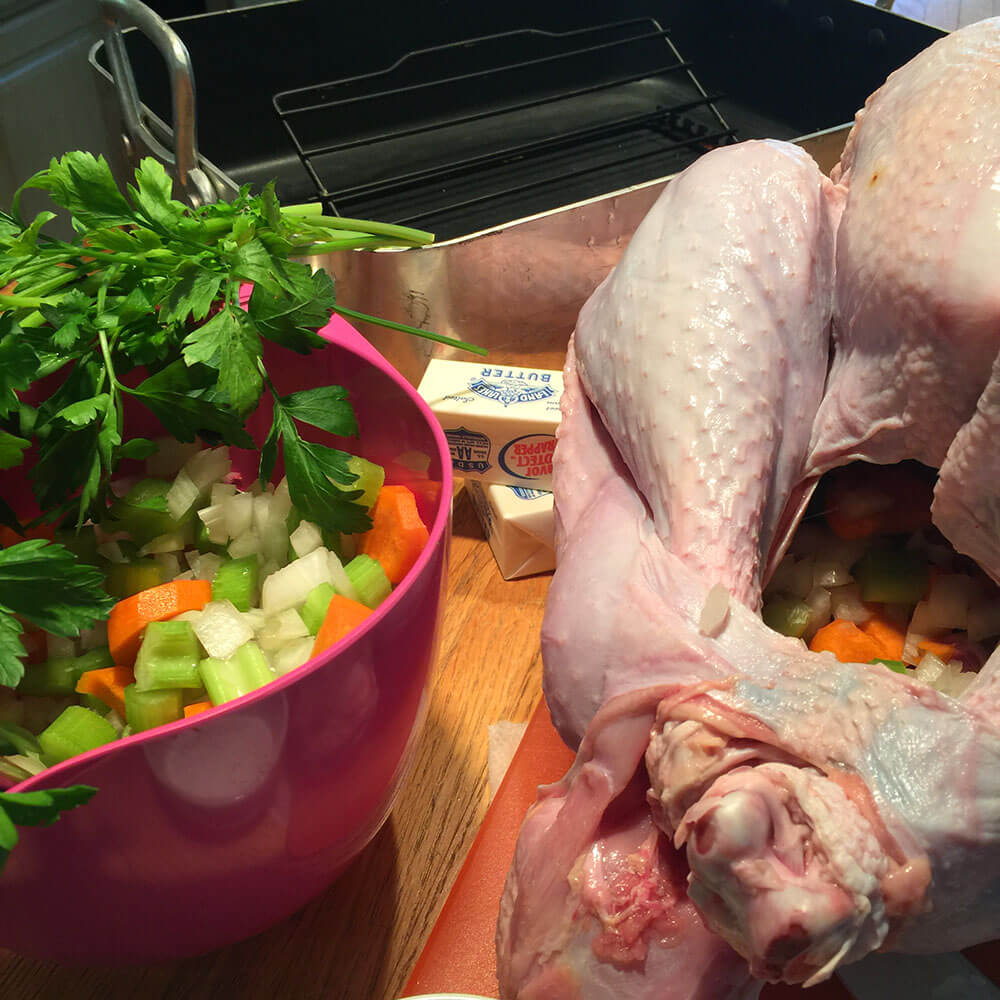 Pin the turkey's neck skin to the back with a bamboo skewer or trussing pin. Tuck the wings akimbo ("hands" behind the back, elbows turned outward) to keep the tips from burning.
Place the drumsticks in the hock lock. Some birds will be butchered with a skin flap as shown above. Others may have a plastic loop to lock the legs. If all else fails, tie them together with kitchen string.
Place the turkey, breast side up, on a rack in a roasting pan. Rub all over with 2 Tablespoons softened butter. Season with salt and pepper.
Tightly cover the breast area with aluminum foil. (Not tented, just pressed tightly onto the breast. You will remove this during the last hour of roasting).
Pour 2 cups of turkey or chicken stock into the bottom of the pan and place in the pre-heated oven.
Stock Pot
As soon as the bird is in the oven, start the stock pot. This will give you juices for basting during the early hours when the bird hasn't given off much liquid. It will also provide backup turkey stock for a bird that is a low juice producer.
Hack the turkey neck into 4 or 5 pieces. Trim away the gizzard's silver skin and membrane and coarsely chop. Some like to also chop up the liver and heart and add it here, but I think they are a bit bitter when boiled. I'm more likely to save them and sauté later with onions and then add them to stews, fried rice, or place atop avo toast.
In a large stock pot, heat the olive oil, add the turkey neck, any giblets, and sauté until brown, about 5-7 minutes. Add the remaining carrots, celery, and onions and sauté for 5 minutes. Add 1 quart of turkey stock, along with the parsley, thyme, peppercorns and bay leaf. Bring to a boil and reduce to a simmer. Continue to simmer, using this to baste the turkey as needed. Periodically skim any floaters. (I'm trying really hard not to say scum, but you know what I'm talking about.) Add additional turkey stock to the pot to maintain a 1-1 ½ quart level.
Basting
Roast the turkey, basting all over every hour with the juices in the bottom of the pan or from the stock pot. Lift up the foil to baste the breast area. I usually rotate the pan periodically to make sure there are no oven hot spots and the bird roasts evenly. Roast until an Instant Read Thermometer
inserted in the meaty part of the thigh (but not touching the bone) reads 180° F and the breast is 165° F, about 4 hours. Whenever the drippings evaporate, baste from the stock pot and add a bit more stock to the roasting pan. Remove the foil from the breast during the last hour to let the skin brown.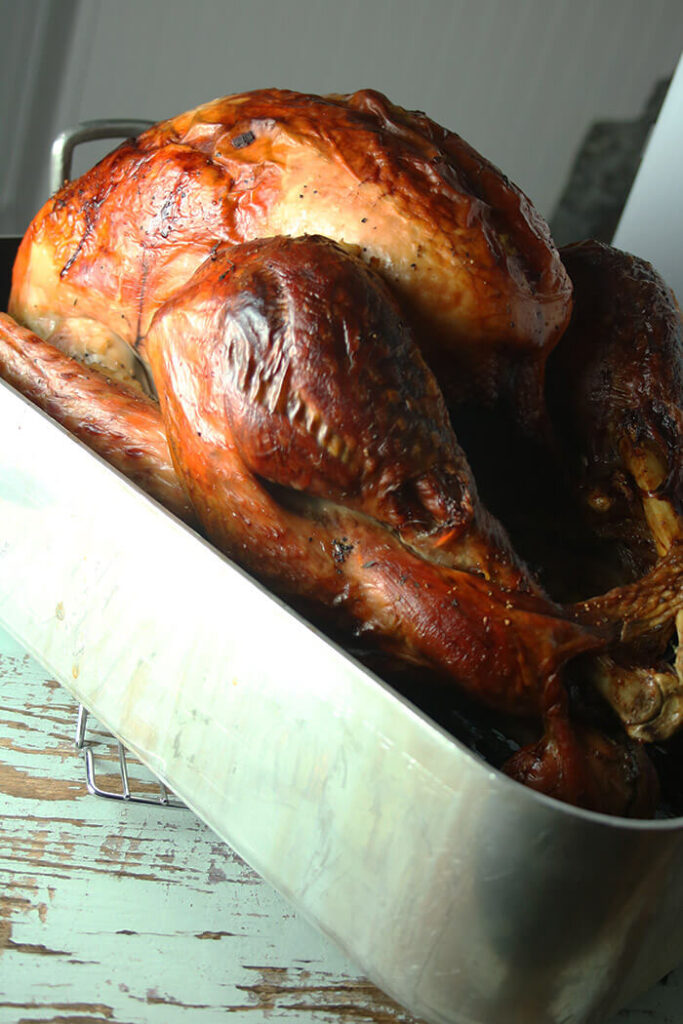 It's better to pad your estimated cooking time by 30 minutes, so nobody is standing around drinking too much while waiting for the bird. I say that like it's a bad thing. I always defer to the thermometer, but use the times below as a guideline. Stuffing your turkey will add about 5 minutes per pound, so I cook the stuffing on the side (doesn't that make it dressing??). Since you need to let the bird rest 30 minutes and carving takes time, you have most of an hour to finish or warm the rest of the sides when the oven is no longer needed for the turkey.
Estimated Roasting Times – Unstuffed Turkey – about 15 – 20 min a pound
(Oven Temperature 325° F)
12 to 14 pounds 3 to 3 3/4 hours
14 to 18 pounds 3 3/4 to 4 1/4 hours
18 to 20 pounds 4 1/4 to 4 1/2 hours
20 to 24 pounds 4 1/2 to 5 hours
Transfer the turkey to a large serving platter and let it stand for at least 30 minutes before carving. Pour any juices that have run off back into the roasting pan.
Gimme-More Gravy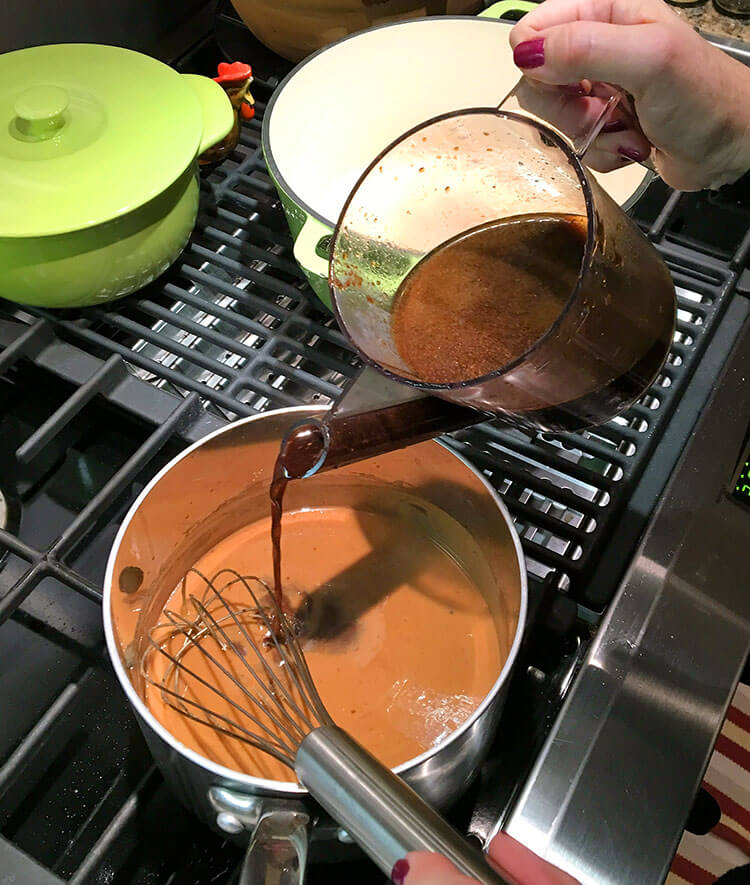 Once the turkey is out of the oven and resting, pour the drippings from the roasting pan into a Fat Separator
or heatproof glass measuring cup. Let stand 5 minutes, then skim off and reserve the clear yellow fat that rises to the top. Measure 1/2 cup fat, adding butter, if needed, to make 1/2 cup.
Check the measurement on the broth remaining in the fat separator, once you have skimmed the fat. If you have less than one quart of liquid, add enough strained liquid from the stock pot to the skimmed drippings to make 4 cups.
Place the roasting pan on low across two stove burners (or scrape all the brown bits from the roasting pan into a saucepan) and add the turkey fat or fat/butter combo (1/2 cup total).
Whisk in the flour to make a roux, scraping up the browned bits on the bottom of the pan, and cook until the paste is lightly browned, about two minutes. Whisk in the turkey broth. Cook, whisking often, until the gravy has thickened and no trace of raw flour flavor remains, about ten minutes.
If desired, finely chop whatever giblets you have prepared and add to the gravy. Check the seasonings and add salt and pepper, as needed. Transfer the gravy to a warmed gravy boat.

Carving
Remove the wing and leg on one side and slice the breast, carving parallel to the center/breast bone. Repeat on the other side. It's become very popular to remove the breast and slice cross-wise like a loaf of bread. It's not the way I was trained. But my Dad's process which took an hour to carve…one slice for the platter, one for the man with the knife….and never ended up with enough food on the platter (What? You want more than one paper-thin slice???) has left some family members in therapy. I can't be sure but I think some people that I may or may not be related to shred their turkey by hand just to avoid any brush with our torturous past. You are on your own – #NoJudgment – but know that there are plenty of videos on carving techniques!
However you carve it, enjoy and be sure to smother with amazing gravy and serve with gratitude! And be sure to share your family favorite sides in the comments below.
Serves 18 with about 4 cups of gravy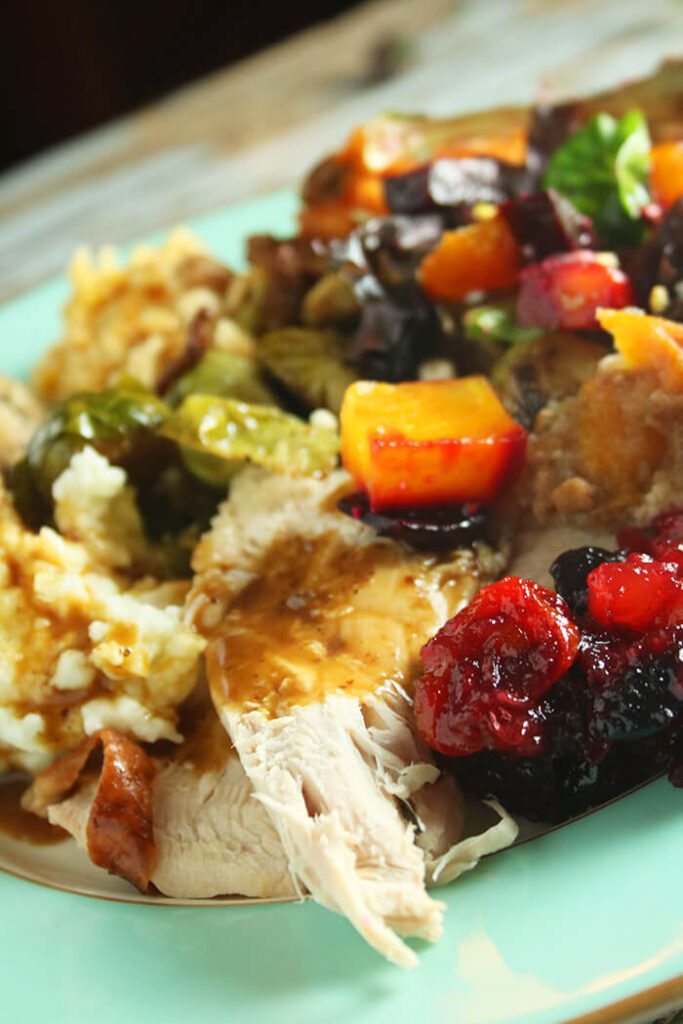 Take a page from this book and consider liquid dessert! Kind of a perfect way to end a meal – no further chewing needed.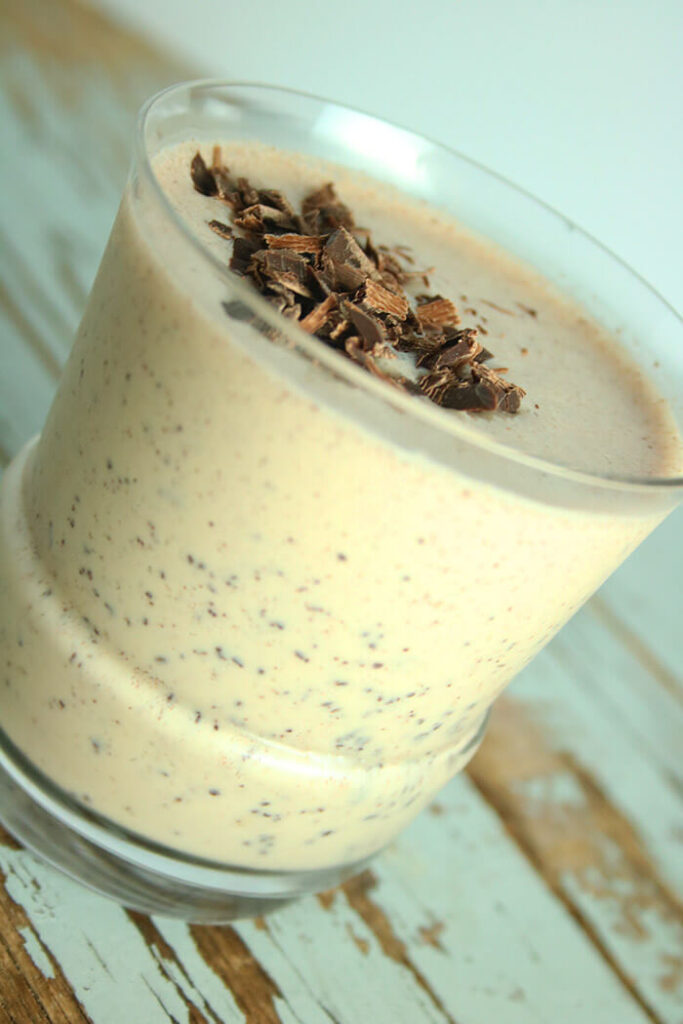 Gobble! Gobble!
This post contains affiliate links. For more of my must-have faves, check out my shop.
© Copyright: KatyKeck.com 2016. All rights reserved.
Hey, we want to hear from you!
Don't forget to Comment, Share & Subscribe to our blog.
Save