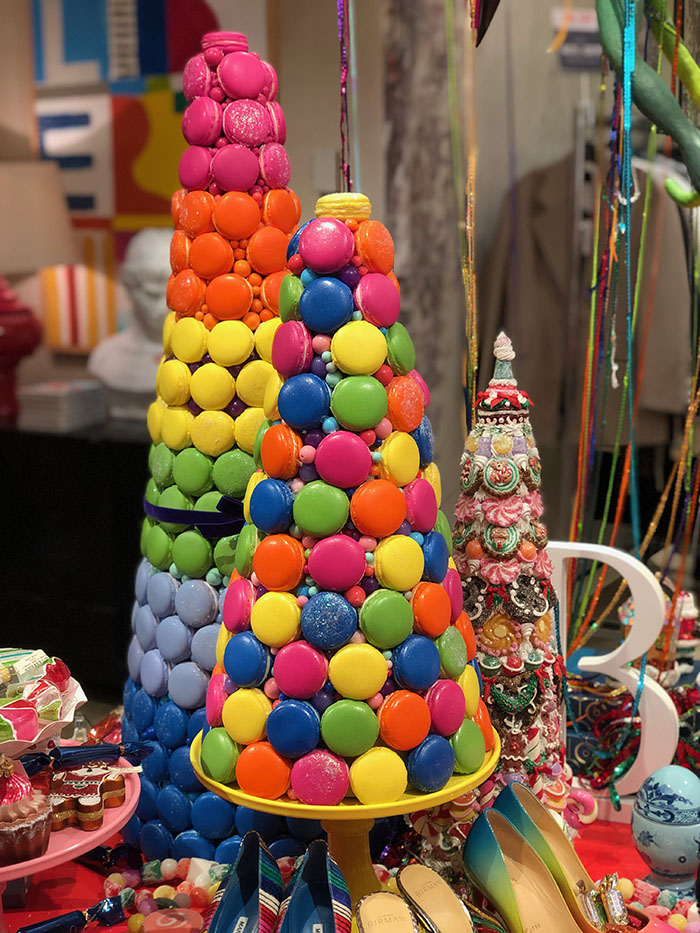 In case you are worried that someone left their shoes on the table, rest assured this is an in-store display at Bergdorf's. They always have the most colorful holiday displays, and its part of my holiday ritual to "window shop" inside the store. On Fifth Avenue, more is more and bigger is better. Not likely what you had in mind when shopping for your favorite gift, certainly not for the food lover, cook, chef wannabe, or hungry person in your life. Voilà! Foodie Gift Guide to the rescue!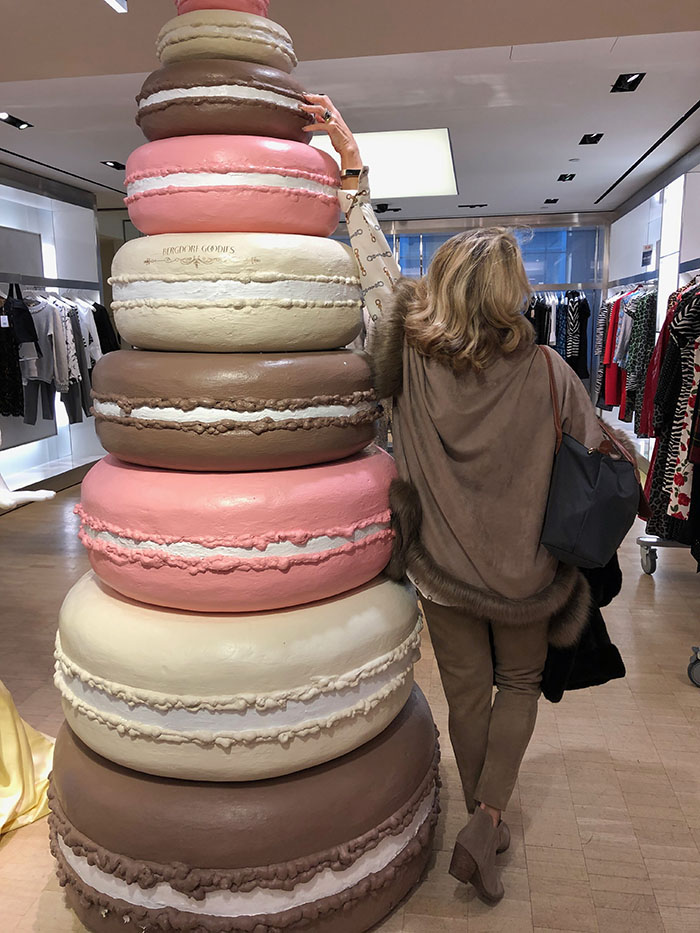 Last year, I started this guide on the perfect gifts for cooks, and included tips on how to buy them and what you should consider as you look for a special gift for the food lover in your life (or your own self). Be sure to check back to that post for more ideas. (Scroll to the bottom of this post for more information on my shop and affiliate relationship with vendors represented in the shop.)
Without further ado, let's get shopping! Time now for the Foodie Gift Guide of 2019!
Gifts for Entertaining with a Sense of Whimsy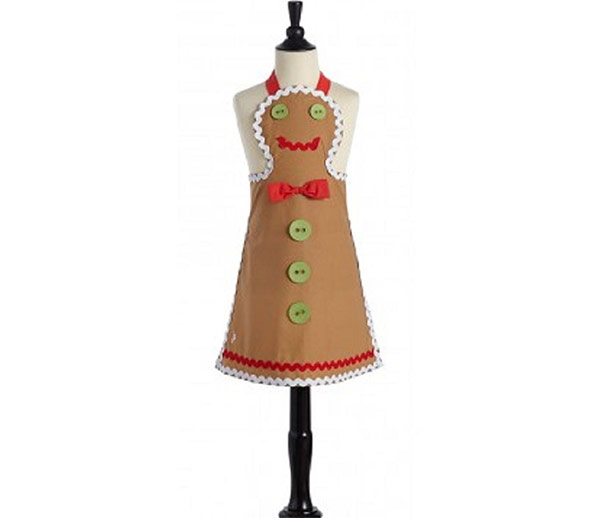 My Aunt Kay made the most fantastic gingerbread men for us every Christmas. Perfectly thin and crisp with snip-of-raisin eyes and red hot buttons. And, I have made many a gingerbread house with nieces and nephews and neighborhood kids. Pro tip: lick the roof if you don't want anyone trying to get a piece of yours. Any child would treasure this little Gman apron for rolling up his sleeves and getting busy in the kitchen. It's just one of many darling designs for cooks of all ages by Jesse Steele. Remember the Eiffel Tower print last year?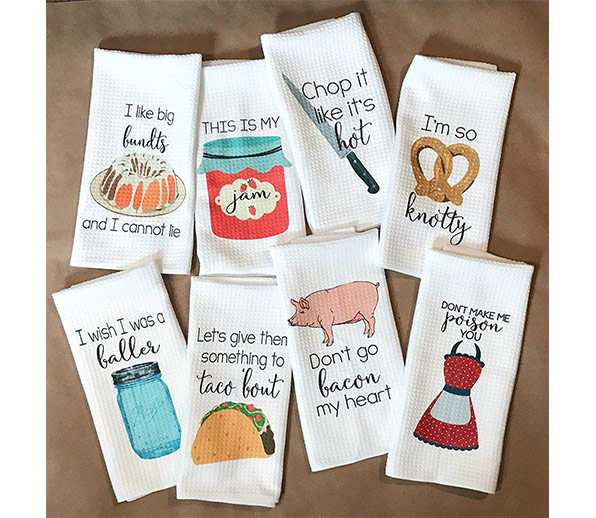 Don't go bacon my heart? These towels just make me giggle. Way too funny. They are exclusively (not really) only for cooks with attitude. What about a combo of a Bacon-My-Heart Towel with last year's Bacon for the Takin' Tongs. I have a few peeps that would be happy with that! Probably won't find two of these under the tree.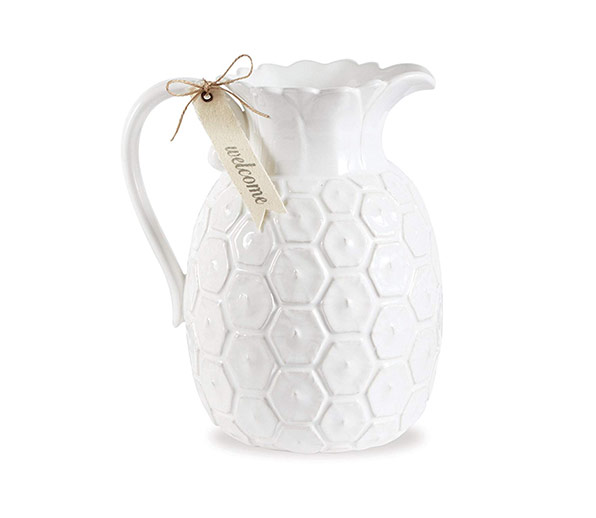 Love all things Mud Pie, and there are many from that gift line in my shop from which to choose. They add such whimsy to the table. This 80-ounce (2 1/2 quarts) Pineapple Pitcher is great for entertaining. Ceramic, with rind detail and a pineapple crown.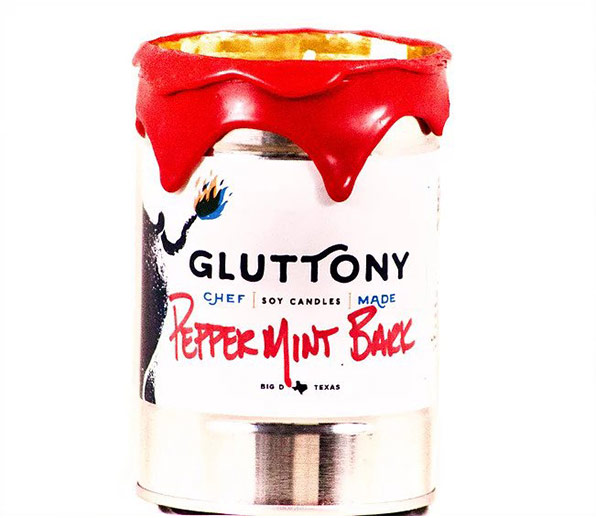 Chef Bryce Murphree and his wife Maggie met in Aspen at the famed Little Nell hotel. After years in hospitality, they started tinkering in candles to improve the quality – better scents, cleaner burns, more eco friendly. And after learning to make their own essential oils, they found they were firmly rooted in culinary scents. All fragrances were food-based. Go figure! Gluttony Candles was born. I first visited them when this was just a home kitchen and spare room operation. (I bought six immediately!) The candles are packaged in 14-ounce food cans topped with colorful theme-related melted "crayon". Not only are they adorable, but they smell amazing. So many flavors, many for the holidays. You will have to check them out for yourself. I also love "camp fire". Note: Gluttony Candles are only available directly from their site or in local Dallas boutiques.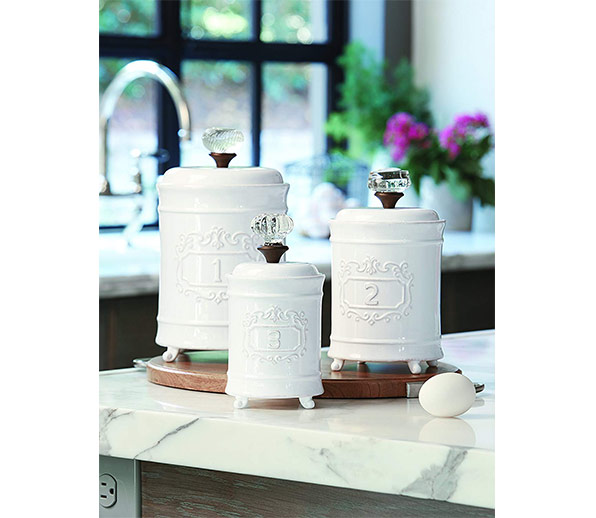 Finally, how about these clever canisters – 1, 2, 3 – with glass door knob handles? Footed Ceramic Canisters range in height from 7 1/2″ to 10″. Mud Pie, of course.
Gifts to Stuff a Stocking
This may seem like the least sexy present ever, but I kid you not, NOBODY has an ice scoop in their ice maker, and EVERYBODY needs one. Why do we think it's okay to run our dirty little hands through someone else's ice bin. Even the folks with ice dispensers on their fridge doors, need to pull the whole bin out to fill a ice bucket or wine chiller from time to time, and hands are not the perfect helper. Got this idea from my sister and still love it!! OXO for the win.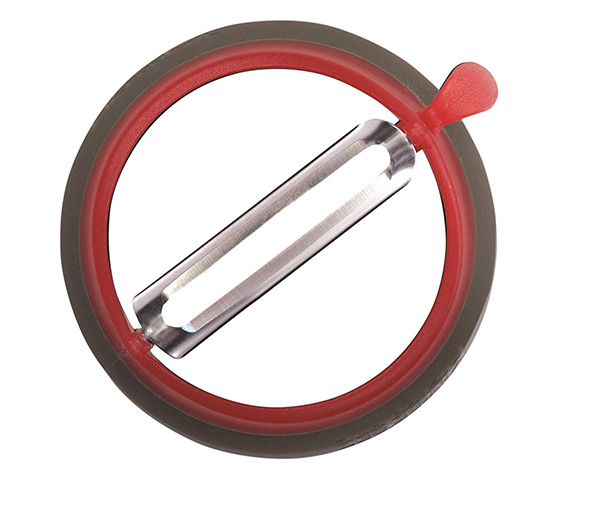 Back by popular demand! This was the 2018 stocking stuffer best hit. I got lots of rave reviews and dozens were stuffed in stockings. This peeler (by Microplane) changed my life. It's just as sharp and wonderful as the Microplane grater (also in my shop) is for zesting, but this time for peeling, with hands safely out of the way. Everyone needs one. Now.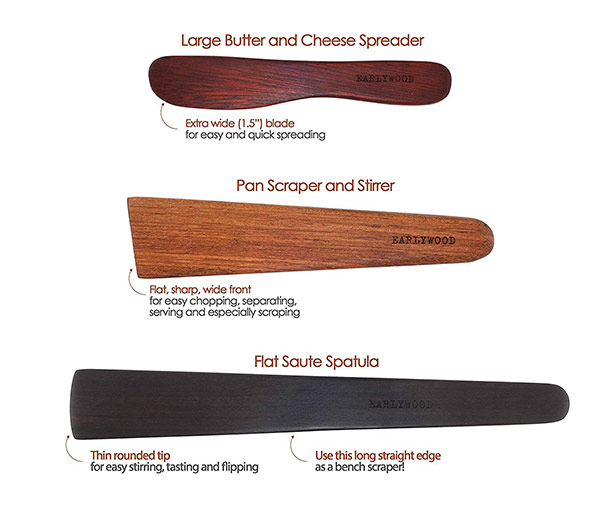 2019 goes down in the record book as the year I discovered Earlywood. This collection of heirloom-quality kitchen and serving utensils is both highly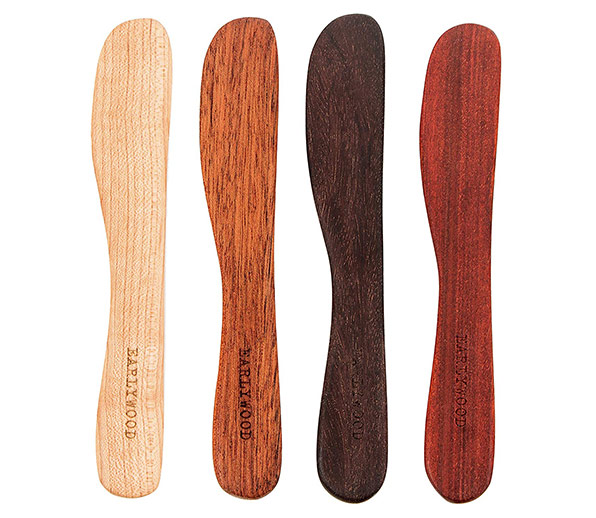 functional and elegant. Created using jatoba, hard maple, Mexican ebony, and bloodwood, the pieces are not only beautiful, strong and long-lasting, but also renewable. On the right is a three piece set with a spreader, a pan scraper and a spatula, as well as a four piece spreader set, shown to the left.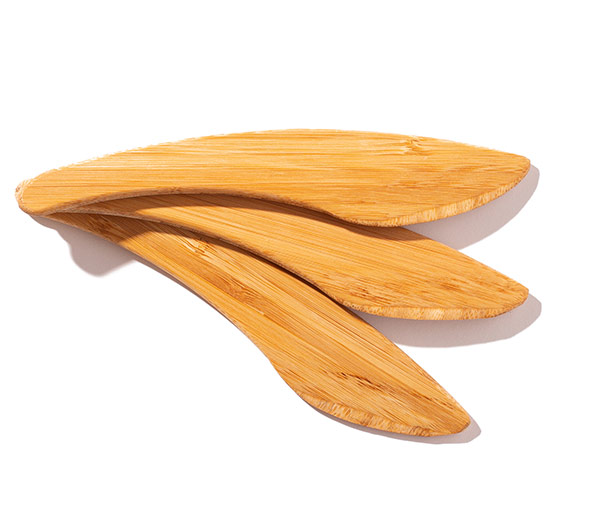 And while we are talking about spreaders, which can only bring to mind cheese!!!, I also discovered The Cheese Grotto this year. Jessica Sennett has all you need to care for, preserve and serve your cheeses perfectly. Here's another set of spreaders that I love for their unique shape.
Essential Tools of the Trade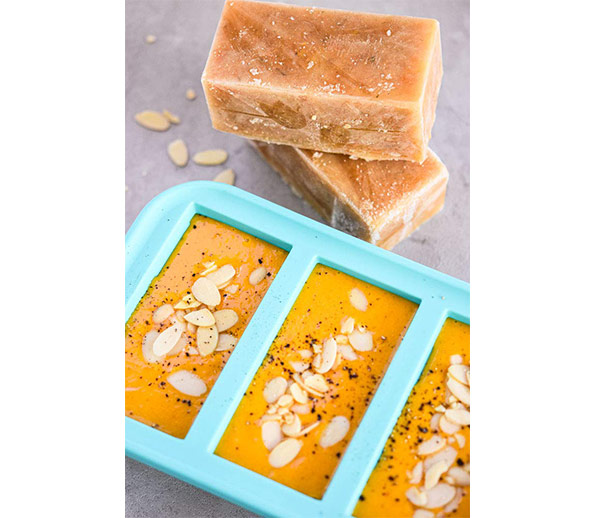 Here are just a few items that every good cook needs on hand. These Souper Cubes Freezing Trays are a wonderful way to manage stocks, bone broth, and soup freezer storage. The trays come in several sizes, holding up to 2 cups per well, with each well having four fill lines for portion control. They have tight fitting lids that maintain freshness and make them stackable. Made from food-grade silicone, the trays are BPA free and dishwasher safe.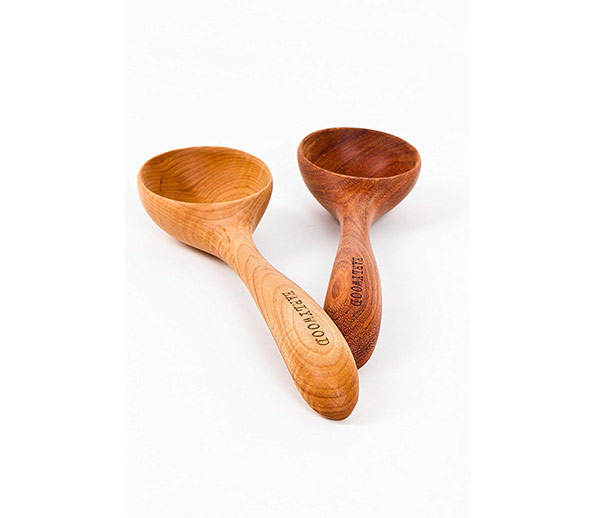 This handsome ladle could appear in almost every section of the foodie gift guide. I put it here because its essential. Another beautiful piece from Earlywood Designs, this is the sturdiest, most functional and design-winning ladle. It will last a lifetime. The Classic Ladle holds 3/4 cup level-fill, but nearly double if scooping up a heapin' helpin'. Made in the USA (by the cutest woodworker ever) from sustainable hardwoods.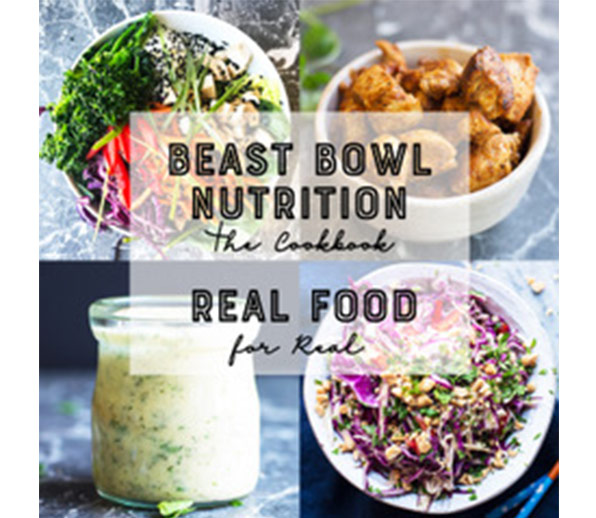 Here are two books that are must-haves. Beast Bowl Nutrition, written by my friend Laura Reigel, lays out all the rules and tools for building unlimited protein-rich bowls. Tips, components, combinations, and dressings are all clearly and colorfully laid out in an easy-to-follow format, making meal assembly a snap.
Abra Berens' book Ruffage is a real treasure. With an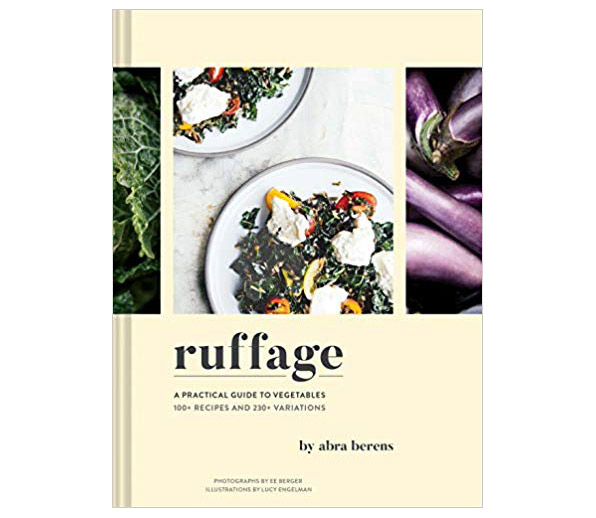 alphabetical listing of veggies A to Z, this book, based on her life on a Michigan farm, goes from confit to caramelized and everything in between. Simple techniques, combined with new creative combinations (smoked whitefish dressing!), are represented in the 100 recipes, each with 3 variations. You can't just drool over the stunning photography, you must get up and get cooking!
Flavors that Pack a Punch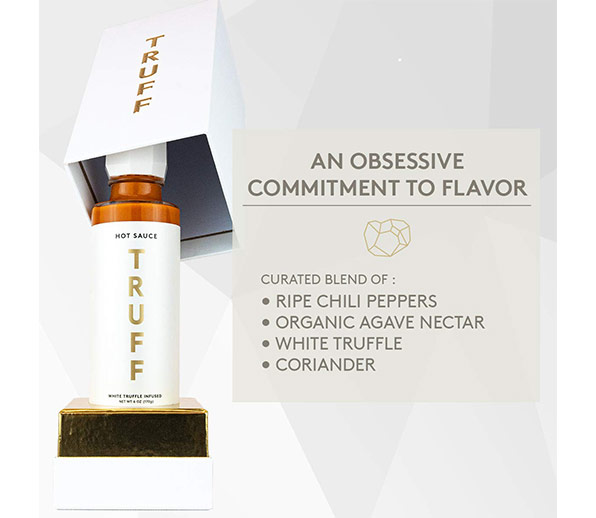 White Truffle Hot Sauce? This lovely gift appeared this summer and I was skeptical for about 3 seconds, but immediately won over. It's a good condiment to level up all your dishes. TRUFF is infused with white truffle and white truffle oil, with a pinch of organic coriander. Using the same chilis and agave as the black truffle version of the product, this hot sauce has game.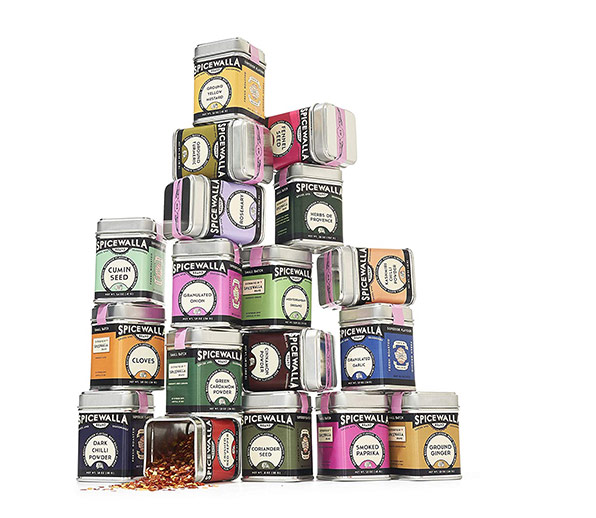 James Beard nominated chef Meherwan Irani created Spicewalla to bring small batch, roasted and ground, then hand-packed, spices to market. Are your spices above the stove getting hot daily? Near a window getting oxidized from the sun? More than a year old? Time for a spice intervention. Spicewalla Kitchen Essential Spices include must-have single varietals and some signature blends. If you haven't tasted a quality turmeric, prepare to have your world rocked.

For the do-it-yourselfers on your list, what about a DIY Hot Sauce Making Kit? Handcrafted in Portland, this kit has all you need to get started on your own special sauce. 6 glass bottles, 6 recipes and all the chilis, sugars, and vinegars that you will need. What a unique gift for the hot sauce enthusiast.
Classic Keepers – The Last One You will Ever Buy
Well that might be a slight exaggeration because these brands will no doubt introduce a pan, appliance, knife that is unlike others and you HAVE to add that to your collection. But, what I mean is that they will last forever, and you won't need to replace THAT piece. To the non-cook, they might seem an absurd amount. (I remember when my otherwise generous Dad couldn't justify Martha Stewart's $40 Entertaining book, at double the price of other books). But great pieces ARE an investment, and like little else these days, they will last a lifetime if you take care of them. When you look at my preferred brands, you will see the same names over and over again. I have no sponsored relationship with these companies, but I really trust them to be the best. OXO for gadgets and tools; KitchenAid for countertop appliances; Staub, Lodge, Calphalon, Mauviel, and Le Creuset for pots and pans; Emile Henry for ceramics; and Henckels, Sabatier, and Wustof for cutlery. I'm sharing just a select few of my favorites here.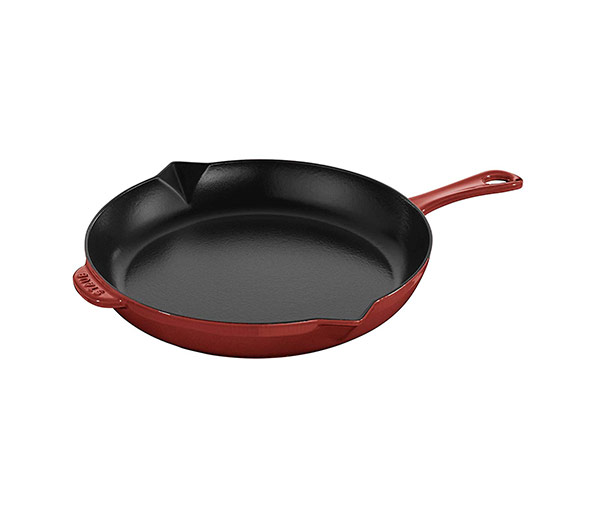 I STILL love all things Staub. This is a 12-inch fry pan. It comes in a rainbow of luscious colors, but I'm partial to cherry red. This pan has a unique interior matte surface that aids in browning. It has the heft of cast iron, but needs no special seasoning before using. It's oven safe to 900°F, and its smooth enamel bottom makes it ideal for any cook surface, including induction, glass, and halogen.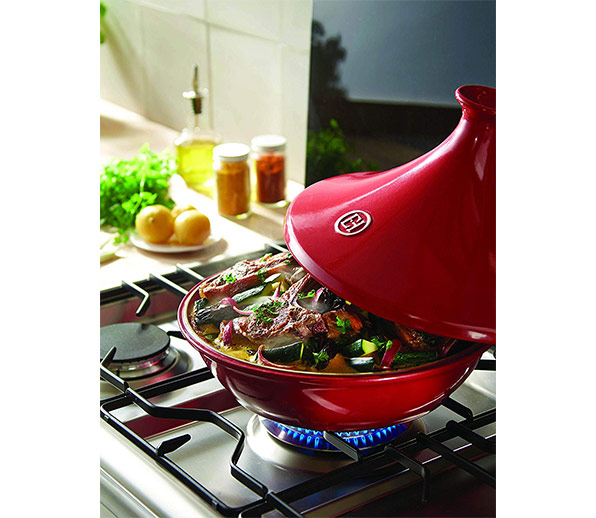 Emile Henry is my go-to for all things ceramic. This "flame-ceramic" tagine cooker is made to withstand mechanical shocks, temperature changes (freezer to oven is approved!), and color fading. With no metal, the cooker is non-reactive for all foods, and the high glaze makes it easy to cook with less fats. Tagines derive from the Moroccan dish of the same name, and represent a style of cooking with a conical lid that locks in steam and allows basting in the food's own juices. I tried to bring a traditional clay Moroccan tagine back from Fez in my youth, and let's just say it was not resistant to mechanical shocks (read: TWA baggage handlers).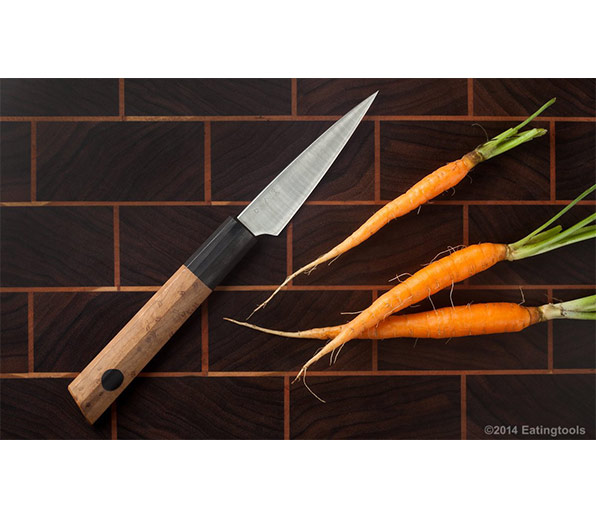 I'm probably half in love with this board from Brooklyn Butcher Blocks because the name is Brick and Mortar Board. Mortar board? Get it??? But the other half is pure design envy. Gorgeous! This is an iconic collectible, hand-made in Brooklyn. Walnut forms the bricks and reclaimed mahogany the "mortar", designed to pay homage to the aesthetics of Brooklyn's plentiful brick buildings. This board measures approximately 12 x 18 x 2, but there are a variety of shapes and designs available on Amazon. And, pieces can be customized.
Gifts for the Lover of Wine and Cheese? Yes, Please!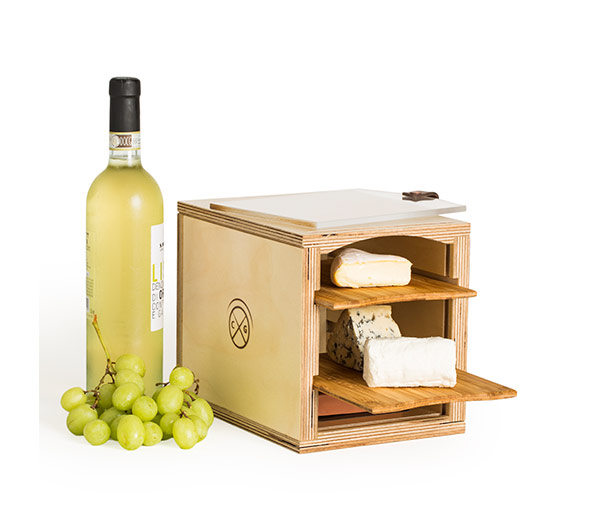 Is there anyone on this list who doesn't devour the whole brie in one sitting? Kolby, you can skip to the next section. Ever end up with tidbits of cheese you can't find till entirely too late at the way-back of the fridge? The Cheese Grotto is for you. It's the perfect way to store cheeses, letting them breathe while retaining moisture. Jessica Sennett has designed this line with four sizes, varying by available fridge space. This handsome model (Fresco) is for the metropolitan among you, a mid-size version. It holds 3 to 4 pounds of cheese, and features a clay brick for humidity control and a vaulted ceiling for condensation control. The shelves are removable to use as serving pieces. It's a stunning collection with copper, leather, birch and bamboo. Nothing like it on the market and bonus – Made in the USA!!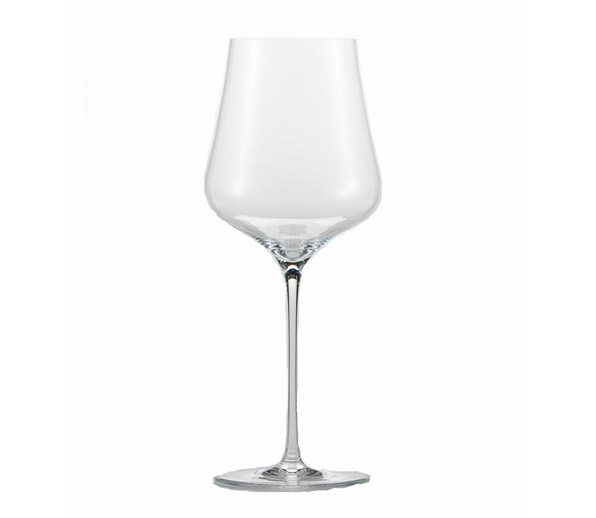 Repeat offender from the 2018 list – the Gabriel-Glas wine glass. This is the only wine glass you will ever need. This Austrian-made lead-free crystal is both delicate and elegant while also being sturdy and dishwasher safe. It's a real game-changer! No longer do you need a different shape for different wines. The broader base of the glass' lower bowl is a "bouquet-driver," while the slightly conical design concentrates the aromas, making it ideal for both red and white.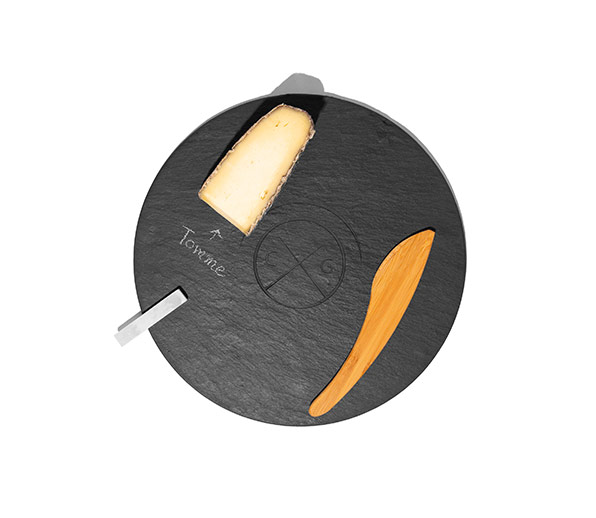 This dishwasher safe New York State slate round makes a Stunning Cheese Server. Available with one bamboo spreader, which I have shown as a set of four above. What a lovely hostess gift or wedding present, or dare I say it, a gift for yourself. You were good this year, right? The 11-inch round has been treated with food-safe mineral oil and comes with a piece of soapstone for noting the cheese names. Another wonderful find from The Cheese Grotto.
Foodie Gift Guide to Pay it Forward
And no Foodie Gift Guide would be complete without a nod to being big-hearted! Do you have people on your list that don't want a thing? Or they'd rather pay it forward and help others. Here are a couple options that fall into two groups: some charitable ideas that have to do with hunger, nutrition, and sustainable solutions, as well as some home-made culinary treats that show you are cooking with love. What about both? A gift to charity, with a little something yummy on the side?
Kicking it off with a few home-made culinary treats. Ingredients and spice jars are both linked through my shop.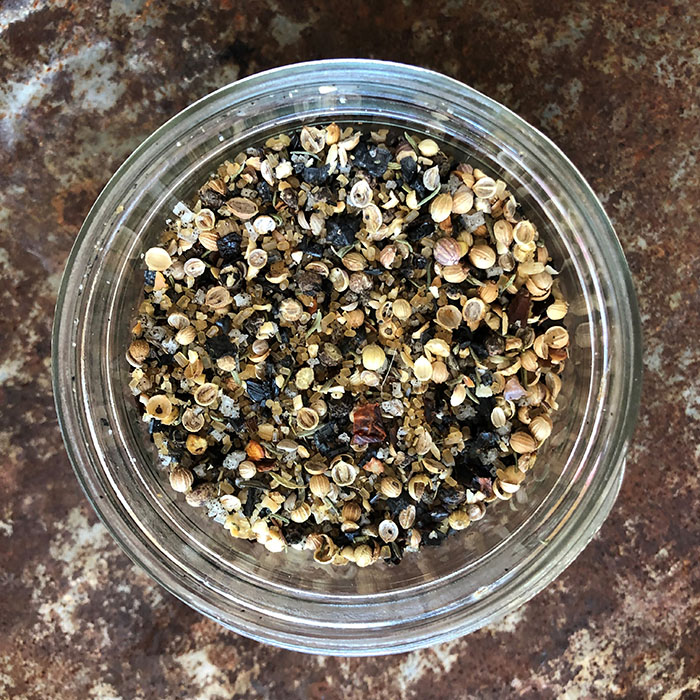 Here's a zesty steak rub that happens to be delicious on a ginormous Tomahawk steak. And don't forget the tasty combo of citrus salt and pepper in da house. Giving something that is home-made is always appreciated, and you will likely get bonus points for giving a gift that doesn't need to be dusted.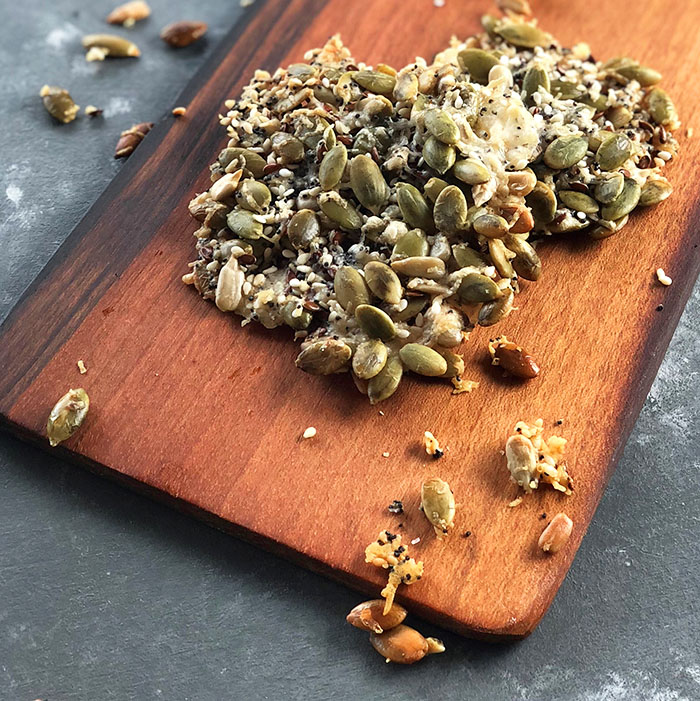 These seeded cheese crisps are just as easy as they are delicious. Just mix together two grated cheeses, 5 seeds and some salt and bake for 7 – 8 minutes.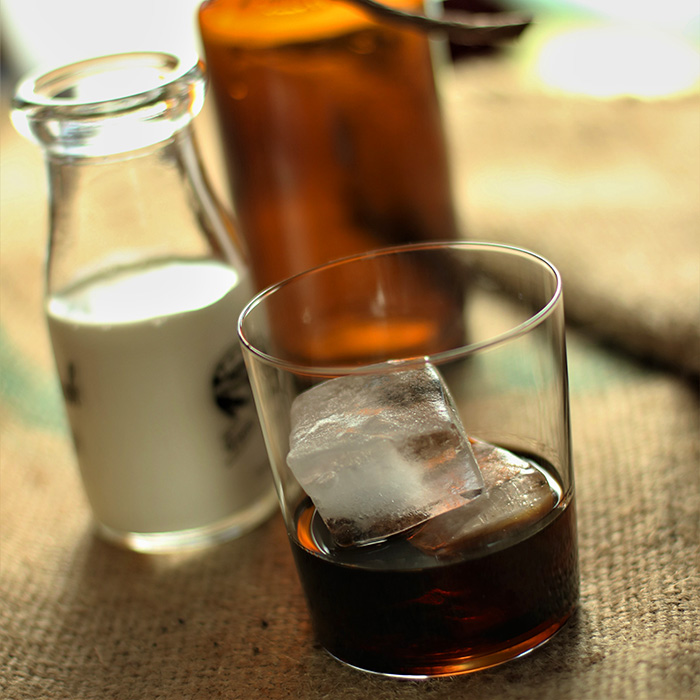 And this is a just published recipe for homemade Kahlúa. Mix four ingredients, store it in a cool dark place, and you are all set. More tips on how to use it and full recipe details are available in the post.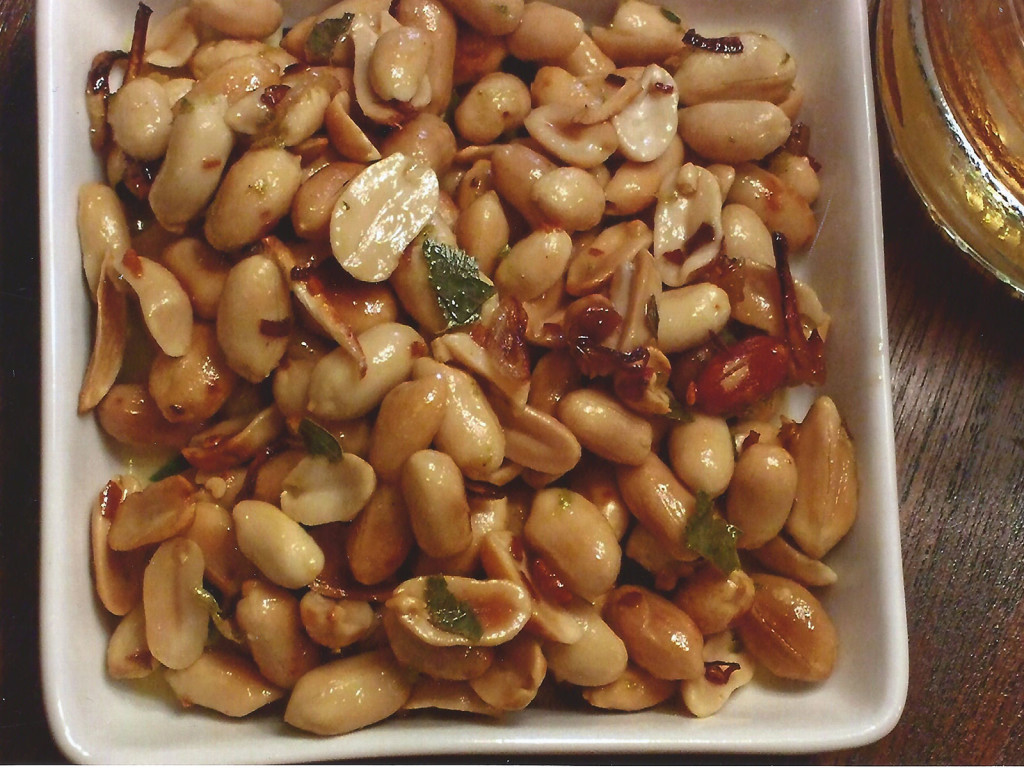 What about taking some spiced nuts to your next party? Here are Warm Thai Peanuts, for which I won an award in a professional chef's recipe contest. Take them warm to the party or let them cool and box them up in cute holiday tins as a culinary treat!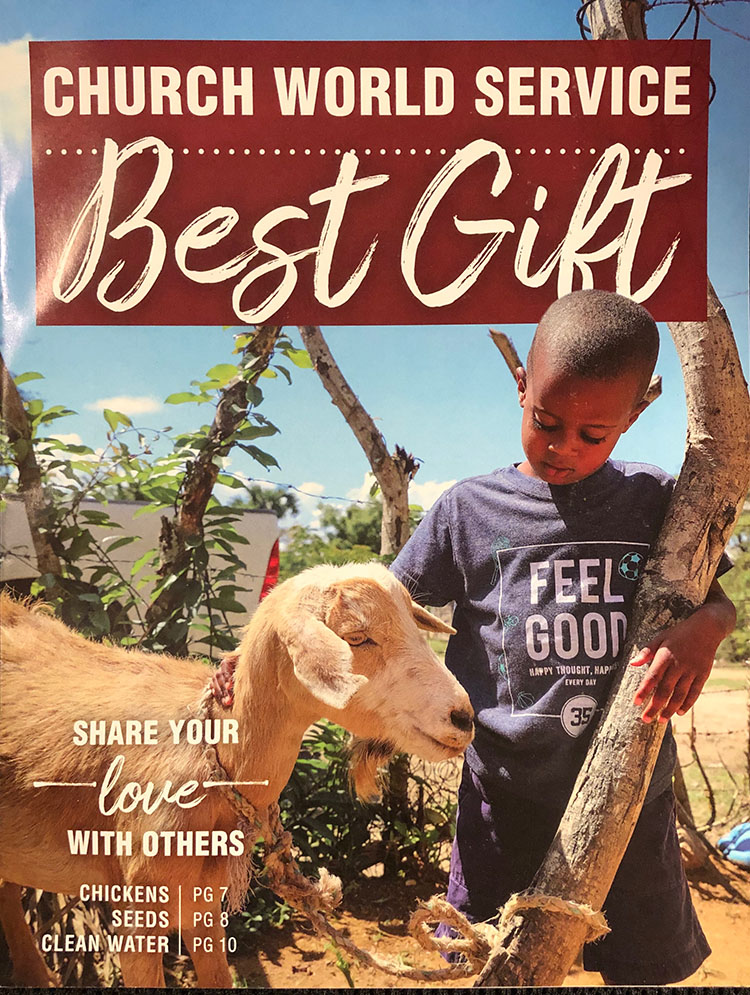 I'm a big fan of giving to charities in lieu of gifts. I'm on the Executive Committee of the Board of Church World Service, a global relief agency with a 73-year track record committed to making sure there is #Enough4All They are focused on sustainable solutions for hunger, poverty, climate change, and those displaced.
Browse the Best Gift Guide and see how far your dollars go. $15 rehabilitates a malnourished child in Indonesia, and just $22 buys 500 fishlings in Honduras. This year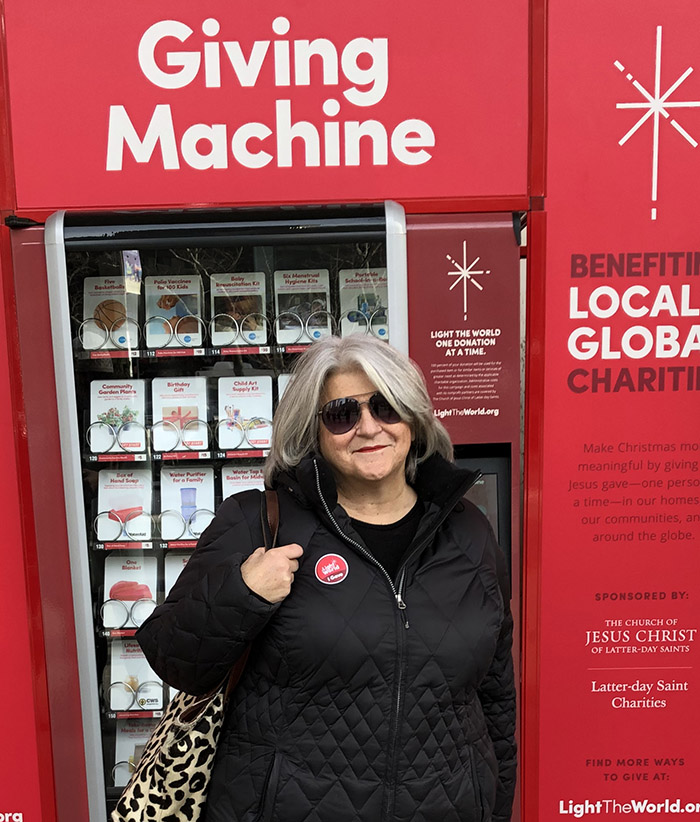 CWS is featured in Giving Machines placed around the world. I'm not Matt Damon and I didn't buy a zoo, but I did buy a pig near Lincoln Center. Like a vending machine, but doling out so much more than Cheetos, gifts purchased here serve the greater good. See if there is a machine near you. What a great way to show the little people in your life that we think about others and help where we can?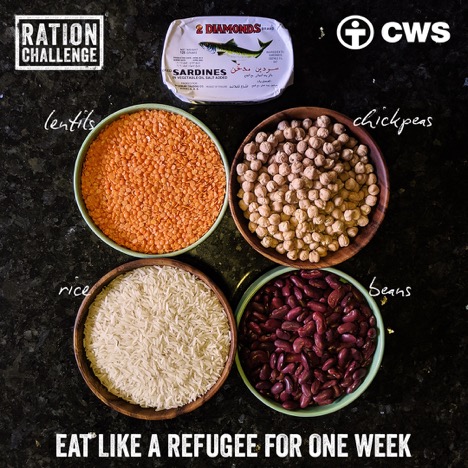 This summer I joined 40,000 people worldwide living for one week on the rations of a Syrian refugee displaced to a Jordan camp. It was not easy, and it was definitely humbling, but it was just one week. What about those that spend the average 23 years that refugees spend in camp? Learn more, and provide food and medical care for refugees in Jordan by supporting the Ration Challenge.

Well, that's a wrap on yet another shopping season. As always, please comment below and let me know as you check the boxes on your shopping list. And, of course, let me know if you find something in the best gift catalog! May your shopping be stress-free and your holiday joy-filled! Wishing you all the best for this season!!

This post contains affiliate links. For more of my must-have faves, visit my shop. I am continuously updating the shop on my website with my newest favorite items (over 130 items to date). The items above are just a few of the many items I recommend in my shop. They are all items I own and use regularly and

♥

L.U.V. love. Purchases made with these links earn an-oh-so-small advertising fee, so…thank you in advance! I regularly get questions from readers needing help making a purchase decision. Feel free to leave a question in the comment section, and I will answer and update the shop with the new item, letting other readers benefit from our joint research.
The Amazon links in the shop take you directly to your Amazon account, ready to Prime ship, if that's how you and your browser do Amazon. Please, note: I try to pick the least expensive offering that is Prime-eligible, but Amazon offerings are ever changing. So, remember that my recommendation is for the product and brand, and shop around as you always do. I always read reviews, but I trust my own expertise over random and possibly having-a-bad-day comments. Who you gonna believe – Foshizzle2817 or me?
© Copyright: KatyKeck.com 2019. All rights reserved.
Hey, we want to hear from you!
Don't forget to Comment, Share & Subscribe to our blog.