Summer is most certainly winding down and there is a little nip in the air. But fear not! The farmers' market is still humming. And while you might see an apple or pear starting to make an appearance, corn, tomatoes and stone fruit are still holding court. I have been jonesing for a menu that highlights all that and more, where more equals a big honking tomahawk steak, rubbed to an inch of its life with a killer zesty spice rub. Do you feel me?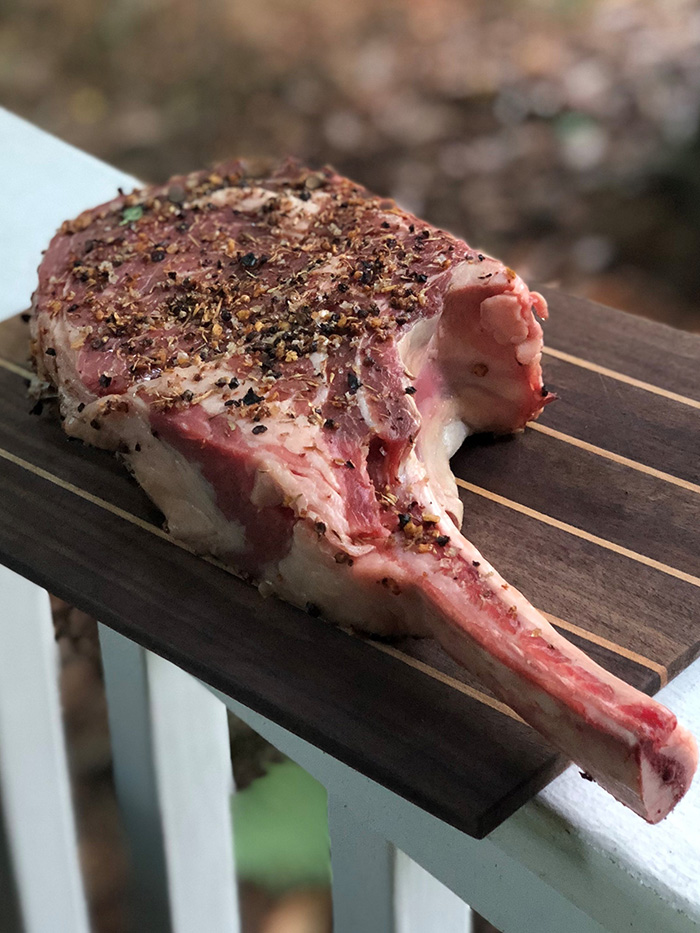 I guess you could call this a Pot Lucky because I had help. Lots and lots of help. But it was a pint-sized party compared to others in the past. It was dinner-party sized, to be exact. It was also a Pot Lucky in its most basic form because the menu was curated around a theme. The theme: Farmers' Market Summer Harvest Bounty! I love the creativity that my guests bring to the table. A quick stroll through a farmers' market or two and they all raised the bar on imaginative recipes and colorful culinary creations. I have to say – and they all agreed – it was a top ten (five?) meal of my life. Every damn delicious morsel. If I could, I'd eat it all over again. Right! Now!!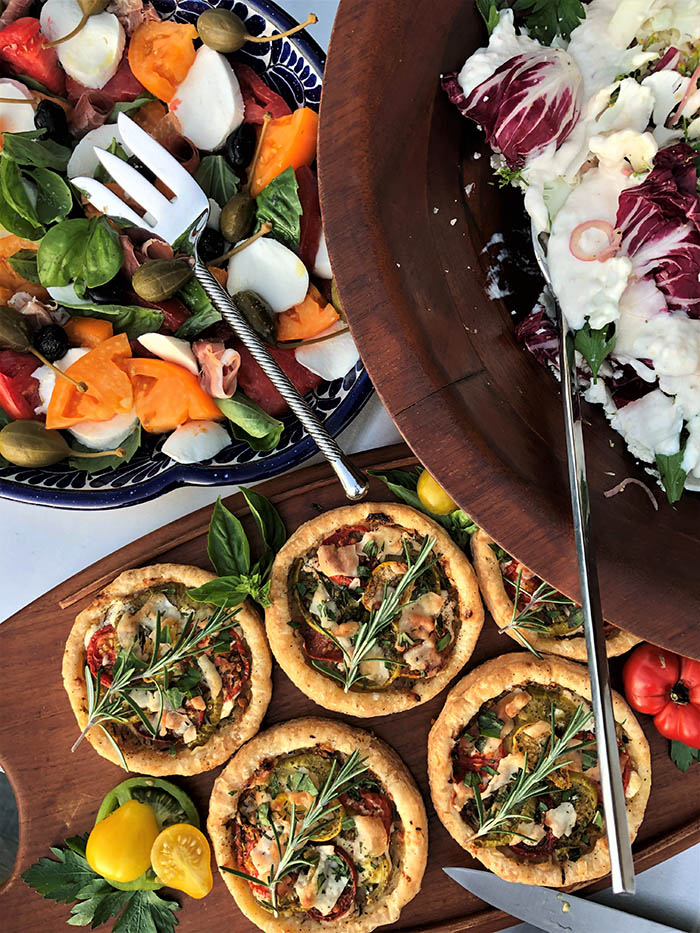 What's a Tomahawk Steak?
I thought you'd never ask. Before I drill down on the deliciousness that was this menu, I wanted to throw a little 411 on you about the famous Tomahawk Steak. Also sometimes known as a Cowboy Steak, a Tomahawk is a bone-in ribeye. And by bone-in, I mean all the way in. The steak is usually cut with 5 – 15" inches of rib bone hanging off the chop. The longer the bone, the more tomahawk-looking and all the more dramatic its presentation. It's a bit fashionable at the moment because of its oh-so-eye-popping presentation. A Tomahawk also varies from a boned ribeye in thickness and weight. Because each rib gets its own serious slab of meat (a boned ribeye can be cut to any thickness), they tend to be about 2" thick and weigh upwards of three pounds, depending on the butcher and size of the cow. This section of the cow is also where T-bones and Porterhouses come from.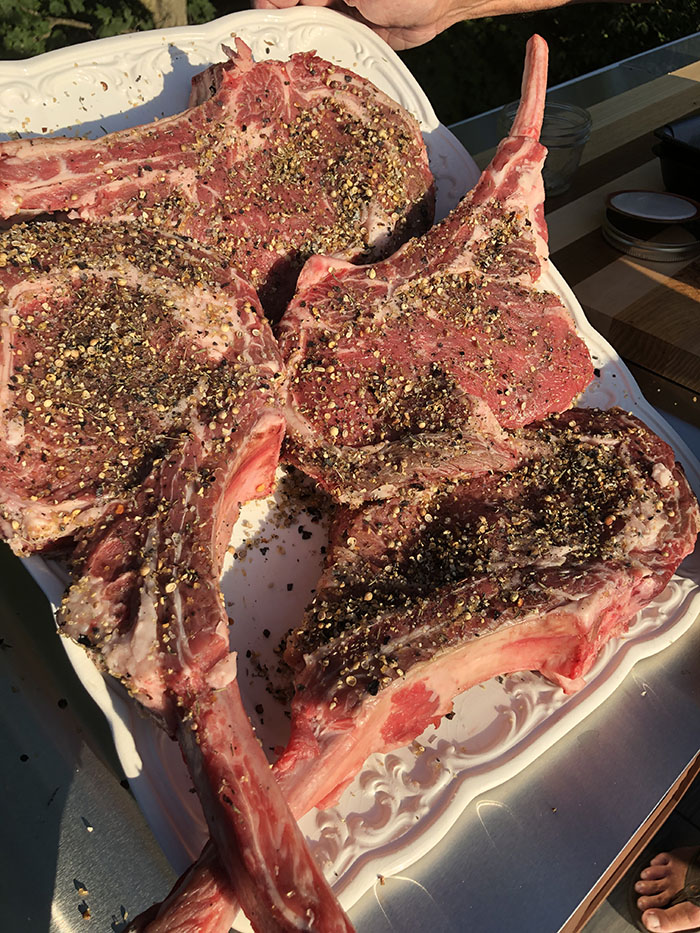 Once cut, a butcher will clean the bone by scraping off meat, fat and sinew, a technique called "Frenching". Think of a rack of lamb with those pristine gleaming racks (bones). You've likely heard that cooking meat on the bone adds flavor, but since most of the bone extends beyond the meat it won't likely add much. True, bones are full of collagen and vitamins, and that is why they are turned into stock and cooked down for demi-glace. But to get at any residual marrow, you need a wet cooking technique like braising, not a high temp grilling technique that chars the bone.
And in case you are wondering, Tomahawks are not limited to beef. Any large rib-cage animal can produce a Tomahawk. In a fancy steakhouse – or at your local butcher – you might find bison, pork or even venison Tomahawks. For the summer harvest dinner, I went with beef.
How to Cook a Tomahawk Steak
I think the ultimate in Tomahawk Steak preparation is a rip-snorting fire. I mean if we are going to eat like a caveman, let's cook like one, too. It's pretty foolproof, but if you are at all unclear about doneness, invest in an instant read thermometer, like the one in my shop. Make sure the meat is at room temperature and pat it dry. I have included a spice rub below, but feel free to use any spice rub that you love. If it contains salt, as does mine, rub it on just before grilling. The salt will pull the moisture out if you let it sit too long. Apply the spice rub generously to both sides of the meat and rub it in to minimize fallout (falloff?). It's called rub for a reason!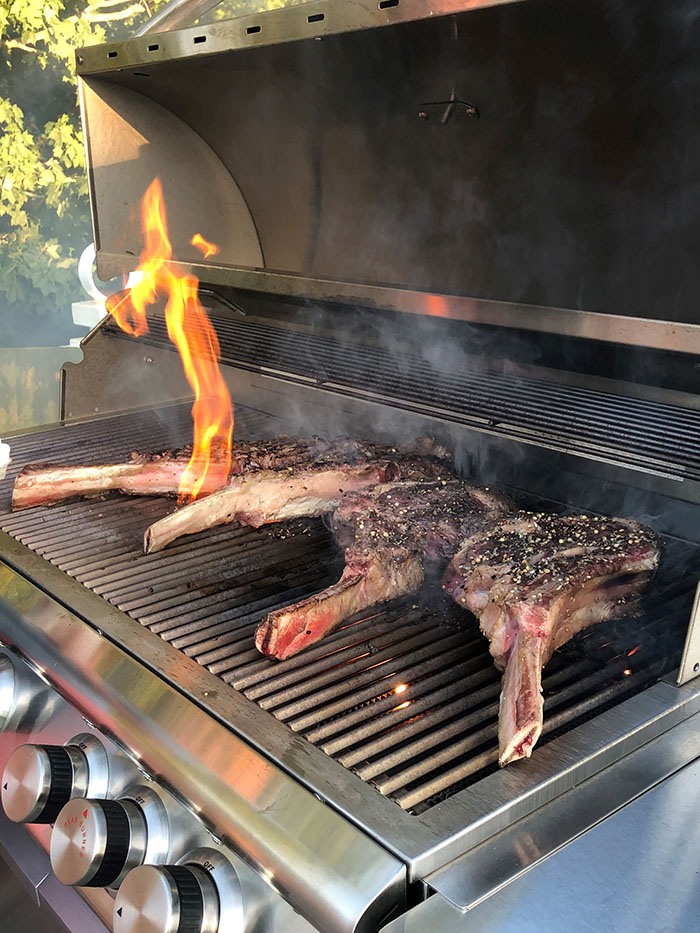 There are two schools of thought on high-temp cooking for lean cuts of meat: sear and move to the cooler side or cook on the cooler side, then move to the hot side, ending with a sear, known as a reverse-sear. I have done it both ways and it's a matter of personal preference, though the reverse-sear will look less charred. Either way, your gas or charcoal grill will need a hot side, as well as a cooler side where you will cook with the lid closed, using the convection created by the grill's lid. If you opt for the reverse-sear, cook until your meat is about 20 degrees below your desired temperature (goal of 130oF for medium rare), turning periodically. When the meat reaches 110oF, move it to the hot side where you can get your perfect grill marks, or at least a nice, dark, caramel-colored finish. This reverse-sear technique has the added benefit of giving you some crust but without a full-on carcinogenic char. ?
The most important thing EVER for meat is to let it rest before carving – for a big slamming hunk like this, at least 10, more like 15, minutes. This allows the juices to retract back into the muscle, resulting in pink juicy meat. I want to cry every time I see someone pull a $100 tenderloin from the oven and cut immediately as the juices run rampant, leaving a grey blob back on the board. Just say no! And don't forget to cut across the grain as you would with any piece of meat.

What's in that spice rub?
I love to play around with spices in the pantry to come up with some unique combos that are easy to grab when headed to the grill. I do have a robust collection of components from which to mix, but truthfully you could make the spice rub below without all the bits and pieces. There are two salts – one would do. There are two peppers – ditto. I like a bit of sugar (remember the sugar steak?) to help with creating a crust on the steak, but you could use brown sugar if you don't have turbinado. The main marker of this spice rub is that everything is chunky. That's a good sign of a rub. If you just used iodized or fine sea salt, it would over-absorb into the meat. The chunkiness has the added benefit of providing pops of flavor, a concept that may be my life's mantra.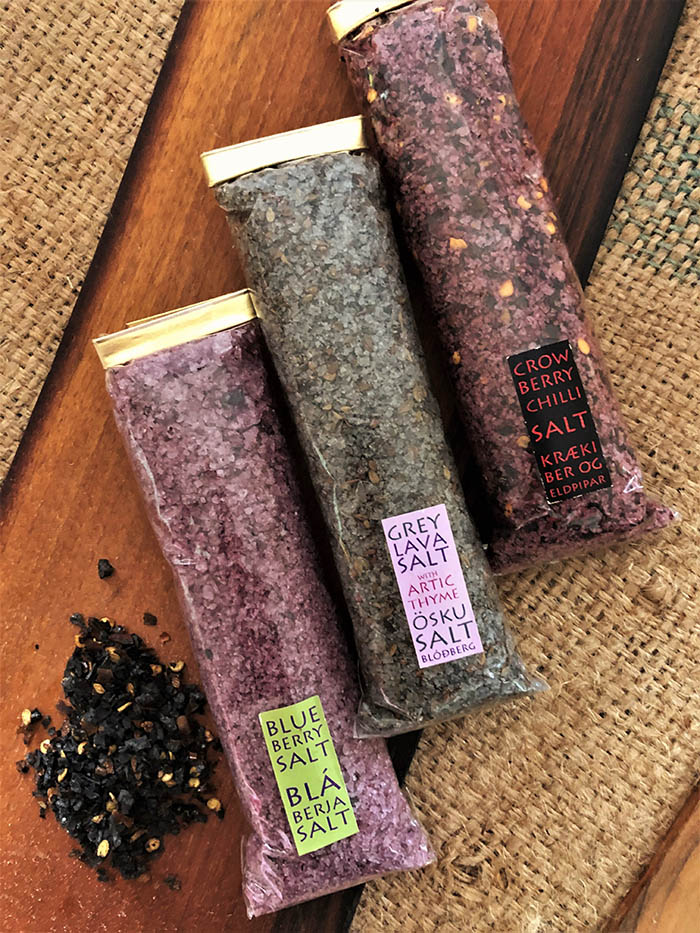 I'm using a black sea salt from Iceland in this mix. (There's one in my shop if you are curious). It's no surprise that the island is full of salt options, but I was dazzled by the endless assortment of flavors, many of which start with a black lava salt. I came home loaded with blueberry, grey lava, crowberry with chili, black lava and about 10 more. The one in my shop is not Icelandic, but it's also not the one that promises to be anti-Wiccan and claims to reverse spells, remove jinxes and keep away bad neighbors. Buy that at your own risk. 🙂
This spice rub is great for so much more than just the Tomahawk. I hope you will make up a batch and let me know how you plan to use it.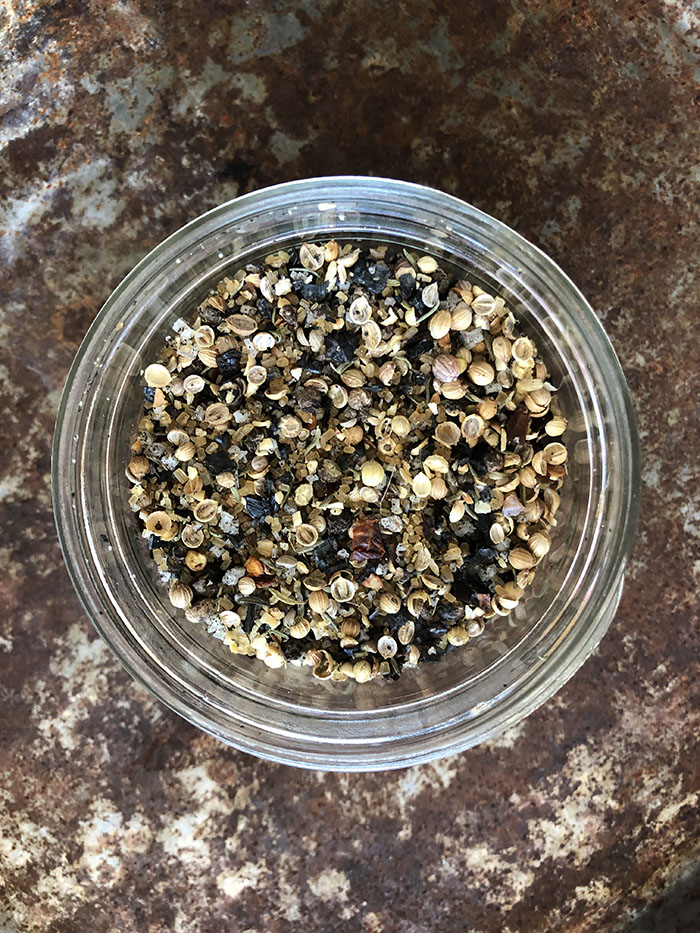 Summer Harvest Bounty Menu
Now that we are set on the main, what else sounds good? As a petit Pot Lucky, my fearless guests hit the market and came out swinging. We started with these yummy Goat Cheese Tarts with Fresh Herbs and Heirloom Tomatoes.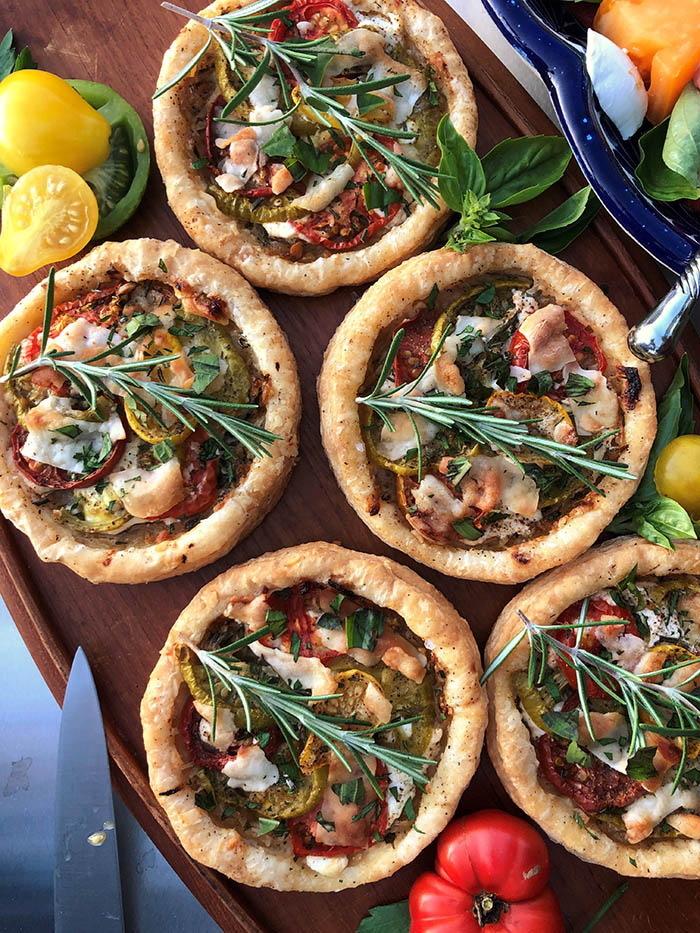 And speaking of tomatoes, how about this Caprese Antipasti? Caperberries can be a challenge to source, but fear not, they too are in my shop.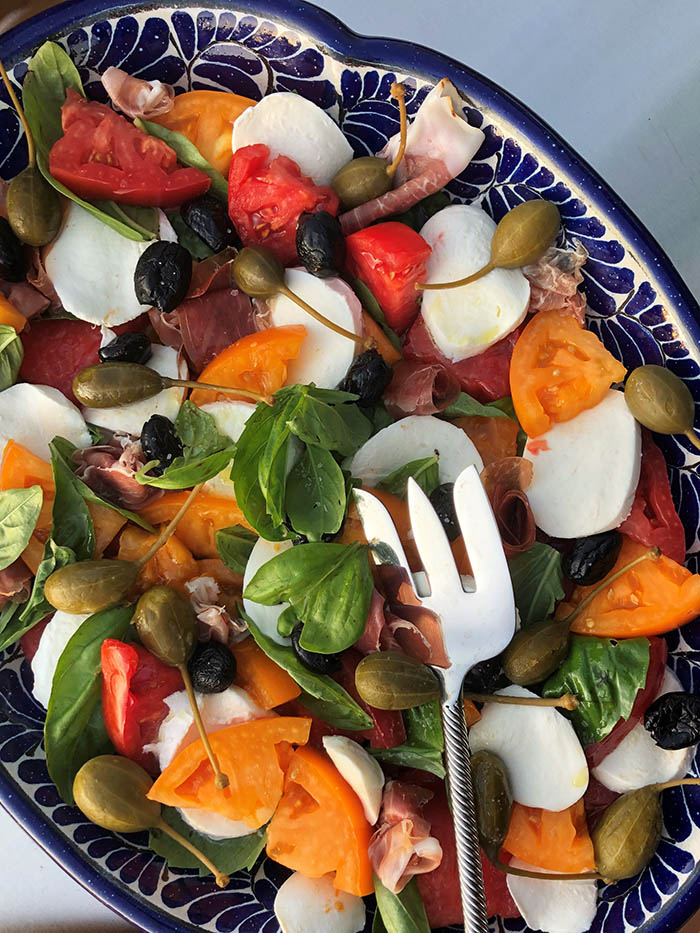 And how about this wonderful combo of shaved cauliflower and radicchio? It's packed with fresh herbs and doused with a smoked whitefish mayo. Look for the recipe in a wonderful new A to Z vegetable cookbook Ruffage, penned by a southwest Michigan chef and farmer Abra Berens. It's all about farm to table – to be exact, Granor Farm to table, a journey of a mere 50 feet.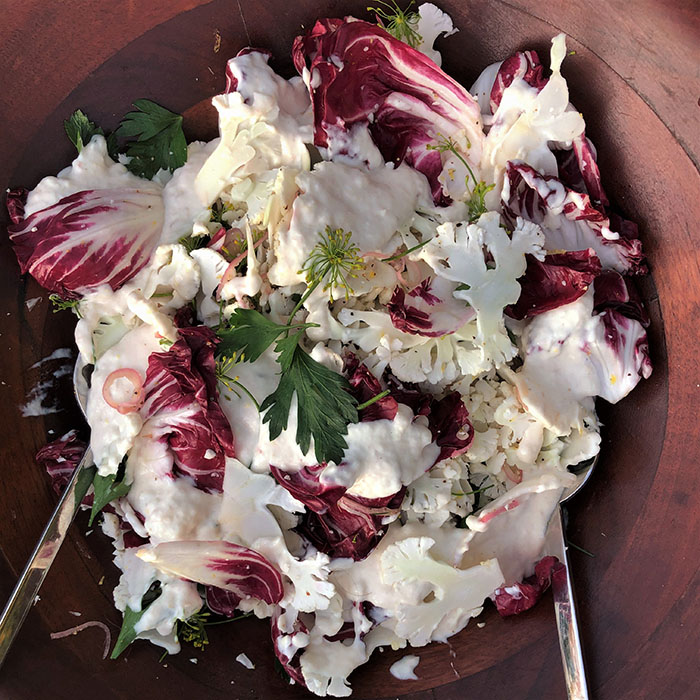 Shaved cauliflower salad with smoked whitefish mayo, lemon, radicchio and herbs (Recipe from Ruffage).
While the meat rested, we started with that trio, then moved on to the Tomahawk with the Green Machine Salsa Verde and Ina Garten's Potato Fennel Gratin. Luckily that woman is not afraid of heavy cream and Gruyere. It was wonderful to have such a decadent side and yes, happily, there were some leftovers. Yahoo! There was plenty of yummy pinot to go around and I pulled out a couple bottles of Cherry Pie, a California favorite. Yum.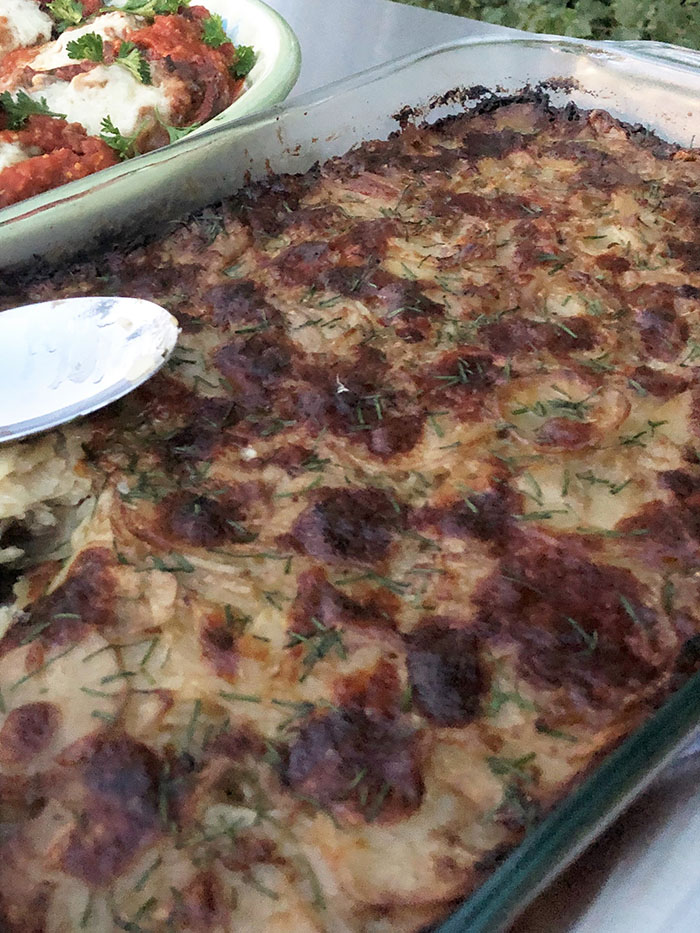 One of my favorites on the table was a duo of stuffed vegetables – zucchini and eggplants, one stuffed with ground bison and the other with ground lamb. Both were filled to overflowing with delicious grains, tomatoes, corn, plenty of herbs, and smothered with zesty tomato sauce and shredded cheese. Heaven on a platter!!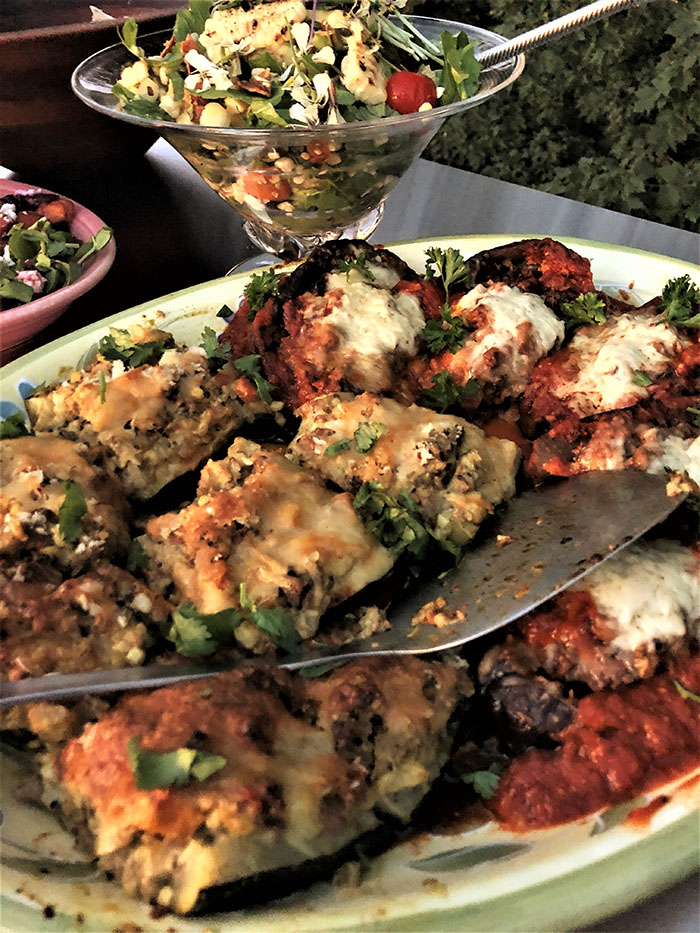 I know – the mind reels that there could be more, but nobody was going away hungry. Two salads crowned the buffet. Both have been here on the blog before and are about to come out with a fresh face very soon. The Everything but the Farmer Farmers' Market Salad – a perfect summer harvest chopped salad of corn, so tender it took only a minute or two on the grill, grilled tomatillos, tomatoes, arugula, sprouts, arugula flowers, bacon and avo. And Roasted Yellow and Garnet Beets with Peaches and Goat Cheese and topped with a cascade of fresh basil. Sometimes I use nectarines. Sometimes I use fresh mint. But choose whatever is available locally and plenty ripe. I love to give it a drizzle with a fruity balsamic like raspberry, but an aged Balsamico is also delish.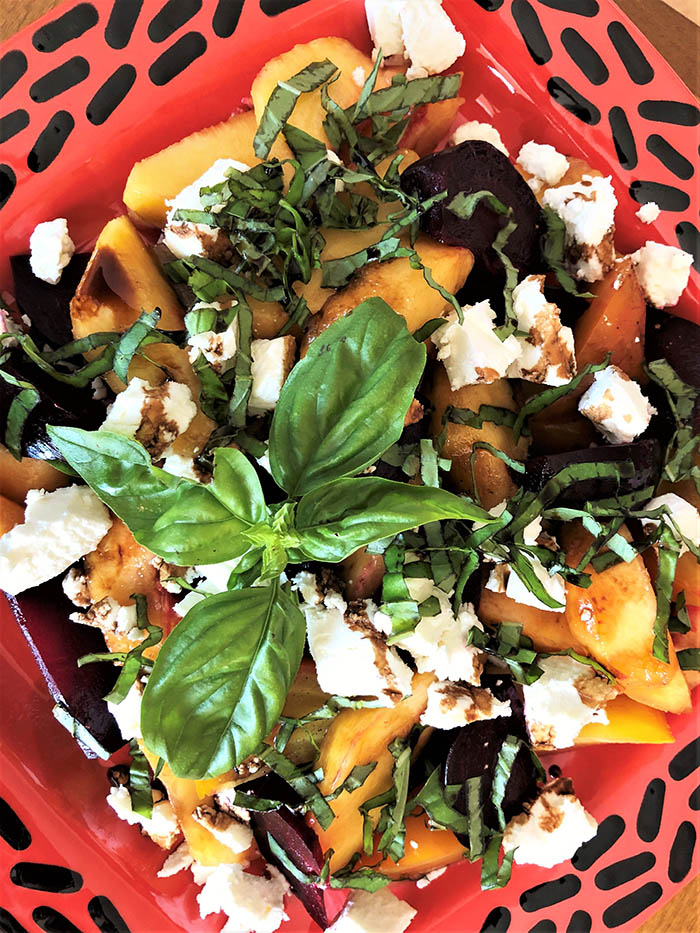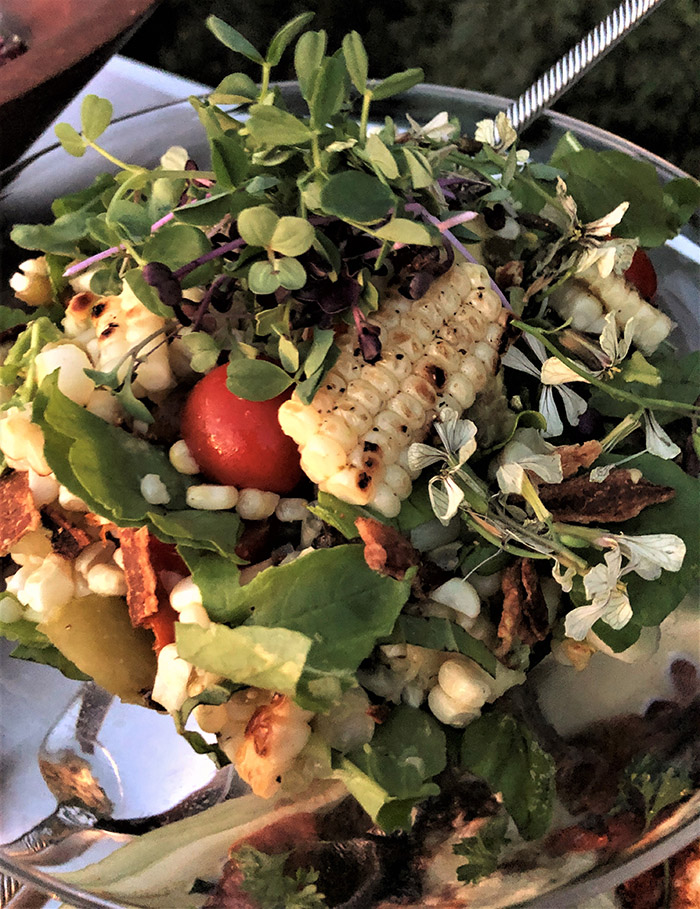 And for the crowning glory – drum roll please – a peach and blueberry tart. I mean, could you die?? The sun was setting fast………on the evening, the season and the markets, fading with every last bite. But with the end of one season, a new one begins. And so, it goes. Circle of life.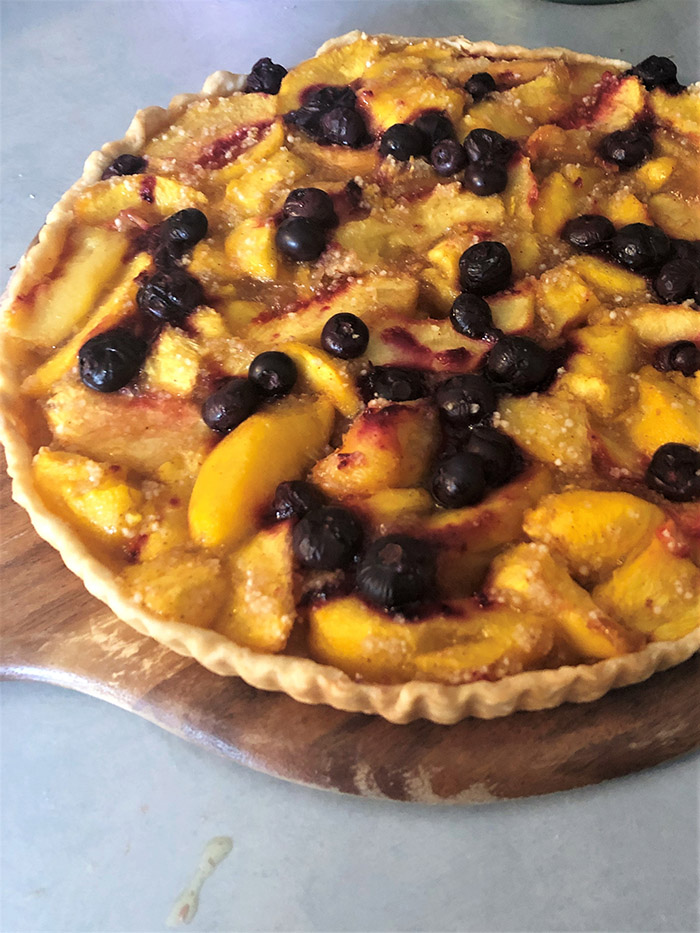 I hope you too will circle up the friends and family, and pull together a meal as epic as this feast. Every morsel was perfectly seasoned, and every crumb gobbled up. I can't think of a more respectable way to pay homage to the bounty that summer brings. Breaking bread with those you love is indeed a privilege. Amen to that!
Print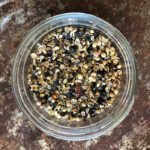 Tomahawk Steaks with Zesty Spice Rub
---
Author:

Total Time:

5 minutes

Yield:

1/2 cup

1

x
Description
All you need to know about Tomahawk Steaks and how to cook them, plus a zesty spice rub good for so much more. This chunky rub has the added benefit of providing pops of flavor, and its black lava salt helps keep jinxes at bay.
---
1 Tablespoon

coriander seeds

2 teaspoons

Tellicherry peppercorns

3 Tablespoons

turbinado sugar

1 Tablespoon

grey salt

1 Tablespoon

black lava salt

2 teaspoons

dried garlic flakes

1 teaspoon

Ancho chili flakes

1 teaspoon

dried thyme leaves
---
Instructions
Place the coriander seeds in a mini chopper or spice grinder and pulse until coarsely ground. Transfer to a mixing bowl. Repeat with the Tellicherry peppercorns.
Add the remaining ingredients to the bowl and stir to combine.
Store in an airtight container.
Notes
1/2 cup makes enough for 4 Tomahawk Steaks or 12 single portion steaks.
Also good on other cuts of beef, lamb, poultry and more.
See post for details on how to cook Tomahawk Steaks!
Prep Time:

5 minutes

Category:

Spice Blend

Method:

Dump & Stir

Cuisine:

American
Keywords: spice rub, Tomahawk Steaks
Thanks to all my Pot Lucky-ers for continuing on this journey and being intrepid voyagers. Are you game to try your hand at a Pot Lucky? Let me know how it goes. Tag me with #PotLucky & #PalatePassionPurpose. And as always, I love to get your comments below.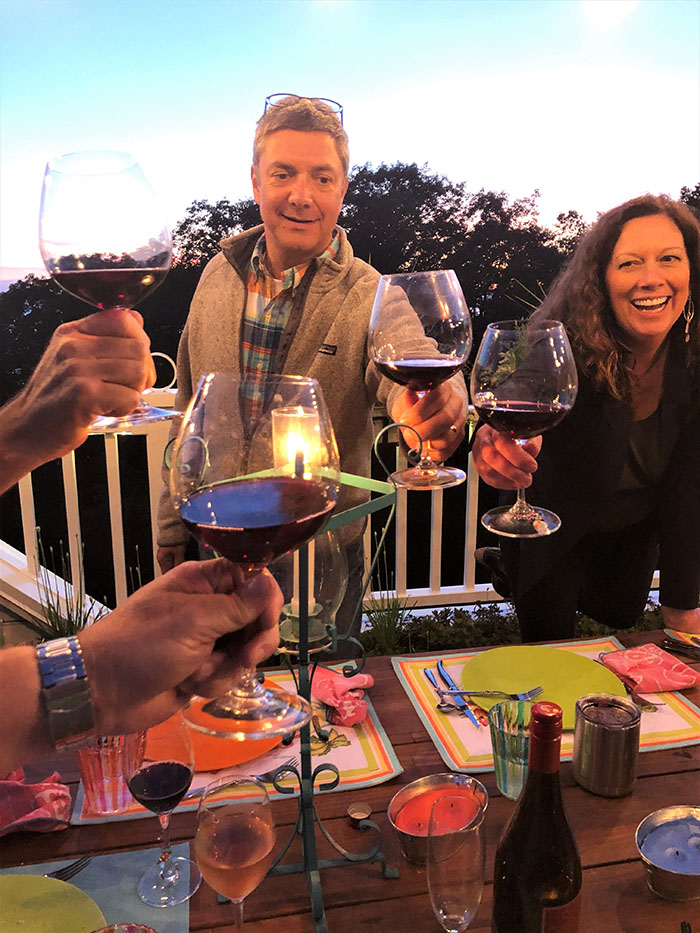 Items mentioned in this post are available in my shop. Most items are linked to an amazon page and are available for Prime shipping. We make a tiny commission on each purchase which helps keep the larder full and allows for more free content for you! Thanks for supporting Palate. Passion. Purpose.
© Copyright: KatyKeck.com 2019. All rights reserved.
Hey, we want to hear from you!
Don't forget to Comment, Share & Subscribe to our blog.