Sure, sure, sure. You could run to the liquor store and pick up a bottle of Kahlúa and nobody will kick you out of the party. It's plenty respectable as the number one coffee liqueur in the world with a provenance dating back to 1936 Veracruz, Mexico. (As the story goes, four guys pooled resources and talents and whipped up the first batch using Arabica beans, rum, local sugar and vanilla. Four years later, Kahlúa had hit the US shores). But think of the approving nods and admiration you will get if you roll in with a handcrafted hostess gift of homemade Kahlúa and a knowing "I made this" glow about you. Mic drop. The crowd murmurs.
To tell you the truth, I had never considered making this until one of you, dear readers, asked me about it recently. I was casting about for a homemade culinary treat like the ones I have shared over the years (and oh so conveniently linked below) and it hit me as pure genius. I have done spices, candies, crackers, but never a liqueur. I had to do a bit of research and only then realized it is quite brilliant, because unlike the commercially bottled stuff, you can use high quality ingredients and tweak it to your own desired sweetness and ingredient selection.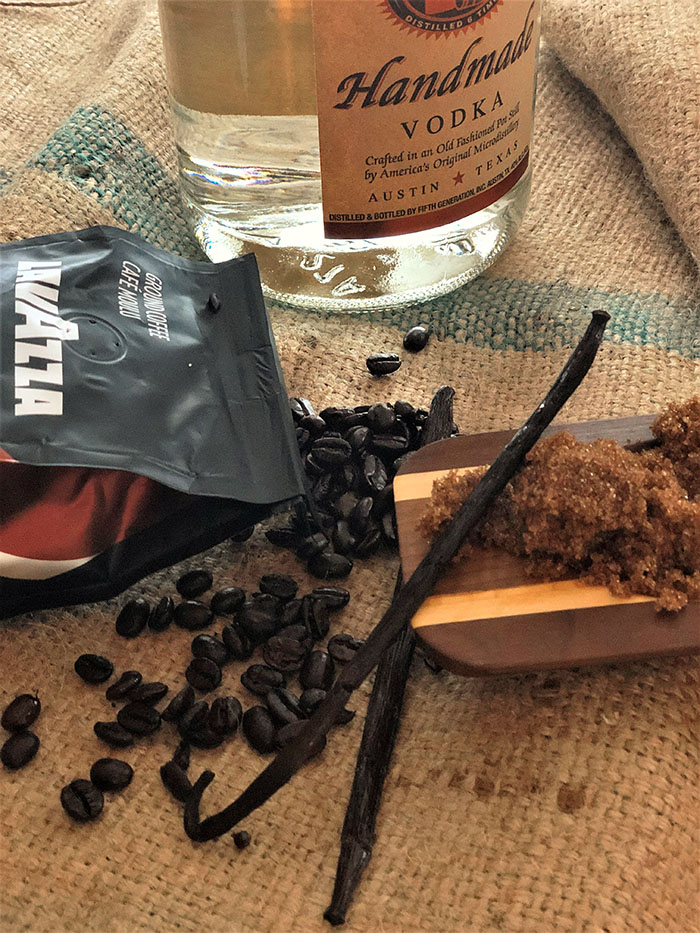 What's in Kahlúa?
For SURE, traditional Kahlúa is made with rum – white or dark would work. It's Mexican, for crying out loud. But there is already so much sugar in the recipe – I have seen recipes that double the amount of sugar I use – that I feel using a more neutral spirit, like vodka, provides a more rounded taste. But since you are cheffing it today, consider a small batch Bourbon, vanilla rum, or even a spiced spirit. I am a longtime believer that Garbage In/Garbage Out rules the kitchen, so choose a quality ingredient.
All coffee beans are either Arabica or Robusta. Most quality cafes and coffee brands use Arabica for its sweeter, more mellow taste, with undertones of fruit and berries. There is a bright acidity to the finish. Robusta is more likely to be found in mass marketed and instant coffees, and it is more harsh, with raw grain and peanut notes and low acidity. Can you guess which one I insist upon?? A lot of Kahlúa recipes will call for instant coffee. My guess is that is how you can easily control the brew strength – more crystals, less water. But you will get a more sophisticated and smoother blend if you make coffee or espresso the old fashioned way, using Arabica beans with a heavier hand. I used Lavazza espresso beans and added 50% more than standard coffee strength. The reader that started this all had flown in Kona from Hawaii. Ooh la la!
Ingredient three (of four) in homemade Kahlúa is sugar. You can find recipes that call for white, brown, molasses, even Stevia or monkfruit. I'm a bit of a purest with avoiding sugar substitutes. The sugar not only adds sweetness – no surprise – but it has a critical role in the final viscosity. This recipe will get slightly thicker as it sits for a couple weeks, but it will not be syrupy like commercial brands. To my taste, that yields a better bar component that can be used in myriad ways. If you like that syrupy, cloying sweetness, by all means add more sugar, up to double. I chose an organic dark brown sugar for its molasses flavor notes.
Lastly, the vanilla bean. They have gotten quiet pricey, so sub with a splash of real vanilla extract if you must. If you make this all in one big jug for the two weeks of curing, you might want to strain out the bean, if using, before bottling. But if you are going straight to the gift bottle as you make it, scrape all the seeds into the batch and cut the beans into enough pieces to put one piece in each bottle.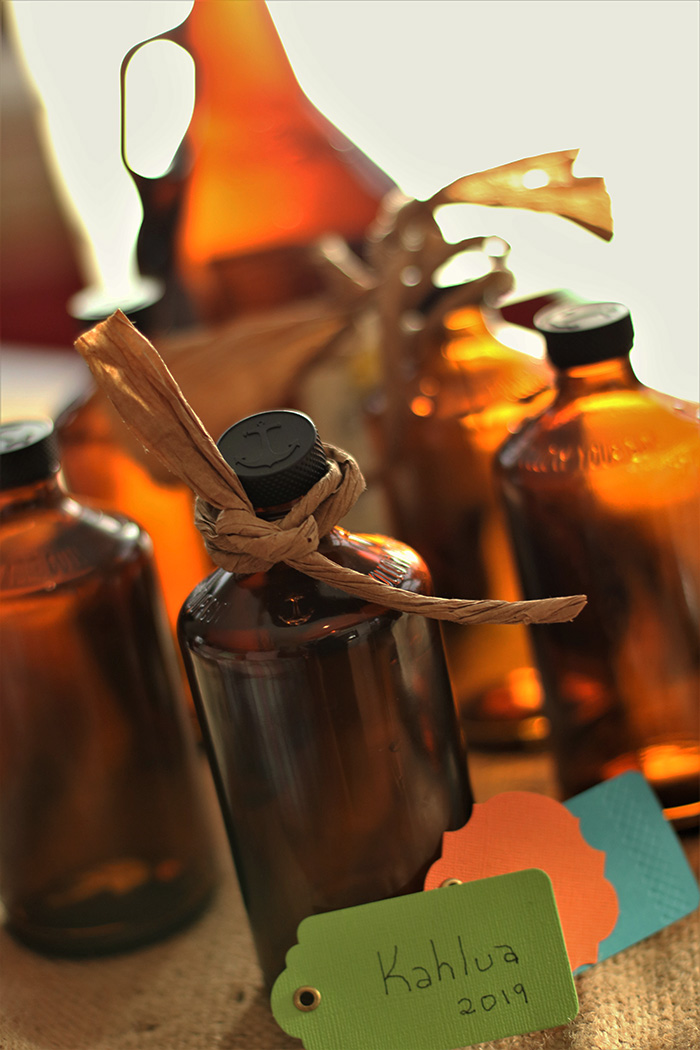 I have recently become a sucker for Health-Ade Kombucha which conveniently comes in cute 16-ounce brown glass bottles with resealable lids (with a nice little anchor on top), as well as a 64-ounce jug. I had enough bottles to cure in the big jug and then transfer out into small bottles after curing for two weeks. If you have to buy them, there are plenty of options on Amazon. (affiliate link)
Due to travel, I left this bottling in the capable hands of a beverage tasting professional. The report back yesterday after two weeks of swirling and agitating (inverting to move any sugar settling) was "smooth, great coffee undertones, balanced" followed by "having another taste…….I like it." 🙂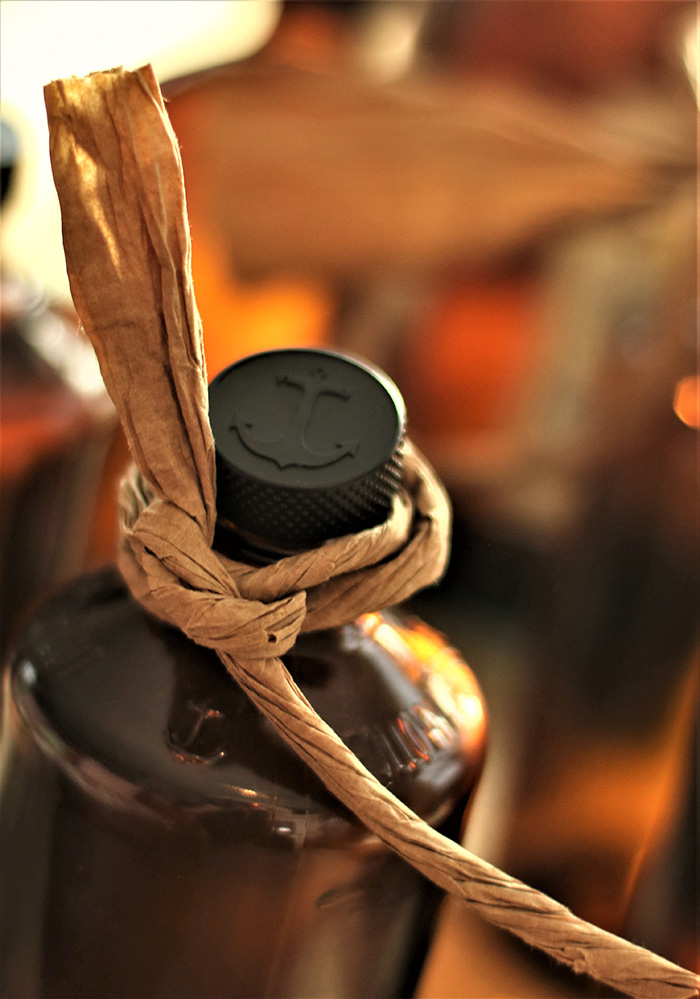 Kahlúa Flavor Harmony
For anyone who is a coffee lover, the number of options for marrying coffee with other flavors is no surprise. Just think of the constant rollout at Starbucks and see how they have paired it. I list several here just to spur your creativity. Consider these inspo for cocktails, drizzles over ice cream, or savory dishes where you might want to add in a hit of Kahlúa.
orange
salted caramel
mint mocha
vanilla
pumpkin spice
maple
chili chocolate
What Can I Do with Homemade Kahlúa?
Ohhhhhhhh, so you saved some for yourself, now did ya? I got you covered!! There are so many ways to use Kahlúa beyond cocktails, though that is oddly all I see on the official Kahlúa site. Over the years, I have worked with dozens of spirit brands, and it's always a struggle to get them away from cocktail recipes. It's such a narrow perspective! One of my clients – Carolans Irish Creme – thought outside the box. I developed all kinds of recipes for them, from brunch to BBQ to breads to sides. So with that spirit 🙂 in mind, here are a few cocktails and a number of other ways where Kahlúa and you might journey. Let me know what you try! Take the road less traveled, made so much tastier with homemade Kahlúa!
Handmade Gift Ideas
I know that spirits are not for all my readers and so I have listed below some of the other culinary gift treats you can find on my website. Here are a few quick and easy things you can make to delight your friends and family:
This all started with a reader request to sort through the madness of the internet. I ❤️ these questions. Feel free to leave a comment and raise your hand. Here to help!!
Print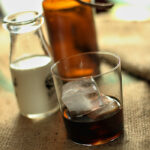 Homemade Kahlúa: Easy "How To" Holiday Gift
---
Author:

Total Time:

15 minutes

Yield:

64 ounces

1

x
Description
Nothing says holidays like a handcrafted culinary treat. This simple-to-make homemade Kahlúa recipe is festive in brown glass bottles, tricked out with customized ties and labels.
---
4 cups

strong black coffee

1 1/2

pounds (about

4 cups

) dark brown sugar

1

vanilla bean

4 cups

vodka (or rum)
4 16-ounce dark color glass bottles with resealable lids
---
Instructions
Prepare the bottles by running them through the dishwasher and having them hot when ready to fill.
Prepare strong coffee and pour into a large mixing bowl or stockpot. While still hot, add the brown sugar. Stir until dissolved.
Scrape the vanilla bean seeds into the coffee/sugar mixture, cutting the remaining bean into four equal pieces. Distribute the pieces of bean between the bottles.
Add the vodka to the coffee/sugar mixture and stir.
Using a funnel, divide the Kahlúa among the four bottles (you may have a little extra – for the chef, of course). Let the bottles cool to room temperature, then tightly seal with the caps.
Store in a cool, dark place for two weeks (four is even better), and once a week agitate, turning them upside down and right side up to move any settled sugar around.
Notes
If you find yourself short on time to have this made and stashed for 2+ weeks, how about attaching a cute little note saying "don't drink til New Year's Eve"? Nobody is going to judge if you give a gift with a little more resting time required. Let's make this no stress, ok?
Traditionally Kahlúa is made exclusively with Arabica bean coffee. I made mine just short of espresso strength using a high-quality blend from Lavazza.
Choose a good quality spirit to mix with. As the kitchen saying goes, Garbage In/Garbage Out. Only here it's Garbage Out with a whole lotta sugar, should you reach for rot gut.
I used Wholesome brand dark brown organic sugar which added a rich molasses flavor. As you can see in the photo above, its texture is more coarse than refined. Feel free to adjust sugar quantity to your taste. This yields a slightly less syrupy product than if commercially produced. But if you don't mind a Kahlúa thinner still and you want to feature the coffee flavor, then you can cut the sugar back further, up to half of what I call for, using only 3/4 pound brown sugar.
Drink responsibly and enjoy!
Prep Time:

15 minutes

Category:

Cocktail

Method:

No cook

Cuisine:

Mexican
Keywords: homemade kahlúa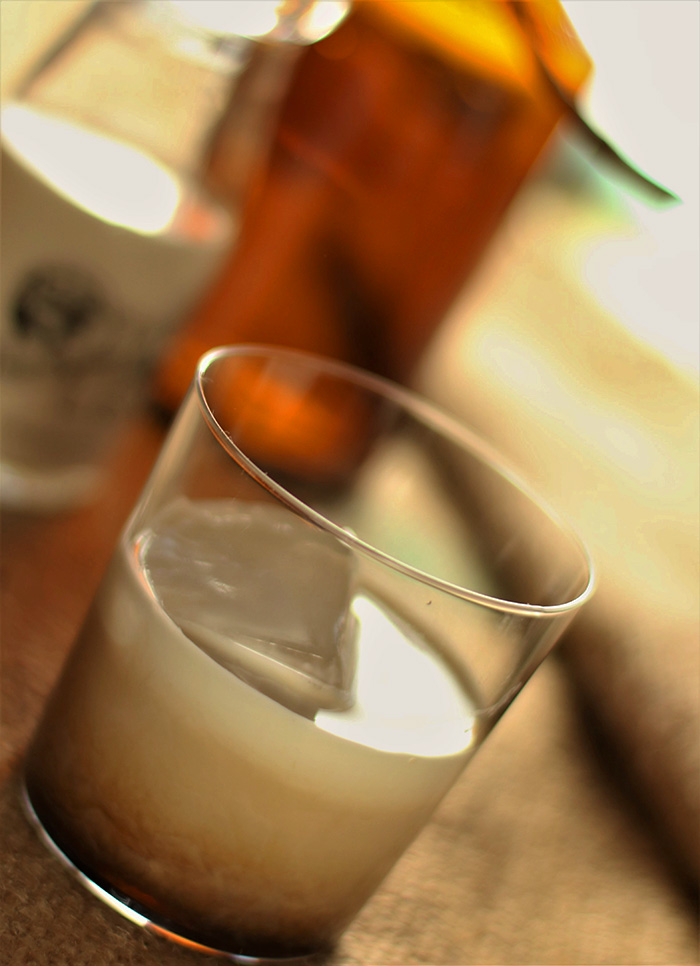 © Copyright: KatyKeck.com 2019. All rights reserved.
Hey, we want to hear from you!
Don't forget to Comment, Share & Subscribe to our blog.