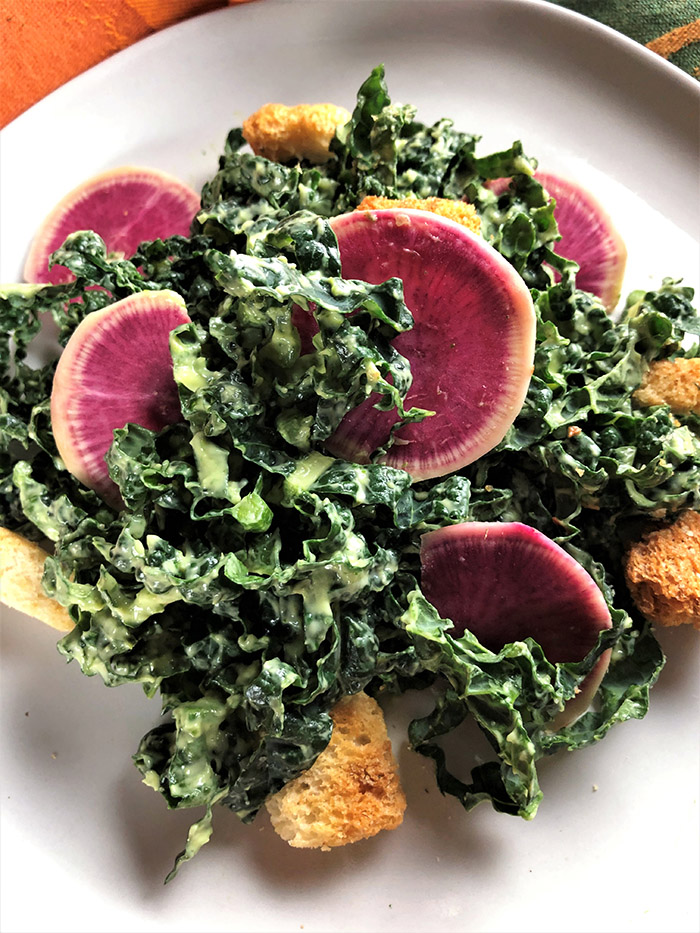 If you are up on your leafy green trends or just caught this scathing kale obituary in The Atlantic last month, you might be convinced that kale has had its day in the sun. If kale-bully Amanda Mull is to be believed, nobody really liked it anyway. As a pro-bono promoter of kale, I'd like to speak to my client's intentions. Chock full of vitamins, with nutrient-rich fiber and low calorie to boot, kale has always had your back. I particularly love Tuscan kale. It's much less bristle-y and mouth-scratchy than curly kale which can be downright aggressive from plate to mouth. I, a committed kale-lover, find myself begging kale to just get new handlers. Or more accurately, to stop crying out to be handled. Let's face it – we'd rather get a massage than give a massage, and all those needy recipes calling out for massaging kale were just a bit too much! #AmIRight? Bad PR, in my mind, is the ONLY reason kale gets the cold shoulder. We are smart enough to eat ugly fruits and vegetables to minimize food waste. We should be able to dismiss this nay-sayer dissing my beloved leafy green.
This time of year (actually most times of year, but it goes so well with fall dishes that it's more noticeable now), Tuscan kale pops up on every menu. To my tongue, Tuscan or black kale is less woody than curly kale and less in need of a massage…though my pal Mike swears he enjoys beating the kale into submission with a meat mallet. (It's not entirely clear to me that this is really just about the kale.) Simply trim the stems and remove the rib from the lower end of the leaf, then stack and roll into a tight bundle and cut thinly cross-wise. That's called a chiffonade. Voilà! Now you speak French. You're welcome. I recently came across a bag of pre-chopped Tuscan kale at Trader Joe's, and it was not salad-worthy. The chop was too coarse and it made for quite an unrefined salad. Save the pre-chop for a soup or stirfry.
Tuscan Kale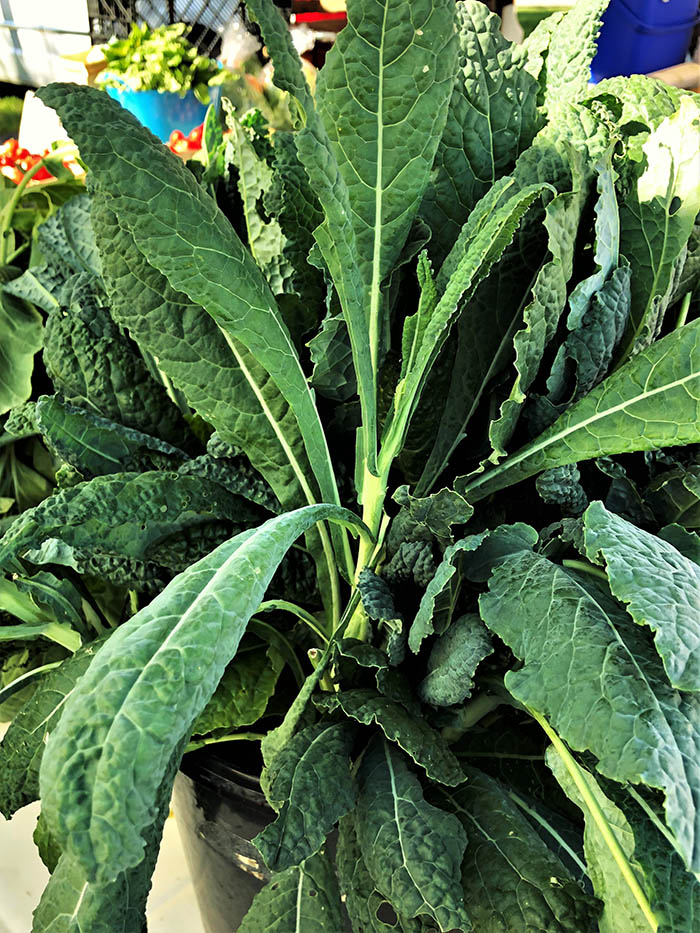 You may also know this dark, wrinkly leaf with a blue-green cast by names other than Tuscan: Lacinato, dino, dinosaur, Cavolo Nero…..even palm tree kale, because the growth pattern resembles the fronds atop a palm tree. It's been grown in Tuscany for centuries and is a key ingredient in the Italian soups ribollita and minestrone.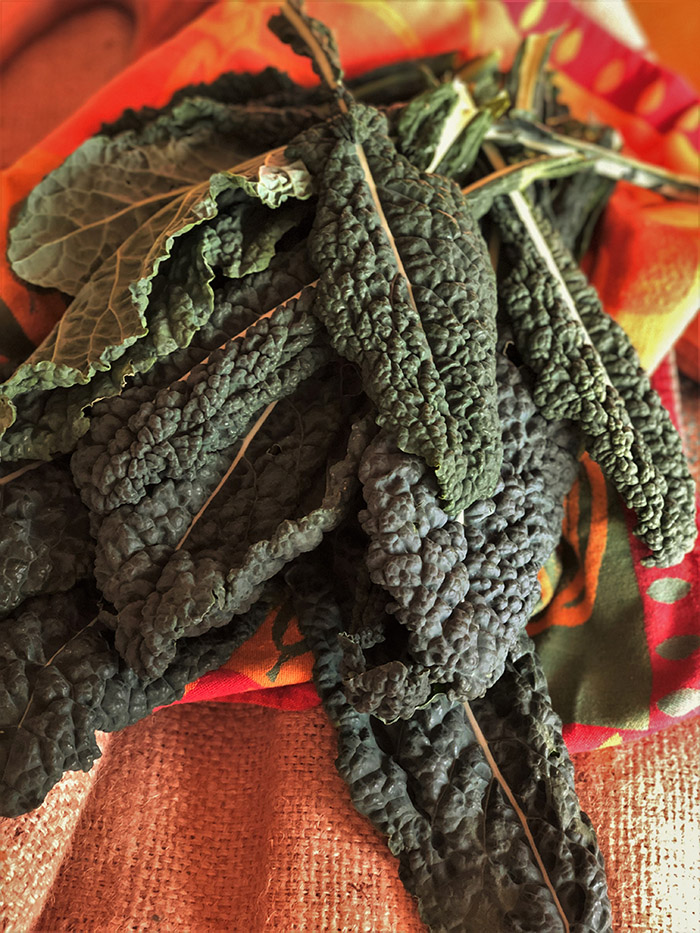 Creamy Avocado Dressing
All the nooks and crannies cry out for a creamy dressing that will gently nap the leaves. I grew up with Seven Seas Green Goddess, but have never actually tracked down an authentic recipe for one made from scratch. I, as always, simply grab what is on hand. It won't keep long with the acids taking their turn on all things that start out green, so just make it with what you have today and make it differently tomorrow. With so much flavor in the dressing, I keep salad toppings to a minimum – some sliced radishes for a color contrast and a handful of croutons for added crunch. Tasty!!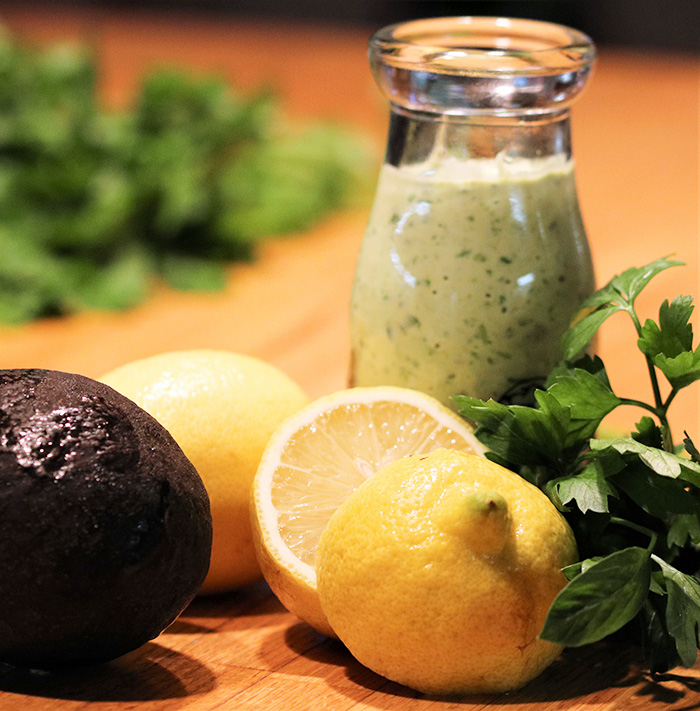 Print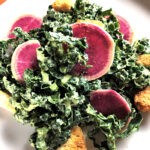 Tuscan Kale Salad with Creamy Avocado Dressing
---
Author:

Total Time:

10 minutes

Yield:

Makes

1 1/2 cups

dressing; salad serves 4.

1

x
Description
Tuscan kale, very thinly sliced, is the perfect dark, leafy green with nooks and crannies to grab this tasty, creamy avocado dressing. Add a few colorful and crunchy garnishes and you have yourself a salad.
---
Dressing:
1/2 cup

plain Greek yogurt or sour cream (non-fat, full-fat, etc. – your choice)

1/3 cup

fresh lemon juice

1

avocado, peeled and pitted

4

sprigs parsley

3

scallions, cut into

1

" pieces

2 Tablespoons

extra virgen olive oil

2 Tablespoons

coarsely chopped chives

1

clove of garlic (or more to taste)
Handful of arugula

1/2 teaspoon

red pepper flakes
Salt and pepper to taste
Salad:
bunch of Tuscan kale, very thinly sliced
radishes, thinly sliced – watermelon radishes if you can find them
croutons
---
Instructions
Make the Dressing:
Put the dressing ingredients, and/or anything else green and flavorful you have on hand, in the Vitamix or food processor and let 'er rip. Scrape down the sides as needed, and taste and adjust seasoning.
It will keep in the fridge for a few days before losing its bright green. Simply press plastic wrap directly on the surface and seal tightly.
Make the Salad:
Thinly slice the kale by trimming the stems and removing the ribs from the lower end of the leaves. Stack and roll into a tight bundle and cut thinly cross-wise.
Top with sliced radishes and toss with dressing. (You will have dressing left over.)
Garnish with croutons before serving.
Notes
Without the croutons, the kale, even when dressed, will keep for one to two days in the refrigerator. Enjoy your sturdy salad greens!
Prep Time:

10 minutes

Category:

Salad

Method:

Blender

Cuisine:

American
Keywords: Tuscan Kale Salad, Creamy Avocado Dressing
Krazy for Kale?
Give these other kale delights a whirl: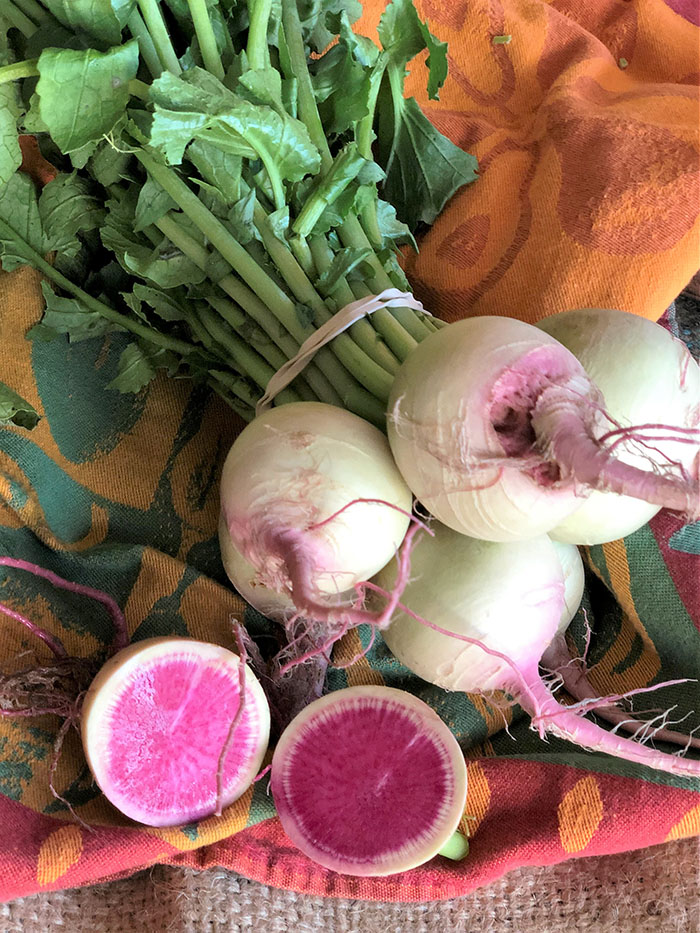 © Copyright: KatyKeck.com 2019. All rights reserved.
Hey, we want to hear from you!
Don't forget to Comment, Share & Subscribe to our blog.