Though I know you are all set with the full menu I linked to in the last post, I couldn't in good conscience send you off for Thanksgiving without a new dessert to be the crowning glory to your feast. A simple apple crisp at its heart, the addition of Jim Beam Apple liqueur with Kentucky Straight Bourbon Whiskey elevates this fruity finish to something truly special. Must be that American oak wafting over the apples that sets this apart. I had house guests while working on this dish and one or two of them may or may not have had three or four portions. Who's counting? If you don't use spirits, you can easily sub with non-alcoholic extracts – vanilla or almond – or a dash of cinnamon, clove, or nutmeg. As written below, this dish is largely unseasoned, letting the farm-fresh apples and healthy splash of apple liqueur with bourbon do the heavy lifting. If you want to swap out the JB Apple, try a straight bourbon, Hotel Tango Whiskey (from a new-ish Indiana distillery run by friends), Gentleman Jack, or even Calvados. I'll do me, you do you.

There are just so many apple varieties available these days, whether you shop at the farmers' markets, the grocery or with instacart. But it's really important to grab a cooking variety so, kids, don't try this at home. We need an apple whisperer to the rescue. This fall I have really enjoyed Sweet Tango and so I asked my local farmer – Skinner's Homestead Acres out of Fennville, MI – how they would fare. No bueno. He said they had tried to cook Sweet Tangos a few ways and they cooked to mush. Good to know, since they are super crispy and very flavorful. Try one raw if you can. I heart!!! I suspect it may have to do with the water content – too much and there is nothing but pulp left. So it's a balance between crispy, juicy, and flavorful that makes the perfect cooking apple.
Cooking classics are Jonagold ("fluffily crisp," juicy, and aromatic), Ida Reds (firm, tart, and juicy) and Northern Spy (juicy, crisp, and mildly sweet with a high acid balance). The farmer recommended Snow Sweet which was new to me and so perfect. It was fantastic raw too – very white flesh which is slow to oxidize. On a subsequent test, I used Northern Spy and they worked well too. I always ask which apples will store well and load up before the season ends. I go with the farmer's rec on "good-keepin' apples".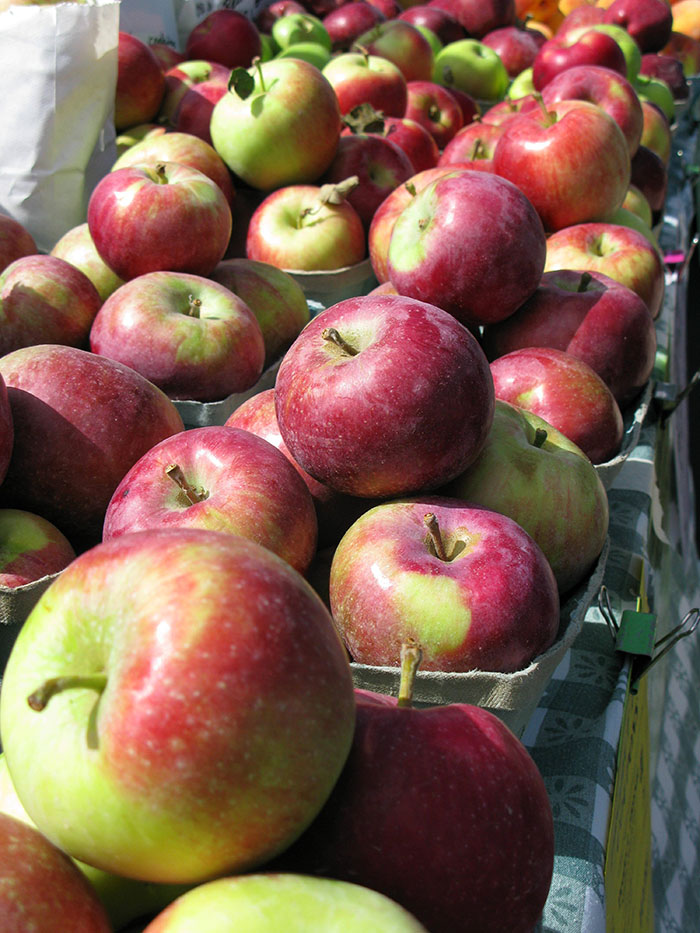 A friend introduced me to the apple cutting technique below (note that the apples should first be peeled for this recipe). Just cut through the center on both sides of the stem, top to bottom. You can get a slice off that center slab on either side of the core. Take the two halves and lay them cut side down and slice thinly from bottom to top. It is so much easier than trying to cut a rolling side and makes it simple to get uniformly thin slices. It's really upped my apple cutting game, and I use it for everything including cheese boards, snacks, salads, and more. It's perfect for a Crisp when you want uniform slices for even cooking.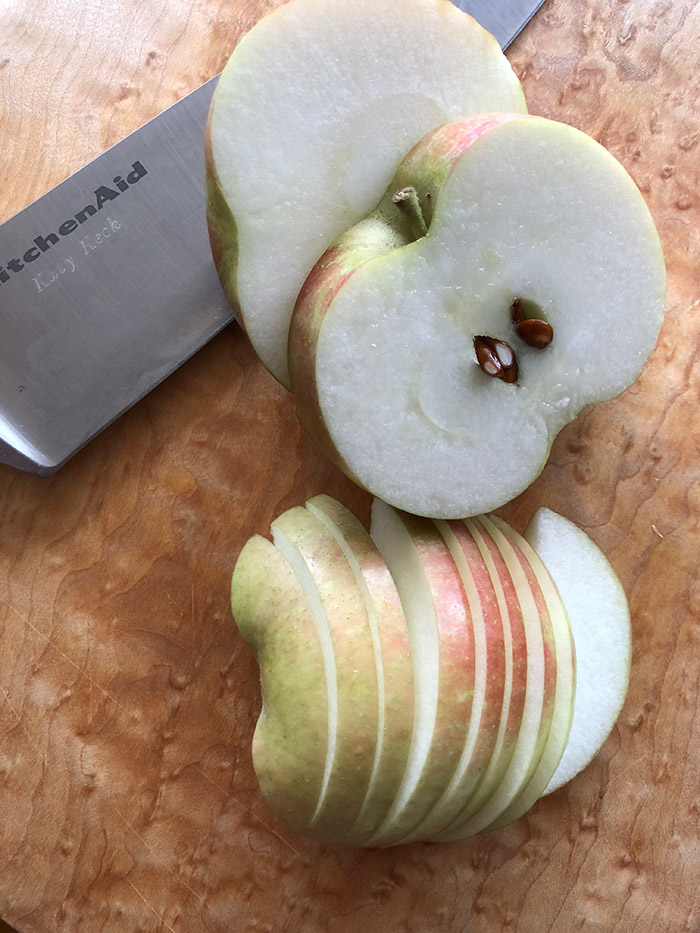 So this raises that age old question – Cobbler? Crisp? Slump? Crumble? Grunt? Betty? Pandowdy? Buckle? There is definitely both a geographical and time element to these names. While they are all fruit-based, I'm ruling out Cobblers off the bat. They have biscuits dropped on top and resemble cobblestones (old English). Grunts are right behind – New England and named for the sound the dough makes while cooking and – like Pandowdy and Slumps – are typically cooked on the stove top. Legitimate Bettys are layered with crumbs or grahams and are more cakey, and a Buckle (which is very cakey) tends to buckle around the bubbling fruit. So finally we arrive at Cobbler or Crisp – and drum roll please…the Crisp has oatmeal. Voila! That's what makes it more crispy than a Cobbler, which is generally pure sugar, flour, and butter streusel. Exhausted from that marathon around the dessert aisle? Hmmm…think we better dig into this delicious dessert RIGHT NOW.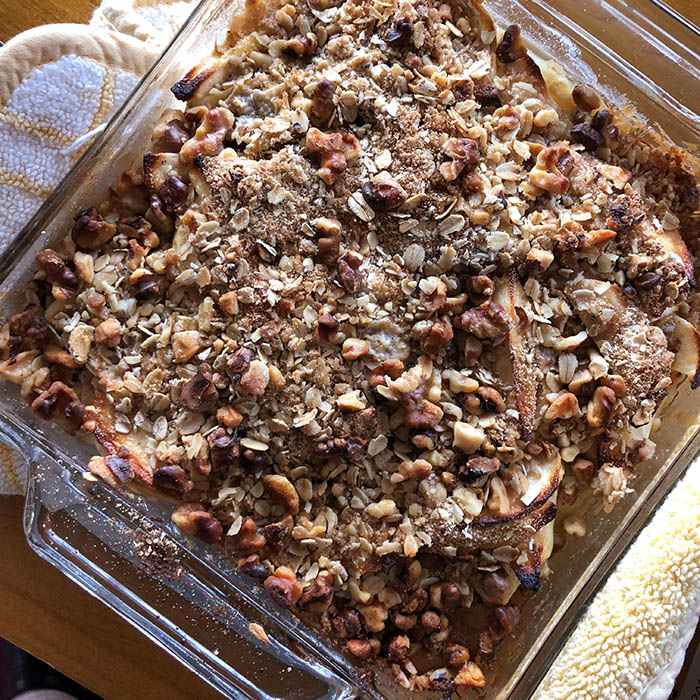 Bourbon-Spiked Apple Crisp
Now that we have the recipe name – CRISP! – and the perfect apple (your choice), and we have made the decision of adding hooch or not, there is little else to do but get peeling. This recipe comes together very quickly and then you can be on your way to worry about other details of the feast – namely is the Prosecco cold enough. I make the topping in the food processor because I like to chop the oats and the nuts just a bit. So I start by putting the other ingredients – cold butter, brown sugar, flour, and salt in the processor and pulse that until it resembles coarse meal. Then I add the oats and walnuts, in turn, giving each their half-dozen pulses. Oats will get a few more pulses than nuts, but both retain some texture. As with all things baking, set the timer 10 minutes early, so you can keep an eye on the browning factor. If it seems to crisp up before the apples are tender, lay a loose layer of foil over the top. You don't want anything to steam, but you also don't want it blackened.
However you celebrate and with whomever, I send Thanksgiving blessings to you, your friends and family. It's so wonderful to spend a day, or even a part of a day, during this season of running too fast in gratitude for our many blessings. Have a wonderful, food-filled day! Gobble! Gobble!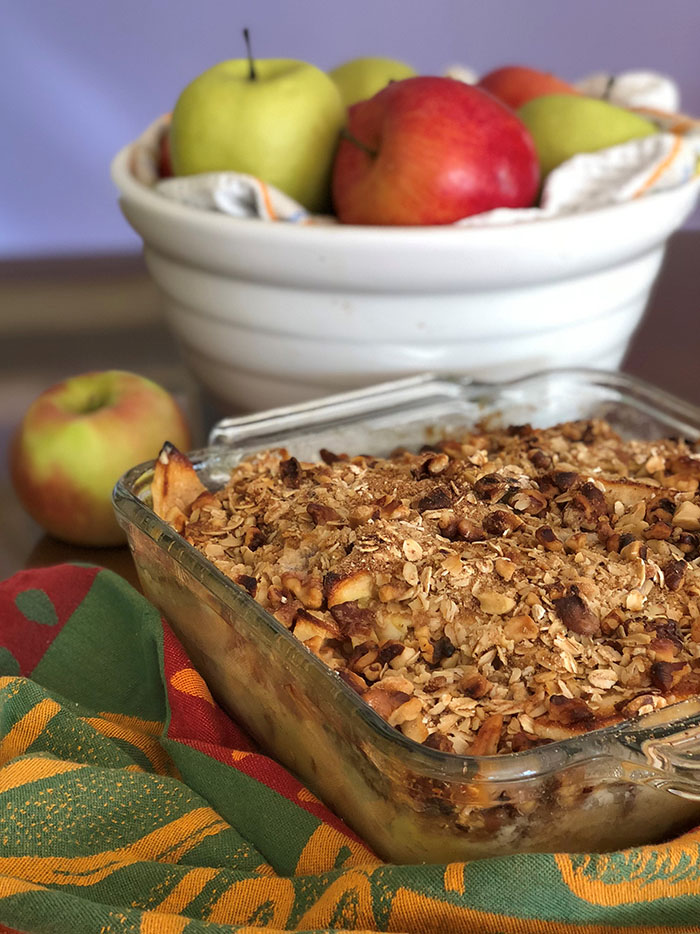 Print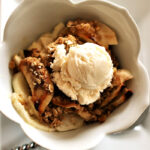 Bourbon-Spiked Apple Crisp – a Thanksgiving Feast Grand Finale
---
Author:

Total Time:

1 hour 45 minutes

Yield:

Serves 8
Description
Though a simple apple crisp at its heart, the addition of Jim Beam Apple liqueur with Kentucky Straight Bourbon Whiskey, elevates this crisp to something truly special. Must be that American oak that wafts over the apples that sets its apart.
---
Topping:
2 ounces

cold butter, cut into bits

1/2 cup

brown sugar

2 Tablespoons

flour

1/4 teaspoon

salt

3/4 cup

old-fashioned oats

1/2 cup

chopped walnuts
Filling:
1/2 cup

sugar

1/2 cup

sour cream

1/3 cup

Jim Beam Apple Liqueur infused with Kentucky Straight Bourbon Whiskey

1/4 cup

all-purpose flour

2

eggs

¼ teaspoon

salt

2

pounds apples, peeled, cored, and sliced thinly (see notes)
---
Instructions
Preheat oven to 350oF. Butter an 8×8 or 2 quart baking dish.
Prep topping: Add butter, brown sugar, flour and salt to the workbowl of a food processor. Pulse until mixture resembles coarse meal. Add the oats and pulse about 4-5 times, chopping coarsely. Add the walnuts and pulse 6 times more. The goal is that the butter/sugar/flour is fine, but that the oats and nuts retain some texture. Sprinkle ½ cup of the topping in the baking dish. Refrigerate remaining topping until needed.
Prep the filling: In a large bowl, whisk together the sugar, sour cream, bourbon, flour, eggs, and salt. Add the apples. Pour the mixture into the baking dish.
Bake on a sheet pan to avoid spills, in the center of the oven for 50 minutes. Sprinkle remaining topping over fruit, baking an additional 30 minutes.
Remove from oven and cool on a wire rack.
Serve warm with ice cream.
Notes
Be sure to choose an apple that can stand up to cooking. Sometimes we tend to grab a favorite eating apple, but that is not always the best choice. On my first try, the farmer suggested Jonagold, Snow Sweet or Ida Reds. I chose Snow Sweet and they were perfect, though I suspect not that easy to come by. They are also delicious "eating apples".
The next time I tested the recipe, I used Northern Spy – a classic cooking apple. This fall I have fallen in love with Sweet Tango, but my farmer told me don't bother. They cook to mush. That was a real surprise because they are so very apple-y tasting and super crunchy. But, I trust the farmer.
For the non-drinkers in the crowd, feel free to omit the bourbon and consider some extracts like vanilla or almond. I used vanilla on one of my tests but found it in competition with the bourbon, so ended up eliminating it. If you are not using the alcohol, try adding in some alcohol-free extracts.
For those adding the alcohol, consider a straight bourbon, Hotel Tango Whiskey (from a new-ish Indiana distillery run by friends), or even Calvados, in lieu of the JB Apple.
Serve with ice cream. Vanilla is classic or salted caramel would be a serious upgrade.
Prep Time:

25 minutes

Cook Time:

80 minutes

Category:

Desserts

Method:

Oven

Cuisine:

American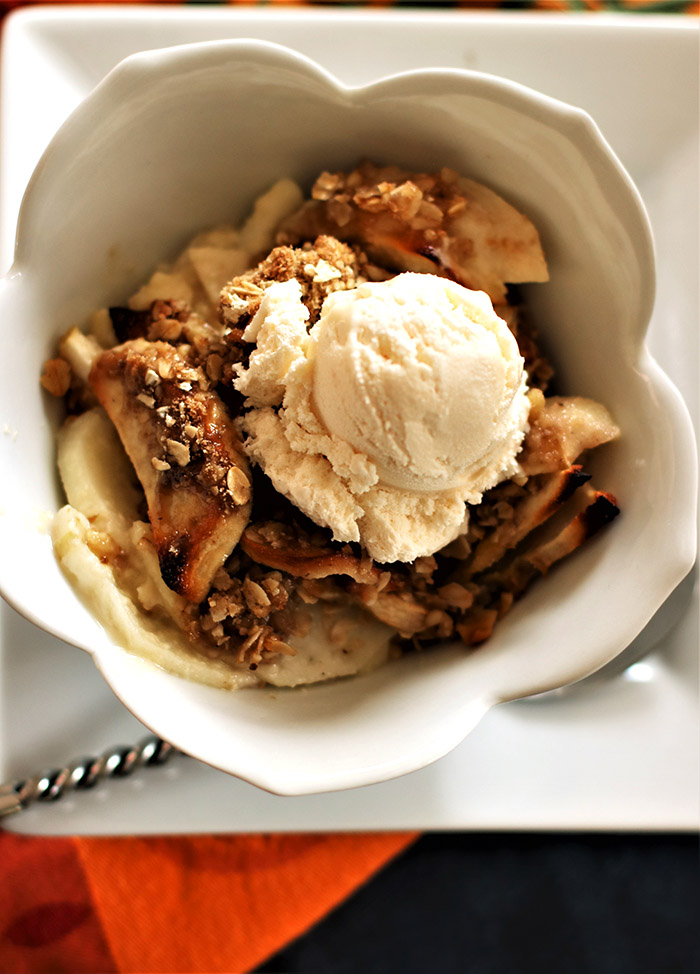 Thanksgiving Desserts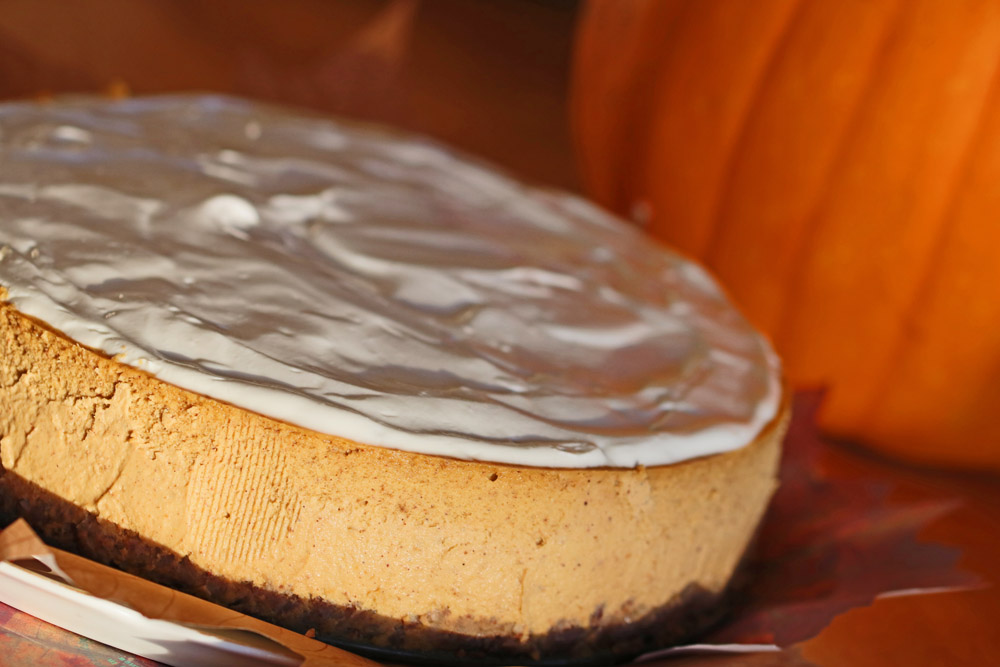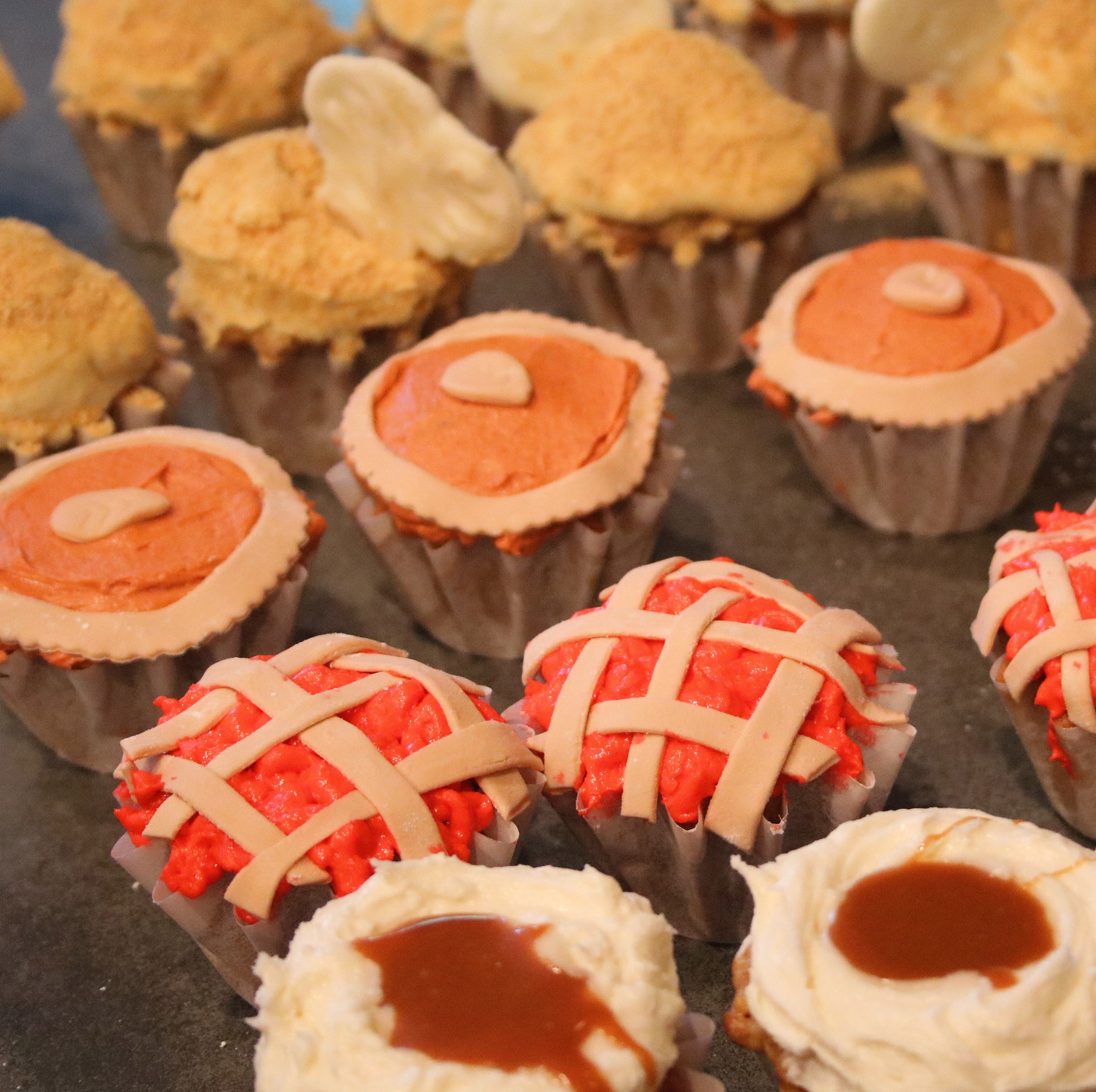 Day After…Going Cold Turkey?
I know you probably can't come down from your L-tryptophan rush on Thursday cold turkey, so how about easing in with some breakfast pumpkin chia pudding (though it has been served for dessert by many) or the best turkey leftover recipe ever!!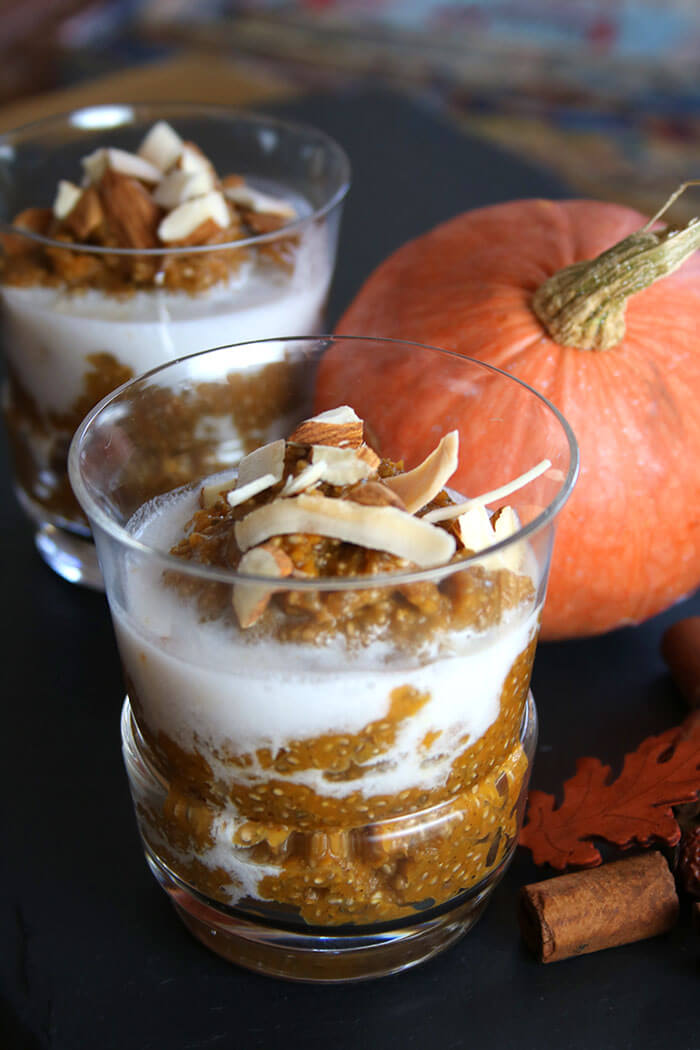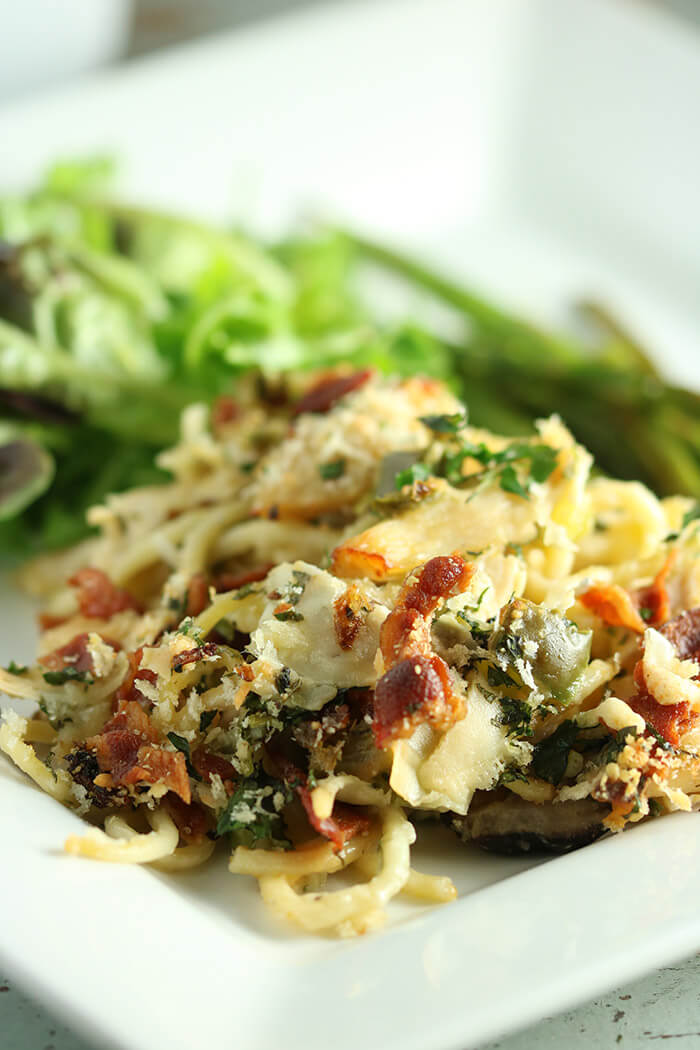 © Copyright: KatyKeck.com 2018. All rights reserved.
Hey, we want to hear from you!
Don't forget to Comment, Share & Subscribe to our blog.