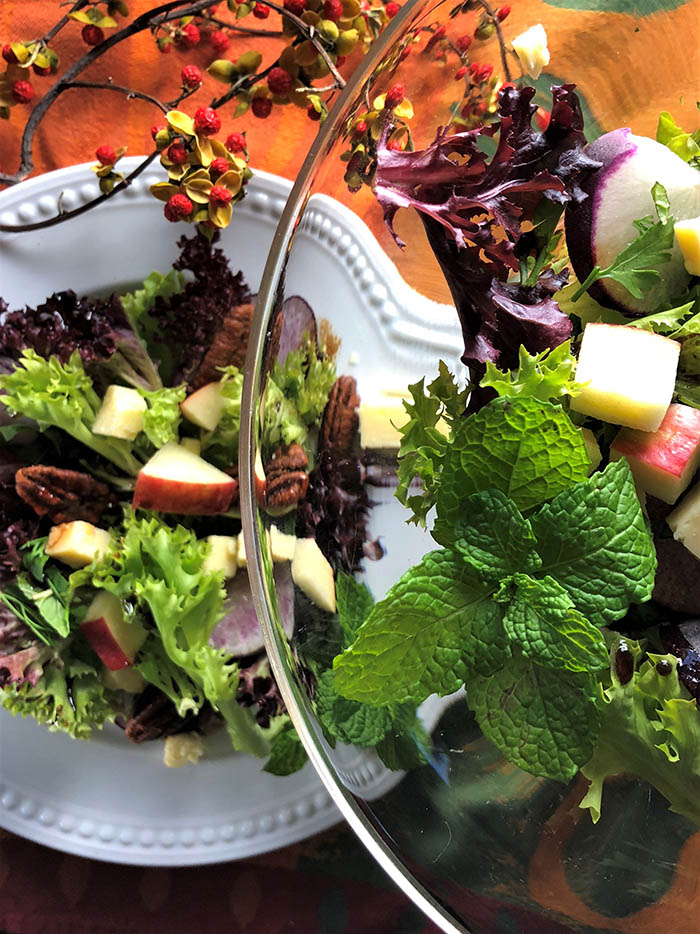 Before you hit delete thinking "Who needs a Thanksgiving Harvest Salad when I can have fat, fat, and more fat on Thanksgiving?" I am here to tell you – YOU DO!! I talked my friend Cozy into this a couple years ago and I know it was a hit because she called me brilliant. I don't often forget those who think I am brilliant. 🙂 As she quickly found out, this is all about the herbs. If I didn't have to measure them for a printed recipe, I might just call for a crap-ton. You'll want just that much.
The Thanksgiving Harvest Salad is everything you want in a salad, lots of green goodness with just enough rewards to make it not quite a salad and a bit more of an indulgence: fall fruit, tangy cheese, and sweet and spicy nuts. Think of it as your cheese board dumped on some greens. Genius, right?
Just as I was last making this salad, I found a new produce vendor on its maiden voyage to Michigan's organic Sweetwater Market. I was squealingly happy! I thrived all summer on Summer Blend Gardens' lettuce mix which included colorful nasturtium flowers and more. Highlight of the summer. But ba-bye, Marty. It's fall now. Meet my new besties Caleb and Cindy-Beth at A Garden in the Woods. They bring the most gorgeous array of produce to this indoor winter market after spending their summer outdoors in Pentwater. How lucky am I? Even if you don't live in the area, treat yourself by checking out their Instagram. Gorgeous. Stunningly beautiful!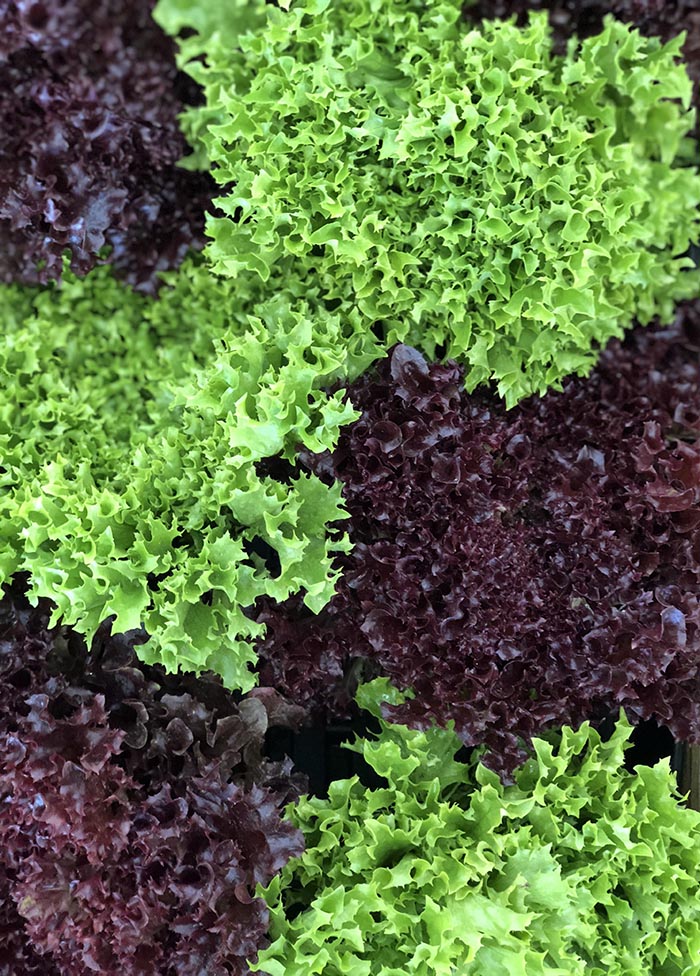 For this salad, pick any assortment of greens you want, but I like a mix of colors and textures. Some salad blends at the grocery, like baby romaine, are heavy on young greens that don't have much texture. So if that is your base, be sure to throw in some arugula or watercress. These add both pepper and bounce.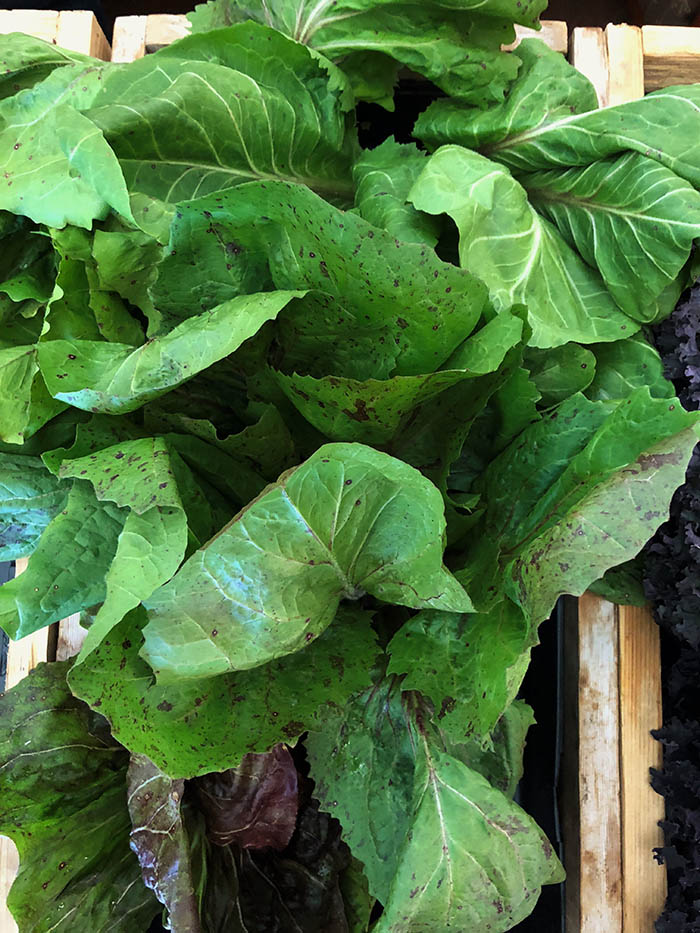 Even though I had no intention of adding radishes to the harvest salad, once Caleb told me these were not baby beets, but purple radishes, I had to. I just had to. Check out the cut radish in the salad photos – a gentle sponging of lavender fading across the cut surface.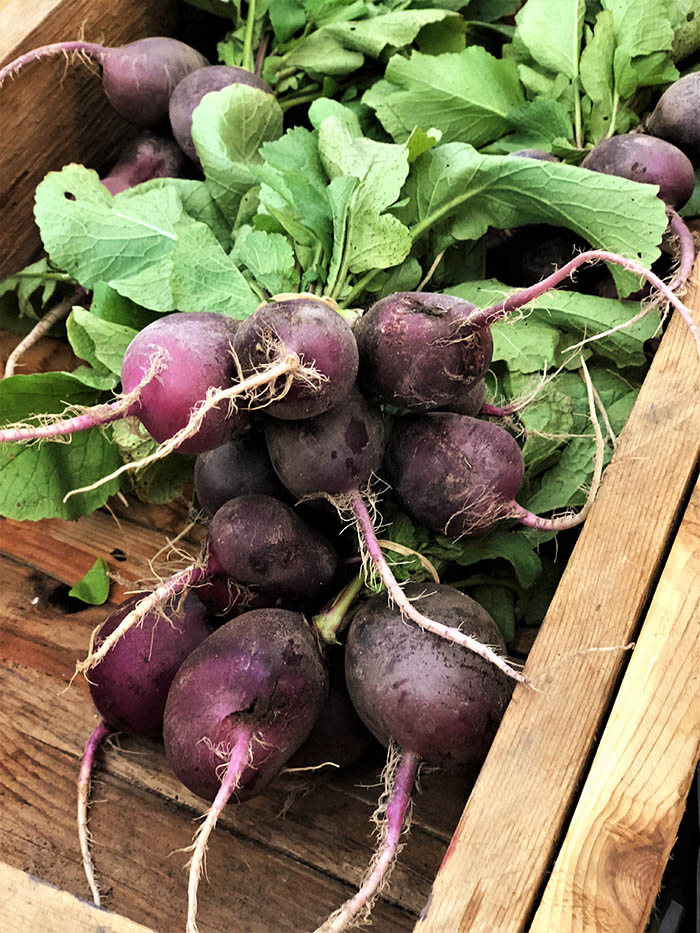 Thanksgiving Harvest Salad
I see this wave of comprehension starting to wash over you, yet I still feel your skepticism – salad with lots and lots of herbs for Thanksgiving? I wasn't kidding about the crap-ton of herbs. For 8 ounces of greens, I would add up to a cup of chopped, mixed herbs. I know I am still in sales mode on this herby addition, so I am ratcheting the herbiage down to a mere 1/2 cup in the recipe below. But be bold. Go for it. Add additional herbs if you are so called. Cozy reported that she ended up with arugula and spring mix with lots of fresh herbs. "You were right! The herbs made the complexity of the greens jump." So trust us on this.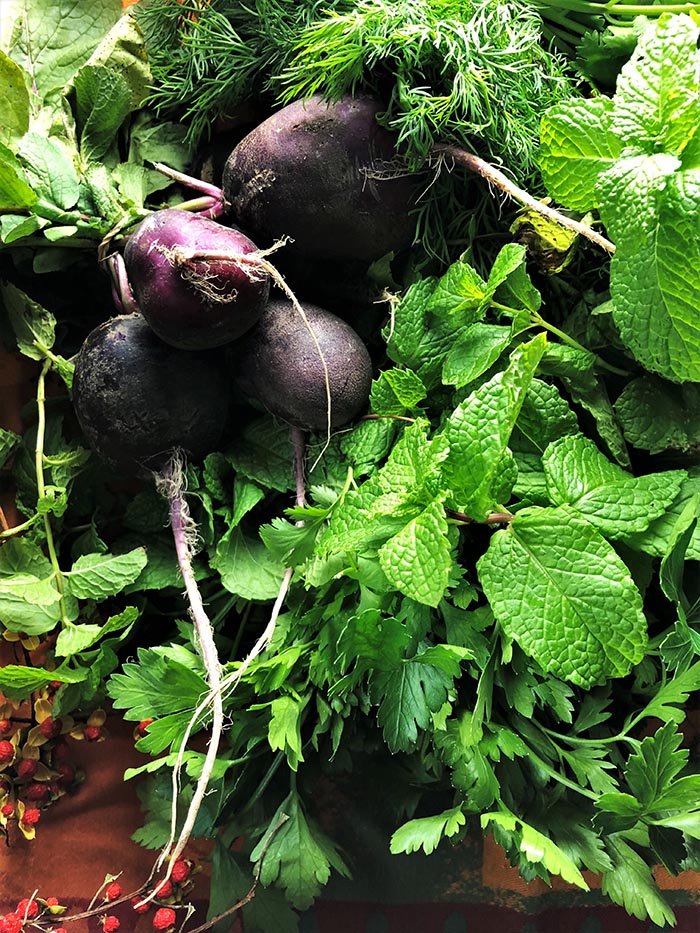 Now that you have a base in place, my go-to accoutrements are fall fruit, bits of cheese and sweet & spicy nuts. I used apples here, but if you have ripe juicy pears, they would be wonderful, as well as figs or persimmons. And while I used Barber's Vintage Cheddar 1833 (it's white) in small cubes (more interesting texture than grated), a perfect pearing (get it??) might include a blue like Roquefort or Stilton. Persimmons and fresh goat cheese anyone? I made that once at the request of Florence Fabricant of the New York Times, using Indiana's Wabash Canonball, so if it's good enough for her…………
Like most things in food and in life, winning combos are based either on similarities or contrast. Remember my celery root slaw? It was both! I made all the ingredients look the same (similarity), so you didn't know til you tasted that there were three very different textures and tastes (contrast). Celery root, white cheddar and apple – all white, all grated. Surrrrrrrrrrrrrrrrrrrrrrprise! Similarity and contrast all rolled into one humble slaw.
For the vinaigrette, I chose a lemon olive oil and a maple Balsamic. Gobble! Gobble! I have also used a pear Balsamic when using fresh pears. When using flavored Balsamics, I tend toward a one to one ratio with the olive oil because they are so much sweeter than a traditional vinegar and don't require a lighter hand. In this case, the maple Balsamic is quite dense, so I scaled it back. If you are choosing your own flavors, start testing with a two to one oil to vinegar ratio and add more vinegar, as you need. Because this dressing is special to this menu, I am only making a small batch, and I short-cut the prep by putting it all in a bottle and shaking before serving. A proper vinaigrette, as you know, has the oil added last in a drizzle so that it can incorporate and emulsify. We are streamlining today because we are busy!! Of course you can prep all your ingredients and the dressing a day or so ahead, except any fruit that would oxidize like the apple. Just keep the ingredients wrapped separately in paper towels and zip bags, and assemble toward serving time.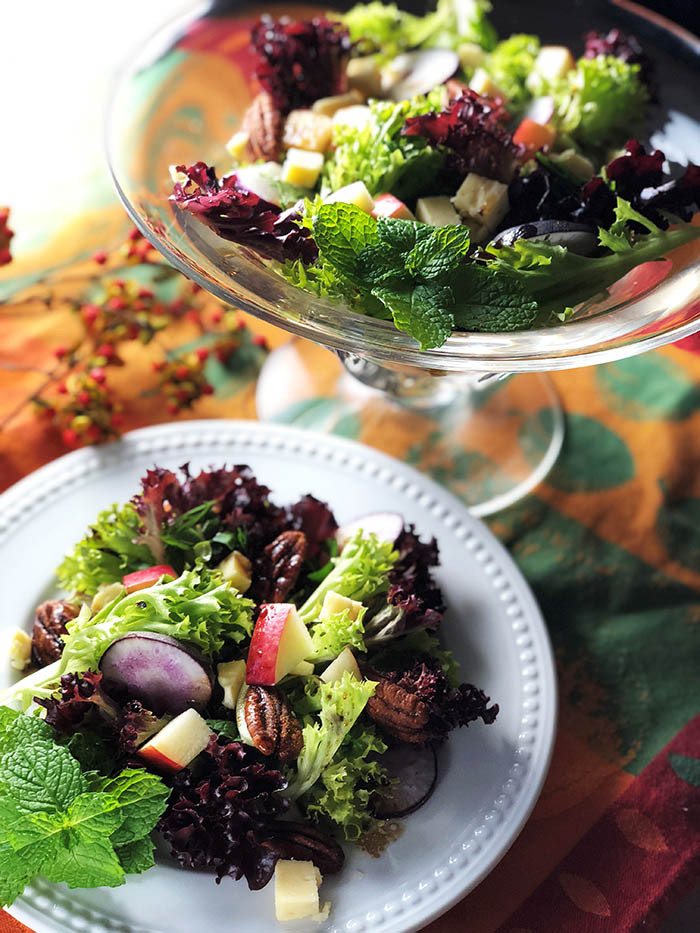 Now that we have settled on this glorious, fresh and palate-cleansing salad, there are a few other things that you might need to get on that table. Perfect roast turkey and gimme-more gravy? Check. Goat cheese and thyme mashed potatoes. Done. Brussels sprouts and prosciutto. You bet. And some delish cranberry ginger kumquat chutney. Done,done, done. All that is left is a winning Tennessee whiskey pumpkin ginger cheesecake. I have got you covered. All these recipes, complete with tips and must have equipment – looking at you potato ricer – are linked below.
I will be back in a few days with another dessert idea – a Bourbon-laced Apple Crisp – so check back in. Above all, remember we are giving thanks in an extra special way right now – so take a deep breath, be grateful that you have food to cook with and people to cook for, and leave that stress at the grocery check out lane. And if Dear Abby were around, she'd probably ask you to put a basket at the door for cell phones and ask your friends and family for the gift of presence. Enjoy this week with a heart full of gratitude. Be back soon.
Print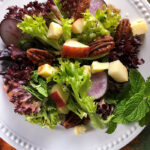 Thanksgiving Harvest Salad & Menu Must Haves
---
Author:

Total Time:

15 minutes

Yield:

Serves 8
Description
The Thanksgiving Harvest Salad is everything you want in a salad, lots of green goodness with just enough rewards to make it not quite a salad and a bit more of an indulgence: fall fruit, tangy cheese, and sweet and spicy nuts. Think of it as your cheese board dumped on some greens. Genius, right?
---
1/2

pound mixed greens, 8 cups

1/2 cup

chopped mixed herbs, including parsley, cilantro, dill and mint

4

scallions, chopped

1

apple, chopped, or other fall fruit such as pears, figs, persimmons, or dates

1

avocado, peeled, pitted and chopped

1/4

pound white cheddar, cut into small cubes (I use Barber's cheddar)

4

radishes, sliced

1/3 cup

lemon olive oil

1/4 cup

maple Balsamic vinegar
Salt and pepper to taste

5

-ounce package of sweet & spicy pecans
---
Instructions
Combine greens, herbs, scallions, apple, avocado, cheddar and radishes in a large salad bowl. Toss to combine. Refrigerate, covered, until ready to serve.
Make the vinaigrette, by combining the lemon olive oil, maple Balsamic, salt and pepper in a bottle and shaking to emulsify.
At serving time, drizzle the vinaigrette over the salad and toss to coat. Top with the sweet & spicy pecans.
Notes
The herbs really define this as a special green mix, so don't skimp here.
I always like to use a fruit for sweetness, the cheese for richness and a tang, and the nuts for crunch. All other ingredients rotate in and out depending on what I have around. The purple radishes were calling out to me and that avocado wasn't getting any younger. Both were fresh new twists at Thanksgiving.
Trader Joe's is a good source of several sweet & spicy nut mixes.
Prep Time:

15 minutes

Category:

Salad

Method:

No Cook

Cuisine:

American
Keywords: Thanksgiving Salad
Menu Must Haves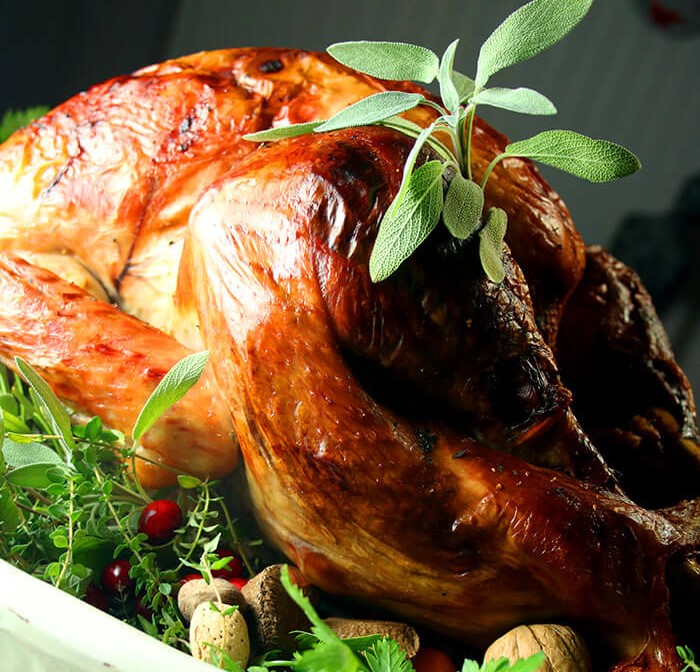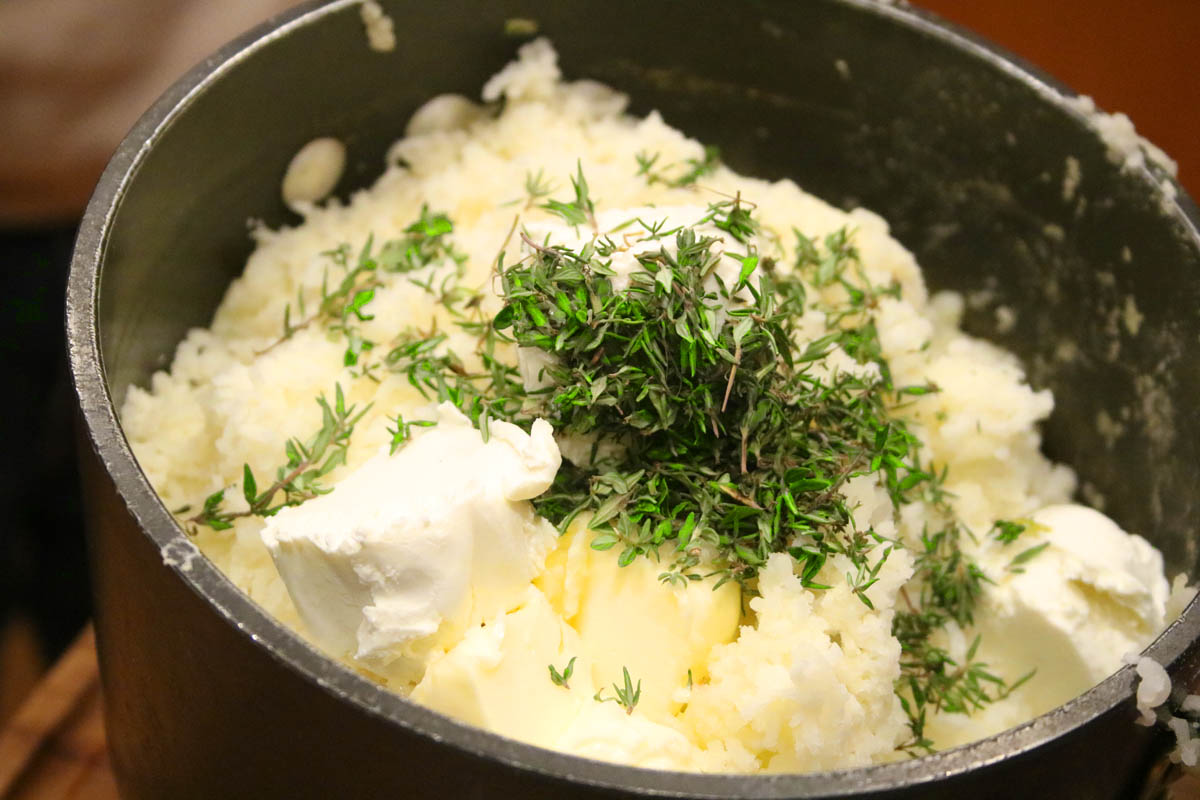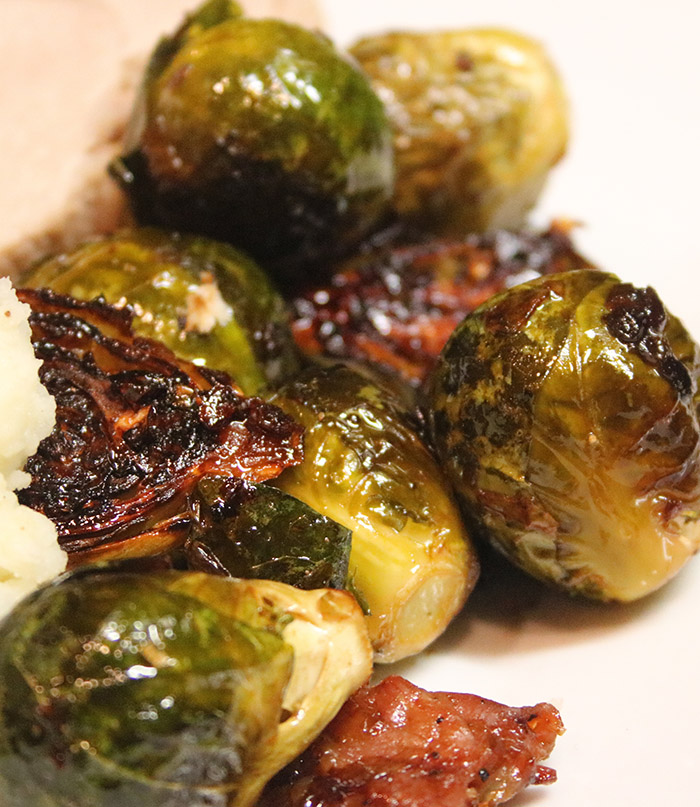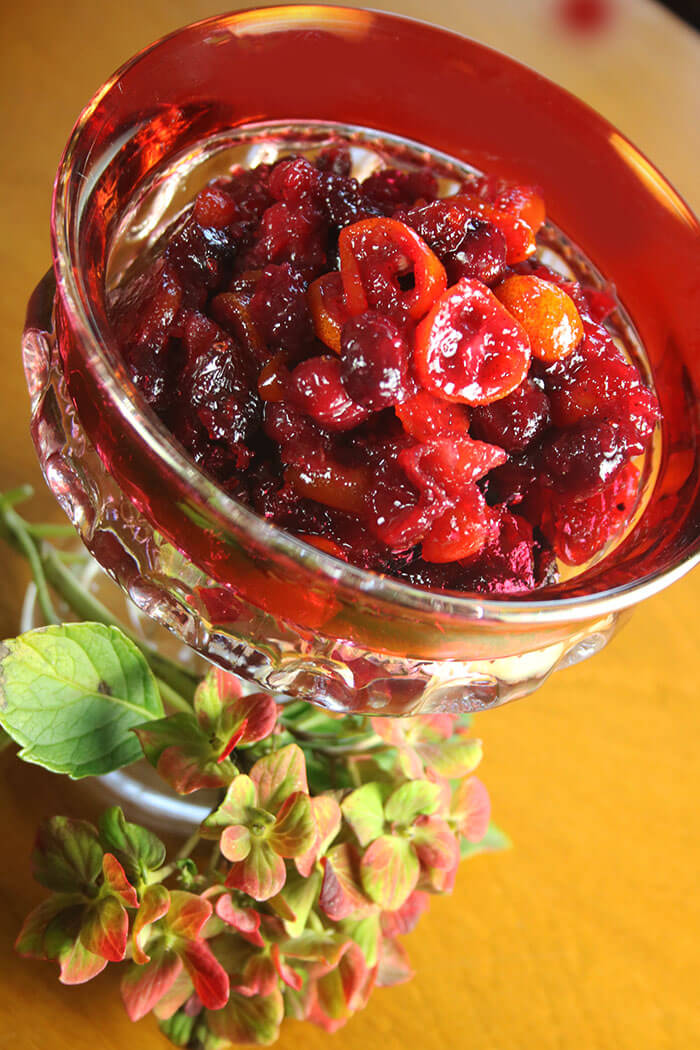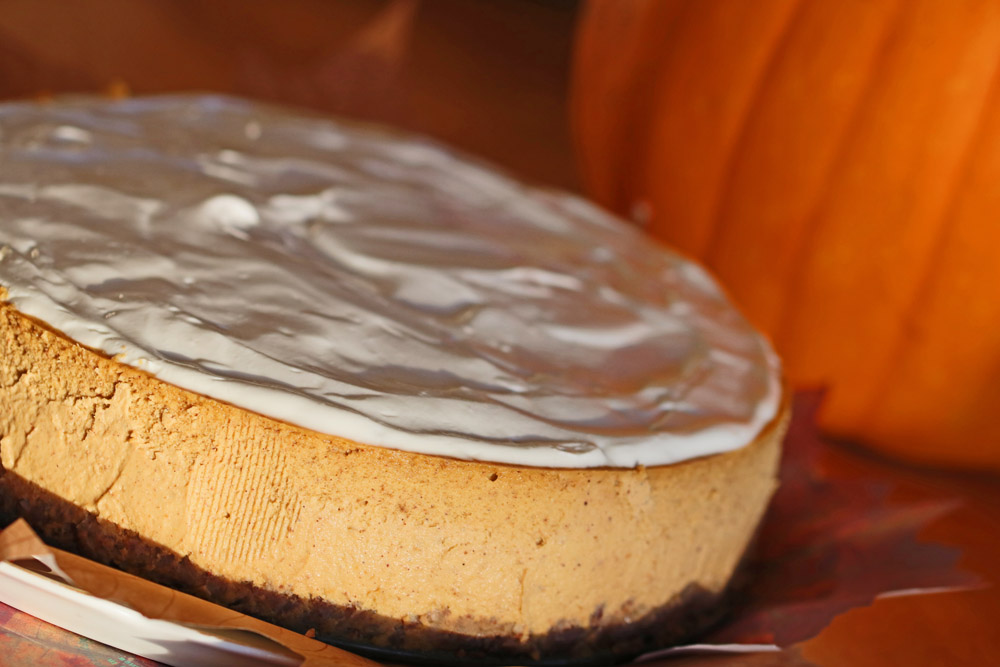 © Copyright: KatyKeck.com 2018. All rights reserved.
Hey, we want to hear from you!
Don't forget to Comment, Share & Subscribe to our blog.