It's the Gobble, Gobble time of year already. Is it me or does Thanksgiving come every 4 months now? I say it like it's a bad thing, but really what could be tastier? All those family favorite recipes coming out of semi-retirement. This year I have a new recipe, but it's inspired by a family fave, as well as time spent during my year cooking in France. It seemed like something the French might serve. Introducing creamy rainbow chard gratin.
We grew up with a local turkey farm over the hill and always went to pick out our bird. The backing track of gobblers is a sound I won't soon forget. Growing up surrounded by farmland, this was the way of life. But despite the fresh birds, there was not an abundance of winter produce available. Hence the frozen spinach casserole that started this ball rolling. At least it was green, we'd think, on an otherwise brown food day.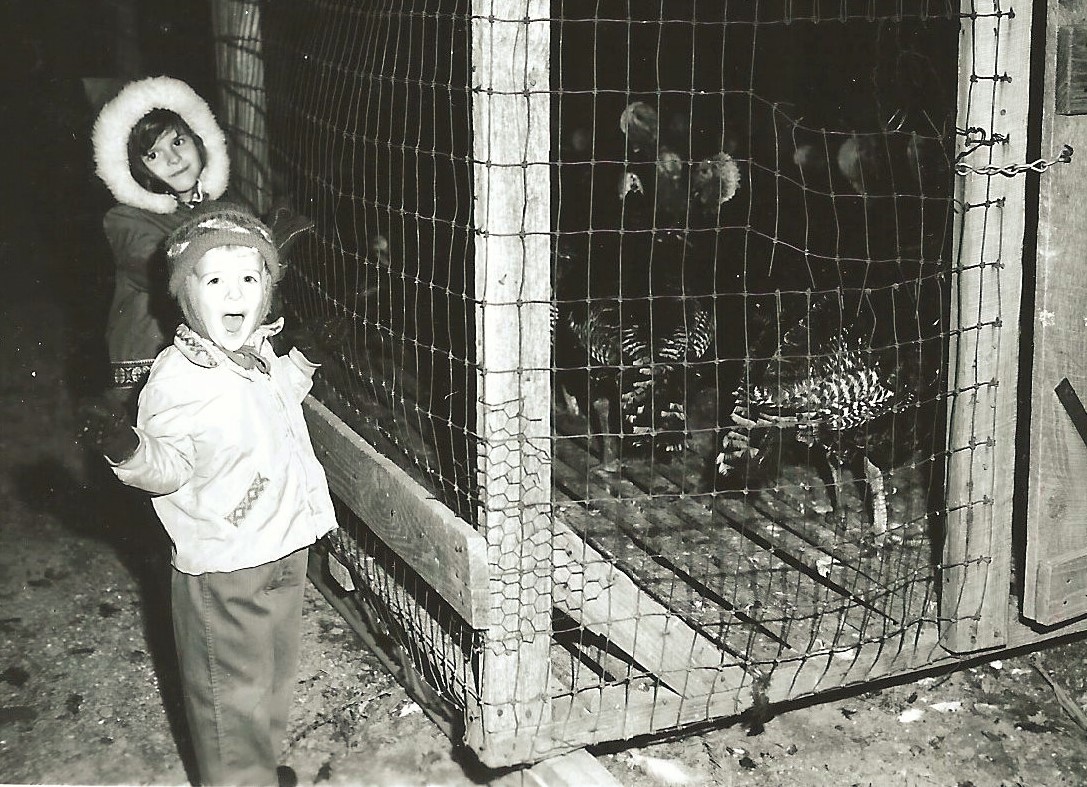 Rainbow Chard and Leeks
You have no doubt seen Swiss chard in the markets and at your local grocery. But have you noticed the red chard with its magenta stems? Or the rainbow chard with stripey fuchsia, navel orange, taxi-cab yellow and granny apple green? The colors are magnificent.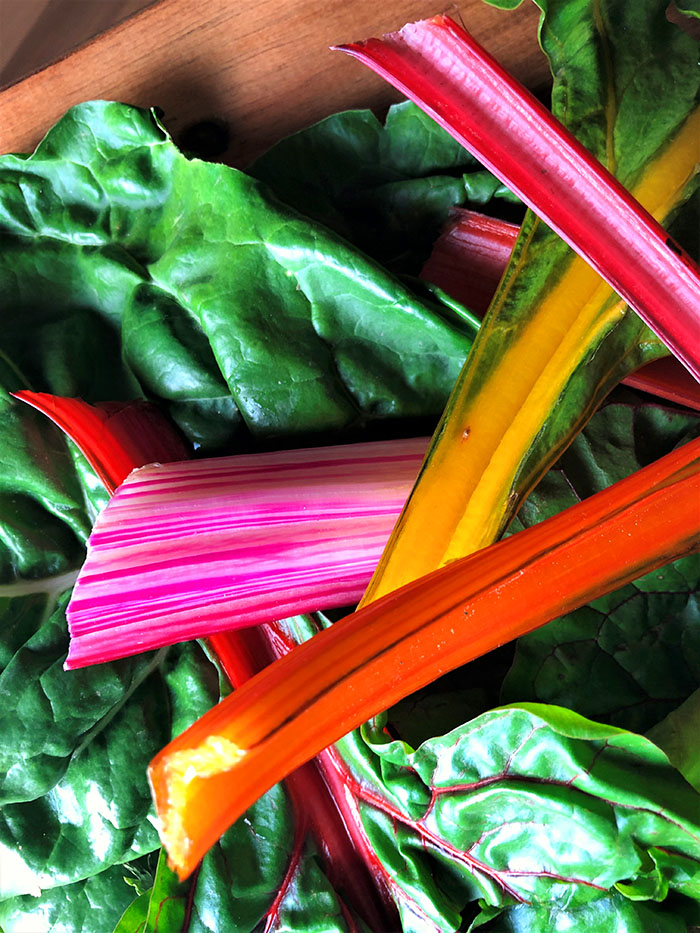 This dish is inspired by my Aunt Mary's spinach and artichoke heart casserole. I've made it so many times I can do it blindfolded and so have many of my friends. (I have included the original in the recipe card notes below). This is the first Thanksgiving without Aunt Mary, and she has left big shoes to fill. I spent most of the last 5 or 6 Thanksgivings prepping next to her, where she was in charge of dressing, a family apple compote recipe and gravy. Oh, and polishing the candlesticks. Gamama, as the kids called her, spent most of two days giving some old silver candlesticks the royal treatment. Mary never met a stranger, and I am confident she might have swindled the latex gloves required for silver polish manicure preservation right off the hands of her TSA agent. They never saw her coming. She had to be the only one passing bittersweet branches for the centerpiece, freshly clipped from her Indiana garden, through the CTX machine. She held court in the kitchen and the rest of us served at the pleasure. Whatever else I contributed, you can be sure that the spinach and artichoke hearts dish was on the list.
I wanted to pay homage to that dish but zhoosh it up a bit. She was all color, so as I debated what changes to make, rainbow chard raised its hand and said "Pick me, pick me!" I considered keeping the art hearts, but didn't think the flavor was the ideal match, and I figured they would overwhelm in the texture department. So instead I swapped out the onion for some leeks. I also added some Gruyere to make it a bit more creamy – and then of course, I added bacon. Of course I did.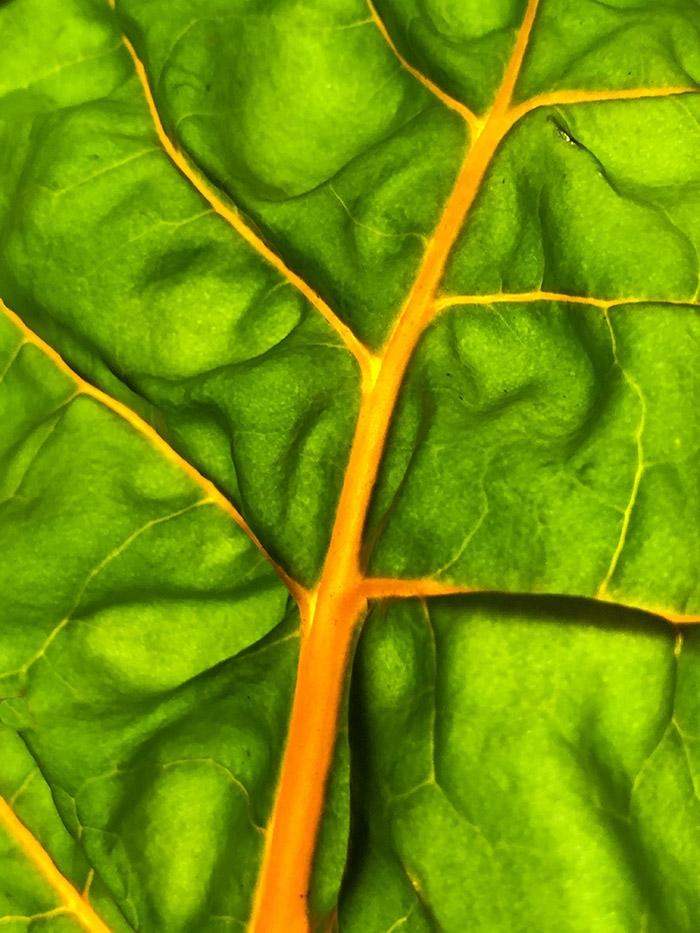 Cleaning Chard and Leeks
You might be tempted to look at the prep time and think ain't nobody got time for that, but I assure you it is worth the effort. Plus – for the meal prep WIN – you can do this all the day before and just bake it off while your turkey is resting and as you carve.
Both leeks and chard can be sandy, so I wanted to just reassure you with tips on the best way to get the grit out. For details on how to clean a leek, check out this post. For the rainbow chard, place the leaves in the sink or a large bowl, and fill with cool water. Let them soak, then lift them from the sink, rinsing, leaving any grit at the bottom of the sink or bowl. Don't try to pour the water out of a bowl, as that will just move the grit and sand back into the leaves. Always lift them out! Dry on towels or spin, in batches, in a salad spinner.
Once cleaned and dried, trim and remove the end of each stem, then cut a "V" in each leaf to remove the full stem. Slice the stems into 1/2″ wide pieces and set aside. Stack the leaves and roll tightly into a long tube shape, then cut cross-wise into 1/4 – 1/2″ ribbons. It will be quite voluminous at this point and you might think you need another baking dish, but it will cook down and fit in a 3-quart casserole.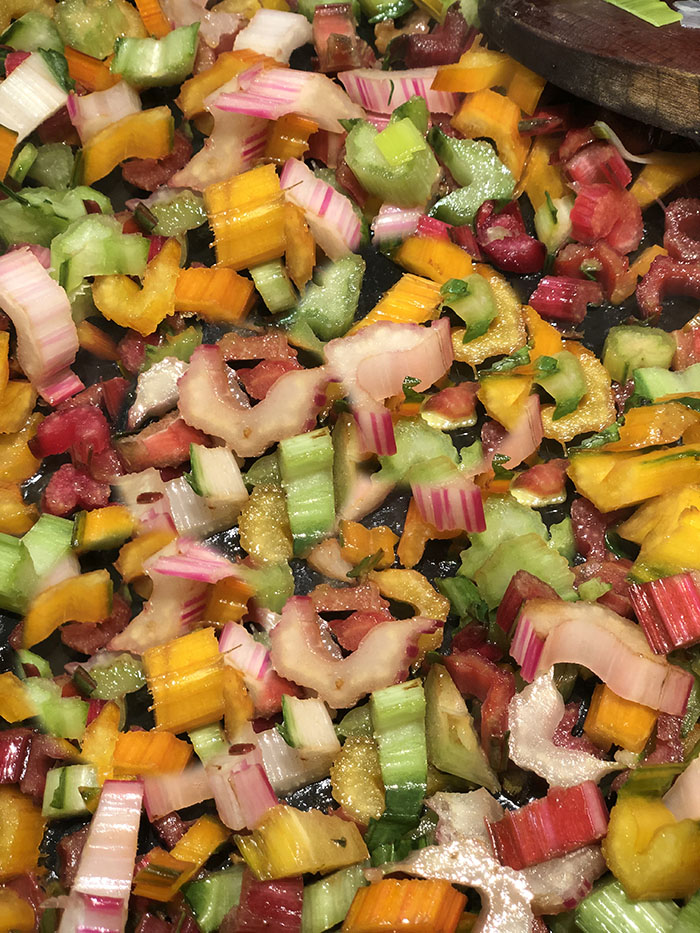 Chard Gratin
From here, the chard gratin is just a sauté of stems and leeks, a wilt of leaves, and a stir in of sour cream and Gruyere. Top with some grated Parmesan and crumbled bacon and you are oven-ready. You can wrap it up and put in the fridge for a day at this point or bake it off now (slightly less time) and reheat when ready to serve.
Gratin is the French word for a dish that has melted cheese or bread crumb topping, turned golden brown. Remember the Betty Crocker box mix of Au Gratin potatoes? The cheese was already in the mix in powdered form. This dish doesn't have breadcrumbs – though I definitely considered a Panko dusting atop – but it does have real Parmesan (I used Reggiano) that "goldens" up quite nicely.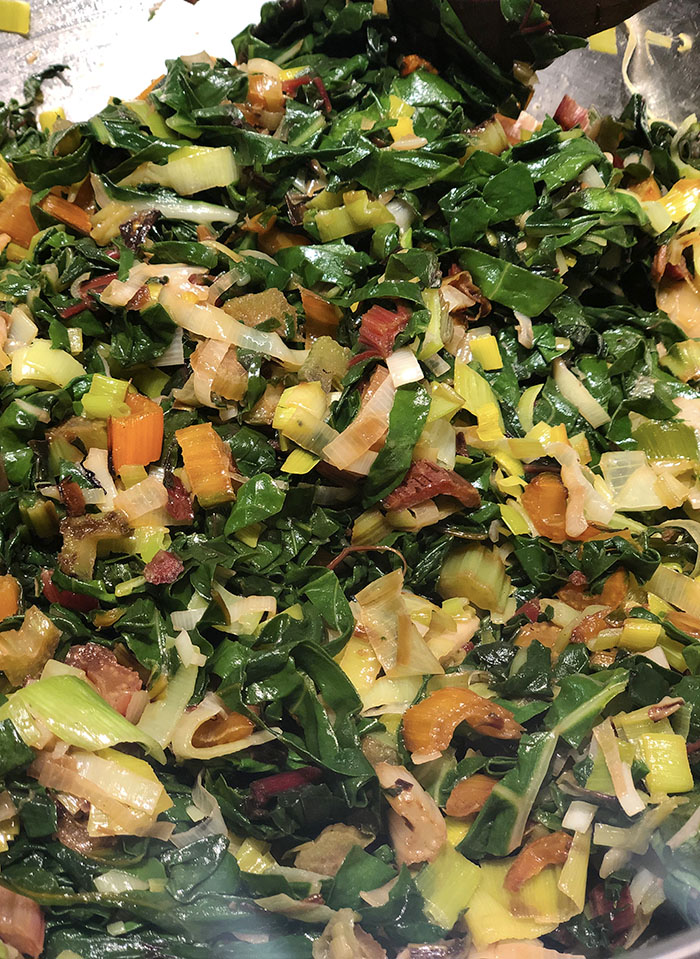 If you were Aunt Mary, you might now kick back with a house Chardonnay and a glass of ice and nurse that for the remainder of the meal!!! Gobble. Gobble.
Full Thanksgiving Menu!!
You got this trimmin', but what else to serve? Don't worry – I got you covered. We have everything you need for complete and tasty meal perfection. If you are ever in doubt, there is a search button on the top of the site that will take you where you need to go. But today – holiday special – I have curated the list you are most likely to need!
The Shop That Has It All!!
Do you have everything you need to stage a flawless Thanksgiving? I just happen to have a shop on my website with links to all the must-have kitchen equipment and gear you will need to pull off holiday success, mostly available with Amazon Prime shipping! This shop is filled with only things that I NEED and use and are called for in my recipes. KatyKeck.com is an affiliate marketer for Amazon and other sites, so we may earn a small fee on your purchase. (Thank you!) For full details, see the privacy policy.
You are just fooling yourself if you try to pull off Thanksgiving without these things 🙂 There's also a good assortment of hostess gifts that are sure to be put to immediate use.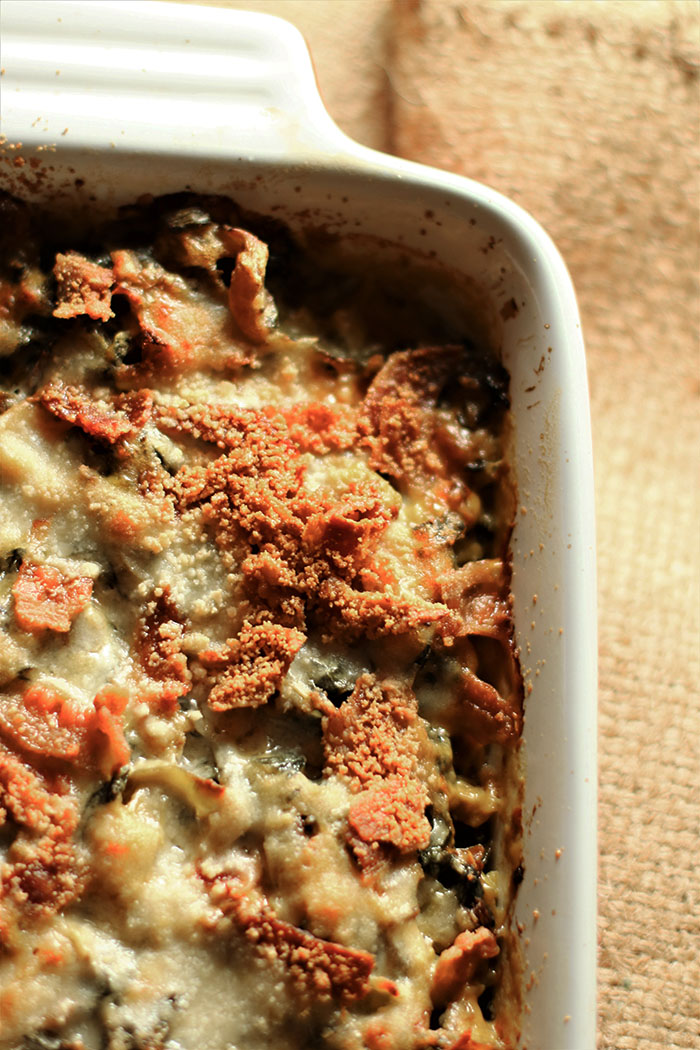 Have a blessed holiday and please let me know what you tried. Comment below or tag me on social!
Print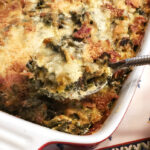 Thanksgiving Must-Have: Creamy Leek and Rainbow Chard Gratin
---
Author:

Total Time:

1 hour 45 minutes

Yield:

Serves

6

- 8

1

x
Description
This rainbow chard gratin is inspired by my Aunt Mary's spinach casserole. She was quite colorful and deserves the rainbow. Packed with flavor from caramelized leeks and some nutty Gruyere, with a touch of the creamy goodness of sour cream, this will be the newest must-have on your Thanksgiving menu.
---
2

pounds of rainbow chard (approximately

2

–

3

bunches)

4 Tablespoons

of butter, divided

1 teaspoon

sea salt

1 teaspoon

red pepper flakes

2

leeks, split lengthwise, cleaned and thinly sliced

2 cups

sour cream

4 ounces

Gruyere, grated

1 cup

grated Parmesan

4

pieces of bacon, cooked and coarsely crumbled
---
Instructions
Prepare the chard: Place the chard leaves in the sink or a large bowl and fill with cool water. Let them soak, then lift from the sink, rinsing, leaving any grit at the bottom of the sink or bowl. Dry on towels or spin, in batches, in a salad spinner.
Separate the stems and leaves: Trim the root end of each stem, then cut a "V" in each leaf to remove the full stem. Cut the stems into 1/2″ wide pieces and set aside. Stack the leaves and roll tightly into a long tube shape, then cut cross-wise into 1/4 – 1/2″ pieces.
Cook the chard: Melt 2 Tablespoons of butter in a large sauté pan. Add the stems and cook, stirring occasionally, for 10 – 12 minutes, until softened and lightly browned. Transfer to a large bowl.
Add half the leaves and a drop (1 – 2 teaspoons) of water. Cover and cook until wilted, about 4 -5 minutes. Remove the lid and let any accumulated water cook off. Transfer to the bowl with the stems. Repeat with the remaining leaves.
Return the first batch of leaves and the stems to the sauté pan and stir to combine, cooking off any excess moisture. Season with salt and pepper. Return to the mixing bowl.
Cook the leeks: Melt the remaining 2 Tablespoons of butter in the sauté pan and add the leeks. Cook over high heat for 10 minutes, or until lightly browned, stirring occasionally and scraping up any brown bits from the pan. Add to the bowl with the chard.
Mix: Add the sour cream and Gruyere to the bowl and stir to combine. Adjust seasoning as needed.
Finish the chard gratin (bake now or refrigerate for up to 24 hours): Transfer the mixture to a buttered 8 x 12″ or 3 quart casserole. Top with the grated Parmesan and crumbled bacon. At this point, you can cover and refrigerate for up to one day. (Thanksgiving prep for the win!)
Bake in a pre-heated 350oF oven for 30 – 40 minutes, or until the top is golden brown and bubbly.
Notes
This is a great make-ahead dish, especially since it takes a bit of time to clean and cut the chard. You can get the majority of the prep done a day ahead and then bake it off when ready to serve. If it's Thanksgiving and the oven is very busy, you can bake this off while the turkey is resting and being carved.
Aunt Mary approves!
Creamed spinach and artichoke hearts: If you find yourself short on time, you have my permission to go for the original which is really quick to make. Sauté one chopped onion in 2 Tablespoons of butter. Transfer to a mixing bowl and add two boxes of frozen spinach (thawed and well-squeezed) and one box frozen artichoke hearts, thawed. Stir in one pint of sour cream and add salt and pepper to taste. Spread into a buttered 8 x 8″ baking dish (or similar sized soufflé dish) and sprinkle 1 cup Parmesan on top. Bake in a preheated 350oF oven for 30 – 40 minutes. Serves 8.
Prep Time:

30 minutes

Cook Time:

1 hour 15 minutes

Category:

Side

Method:

Stovetop + Oven

Cuisine:

French
Keywords: chard gratin, leeks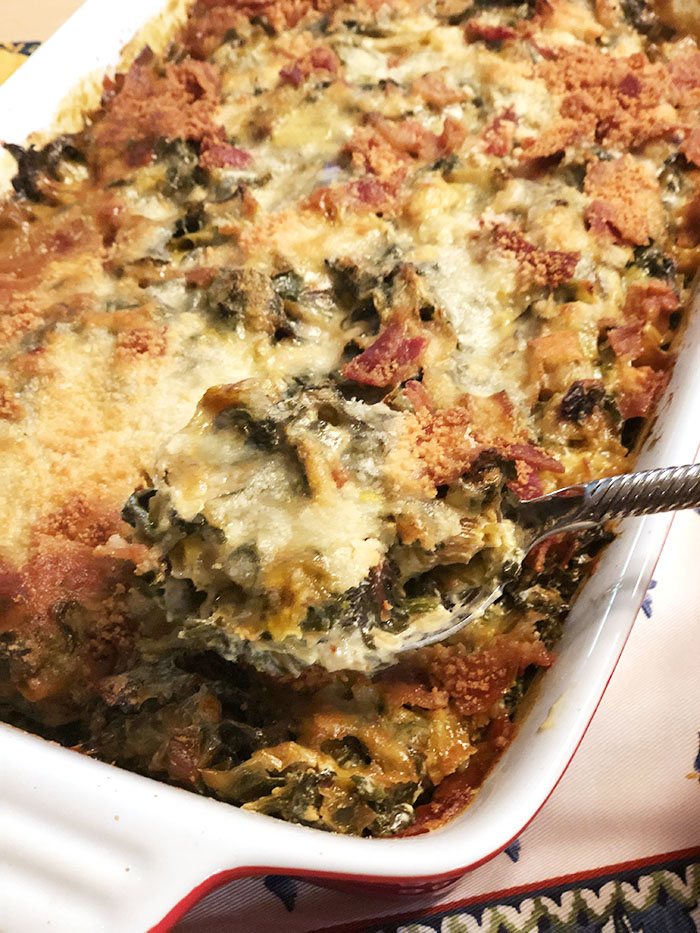 © Copyright: KatyKeck.com 2019. All rights reserved.
Hey, we want to hear from you!
Don't forget to Comment, Share & Subscribe to our blog.